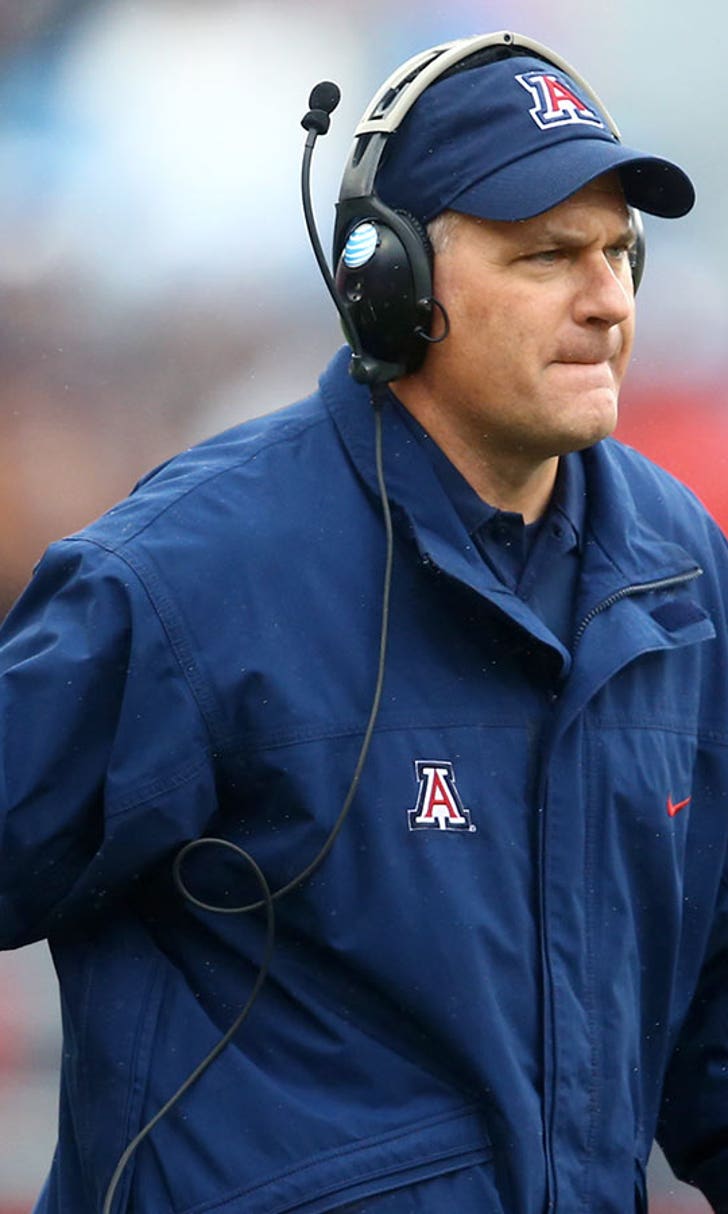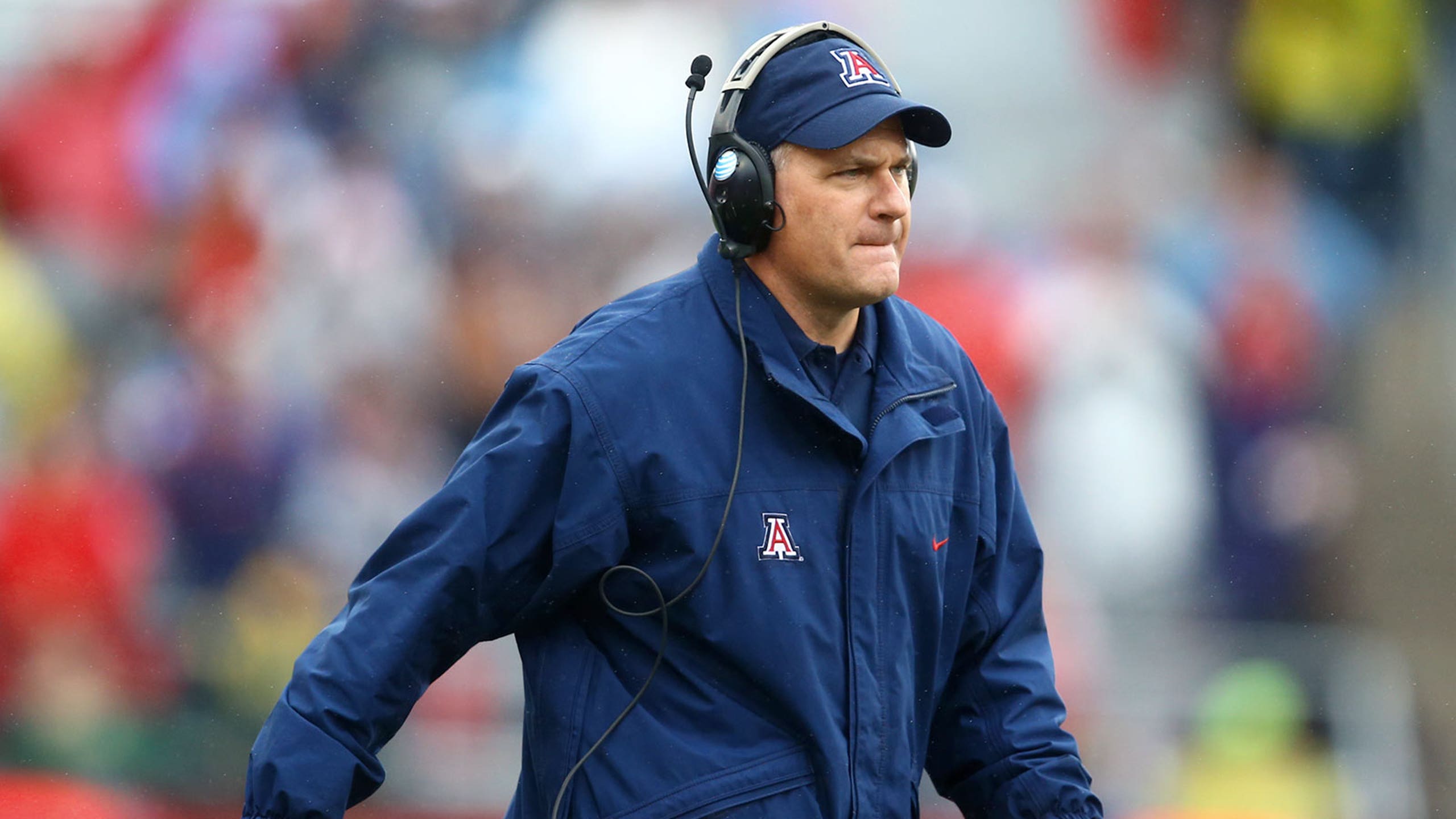 Rodriguez's success at Arizona began with a simple message
BY foxsports • December 19, 2014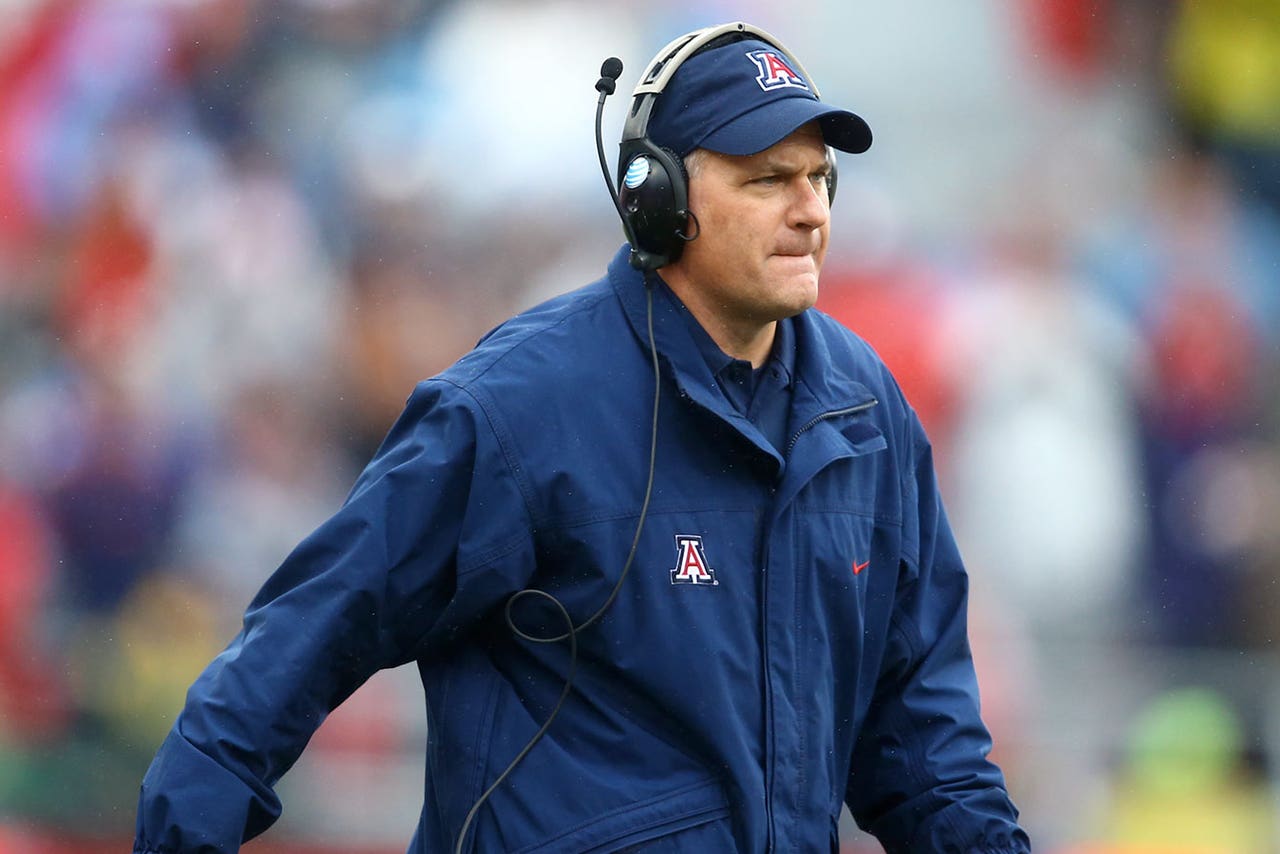 TUCSON, Ariz. -- The Arizona journey of coach Rich Rodriguez, from inheriting a downtrodden program to winning the Pac-12 South and earning a Fiesta Bowl berth in a three-year span, began with a simple but powerful first step.
After he was hired in late November 2011, Rodriguez met with his new players. Those brought to Arizona by coach Mike Stoops; those facing new schemes on both sides of the ball; those who had finished 4-8 (all but one defeat by double-digit margins) and 2-7 in the Pac-12.
Rodriguez's message: You're my guys.
That's it. It might not sound like a great revelation, but consider where he had just been: Michigan.
When Rodriguez arrived in Ann Arbor, very much as an outsider from West Virginia, there were still a lot of "Lloyd Carr" guys on the team, and the former Wolverines coach did little to dispel that idea. (For much more on this, read "Three and Out" by John U. Bacon.)
Rodriguez's three tumultuous seasons with Michigan were fractured from the start. Arizona was different. To borrow a phrase he and UA athletic director Greg Byrne frequently use, everyone was "pulling the rope" in the same direction from the very first meeting.
"He said, 'I didn't recruit any of you, but you're my guys and I'm going to do everything I can for you, but in turn you have to give me 100 percent,'" recalled former Arizona linebacker Jake Fischer, who had just finished his sophomore season in 2011.
"He set the tone. We were sitting in there, like, 'Oh, wow, Coach Rodriguez is going to be our next head coach? That's pretty cool.' And then he comes in and really impresses with the way he went about it. He's like, 'If you're a cancer to this team, you're out of here. I'm not taking you. I want the guys who want to win. And that's how we're going to lay the foundation.'
"Well, the foundation has been laid."
Arizona is 10-3 heading into its Fiesta Bowl meeting with Boise State in Glendale on Dec. 31. Rodriguez is 26-13 in three seasons, produced the most decorated offensive player in school history -- two-time consensus All-America running back Ka'Deem Carey -- and helped turn linebacker Scooby Wright into a player who, as a sophomore this season, became a unanimous All-American and the national defensive player of the year (Bronko Nagurski Trophy, Chuck Bednarik Award).
A look at the Arizona roster reveals very much of what Rodriguez affectionately calls his "Island of Misfit Toys," a reference to the unwanted playthings from the 50-year-old TV special, "Rudolph the Red-Nosed Reindeer."
Wright, famously now, was a two-star recruit who had no other offers. The team's second-leading tackler, safety Jared Tevis, was a walk-on. So, too, was 247-pound sophomore nose guard Parker Zellers. His tag-team partner in the middle, Sani Fuiamono, is a former Stoops recruit who returned this summer from a church mission.
Safety/linebacker Tra'Mayne Bondurant, another former two-star recruit, is a football magnet who was involved in seven turnovers in nine Pac-12 games after beginning camp buried in Rodriguez's doghouse. The leading receiver, sophomore Cayleb Jones, is a transfer from Texas, one of 10 "bounce-back" players on the Arizona roster who began their college careers at another FBS program.
The leading rusher, Nick Wilson, is a true freshman. The second-leading rusher, senior Terris Jones-Grigsby, is a former walk-on, perhaps the ultimate "my guy" on the team.
Jones-Grigsby was a redshirt freshman scout-team walk-on in academic peril when Rodriguez and his staff arrived. Perhaps some new coaches wouldn't even bother. But since Jones-Grigsby was willing to work, the coaches were willing to work with him. The stick-to-it reward for both parties: 528 valuable rushing yards this season.
"I watched Dennis Erickson have his first team meeting at Oregon State; I watched Rich Brooks have his first team meeting at Kentucky," Byrne said. "Those are coaches I very much respect -- but (Rodriguez) did the best job from day one in his words and actions of just saying, 'You're here, you're my guys.'"
Rodriguez spreads the credit, especially to his first tone-setting senior class led by quarterback Matt Scott.
"That senior class went all in from day one -- the best I can tell," Rodriguez said with a smile. "Maybe they were tricking me. But I don't know if they get enough credit now for helping us be where we're at today."
Rodriguez also gives thanks to a possibly unlikely source: Stoops. For whatever you might think of him or the job he did at Arizona -- "and I thought Mike did a lot of good things for us," says Byrne, the man who fired him halfway through the 2011 season -- he did not poison the well for Rodriguez, as others had done at Michigan.
"I thought the transition was made smoother because I knew a little bit about the players from talking with Mike Stoops. Mike was very helpful, so when I sat down with the players, I had a little bit of a feel for it," Rodriguez said.
"I thought we had good guys. I just didn't know how many we had that loved football. We had to change that mindset, to make it OK to love football and appreciate the grind and the work you have to put in to become successful."
At Arizona, the intersection of coach, athletic director and facilities has never been as strong as it is right now, raising the possibility of continued high-level success, previously unattained in the football program.
"I think we've put the pieces in place to allow us to have long-term success," Byrne said.
With buy-in from the players secured, the final piece of the puzzle might be buy-in from the fans.
The Wildcats averaged 47,931 at Arizona Stadium in Rodriguez's first season, followed by an average of 47,619 in 2013 and 50,710 this season, boosted by a full house of 56,000-plus for rival Arizona State.
Arizona drew better than 52,000 in six of Stoops' full seven seasons in Tucson, which makes the relative lack of butts in the seats for Rodriguez (lots of offense, fast-paced action, engaging personality) all the more puzzling.
The biggest opportunity for growth, for the entire athletic department, is football attendance, Byrne said.
"We have 45,000 that are always there, that are very strong," Byrne said.
"That last 10,000, 12,000 strong who are on the fence -- if we are to keep this thing going long term, which I truly believe we can -- that last 10 to 12,000 have to come in and say, 'I'm going to help make this thing happen.'"
Follow Anthony Gimino on Twitter
---