Rockies 6, Diamondbacks 0
BY foxsports • March 22, 2015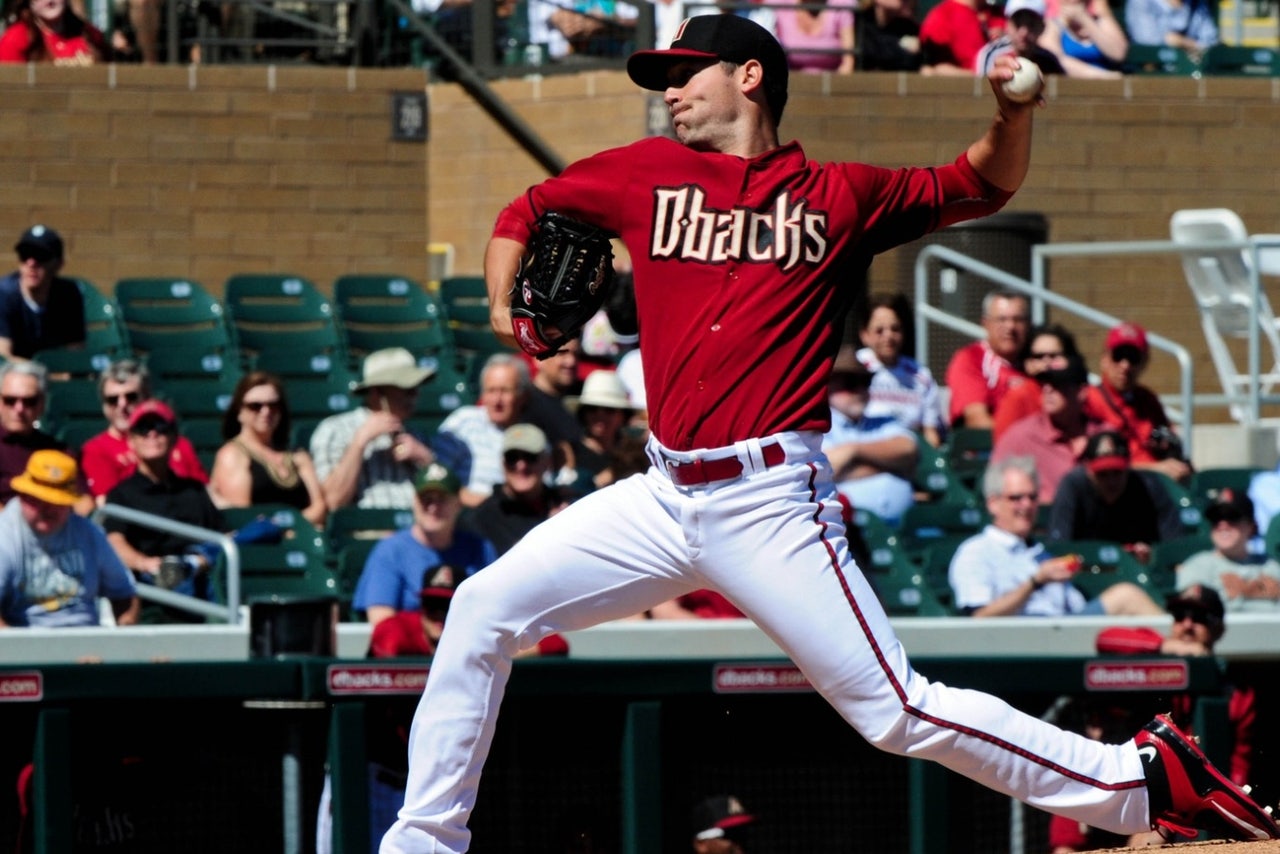 SCOTTSDALE, Ariz. -- Josh Collmenter and Jeremy Hellickson are in. After that, the Diamondbacks' starting rotation competition hits a hectic race to the finish.
That leads to one reason why Collmenter, the Opening Day starter, on Sunday mowed down five innings worth of minor leagers rather than take part in his team's 6-0 Cactus League loss to the Colorado Rockies.
"He's at the point in his career where we trust him," D-backs manager Chip Hale said.
Then there's the other reason: "We probably could have covered 20 innings today between the guys (competing to start)," Collmenter said.
Finding major league innings for the pitching competition is a squeeze.
Robbie Ray, one of those fighting for a roster spot in the rotation, threw 72 pitches in three innings of the main event and gave up two earned runs and five hits. Hale said his stuff was there but the location was erratic.
The D-backs fell behind 2-0 in the second and the offense continued to turn its wheels in the mud once Ray was lifted.
"It's tough as a position player to play behind all that, when there's a lot of pitches, lot of guys on bases, not a lot of action," Hale said. "It's just tough to stay alert and go hit. That all boils into the offensive performance too. The tempo of the game just wasn't very good."
For Ray, it's a tough balance between working to perfect his stuff and getting outs to win a starting spot. Rubby De La Rosa, despite struggling with his location on the fastballs, is a near lock to make the roster, Hale said, leaving Chase Anderson, Archie Bradley, Trevor Cahill, Yoan Lopez, Allen Webster and Ray to fight for two starting pitcher roles.
Don't believe the pressure already is there? Hale admitted that Archie Bradley's success start on Saturday bought him more time to impress.
"Archie got himself another start," Hale said on Sunday.
Robbie Ray
Expected to go four innings against Colorado, Ray hit his pitch limit after three; 46 of his 72 pitches were strikes. He had two earned runs against him in the second inning, allowed five hits overall and struck out four.
"Threw the ball well," Ray said. "I was getting deep in counts with guys, they were fouling off a lot."
Josh Collmenter
Collmenter went 59 pitches, 41 for strikes and struck out two against Brewers minor leaguers. He allowed one hard hit that was tagged as an error against a minimum 15 batters. He needed to add bullpen work to increase his pitch count.
Commenter said he worked on "fastball command, make sure I'm throwing away and in and not just for strikes, but also walking guys off the plate or throwing in for effect; just pitches I'm going to use during the season, not necessarily for strikes but for-purpose pitches."
Hale, on the negative perception that Yasmany Tomas won't succeed at third base: "There's a lot of scouts out there who make these comments who are burned, and they're obviously wrong about a lot of people, too." ... That said, Hale admitted the comments from annonymous scouts speaking to the media could potentially get into a player's head. "Perception is reality sometimes; that's what some people believe. (Tomas) has to know it's not our reality. It's going to test his mental toughness." ... More on the reasoning behind O'Brien's move here, plus a look at the bullpen ... Speaking of the bullpen, Brad Ziegler saw his first action against major league competition. Behind in the count 2-1, Corey Dickerson caught a low changeup and sent it over the right-field wall in the fifth inning. Ziegler, with one out, walked Nick Hundley and D.J. LeMahieu singled. The D-backs veteran got out of the inning thanks to a 4-6-3 double-play.
Probable pitchers: Arizona -- RHP Daniel Hudson, RHP Allen Webster, LHP Andrew Chafin. Los Angeles -- RHP Brandon McCarthy.
Follow Kevin Zimmerman on Twitter
---