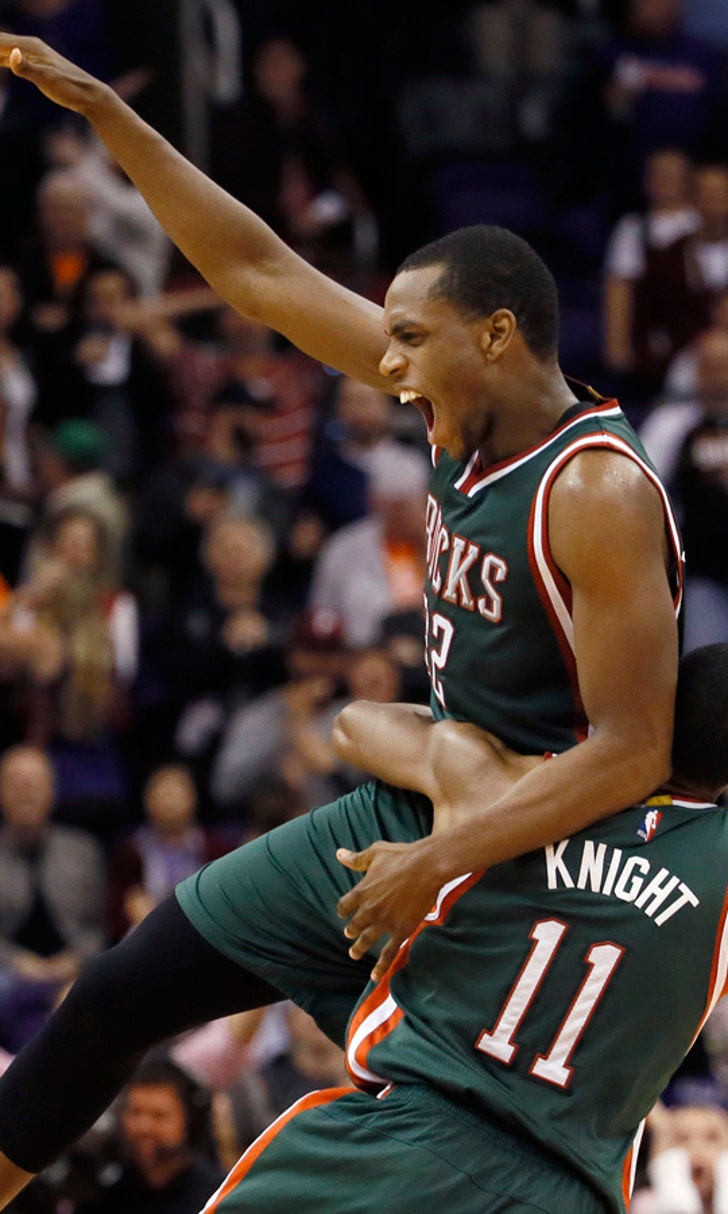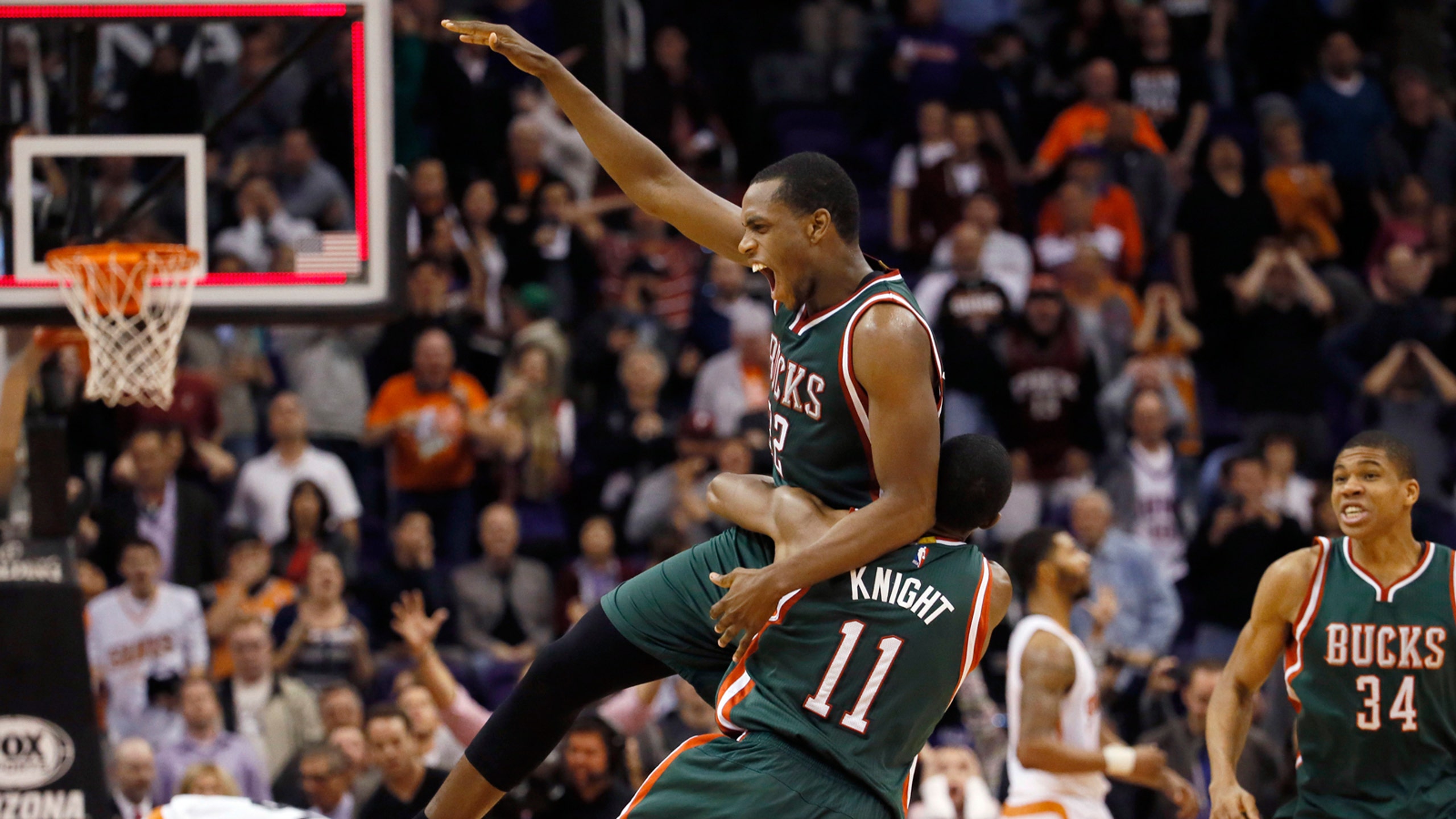 Road reaction: Bucks 96, Suns 94
BY foxsports • December 16, 2014
Khris Middleton's 3-pointer at the buzzer lifted Milwaukee to an emotional win, but the Bucks won't know if Monday's 96-94 victory over the Phoenix Suns is bittersweet until sometime in the coming days.
The extent of a left knee injury suffered by rookie Jabari Parker will determine that, as the concern over the health of the No. 2 overall pick in last June's draft cast a bit of a shadow over Milwaukee's comeback win.
Parker's knee appeared to buckle without contact, causing substantial concern that he suffered a significant injury.
1 big moment: With 3.5 seconds left, Middleton inbounded the ball to Jared Dudley, who immediately handed the ball back to Middleton.
Middleton was bumped by Suns forward Marcus Morris before he fired a 3-pointer from just left of the top of the key while leaning toward the basket. The shot hit off the left side and the right side of the rim before caroming off the backboard and in to give the Bucks the victory.
Bucks coach Jason Kidd had the same play drawn up but brought Giannis Antetokounmpo back in following a 20-second timeout called by Brandon Knight when he couldn't get the ball inbounds.
"We thought we'd bring Giannis in to give us an opportunity to maybe look at something else," Kidd said. "Also, we wanted to clear out some room for whoever was going to get the ball at that point -- Khris or Duds."
2 top performers: Middleton finished with 14 points on 6-of-9 shooting, connecting on a pair of 3-pointers in three attempts. In addition to his game-winning shot, Middleton hit a tough jumper to cut Phoenix's lead to 83-80 with 5:56 left.
Suns forward Markieff Morris finished with a game-high 25 points in 37 minutes. Morris scored 19 points in the first half to help Phoenix to a 53-44 halftime lead, but he had just two points in the second half until the final minute of the fourth quarter. He gave the Suns a one-point lead on a layup with 23.9 seconds on the clock and again on a jumper with 3.5 seconds to play.
3 key stats: Led by Middleton's 14 points, four members of Milwaukee's bench -- Zaza Pachulia (13 points), Jerryd Bayless (11 points) and Dudley (10 points) -- scored in double figures.
Phoenix grabbed 16 offensive rebounds but only finished with 13 second-chance points. The Suns lost the game despite hitting more 3-pointers (12 to 8) and free throws (22 to 18) than the Bucks.
Milwaukee finished with 50 points in the paint, while Phoenix had just 24. It was the eighth time this season the Bucks had at least 50 points in the paint.
Said: "I have to thank the Lord for that one, man. I got a crazy roll that went off the glass. I have to be thankful for that. We stuck in there. They made some tough plays at the end, but we were still able to execute our offense down the stretch. That was the designed play. They cut it off. I had to get it up at the buzzer. Luckily it went in." – Middleton
"Unfortunately, we couldn't get a stop (on the previous possession). It was because of me. I should have done a better job defensively, but thank you, Khris. Khris saved me and us." -- Pachulia
"It wasn't pretty, but the guys kept fighting and we found a way to win. It was a total team effort. Guys stepped up. Khris' name was called and he responded. Guys out there made basketball plays. I think they all embraced the moment down the stretch. There are a lot of things to improve on, but we found a way to win on the road against a Western Conference team." -- Kidd
Seen: Parker went down with 10:52 remaining in the third quarter. After getting a defensive rebound, Parker tried to go coast-to-coast but went down without contact before hitting Suns forward P.J. Tucker.
He stayed down on the court before eventually being helped to the locker room by teammates Johnny O'Bryant and Pachulia. The Bucks later announced that Parker suffered a sprained left knee.
The extent of the knee injury won't be known until an MRI is taken.
"We won't know tomorrow until they do more tests," Kidd said. "As of right now, we don't know anything."
Obviously, the concern is high for Parker, as a significant knee injury would be a devastating blow to the Bucks.
"He's the franchise," Dudley said. "He's young, he's a rookie. The good thing about it was he was smiling when he came in. That's always good when he's smiling. He was in (a device) where he couldn't bend his knee. We hope it is just a sprain where we get him back in a couple of weeks. Keep him in your prayers."
Next: Milwaukee continues its four-game west coast trip in Portland on Wednesday. The Trail Blazers improved to 19-6 on the season with a 108-95 victory over San Antonio on Monday.
Following their stop in Portland, the Bucks will play the Kings in Sacramento on Thursday and wrap up the trip in Los Angeles against the Clippers on Saturday.
Follow Andrew Gruman on Twitter
---