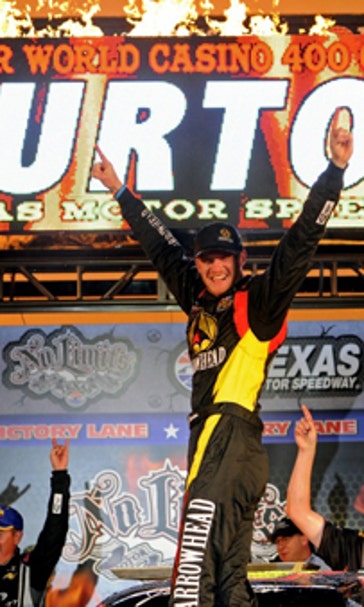 Rising Star Jeb Burton: "I'm Living The Dream, Man"
BY foxsports • June 27, 2013
In a year dominated by emerging young stars, none has had a better NASCAR Camping World Truck Series season than 20-year-old Jeb Burton, the son of 2002 Daytona 500 winner Ward Burton.
In seven Truck Series races so far this year, Jeb has one victory, three poles, three top fives and no finishes worse than 15th in his No. 4 Turner Scott Motorsports Chevrolet. He has been in the top five in points all season long, and for the last three weeks as been second in the Truck Series standings.
Coming into tonight's UNOH 225 at Kentucky Speedway (live coverage on SPEED begins at 7:30 p.m. ET),  Burton trails veteran Matt Crafton by 23 points. Heady stuff, given Burton'€™s age and his rookie status.
"€œI'm living the dream, man,"€ said Burton. "Just got to keep working hard at it and keep doing what we're doing so we can be on the stage at Miami."
In terms of driving, Burton likens himself to his father Ward, who won five NASCAR Sprint Cup races and four more in the NASCAR Nationwide Series.
"€œI think I'm a whole lot like my dad," said Jeb. "€œI like to treat people like I want to be treated and show respect to everybody. All the guys at Turner Scott Motorsports know how bad I want it, and I come to the shop almost every day when I'm in town."
As for a mentor, Jeb Burton has a pretty good one in five-time Sprint Cup champion Jimmie Johnson.
"€œJimmie obviously is one of the best there ever was, and I've talked to him about a lot of stuff off the racetrack about how to be better and just working out and trying to be the best you can be," Jeb said.  "I think that's why he's so good.  He's so focused.  I've told him, that's my role model, and that's who I want to be like.  So for him to take the time and talk to me, it really means a lot."
JEB BURTON CAREER HIGHLIGHTS
2012: First career NASCAR Camping World Truck Series top-10, eighth at Charlotte, in his fourth career start.
2012: Won first career NASCAR Whelen All-American Series late model feature at South Boston (Va.) Speedway, continuing his family's legacy at the legendary track.
2012: Won first career Rev-Oil Pro Cup Series race in his first career start, at Motor Mile Speedway in Radford, Va.
2011: Won five late model stock car features at Ace Speedway in Altamahaw, N.C., tying track champion and ASA Home Tracks national champion Barry Beggarly for most wins.
2011: Won first career late model stock car race in June at Ace Speedway.
2010: Late model stock car rookie of the year at South Boston Speedway.
---