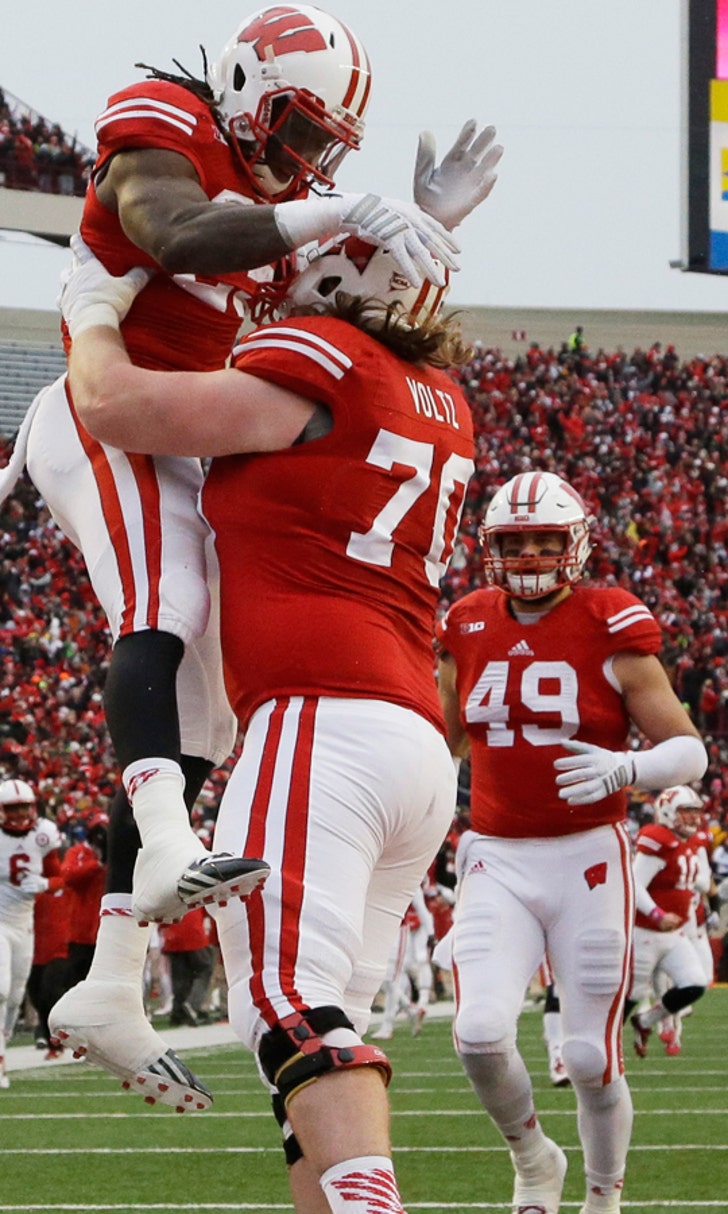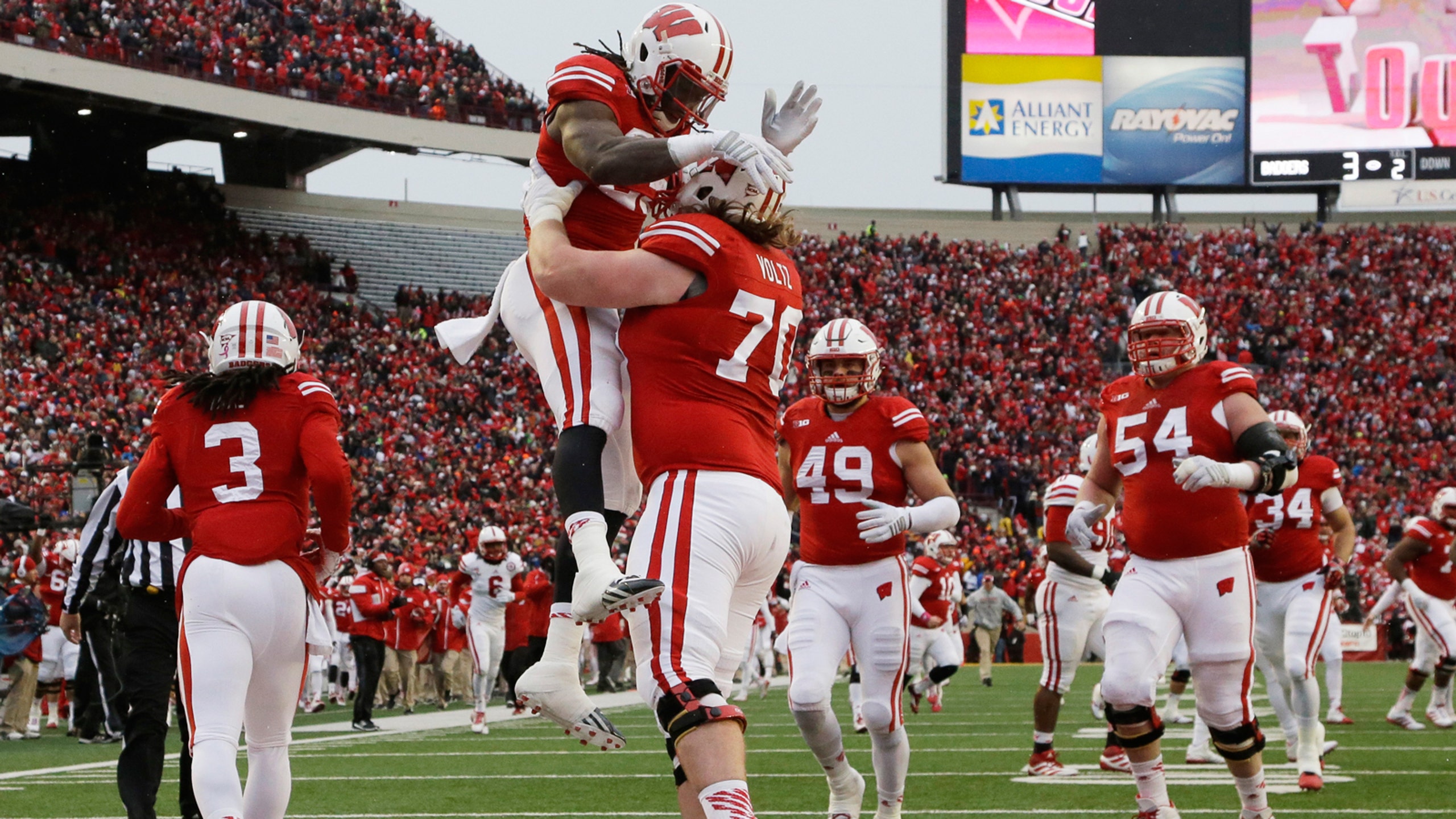 Reviewing preseason Badgers football predictions
BY foxsports • December 16, 2014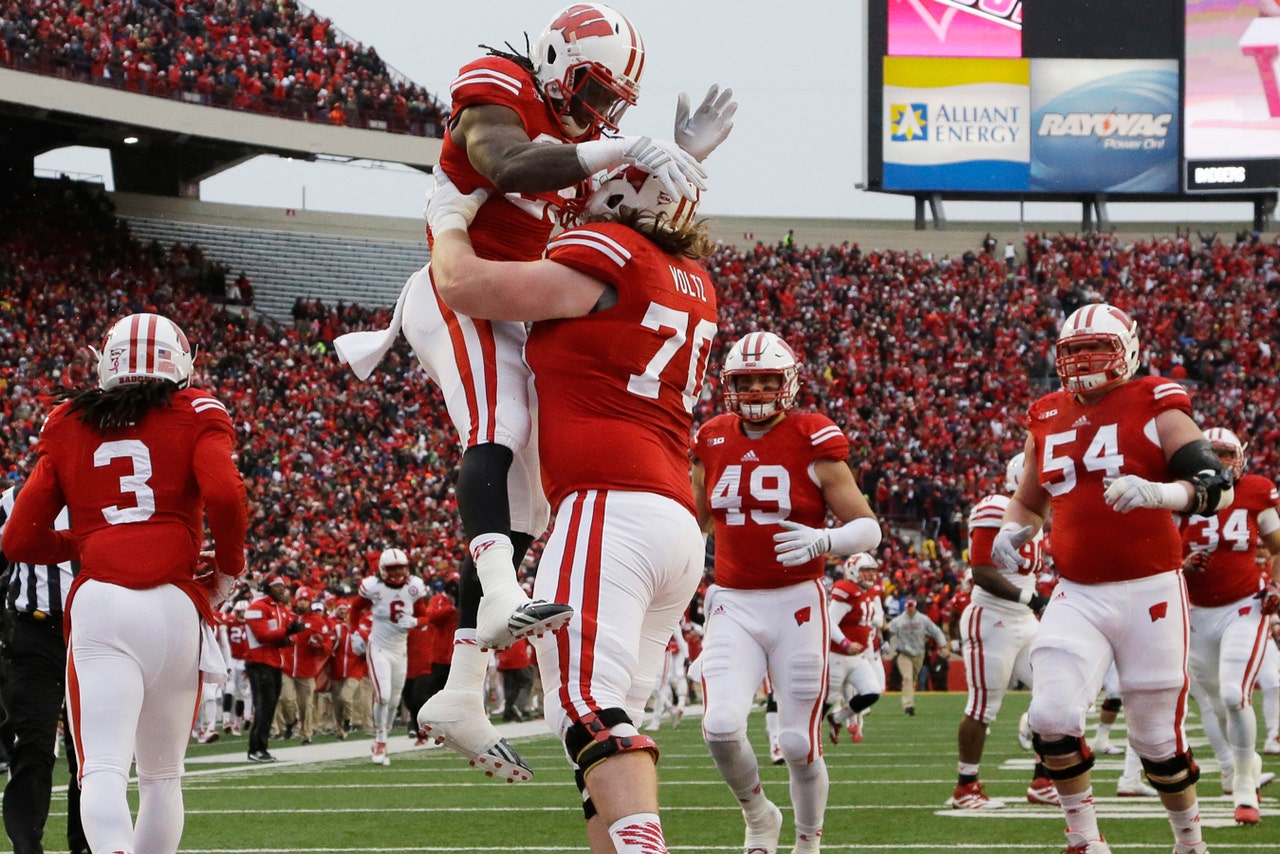 Before the 2014 season began, I offered predictions on what would happen during all 12 of Wisconsin's regular-season games for our "Know the Foe" series. As it turned out, the Badgers won the Big Ten West, which required a prediction on a 13th game (UW fans can choose to forget that one).
How'd I do? Well, I won't say you should seek my advice before placing any bets in Vegas, but maybe it wouldn't hurt. Overall, I finished 12-1, with the Northwestern game being my lone mistake. Hey, who saw that one coming, anyway?
I will note I changed my prediction on the Iowa game the week the two teams played when it became clear Wisconsin was rolling and the Hawkeyes were not as good as I thought they might be back in June. So if you want to put an asterisk on that prediction, feel free. But I'm counting it, and that makes me 23-2 on correctly predicting the outcome of Wisconsin football games over the past two seasons.
In an effort to hold myself accountable once again, here's another look back at the 2014 predictions before Wisconsin rings in the New Year with an Outback Bowl game against Auburn. I hear there are some other things going on around the program, too. But there's plenty of time to discuss it all in the coming days. For now, on to the predictions:
Game 1
Prediction: LSU 31, Wisconsin 21
Actual final score: LSU 28, Wisconsin 24
My take then: We have no idea how good Wisconsin's team actually is given questions about the Badgers' starting quarterback, receivers, kickers and safeties, among others. But the Badgers will have a pretty darn good idea after they walk off the NRG Stadium field in Houston the night of Aug. 30.
My take now: Turns out, the season opener was a precursor of things to come because quarterback play hindered Wisconsin for nearly the entire year. Tanner McEvoy surprisingly won the starting quarterback job out of fall camp and went on to produce one of the worst games we've ever seen: 8 of 24 for 50 yards with no touchdowns and three interceptions. Despite that performance, Wisconsin still had an opportunity to win before surrendering 21 unanswered points.
Game 2
Prediction: Wisconsin 38, Western Illinois 13
Actual final score: Wisconsin 37, Western Illinois 3
My take then: Taken at face value, one might assume an easy blowout for Wisconsin when the Leathernecks arrive in Madison for the Sept. 6 game. But Western Illinois appears to have enough pieces in place to keep the game competitive. Though Wisconsin has never lost to an FCS team all-time (10-0), there have been a couple of close calls in recent years.
My take now: This game was actually much closer than many expected at halftime, when Wisconsin led just 9-3 -- the first of many slow starts over the course of an up-and-down season. Western Illinois loaded the box and held tailback Melvin Gordon to 38 yards on 17 carries. But the Leathernecks did so at the expense of everything else, which allowed McEvoy to throw for 283 yards with three touchdowns. At one point, he completed 17 straight passes to set a new single-game program record, and the Badgers cruised in the second half.
Game 3
Prediction: Wisconsin 35, Bowling Green 17
Actual final score: Wisconsin 68, Bowling Green 17
My take then: Naturally, there are bound to be some changes implemented with a new coach. But one thing head coach Dino Babers has no intention of changing is the rate at which his team scores. If he has his way, in fact, the Falcons may play even faster.
My take now: Bowling Green increased its plays per game average from 70.2 in 2013 to 77.9 in 2014 under Babers. But the Falcons' pace ground to a halt against the Badgers. Bowling Green trailed 41-10 at the half and ultimately ran a total of 62 plays in the game. Gordon established a temporary career high with 254 rushing yards and five touchdowns in a surprisingly easy blowout against a Bowling Green team that went on to reach the Mid-American Conference championship game.
Game 4
Prediction: Wisconsin 41, South Florida 10
Actual final score: Wisconsin 27, South Florida 10
My take then: South Florida hasn't produced a winning record since 2010, so that should be the initial baseline for Wisconsin football fans' expectations for the teams' Sept. 27 game at Camp Randall Stadium. While the Bulls have gone 10-26 the past three seasons, the Badgers have gone 28-13 during that same span.
My take now: In yet another game that featured a slow start, Wisconsin entered halftime tied 3-3 against South Florida. The Bulls even brought the score to within 17-10 late in the third quarter before the Badgers sealed victory with a 1-yard touchdown pass from McEvoy to tight end Sam Arneson. South Florida finished the year a disappointing 4-8.
Game 5
Prediction: Wisconsin 24, Northwestern 21
Actual final score: Northwestern 20, Wisconsin 14
My take then: Northwestern is set to return nine starters on offense and nine more on defense, so don't expect the Wildcats to produce a similarly poor season in 2014. Despite all the offseason distractions, Northwestern could creep into the discussion as a viable threat to win the Big Ten West in the first season of the realigned divisional format.
My take now: The fact Northwestern proved to be more terrible in the Big Ten than anybody thought made this result an even bigger head scratcher. Wisconsin's awful quarterback play was the primary reason for this stunning six-point loss. McEvoy was pulled late in the second quarter, and Joel Stave -- in his first appearance since the Jan. 1 Capital One Bowl -- threw three interceptions. It was, without question, the low point during the regular season.
Game 6
Prediction: Wisconsin 38, Illinois 17
Actual final score: Wisconsin 38, Illinois 28
My take then: The day of reckoning is fast approaching, and Illinois football coach Tim Beckman is likely running out of time. With a 6-18 overall record, including 1-15 in the Big Ten over the past two seasons, Beckman is desperately in need of a positive turnaround -- however small -- to keep the angry fans from running him out of town.
My take now: Somehow, Beckman squeezed out two wins over the final two weeks of the regular season to make the Illini 6-6, earn a bowl bid and keep his job. Illinois actually played relatively well for stretches against Wisconsin and led 14-7 after the first quarter. But Gordon and Corey Clement combined for 339 yards rushing and five touchdowns to pull away for the first of seven consecutive Big Ten victories.
Game 7
Prediction: Wisconsin 31, Maryland 24
Actual final score: Wisconsin 52, Maryland 7
My take then: Maryland's first real "Welcome to the Big Ten" moment may take place sometime after kickoff of its Oct. 25 game against Wisconsin at Camp Randall Stadium. The Terrapins have been granted no favors in their first year of the Big Ten and will play one of the toughest conference schedules of any team.
My take now: Maryland certainly was welcomed to the Big Ten in style, as Wisconsin put a hurting on the Terrapins from the start. Stave started to show more consistency with two touchdowns and no interceptions, and the three-headed running monster of Gordon, Clement and McEvoy proved too much to handle. Wisconsin's defense also began to demonstrate why it would be considered among the best in the country. Maryland's only touchdown came in the final minute with its starters still in the game against the Badgers' reserves.
Game 8
Prediction: Wisconsin 30, Rutgers 20
Actual final score: Wisconsin 37, Rutgers 0
My take then: Rutgers will close a brutal four-game Big Ten stretch with a home game against Wisconsin on Nov. 1 after playing Michigan, Ohio State and Nebraska consecutively. . . . Will Rutgers, which finished 6-7 last year with a Pinstripe Bowl loss to Notre Dame, put an early dent in Wisconsin's bid to win the Big Ten West? Or will the Badgers keep on rolling?
My take now: Um, no. No early dent whatsoever. Rutgers' offense stalled, Wisconsin's defense dominated and the Badgers used Gordon and Clement to sink the Scarlet Knights. The two tailbacks combined for 33 carries for 259 yards and four touchdowns. For Clement, a New Jersey native, it was a happy homecoming and one of the high points of his season.
Game 9
Prediction: Wisconsin 38, Purdue 20
Actual final score: Wisconsin 34, Purdue 16
My take then: There's really no other way to put it: Purdue's football program was all kinds of awful in coach Darrell Hazell's first season in charge last year. The Boilermakers finished 1-11, including 0-8 in Big Ten play. They lost by an average of more than three touchdowns per game, came within single digits only twice in the last 10 contests and barely defeated an FCS foe for the program's only win. At least Purdue ranked first in net punting average with 41.7 yards per kick. Unfortunately, punter Cody Webster is gone. Time to reload.
My take now: Purdue stunk as much as predicted and was only close against Wisconsin because Boilermakers kicker Paul Griggs looked like the second coming of Adam Vinatieri. Griggs drilled field goals of 40, 53 and 52 yards. But trading field goals for touchdowns was not a great formula for success. Gordon ran for 205 yards, Stave passed for 219 yards, and the Badgers rolled. Purdue finished 3-9, including 1-7 in Big Ten games.
Game 10
Prediction: Wisconsin 31, Nebraska 17
Actual final score: Wisconsin 59, Nebraska 24
My take then: It's reasonable to assume that this year's Wisconsin-Nebraska matchup, which takes place Nov. 15 at Camp Randall Stadium, could decide which team reaches the conference championship game. The Badgers don't have a particularly difficult Big Ten schedule, and neither do the Cornhuskers for the most part. Outside of an October road game at Michigan State, Nebraska should be favored in every Big Ten game leading up to Wisconsin.
My take now: This game set up exactly as anticipated, with the winner taking over the driver's seat in the Big Ten West. For Nebraska coach Bo Pelini, however, it signaled the beginning of the end of this tenure. Without a Big Ten West title, Pelini was out of a job weeks later. Allowing Gordon to run for a single-game FBS record 408 yards in only three quarters certainly didn't help matters. It was, without hyperbole, a game that will be remembered in Madison for years to come.
Game 11
Prediction: Iowa 24, Wisconsin 20 (changed week of game to Wisconsin 27, Iowa 14)
Actual final score: Wisconsin 26, Iowa 24
My take then: Perhaps no game will be more important than Wisconsin's road contest against Iowa on Nov. 22. Yes, Nebraska and Minnesota are two tough opponents sandwiching the Hawkeyes. But both of those games are in Camp Randall Stadium, a place in which Wisconsin is 61-6 since the 2004 season.
My take now: I changed my prediction the week of the game for the first time ever because there was simply no way Wisconsin was going to lose this in my mind. I'm glad I did because Wisconsin put together an excellent game plan in a difficult environment. Gordon rushed for 200 yards, and Stave played one of his finest games of the year. His surprising 12-yard scramble on third-and-eight clinched the victory in the final minutes and set up a winner-take-all Big Ten regular season finale against Minnesota.
Game 12
Prediction: Wisconsin 31, Minnesota 14
Actual final score: Wisconsin 34, Minnesota 24
My take then: Minnesota's football program is on the rise in coach Jerry Kill's fourth season with the team. The question as it pertains to Wisconsin, however, is this: Are the Gophers good enough to challenge for Paul Bunyan's Axe, or is the gap between the two programs still too wide?
My take now: Minnesota represented every bit the challenge Wisconsin could handle in what became the most significant Border Battle in the last 50 years. The Gophers took a 17-3 lead and appeared ready to book their trip to the Big Ten title game before the Badgers came storming back. Wisconsin's defense held Minnesota to one touchdown in the final 40 minutes, while the Badgers' offense came to life. Stave connected with receiver Alex Erickson five times for 160 yards to open up the field, and the Badgers kept Paul Bunyan's Axe for the 11th straight game.
Game 13
Prediction (via Inside the Badgers beat video): Ohio State 27, Wisconsin 24
Actual final score: Ohio State 59, Wisconsin 0
My take then (via Inside the Badgers beat video): I know the Badgers are four-point favorites and that Cardale Jones has never started a game at quarterback. But Ohio State and Urban Meyer are 24-1 in the Big Ten, and you'd better believe they want to bring home a conference championship after losing last year to Michigan State. For whatever reason, Ohio State always seems to have Wisconsin's number.
My take now: I think it's safe to say that, yes, Ohio State does have Wisconsin's number. Why? Because the Buckeyes have better players and execute on an entirely different level. This Big Ten championship was a first-round knockout and one of the most embarrassing losses for Wisconsin's program in decades. Ohio State amassed 558 yards of total offense to Wisconsin's 228. Four days later, Badgers coach Gary Andersen was gone, off to coach Oregon State. What a mess.
Follow Jesse Temple on Twitter
---