Redskins finally have lethal quarterback
BY foxsports • June 11, 2012
As we roll through the summer, I hope to keep a close eye on the foes in the NFC East from a Cowboys perspective. This division has four very proud, historically proven franchises, and none of them are too satisfied unless they figure out a way to get on top.

The Eagles, a team that has had almost no horrid seasons under Andy Reid, still are the team that is defies the NFL thought that if you are in the mix long enough, eventually you will win a Super Bowl. They still chase their first title in over 50 years.

The Giants, a team that has managed to come out of left field to win a Super Bowl -- twice in five years -- proving it is either not a fluke or it is at the most amazing repeatable fluke ever. Honestly, the history books will identify them as the team of this era -- having won two Super Bowls over the mighty Patriots in five years. But, were they the team of the era or two teams that qualified for the playoffs and then got hot? Regular season wins over those five years? Patriots 63, Giants 49. But, given that "styles make fights", we can certainly surmise that the Giants found a style in January -- TWICE -- and therefore have their claim to the throne. It doesn't matter who the best team in the regular season actually was.

Then, the Cowboys and Redskins. The stars of the American Express commercial so long ago, and two league heavyweights for a long, long time. But, since they both won their Super Bowls in the early 1990s, the cupboard has gone dry. Washington has but three wildcard round victories since the 1991 season, and only one playoff win in the new millennium. Dallas, meanwhile, has but two wildcard victories of their own since the 1995 Super Bowl.

The Redskins, though, think their fortunes are surely about to change. If not, they would not have traded their 1st round picks in 2012, 2013, and 2014, as well as their 2nd round pick in 2012 to move up and get the Rams #2 overall selection to take Robert Griffin III from Baylor.

RG3 is a fantastic talent that many years would have been worthy of #1 overall. Andrew Luck will make that either a historical debate or at least a Ryan Leaf-type footnote on both of their careers. Luck will now take his chance in Indianapolis and Washington will be where RG3 will either sink or swim. And according to Dan Pompei's weekly column at the National Football Post, neither franchise is going to wait to unleash their new hope:
One year ago, 19 out of 20 coaches might have told you the preferred way to develop a rookie quarterback would be to let him sit and learn and acclimate slowly. Then along came Cam Newton and Andy Dalton, throwing conventional wisdom a wicked curveball.

The success the quarterbacks experienced as rookies has caused many to reevaluate the traditional way of thinking. You know Andrew Luck will be taking every snap from the start of camp. Robert Griffin III was named the starter in Washington before he had his first practice with Redskins veterans. And the Dolphins and Browns will be pushing Ryan Tannehill and Brandon Weeden on the field as soon as possible.
Simple as that. Draft him and start him. Something that used to be insane is now normal. Like Joe Flacco, Matt Ryan, Mark Sanchez, Matt Stafford, Newton, and Dalton, these franchises don't even get through the first month of their first year before they are behind the wheel. Heck, Dalton and Newton did it last year without the benefits of OTA's and the offseason programs due to the lockout. They just played football and now the idea that Steve McNair and Aaron Rodgers were groomed slowly has been discarded for the start-from-Day 1 approach.

But, since the Redskins last had an elite QB -- league MVP Mark Rypien -- they have rolled out seasons with Heath Shuler, Gus Frerotte, Trent Green, Brad Johnson, Tony Banks, Patrick Ramsey, Mark Brunell, Jason Campbell, Donovan McNabb, and Rex Grossman. And that isn't even digging down to the QBs who never made it a season as starter. They are ready for their golden boy. And were willing to overpay to find him.

Here is why I expect great success from Griffin and the Redskins on a rather quick basis. I think, and evidently the Redskins agree given their willingness to part with four premium picks to secure him, that Griffin is tailor-made to fit the Mike Shanahan system. In fact, if you consider what Shanahan truly believes in from an offensive standpoint, you might say he fits as well as just about any QB that Shanahan has dealt with since John Elway.

Shanahan is perhaps the biggest believer in football -- along with his former OC Gary Kubiak, now head coach of the Houston Texans -- of the zone stretch QB naked bootleg rollout design that stresses so many defenses in the NFL.  My colleague in football dorkdom, TC Fleming, broke this down in great detail a few years back as a study on the Houston Texans and I would encourage you to read the entire piece to get great insight on what I expect the plan is for RG3 in Washington.


While in Denver, they carved out a pretty distinct sort of identity. The idea, if I could simplify way down, is to use their zone blocking system to get Terrell Davis going on the ground. Then with the defense keying on him, have John Elway fake the handoff to Davis and roll to the opposite side where he had the option to either throw to a receiver whose defender had bit on the fake to Davis or run it himself into the areas voided by the over-pursuing defense. That's why Shanahan and Kubiak worked so hard to get Jake Plummer as a free agent and why they traded up to get Jay Cutler in the draft: the general system is predicated on having a quarterback who can throw well on the run, pick up yards himself when needed and just generally execute this style of play-action pass known as the bootleg.
Below, you can see the basic zone stretch left with the bootleg right. Ignore the jersey numbers, as this graphic was based on the 2010 Houston Texans, but the idea is the same: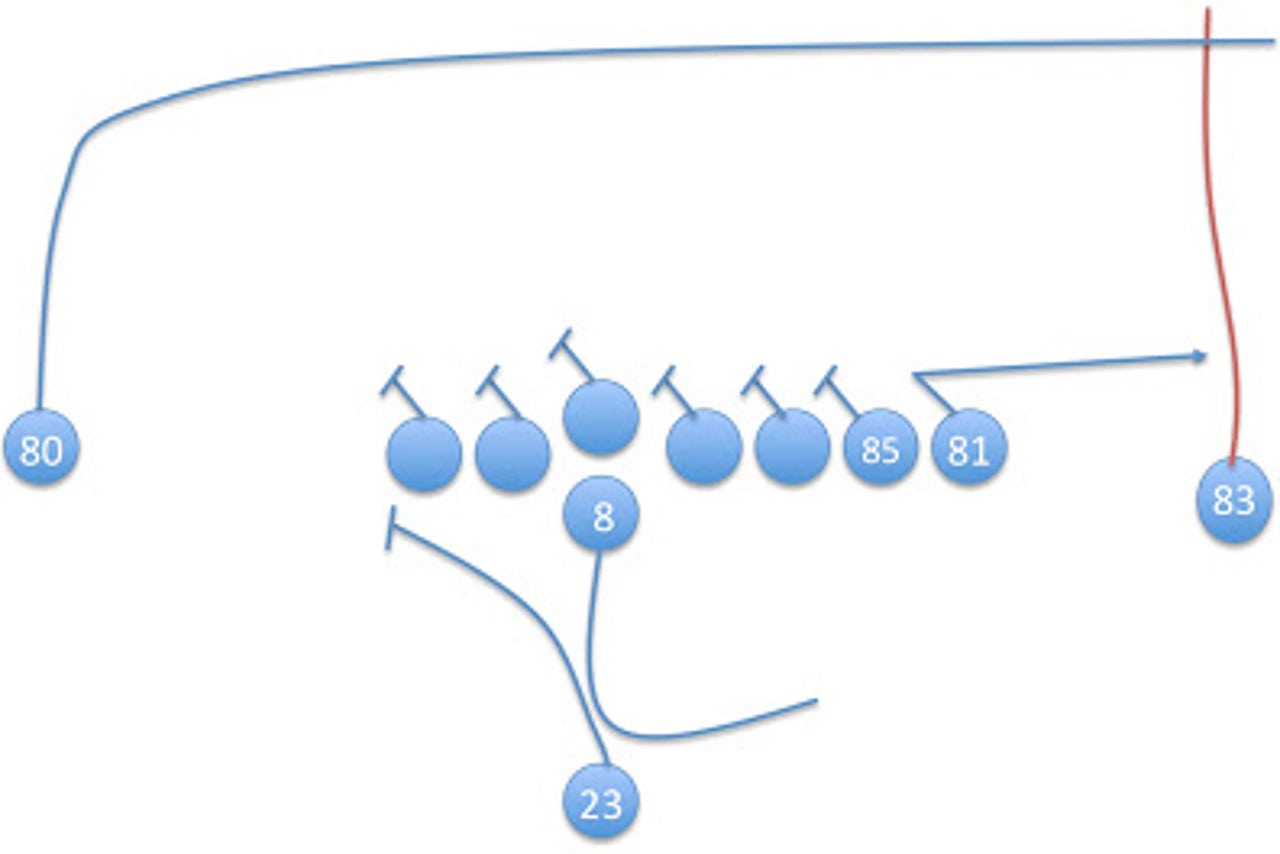 It is important to note that the action from the OL and the running backs repeats over and over. But, the variations with personnel groupings and who is running which route is where the Broncos/Texans/Redskins make your head spin. Sometimes, the FB is on a shallow and the backside receiver goes deep. Sometimes the play side receiver is dragging at an intermediate depth and the TE is shallow. It varies and that is why you cannot get a good feel for it.

What happens is over time, you either cheat the run or cheat the pass. They keep pounding the other until you stop cheating. But, here is why Schaub, Cutler, Plummer, and especially Grossman cannot run it like RG3. They were never close to the fastest man on the field.

How do you spy Griffin on a naked bootleg or a waggle? And if you figure it out, then he puts on the breaks and delivers a strike. But, if you don't respect his legs, what keeps him from breaking contain and moving the chains?

And if you spend too much time on Griffin on the naked, then, can you contain the running game on the simple zone? You ask who the Redskins have at running back? I will counter with asking if you could name any of the anonymous runners Shanahan made famous running this concept with lesser QBs causing the classic conflict.

Obviously, to replicate the offense properly, they will need a deep threat and a useful group or receivers. With their offseason, it appears they have placed their resources in fixing that. They also have a strong collection of tight ends to make this offense really work.

Nobody is here to suggest they will make the postseason in year 1. But, with an already formidable front seven on defense, you can see the philosophy in place. It makes sense on paper. Whether they have the depth and all of the pieces in place can be debated, but it would be folly to assume that Washington is still a group of over-the-hill mismatched parts. With Shanahan and Bruce Allen, there is a very clear list of objectives being checked off and they may just have the most important piece in place.

It will be fascinating to see how it takes shape, but if you are Dallas, you had better get familiar with the offense. And that might explain why the Cowboys don't feel that they can play with slow linebackers anymore. With Michael Vick and Griffin on the schedule four times a year, Keith Brooking and Bradie James had to go. Sean Lee and Bruce Carter will need to put their track shoes on to keep track of the opposing double-threat QBs.


---