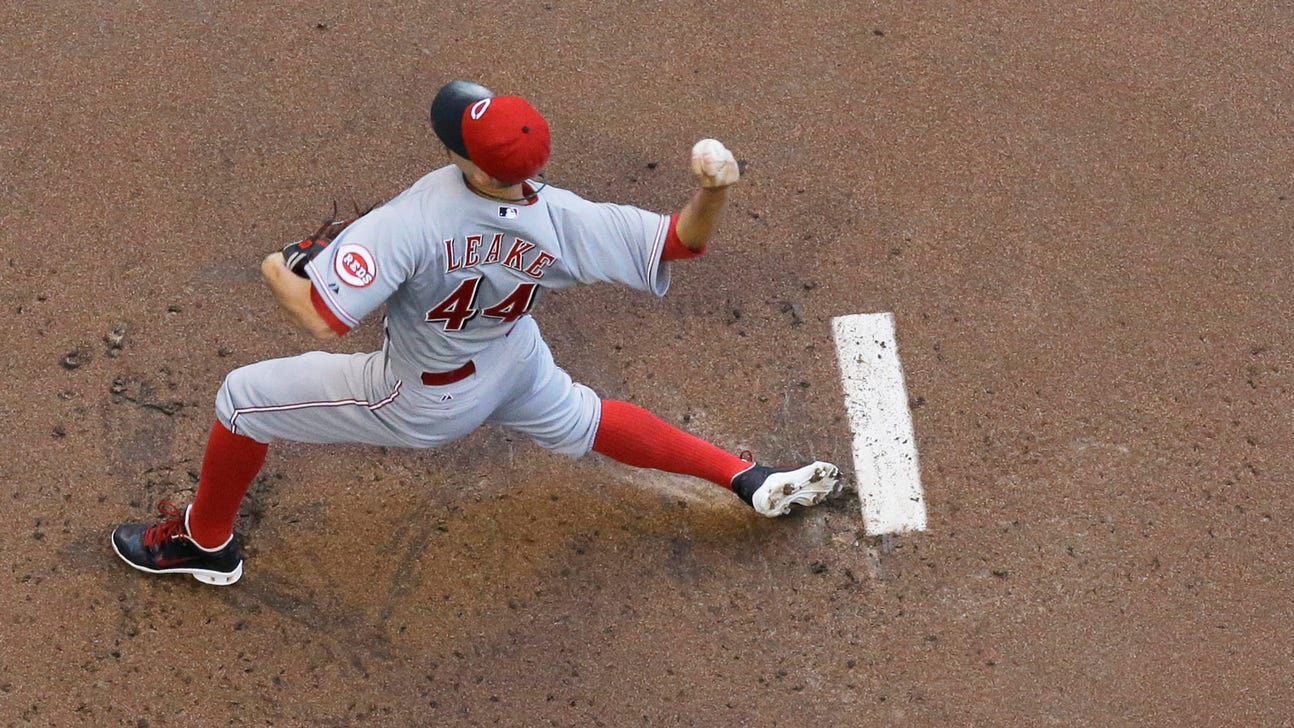 Reds-Marlins Preview
Updated
Mar. 4, 2020 9:01 p.m. ET

Mike Leake has some tough acts to follow the way Cincinnati Reds starters have pitched in Miami.
He's the fourth straight right-hander to start for the Reds in this series and will try to help his club capture this four-game set against the Marlins on Sunday.
The first three starters for Cincinnati (55-55) have each gone seven innings and yielded one run. Johnny Cueto and Mat Latos earned wins in the first two games before Homer Bailey's outing in Saturday's 2-1, 10-inning defeat.
"These last three nights we've faced some pretty good pitchers so we're battling, we're grinding, I think you see guys trying to put some good at-bats together and we've hit some balls hard and not gotten some breaks," Marlins manager Mike Redmond said.
Leake (8-9, 3.53 ERA) gets the ball next after going 2-0 with a 2.13 ERA in his first two career starts against the Marlins.
He enters this meeting off one of his best starts of the season. Leake struck out eight in 7 2-3 innings to earn a 3-0 victory over Arizona, also singling in a run.
"He was on the attack," manager Bryan Price said. "There's a certain element to him - a competitiveness, a fierceness to the kid - that makes him better than his stuff, and he's got good stuff."
Leake may need to provide some offense again after the Reds managed five singles from their starting lineup Saturday.
Billy Hamilton hit a tying RBI single in the eighth inning but failed to drive in the go-ahead run from third base with one out in the 10th.
That set the stage for Christian Yelich's game-winning single in the bottom half as the Marlins (54-56) ended a three-game slide as well as a seven-game losing streak to the Reds.
"Had some chances in the past and wasn't able to do it, so when you're able to come through like that it was a big win for us," Yelich said.
Miami slugger Giancarlo Stanton's streak of three straight games with a homer ended. He's 1 for 3 against Leake.
Cincinnati's RBI leaders, Todd Frazier and Devin Mesoraco, are a combined 3 for 19 with two RBIs in this series.
Those hitters will be up against Jacob Turner (4-6, 5.69), who is 2-0 with a 2.53 ERA in two outings since returning to the rotation July 22. Still, right-handed hitters are batting .350 against him for the highest mark in the majors.
The right-hander won his lone start against the Reds with seven innings of two-hit ball in a 4-0 victory Sept. 14, 2012. The Marlins are winless in his last six home starts, with Turner 0-3 with a 6.91 ERA.
It's not clear who Turner's batterymate will be. Catcher Jarrod Saltalamacchia has a stiff back that has resulted in Jeff Mathis starting behind the plate twice in this series.
---