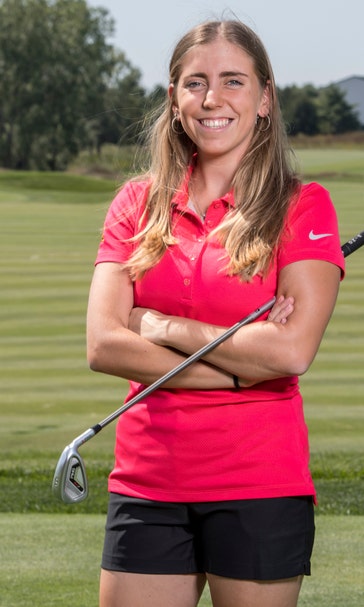 Records: Suspect in golfer's death struggled after prison
September 21, 2018
Police in an Iowa college town had repeated interactions with a troubled drifter in the weeks between his departure from prison and his alleged killing of a star golfer from Spain, records show.
Ames police reports show that 22-year-old Collin Richards struggled with drug and alcohol abuse, mental health problems and homelessness after he got out of prison in June. His name also came up in a criminal investigation in which several officers served a warrant at the home of one of Richards' associates in August, according to records released to The Associated Press.
Richards is charged with first-degree murder in the killing of Iowa State University student Celia Barquin Arozamena while she played at Coldwater Golf Links on Monday. Investigators say he had been staying in a small homeless encampment in the woods near the public course. He is accused of stabbing Barquin, the Big 12 champion and Iowa State's female athlete of the year, and leaving her body in a pond on the course, where it was found after other golfers noticed her abandoned bag.
Shortly before 4 a.m. on Aug. 11, an officer found Richards sleeping in a tent behind a Target store after a female employee called police to report a suspicious man who was in the woods using a flashlight, records show. Officers returned to the site again that night to tell Richards to leave the private property, with one describing him in a report as being cooperative but showing "signs of drug use."
Three days later, officers served a late-night search warrant at a home near the golf course and the woods where Richards had been camping prior to his arrest, records show. Police were at the scene for about an hour and ran the driver's licenses of Richards and Christopher Lee Johnson, an associate who lives at the home, records show.
Police spokesman Geoff Huff said he couldn't comment on the nature of that investigation because it was still active.
"That's an unrelated but ongoing case," he said. "He's not necessarily the focus of that investigation. I just can't say much more than that."
Huff declined to comment on whether the home is the same one where Richards allegedly showed up after the slaying "covered in blood, sand and water" and washed himself. He also declined to say whether Johnson is the "C.J." referred to in the criminal complaint against Richards as that home's occupant.
Johnson, 40, hasn't been charged in either case, court records show. He didn't reply to a phone message seeking comment.
Richards left a Mount Pleasant prison on June 4 after serving a roughly 7-month stint for violating the terms of his probation on convictions for burglary and other crimes, according to the Department of Corrections. Just two weeks before his sentence expired, the Iowa Board of Parole denied him an early release, saying he lacked a "solid and stable plan for returning to the community."
"You have not yet made, or have refused to make, arrangements deemed satisfactory by the board," Chairman Jeff Wright wrote in the May 17 decision, urging Richards to work with his counselor to form such a plan.
About three weeks after his release, Ames police found Richards passed out near a liquor store. Richards told an officer that he was diagnosed with depression and had taken several prescription drugs before drinking a six pack of beer. He was arrested for public intoxication, briefly jailed and fined $200.
In July, officers were sent to check on Richards after he was spotted sleeping outside of a government building. He told them he had been "booted out a little early" from a homeless shelter and was taking a nap. In August, officers stopped him for riding his mountain bike at night without lights.
---