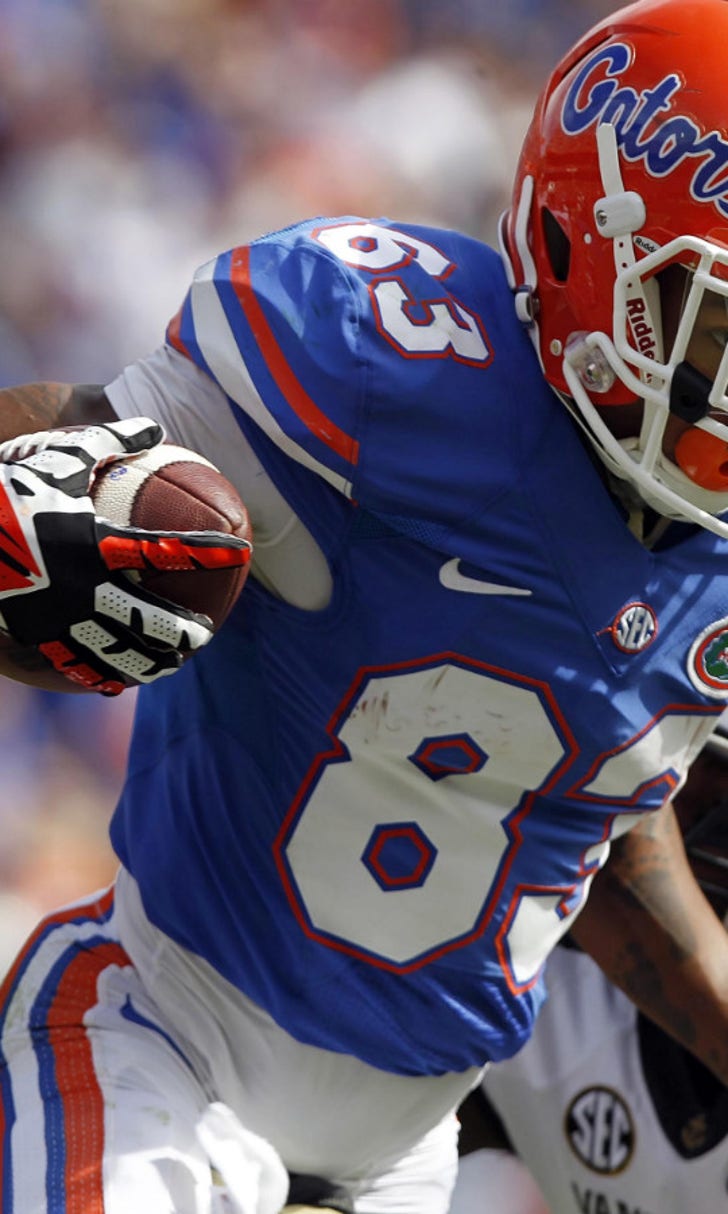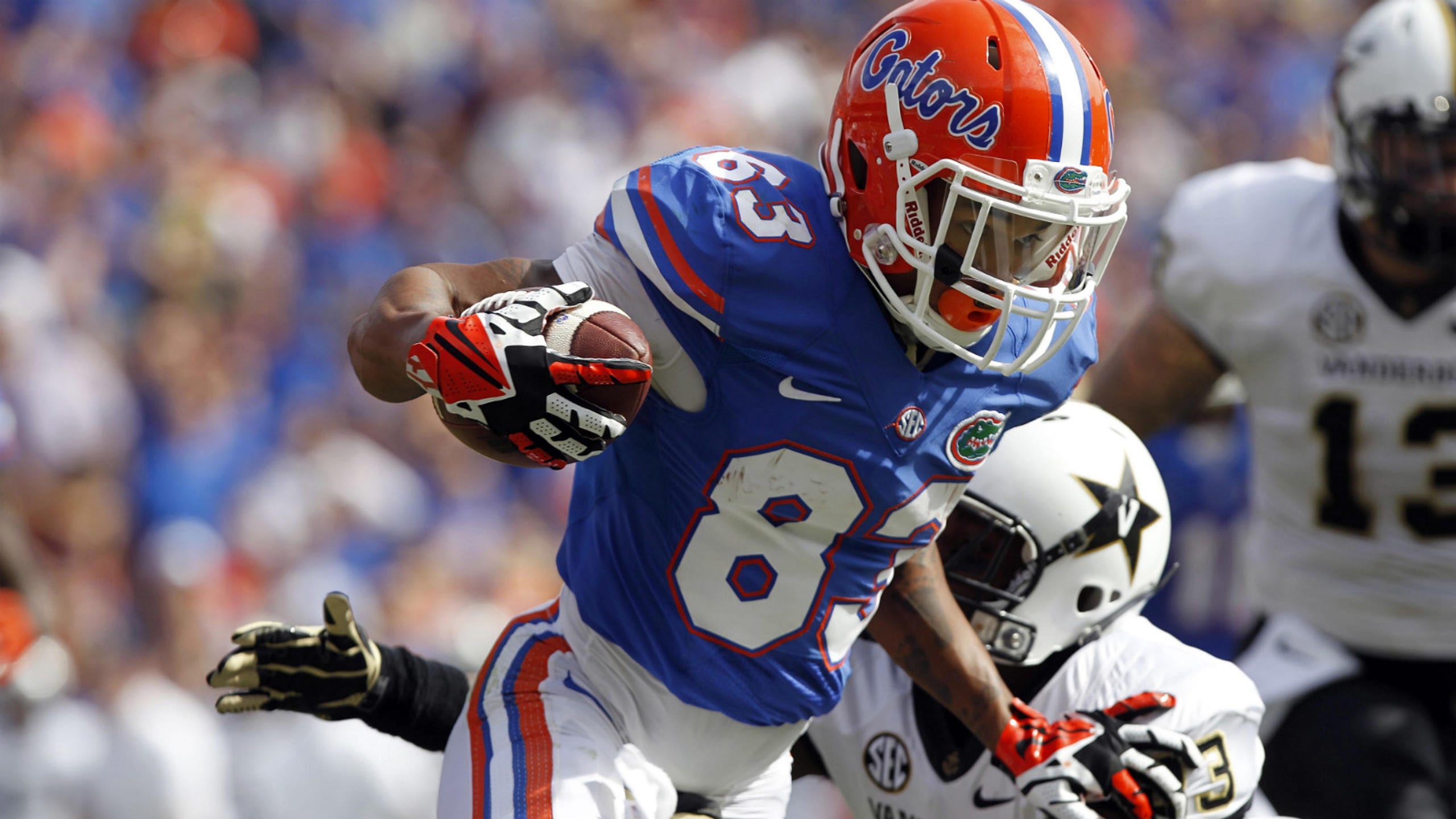 Receiver Solomon Patton shines in rain during Gators' Pro Day
BY foxsports • March 17, 2014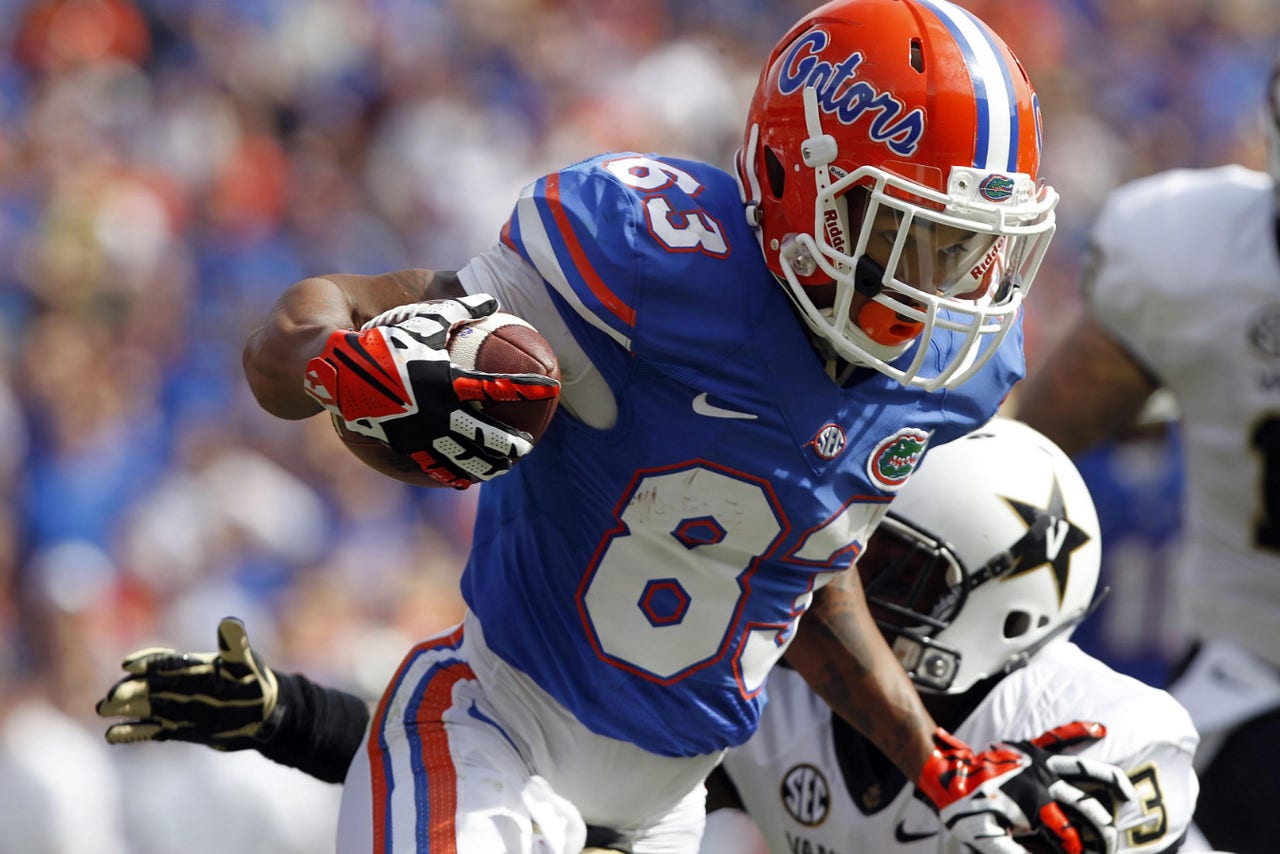 GAINESVILLE, Fla. -- He could have been distracted by the rainy weather or wet footballs or slippery turf. Or bummed that more than a dozen family and friends came Monday for his Pro Day workout and planned a sunny cookout after he was done.
None of those uncontrollable factors bothered Solomon Patton. He returned to UF on a mission Monday.
"I've been waiting on this," he said.
Patton had a breakout senior season for the Gators, leading the team in receptions (44), receiving yards (556) and touchdowns (6). He also returned a kickoff for a touchdown and remained a standout performer on UF's special teams.
Still, when invitations for last month's NFL Combine were sent out, Patton did not receive one. Eight of his UF teammates did: Jon Halapio, Jonotthan Harrison, Trey Burton, Ronald Powell, Dominique Easley, Loucheiz Purifoy, Jaylen Watkins and Marcus Roberson.
Instead of sulking, Patton continued to work out with March 17 marked on his calendar.
"Even before (the combine), I've just been really excited to be able to get back and show the scouts what I can do," Patton said. "I feel like I definitely did a good job."
Based on the attention Patton received from the more than 50 NFL scouts and assistant coaches in attendance, it sure seemed that way.
Patton was clocked unofficially at 4.3 in the 40-yard dash and did 16 reps of 225 pounds in the bench press. For a player who checked in at 5-foot-8 and 179 pounds, that's a lot of lifting.
Gators coach Will Muschamp doesn't put much stock into Patton's combine snub. He coached Patton for three seasons and saw him put in the work to develop into the Gators' offensive MVP in 2013.
"He is going to give you a lot of bang for your buck," Muschamp said. "There's no question he is going to find a role. Where will he fit in? He is a guy that is going to make a team. It's just a matter of fit, the right situation for him.
"He trained well. A lot of the questions the scouts and coaches have is to see how a guy prepares himself for a combine or Pro Day. Obviously he has worked extremely hard to prepare himself for this day."
Patton is suited to play slot receiver and on special teams. At UF he returned kickoffs, punts, and played on kickoff coverage and punt block.
While Patton put up good numbers in the weight room and on the track Monday -- the players ran the 40-yard dash on the O'Connell Center track due to the inclement weather -- he perhaps saved his best for the on-field portion of the workout.
With steady rain throughout, Patton made several good catches on balls thrown by former UF quarterback Chris Leak. He also looked fast on the artificial turf surface where the players performed drills at UF's practice facility.
"He caught the ball well. He was crisp in his route running," Muschamp said. "He caught everything off his body, which is what they want to see."
Patton's primary focus Monday was to show off his speed and hands. The 16 reps in the weight room were a bonus.
"That's pretty good for a wide receiver," he said.
As for working out in the rain, Patton said it wasn't ideal, but he didn't seem to mind.
"It also makes you look good, especially if you are catching the ball," he said. "Depending on where you go, you could get a lot of rain. I felt it made me look pretty good. I felt like I did a good job running full speed and catching and bursting after the catch."
Burton also looked sharp in drills. Invited to the combine as a tight end, Burton is willing to play wherever an NFL team is willing to give him an opportunity.
Burton did not participate in the bench press at the combine. He wanted more time to build up strength in the shoulder he separated in the FSU game in November. He was pleased at the results Monday.
"I was hoping to get 20, but I got 19 (reps)," Burton said. "I was two inches higher on my vertical (jump) and one inch on my broad. I improved on a lot of things from the combine, and that's what I really wanted to do. I'm just waiting to hear calls and stay on top of training."
Halapio, who played most of last season with a torn pectoral muscle, put up 32 reps on the bench press, one of the day's most impressive performances.
"I think his pec is fine," Muschamp said. "A lot of young men would have probably taken a redshirt and had surgery. We gave him several options and he just said I'm going to tape it up and play."
Easley attended but did not do on-field drills as he continues to recover from the knee injury that limited his senior season to three games. Muschamp spoke to Easley on Monday about a potential private workout at UF next month for teams.
"I told him, 'If you're not ready, don't work. Wait until you're ready to go cut it loose and give them a good day's work,'" Muschamp said.
Several notable NFL personnel attended, including Vikings head coach Mike Zimmer, Saints defensive coordinator Rob Ryan and 49ers general manager Trent Baalke.
Harrison said it was good to catch up with his former teammates. He is training in Arizona under former NFL offensive lineman LeCharles Bentley, who runs O-Line performance.
"Everyone's been working hard and training hard since the season ended for this day," Harrison said. "It was good to see everyone out here working hard."
Despite a 4-8 record last season, the Gators are expected to have several players drafted in April.
"All 32 teams were here," Muschamp said. "To have that turnout after the year we had, it tells you we've got some good players in the program."
EXTRA POINTS
Defensive lineman Ronald Powell, who pulled a hamstring at the combine, is training with Halapio in California … Muschamp said in talks with scouts that Roberson and Purifoy's scrutinized times in the 40 at the combine should not be a concern. "Those guys play a lot faster than they are going to run the 40. At the end of the day they are going to watch tape and that's what matters." … While the conditions prevented the players from working out inside Ben Hill Griffin Stadium, Muschamp said there were no complaints from the scouts. "You play football in the rain. Those guys made a lot of comments about our guys going out there and competing. They didn't bellyache about it. They went out there and competed. That's what you want to see."
---