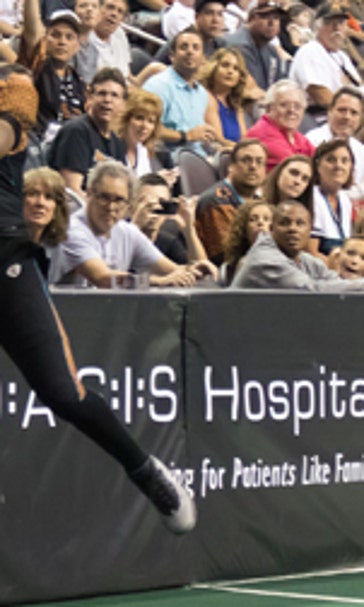 Rattlers take out Outlaws for 8th straight win
July 12, 2015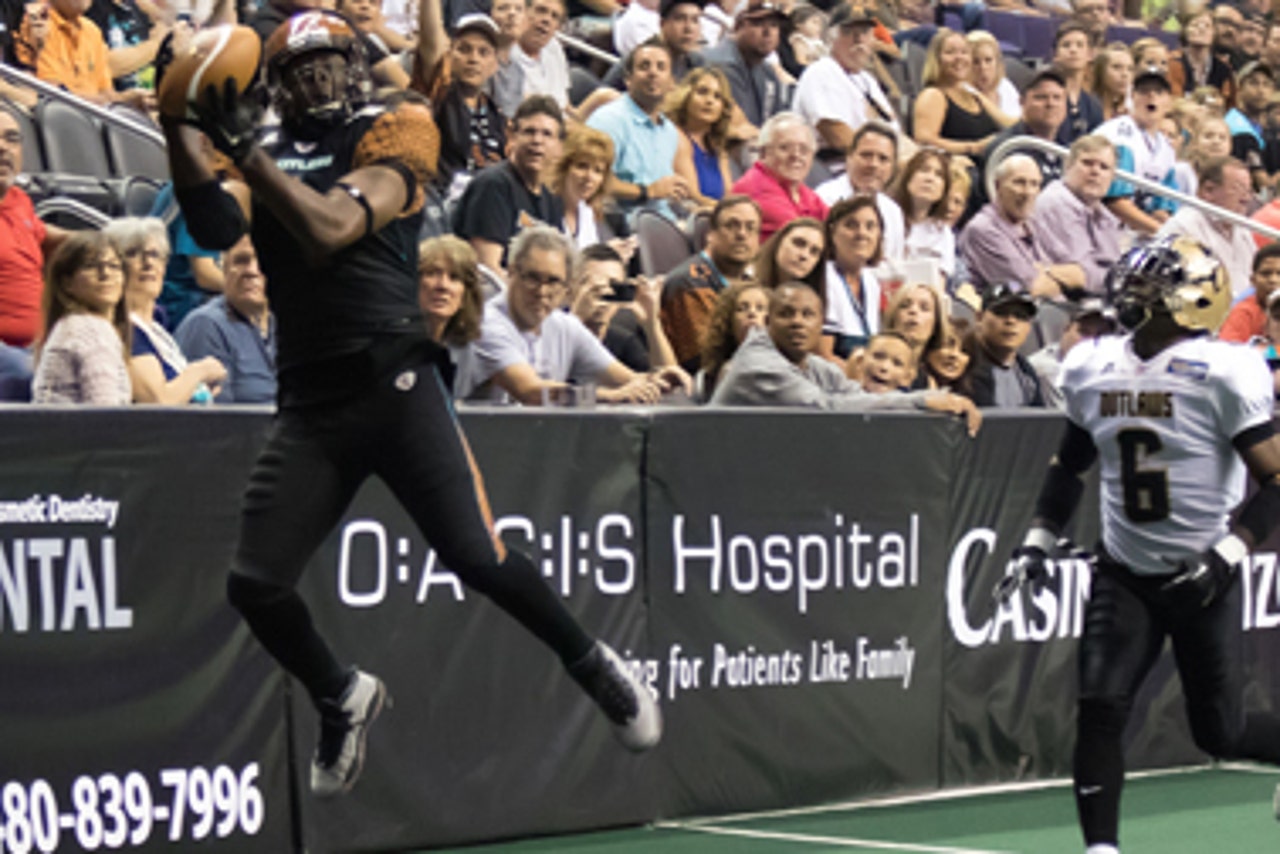 PHOENIX -- The Arizona Rattlers on Saturday night won their eighth straight game with a 57-43 victory over the division rival Las Vegas Outlaws in front of 11,891 fans at the US Airways Center.
The win marks the 100th victory with the Rattlers for head coach Kevin Guy.
Guy is a finalist to join the 2015 class for the AFL Hall of Fame. He has 101 victories overall as a head coach and a winning percentage of .743, which is best all-time among all AFL coaches. Voting for the hall of fame begins Monday at ArenaFootball.com.
"I am very humbled to be a part of this organization," Guy said. "The game-changer was when Ron (Shurts) came into ownership. I'm blessed to have good people around me."
The first half was dominated by the defense. The Rattlers (12-2), led by defensive back Marquis Floyd, held the Outlaws (5-9) to 14 first half points. Floyd finished the game with five tackles, three pass breakups and one interception off of Outlaws quarterback Kasey Peters which ended Peters' night. Defensive back Arkeith Brown also intercepted Peters earlier in the game.
Floyd was not the only defensive player to have a big night. The entire defensive line was unyielding, tallying five sacks on Outlaws quarterback Dennis Havrilla. Defensive ends Cliff Dukes and Michael McAdoo both earned a sack and a half, and linebacker Tyre Glasper caught Havrilla in the end zone near the end of the third quarter for a safety.
"I thought our defense played outstanding," said Guy. "Our pass rush was relentless up front and our coverage was good."
Rattlers quarterback Nick Davila broke his streak of four straight games without a pick, throwing two in the first half. Davila, however, bounced back with an impressive second half, completing 10 of 12 passes and five second-half touchdowns. Overall Davila finished with 271 yards and eight touchdowns. Half of the touchdowns thrown were to wide receiver Rod Windsor, who caught eight passes for 113 yards and four touchdowns.
Rookie wide receiver and new acquisition Dan Buckner saw significant action tonight as well. He hauled in three catches for 82 yards, including the Cutters Catch of the Game which was a 48 yard pass from Davila for a touchdown in the 3rd.
The Outlaws had a strong push in the fourth quarter, scoring 29 points. It still was not enough to overcome the large deficit they incurred through the first three quarters.
---