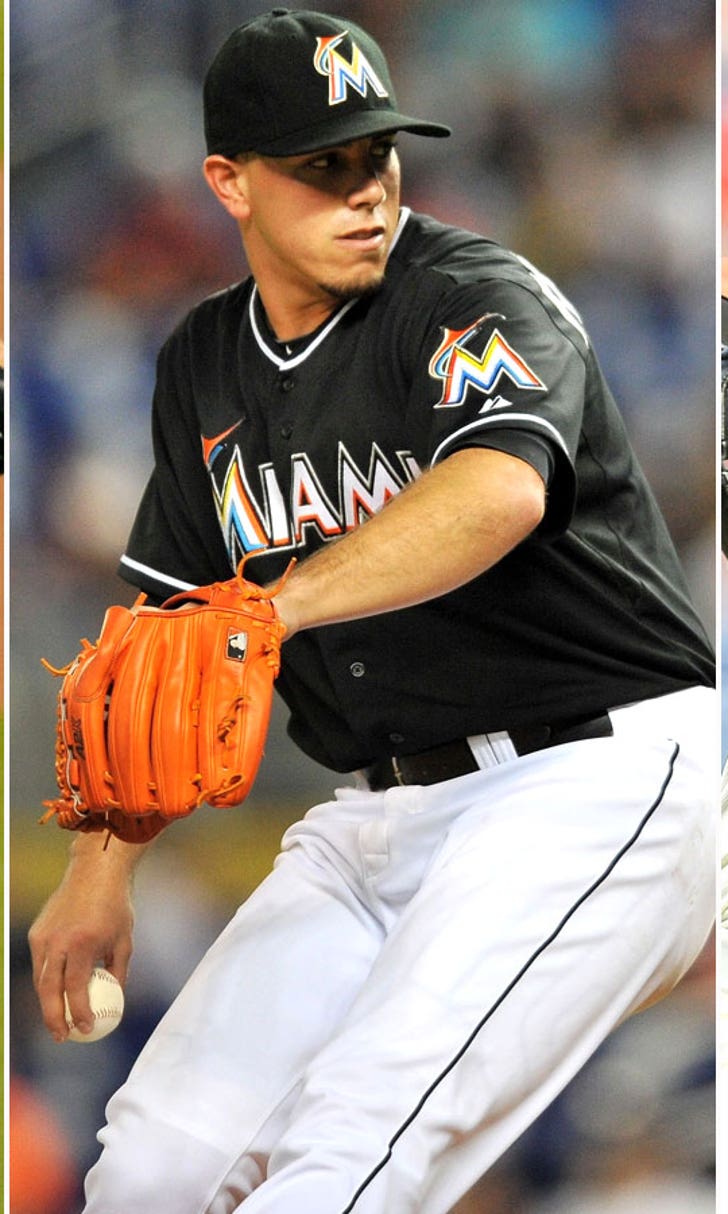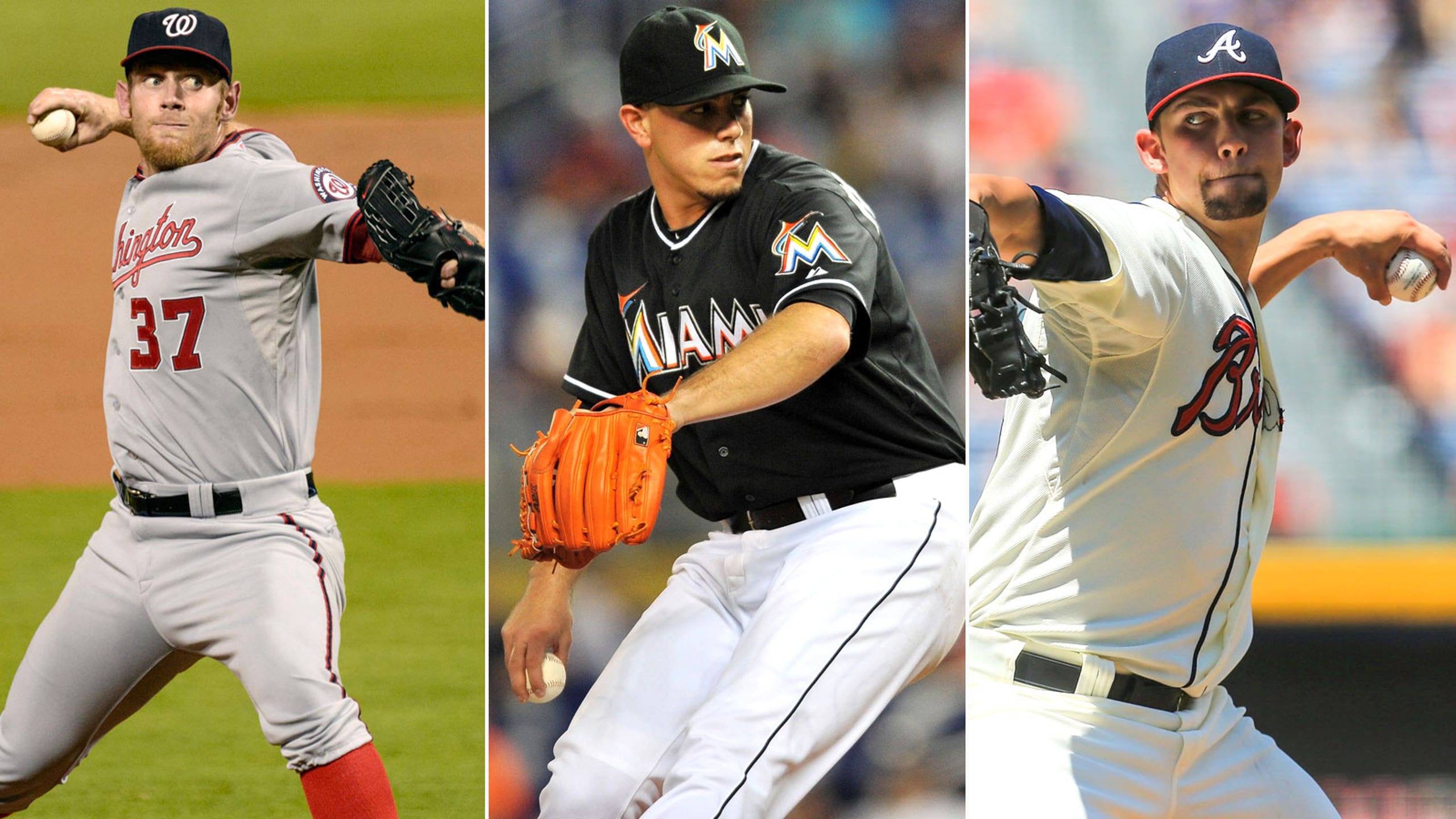 Ranking the National League East pitching rotations
BY foxsports • February 4, 2014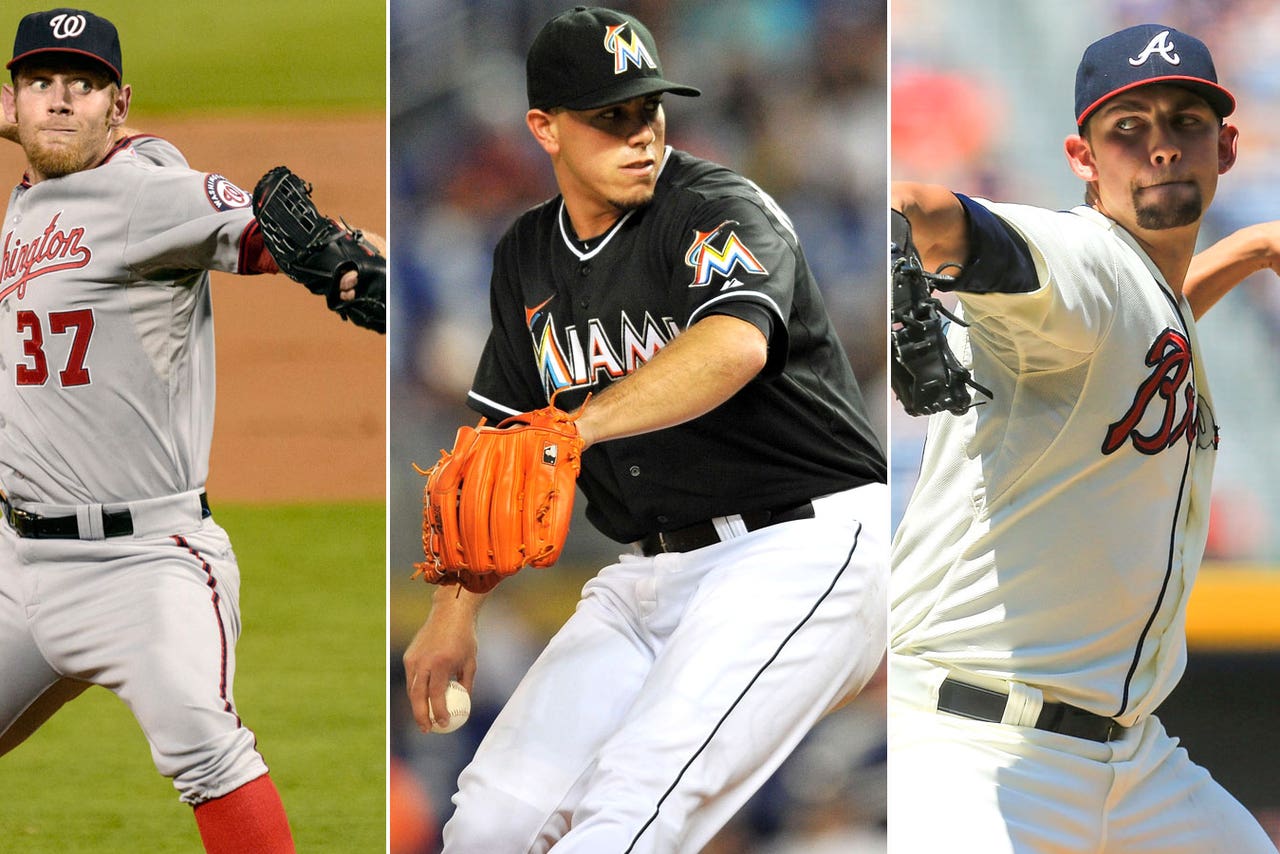 Of equal importance, Strasburg has remained healthy for the last two seasons, averaging 29 starts, 194 strikeouts and a rock-solid 52 walks per annum.
**Gonzalez has been remarkably durable over the last four seasons, posting 63 total victories and collecting at least 32 starts each year. And while the 2013 campaign elicited his highest ERA of the decade (3.36), the Nats southpaw walked just 76 hitters (same as 2012) and registered eight outings of eight-plus strikeouts.
In short, Gonzalez (190-plus strikeouts for 2011-13) has the high-end chops to be the Nationals' anchor, even when Strasburg, Zimmermann and Fister are cruising every fifth day.
**Adam Wainwright (Cardinals) and Zimmermann (3.25 ERA) tied for the National League lead in victories last year (19). Zimmermann also broke new ground in his age-27 camapaign, posting career highs with shutouts (two), complete games (four), strikeouts (161) and WHIP (1.09).
The only ticky-tack downside here: Zimmermann likely cannot match the strikeout ceilings of Strasburg, Gonzalez and Fister.
That's not Washington's concern, though. Instead, the franchise's focus should be extending Fister beyond his 2015 contract and solidifying arguably the best 1-4 gauntlet in baseball.
After all, Fister enjoyed a superb season with Detroit last year (14 wins, 3.67 ERA, 159 Ks), and he has never yielded more than 44 walks in a single campaign.
Prior to that, Minor surrendered only two or less runs in 19 starts last year -- following up a prodigious September 2012 run that included four wins and 0.87 ERA.
**At age 22, Teheran had a scintillating rookie season, rolling for 14 wins, a 3.20 ERA, 1.17 WHIP and 170 strikeouts. Digging deeper, of his final 27 starts last year, Teheran allowed three or less runs 21 times and three or less walks 26 times.
For good measure, he also registered three outings of double-digit strikeouts. In short, Teheran has all the makings of a frontline dynamo.
**Medlen posted career highs in victories (15) and strikeouts (157) last year, but ultimately he couldn't fully recapture the dynamic mojo of the 2012 season when he went 10-1 with a 1.57 ERA, 0.91 WHIP and 5.22 K-BB rate.
That aside, Medlen should be trending upward heading into spring training (fantasy-wise): Of his final nine regular-season appearances in 2013, spanning 59 innings, the Braves righty had a 1.24 ERA and 49/11 K-BB rate.
**Subtract Beachy's rocky debut last year -- seven runs and eight hits in his first MLB appearance in 13 months -- and his ERA for 2013 (26 1/3 innings) was a cool 2.73.
Throw in the obligatory caveat that most pitchers require two seasons to fully recover from major elbow surgery, and it's entirely plausible Beachy (age 27) can duplicate the greatness of 2012 -- when he led the National League in ERA (2.00) at the time of his injury.
Of his last 18 MLB starts (covering 2012-13), Beachy allowed three or less runs 16 times; in that span, he also produced 15 outings of three or less walks.
And dating back to 2011, the right-hander's first full year in the majors, Beachy notched 16 games of seven-plus strikeouts -- including his final nine starts.
**For 2011, spanning 31 appearances, Floyd (12-13, 4.37 ERA, 1.16 WHIP last year) stealthily walked three or fewer batters in 29 of 30 starts. In that time frame, he tallied seven-plus strikeouts seven times.
The following year, Floyd haggardly walked four or more batters six times and recorded 15 or less outs in nine different outings -- or 34 percent of his starts.
On the flip side, there's still a chance Philly lands A.J. Burnett, Ubaldo Jimenez or Ervin Santana -- three strong free agents.
**Lee (14-8, 2.87 ERA, 1.01 WHIP, 222/32 K-BB) enjoyed five absurd months of production last year, with July (6.05 ERA) serving as the lone hiccup of 2013. Check this out: For April-June and August-September, Lee amazingly notched 30-plus strikeouts and nine or less walks each month.
Even at age 35, Lee is still a top-10 starting pitcher.
**From a win-loss perspective, Hamels (8-14) had a miserable 2013 -- the first year of a super-sized contract. However, he still eclipsed the 200-strikeout threshold for the third time in four seasons and walked only 50 batters.
For his age-30 season, you can bet the house that Hamels rebounds for 14-plus wins, regardless of the Phillies' overall victory tally. And given his 30-plus strikeouts for every month last year -- including an 0-6 malaise for May -- he's a viable bet for 200 strikeouts once again.
The downside: There's no guarantee he'll ever best Kershaw for the Senior Circuit's most prestigious award, amongst starting pitchers.
Half-joke aside, the numbers from Fernandez's age-20 rookie campaign were absolutely phenomenal -- but not necessarily a surprise. At two levels of minor league ball in 2012, the teenager went 14-1 with a 1.75 ERA, 0.93 WHIP and absurd 158/35 K-BB rate.
**Eovaldi (4-6, 3.39 ERA, 1.32 WHIP) had sneaky-good stats from his second year in the bigs, surrendering three or less runs in 15 of 18 starts; and of his final 10 outings, he walked three or less batters nine times.
Does that make Eovaldi a top-notch No. 2 starter for an up-and-coming team? Eh, judgment call on that.
**It's hard to believe Alvarez (58 career MLB starts) doesn't turn 24 until April. He's like the Rick Porcello of the National League, in terms of opposing teams having a significant "book" on the kid's strengths and weaknesses -- and yet, there's still plenty of upside to appreciate.
**For his first 14 starts last year, Jacob Turner consistently maintained an ERA below 3.00. After that, a steady stream of walks and hits contributed to a seasonal bottom line of 3.74 and q 77/54 K-BB rate.
**Heaney is the ultimate wild card amongst this group of upside arms. At two levels last year (High-A/Double-A), the southpaw rolled for nine victories, a 1.60 ERA, 1.07 WHIP and 89/26 K-BB.
**With Harvey out for the forseeable future, Colon (turns 41 in May) assumes the mantle of the Mets' No. 1 starter, which should scare every New Yorker harboring playoff hopes.
Yes, Colon tallied 18 victories, a 2.65 ERA and 1.17 WHIP with the Oakland A's last year, but the odds of him walking just five batters in his final seven outings -- or seven straight starts at any time -- are incredibly long.
As such, Colon is no longer a candidate for 150 strikeouts ... although he fanned 30 batters in his last four regular-season starts.
**Wheeler (7-5, 84 strikeouts in 100 MLB innings) had a strong rookie campaign, but the burden of expectations may be accelerated in lieu of Harvey's absence. For what it's worth, Wheeler's 3.42 ERA in the majors (17 starts) was consistent with the promise of his four-year stint in the minors (2010-13).
**Syndergaard, a prominent piece of last year's R.A. Dickey trade with the Blue Jays, had a fantastic, two-level stint with the Mets in 2013 -- collecting nine wins, a 3.06 ERA, 1.15 WHIP and wicked 133/28 K-BB rate.
For 2011-13, Syndergaard notched three straight seasons of a K/9 rate above 10, scintillating marks for the Mets' No. 3 starter -- in 2015.
---