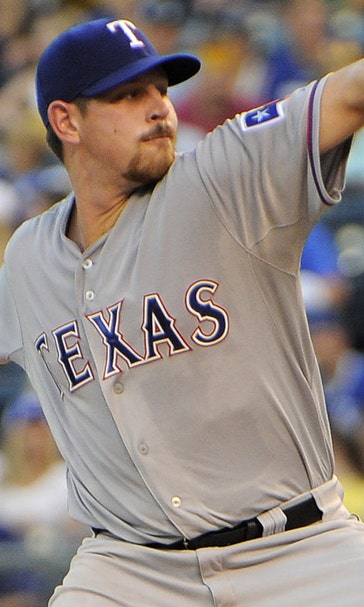 Rangers drop fifth straight in loss to Royals
September 3, 2014

KANSAS CITY, Mo. (AP) - Alex Gordon hit a two-run homer, Jason Vargas pitched into the seventh inning and the Kansas City Royals beat the Texas Rangers 4-1 on Wednesday night to finish off a three-game sweep.
Vargas (11-7) stranded four runners in scoring position before turning over a two-on, two-out mess to Kelvin Herrera, who escaped the jam. Louis Coleman gave up a run in the eighth before Wade Davis finished off the inning, and Greg Holland worked a perfect ninth for his 42nd save.
The victory along with Detroit's 7-0 loss to Cleveland allowed the Royals to extend their lead to 1 1/2 games over the Tigers in the AL Central. They are off Thursday before a crucial trip that takes them through the wild card-chasing Yankees and into a three-game set in Detroit.
Nick Tepesch (4-9) allowed all four runs over 6 2-3 innings for Texas.
The Royals grabbed the lead in the fourth when Omar Infante led off with a single and Gordon homered to deep center. In the seventh, Salvador Perez and Billy Butler doubled to provide a bit of cushion, and pinch runner Terrance Gore scored on a stolen base and a throwing error.
That was more than enough to doom Texas to its fifth straight loss.
The biggest problem for the injury plagued Rangers lately has been situational hitting, and it manifested itself again in three close losses to Kansas City. They were 1 for 15 with runners in scoring position Wednesday night, making them 3 for 28 over the course of the series.
The sweep of Texas was the first at home for the Royals in seven seasons.
Tepesch, who grew up in nearby Blue Springs, Missouri, kept giving the Rangers a chance. He retired his first eight batters and then bounced back from Gordon's homer to retire eight of nine.
Vargas proved to be just a little bit better.
The veteran left-hander, winless in his last six starts against Texas left runners on the corners in the first inning, and somehow navigated leadoff doubles in the third, fourth and sixth.
By the time he trudged off the mound on a humid night at Kauffman Stadium, a small but festive crowd of 15,771 had risen to its feet to give him a parting ovation.
TRAINER'S ROOM
Rangers: RHP Scott Baker has been scratched from his start Thursday against Seattle with a stiff neck. Manager Ron Washington hopes he'll be able to go Friday. ... RHP Yu Darvish (elbow inflammation) will be examined Thursday in Texas. It remains unlikely he'll return his season.
Royals: INF Christian Colon broke the middle finger of his right hand Tuesday night. Manager Ned Yost said he could still be called upon to bunt or pinch run.
UP NEXT
Rangers: LHP Robbie Ross (2-5, 5.63) will move up one day to start in Baker's place. Ross tossed five shutout innings against Houston his last time out.
Royals: RHP James Shields (12-7) starts the Royals' series opener in the Bronx.
---