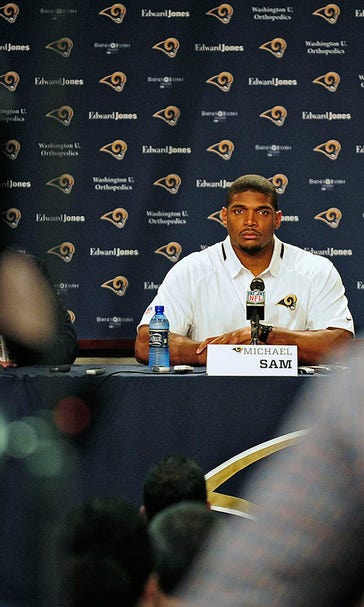 Rams welcome Sam with open arms -- and plenty of cameras
BY foxsports • May 13, 2014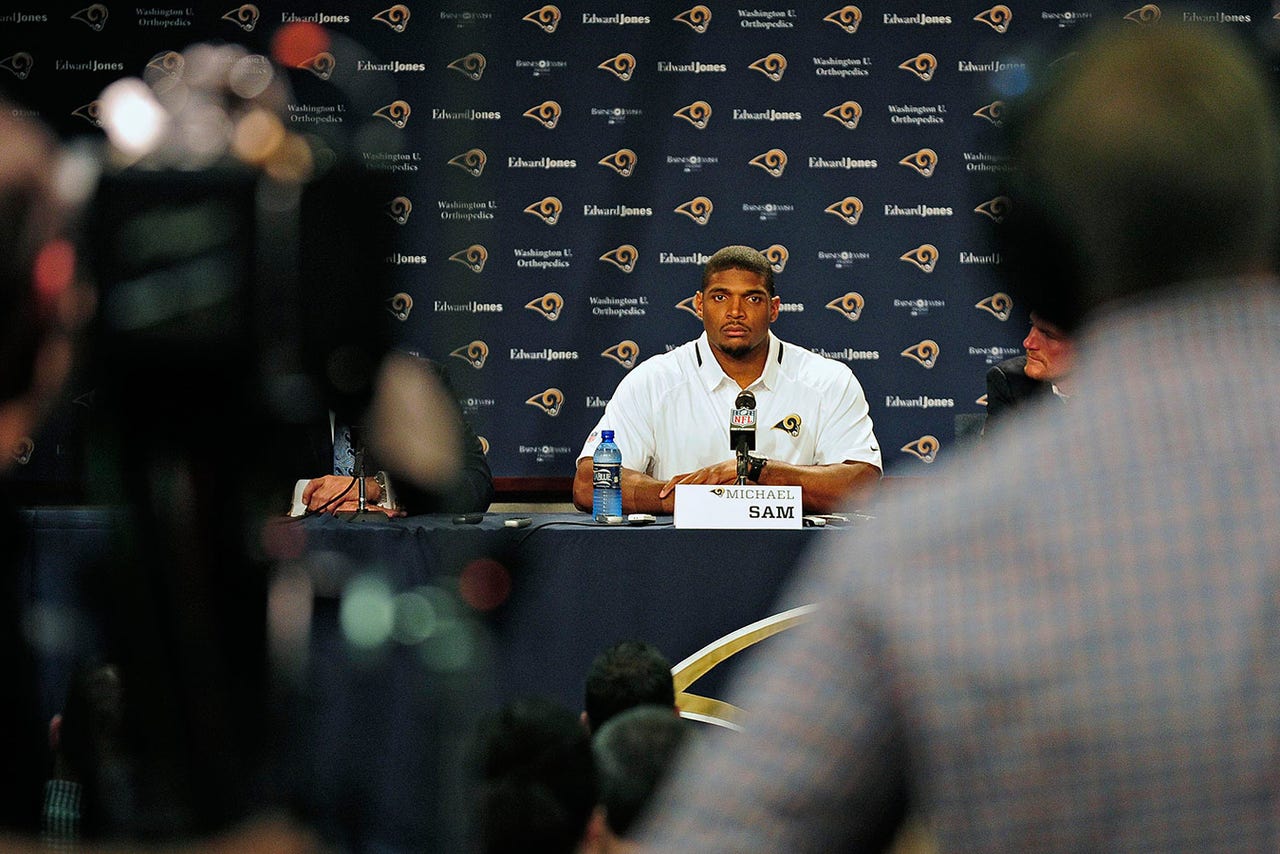 ST. LOUIS -- Waiting for Michael Sam's first public appearance as a member of the St. Louis Rams on Tuesday were several dozen media members, including news and sports networks ready to broadcast his press conference live -- not the typical gathering for a seventh-round draft choice.
Yes, Sam is the first openly gay football player in the NFL. The 249th player selected in the 2014 NFL Draft would rather everyone focus on the football part than the word preceding it.
"But I understand that right now you guys want to make a big deal of it," Sam said.
The Rams' seventh-round pick just wants to play football and do everything in his power over the next few months to win a spot on the team. That was a familiar refrain as Sam and everyone around him -- Rams coach Jeff Fisher, general manager Les Snead, chief operating officer Kevin Demoff and his new teammates -- said all the right things about the situation.
The spotlight doesn't faze Sam, and it shouldn't.
He's already beaten significant odds on his journey from tiny Hitchcock, Texas, to the bright lights staring him in the face on Tuesday at Rams Park.
He's strong enough in mind, body and spirit to overcome whatever comes next. Bet against him if you want, but don't be surprised when he proves all the doubters wrong.
Sam is the seventh of eight children. Three of his siblings have died. Two of his brothers are in prison. According to a story in the New York Times, he lived briefly in the back seat of his mother's car.
The two-star defensive end prospect was one of the least heralded prospects in his recruiting class when he signed with the University of Missouri. He left the Tigers as a unanimous All-American five years later.
It could have been easy for him at any point to give up and choose a different path, but he didn't. He wanted more out of his life. That's how he ended up here at this particular point in time with the eyes of the world focused on every syllable that comes out of his mouth.
"I wanted to get out," Sam said. "I wanted to do some great things. So I played sports. I got better at football. I got better at my grades. I went to college. I was the first person in my family to graduate and now I'm the first person in my family to go to the NFL. So I just keep on fighting, keep fighting the good fight."
The Rams are doing everything they can to give him a chance to make it.
"I think we've heard a lot of praise, a lot of people being excited about the leadership and the step that we took," Demoff said. "Certainly, we've heard some negative as well. You're going to get both throughout the process. I think that's something we knew. We discussed on Saturday if this was going to come to be. But if you're going to take a leadership position by drafting Michael, then I think you have to expect both the good and the bad. And we're prepared for it and I think we'll shine through it."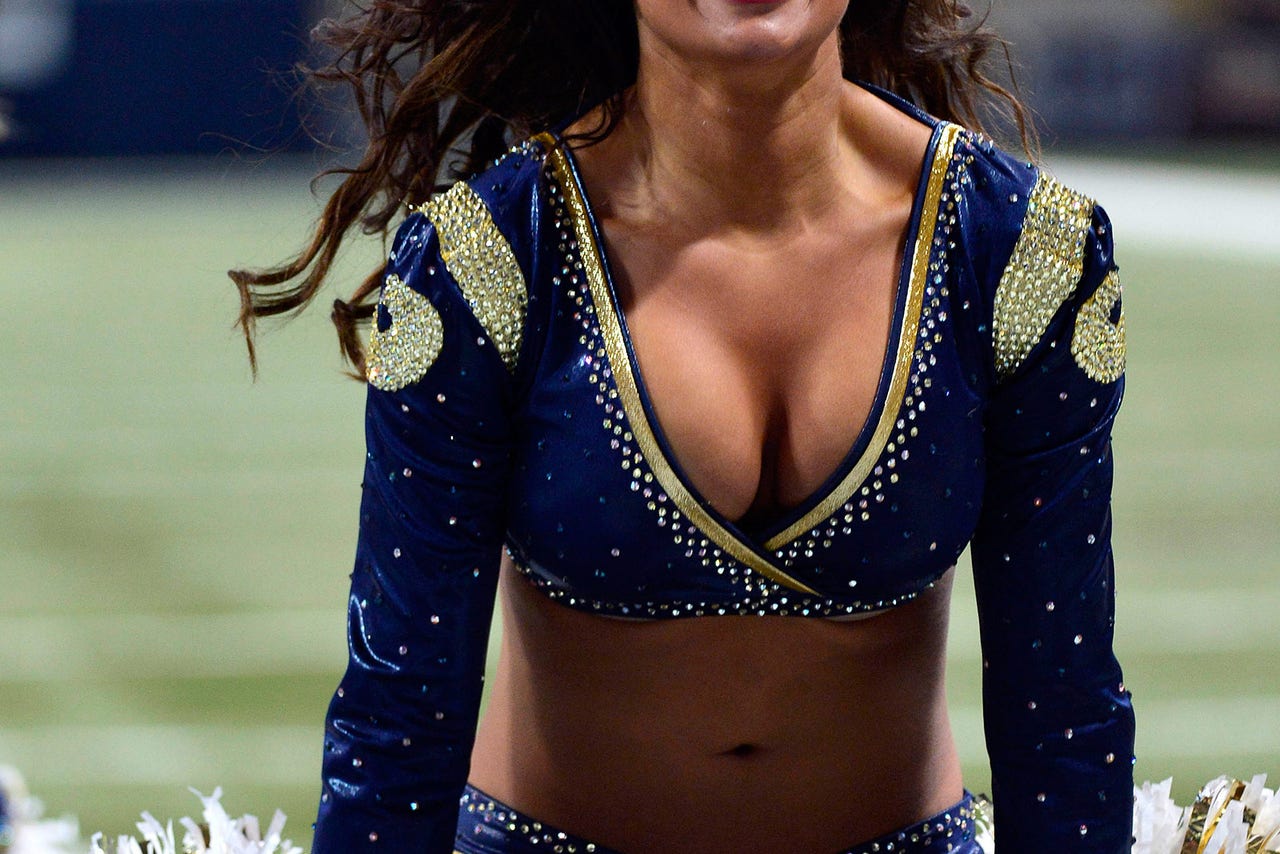 RAMS CHEERLEADERS: Flip through our photo album of Rams cheerleaders.
There's a good chance we won't hear from Sam again for a while -- probably not until training camp -- as he focuses on football and the rest of the Rams continue with their regular offseason schedule.
That's all Sam is looking for at this point.
The Rams will be happy with that, too.
"There's going to be a timeline here where Michael is the first," Snead said. "And somewhere in the future, guess what, he's just going to be a name, some dot, that some kid in middle school has got to memorize and we won't think it's anything special because it will be normal. And that journey started yesterday.
"The key, after this press conference is over, like coach Fish says, we're going to get back to football. ... He's been gifted some nice gifts to play football, and that's our goal."
Sam sat at a table in front of a crowded auditorium and handled most every question thrown at him with ease.
In his conference call with local reporters Saturday night after being drafted, he was a bit excitable, dropping one F-bomb and using some other colorful language that would have to be edited for a family-friendly publication. But you can't really blame the guy for showing some emotion after the whirlwind of the last few months.
On Tuesday he was calm and reserved, playful even.
He joked with E.J. Gaines, his Mizzou teammate, about what kind of teammate the defensive back was. He even joked with Fisher about the Southeastern Conference Championship Game matchup against Auburn, where Fisher's son was a defensive back this past season.
At one point Sam was asked about the poise he has shown throughout this process, which included his well-publicized announcement, a press conference before a room full of reporters at the NFL's Scouting Combine and then his public introduction with the Rams.
"I always had it," he said. "This is just me. This is Michael Sam. You get the real deal right now."
---