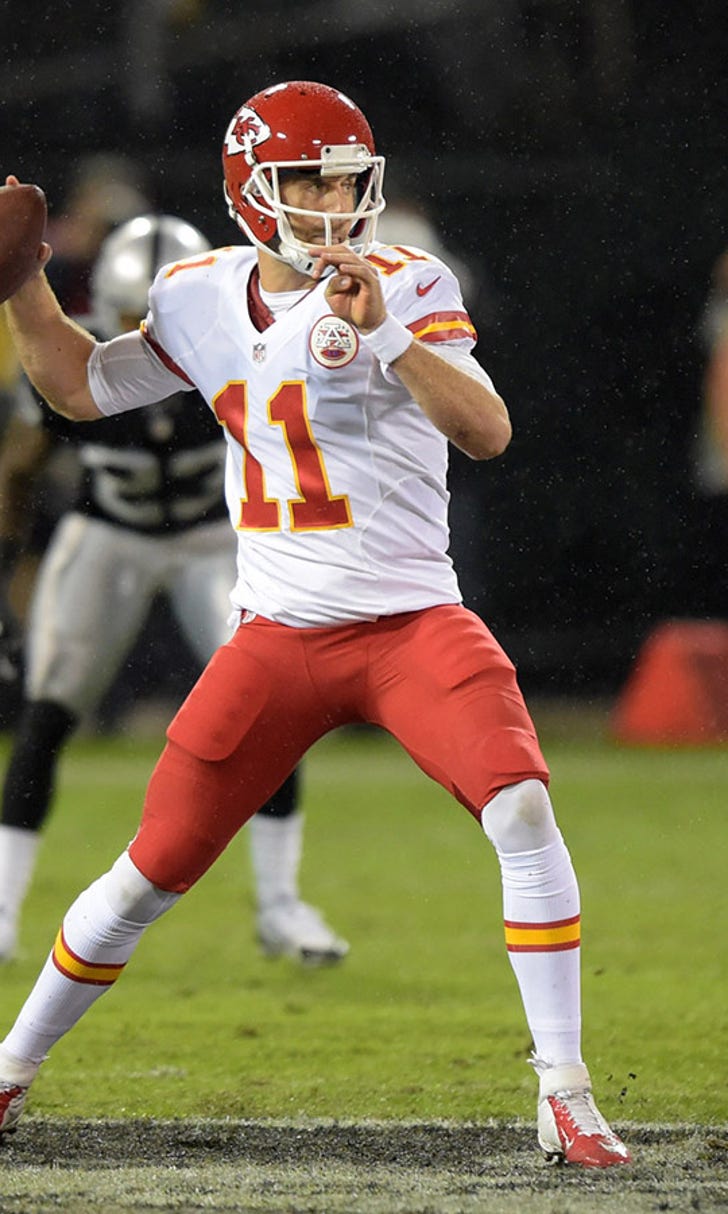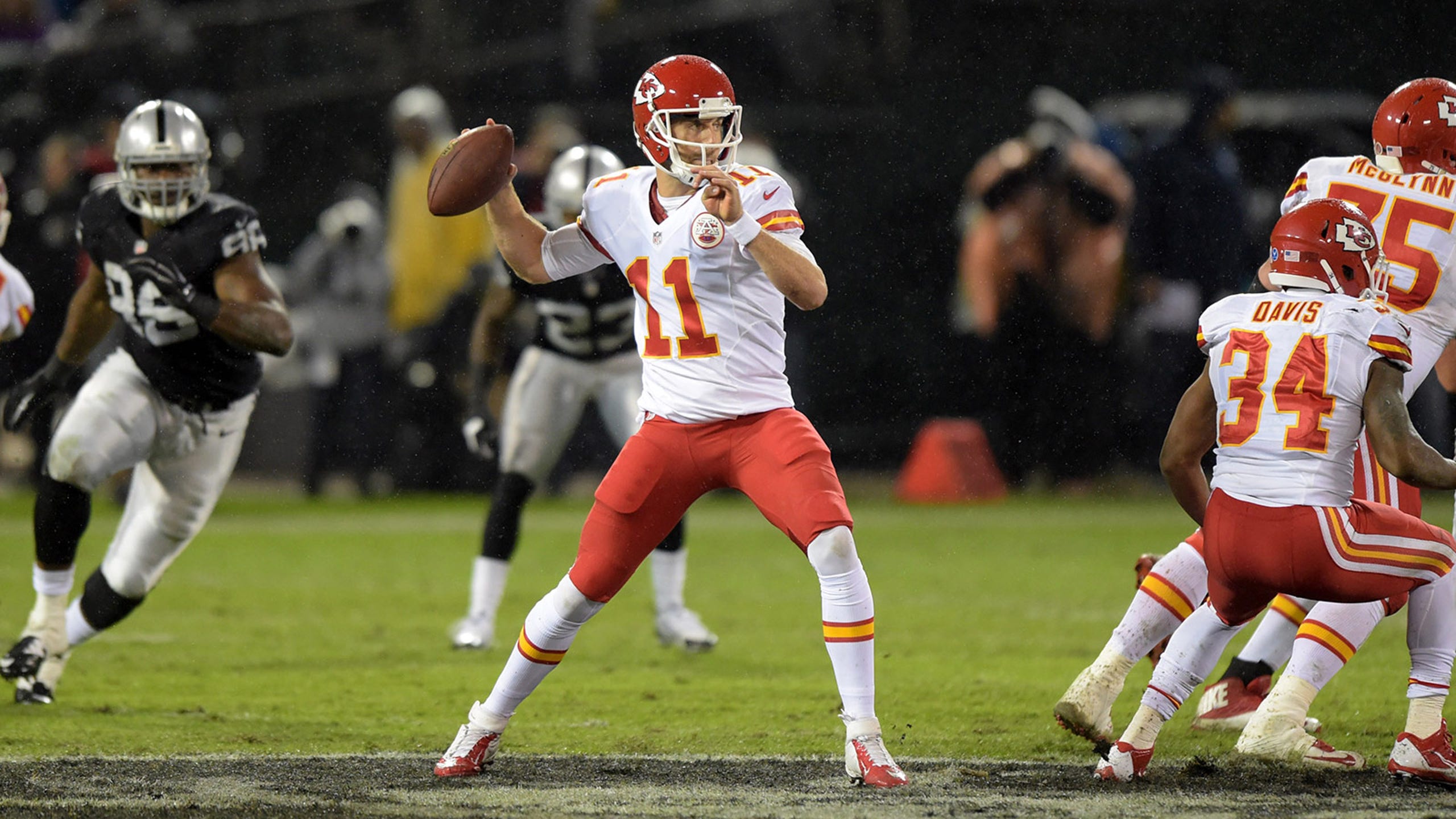 Raiders snap 16-game skid with 24-20 win over Chiefs
BY foxsports • November 20, 2014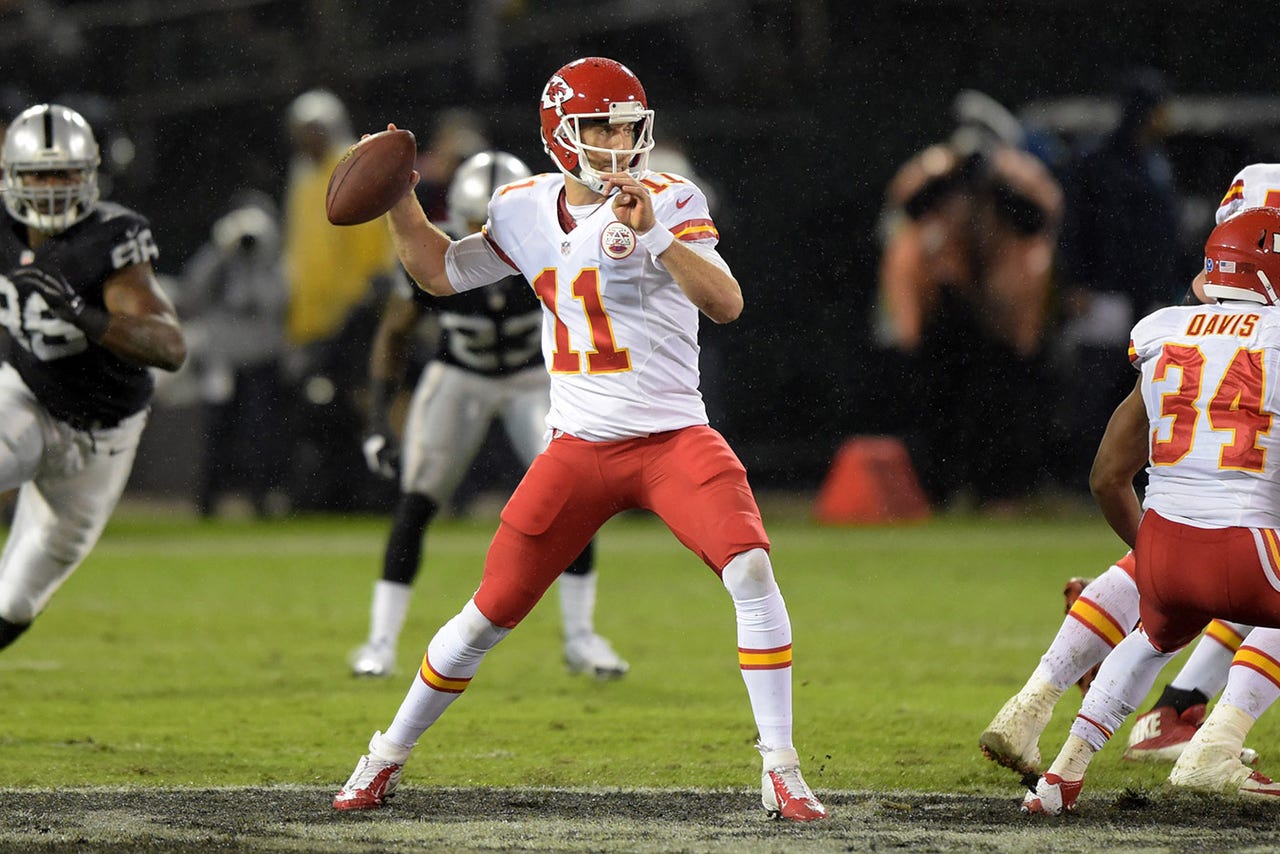 OAKLAND, Calif. -- Kansas City overcame a flat start that put them in a 14-point hole to take the lead midway through the fourth quarter against the Oakland Raiders.
Then they could do nothing to stop the NFL's only winless team from pounding the ball down the field on a game-winning drive.
Rookie Derek Carr capped a 17-play drive with a 9-yard touchdown pass to James Jones with 1:42 remaining and the Chiefs allowed the Raiders to snap a 16-game losing streak with a 24-20 win Thursday night.
Kansas City (7-4) allowed 179 yards rushing and its first two touchdowns on the ground this season as their front seven was overpowered on a rainy night by the Raiders, especially on the final drive.
"When you line up and it's raining, the weather's no good and they can't throw the ball, you just line up and run the football," Chiefs linebacker Tamba Hali said. "We weren't playing our gaps and it's like a high school football game."
Alex Smith threw two TD passes for the Chiefs (7-4), who had won five in a row. They fell a half-game behind Denver in the AFC West.
The Raiders (1-10) became just the third team since the merger to beat a first-place team for their first win after losing at least 10 games to start the season. Indianapolis did it against Green Bay in 1997 and Buffalo did it to Dallas in 1984.
The Chiefs will have a long time to stew over this loss before hosting Denver on Nov. 30 in an AFC West showdown.
"We knew we were going to be in a dogfight," Chiefs tight end Travis Kelce said. "Prime-time game and they've got the guys, played a lot of tough teams very well."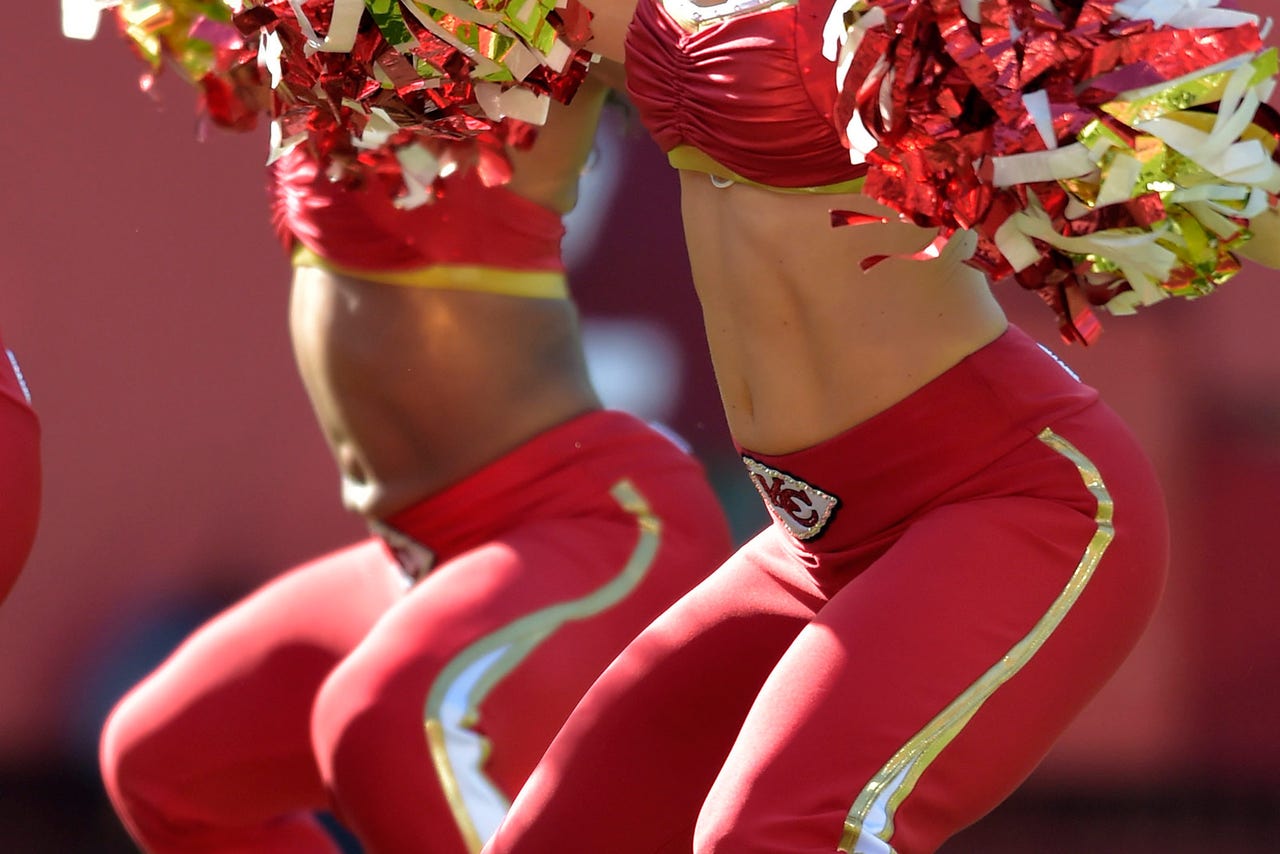 Flip through our photo album of Chiefs cheerleaders.
Oakland's Latavius Murray ran for two touchdowns, including a 90-yarder, before leaving the game with a concussion.
The Raiders' offense stalled after that until an impressive final drive by Carr won it. He twice had to sneak for first downs. He also threw an 8-yard pass to Mychal Rivera on third-and-6 and capitalized on a pass-interference penalty against Ron Parker on another third down before finding Jones for the go-ahead score.
Fullback Marcel Reece carried seven times for 34 yards on the drive after running just six times in the first 10 games.
"To go 17 plays on the winning drive, that's impressive, man," Raiders defensive end Justin Tuck said. "That lets you know a little bit of the moxie of No. 4 (Carr)."
The game wasn't sealed until Smith threw an incomplete pass on fourth-and-13 from his 48. Even that didn't come without a tense moment. Khalil Mack and Sio Moore sacked Smith on third down and celebrated in the backfield while the Chiefs ran up to the line. An angry Justin Tuck had to call timeout as he seethed at his younger teammates.
"I was so caught in the moment," Moore said. "That was an error I have to make sure I clean up."
The Chiefs battled back from a 17-3 deficit late in the third quarter to take the lead with three scores in less than 8 minutes, including a pair of touchdown passes from Smith.
The first came on a looping throw to Anthony Fasano for a 19-yard score with 1:52 remaining in the third quarter.
The Raiders managed to move the ball near midfield before stalling on their next drive, and the Chiefs answered with a four-play, 65-yard drive that was made even more difficult by a pair of holding penalties.
Jamaal Charles beat Charles Woodson out of the backfield to catch a short pass and weaved through Oakland's defense for a 30-yard score that tied it at 17. It was Charles' fifth touchdown catch in his past two games at the Oakland Coliseum.
Frankie Hammond's 28-yard punt return set up Cairo Santos' second field goal of the game, giving the Chiefs their first lead of the night.
The Raiders started fast behind the little-used Murray, who had just 10 carries in the first 10 games. He spelled starter Darren McFadden on the second drive and provided an immediate spark for Oakland's struggling offense before leaving the game with a concussion.
Murray carried twice on his first drive, sprinting 11 yards around the end for Oakland's first rushing touchdown since Oct. 19 against Arizona. The Chiefs were looking to match the 2011 San Francisco 49ers by becoming the second team ever to allow no rushing touchdowns through 11 games.
Murray did even better the next time he touched the ball, sprinting past the Chiefs' defense for the longest run by a Raiders running back since Bo Jackson had a 92-yarder against Cincinnati in 1989. Quarterback Terrelle Pryor had a 93-yard TD run last season against Pittsburgh.
NOTES: Former Raiders P Ray Guy was presented his Hall of Fame ring at halftime. ... WR Junior Hemingway (concussion), T Donald Stephenson (shoulder) and DL Kevin Vickerson (calf strain) left with injuries for Kansas City.
---