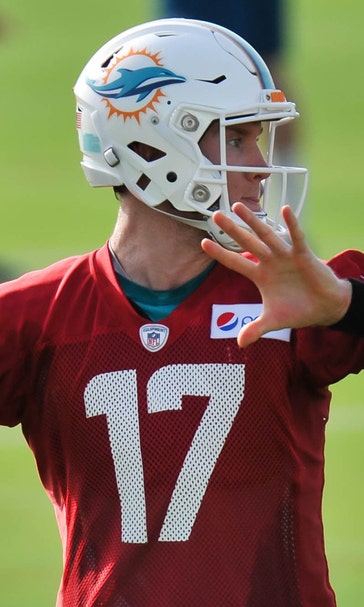 Quarterback Ryan Tannehill 'superbly confident' in potential of Dolphins
July 31, 2015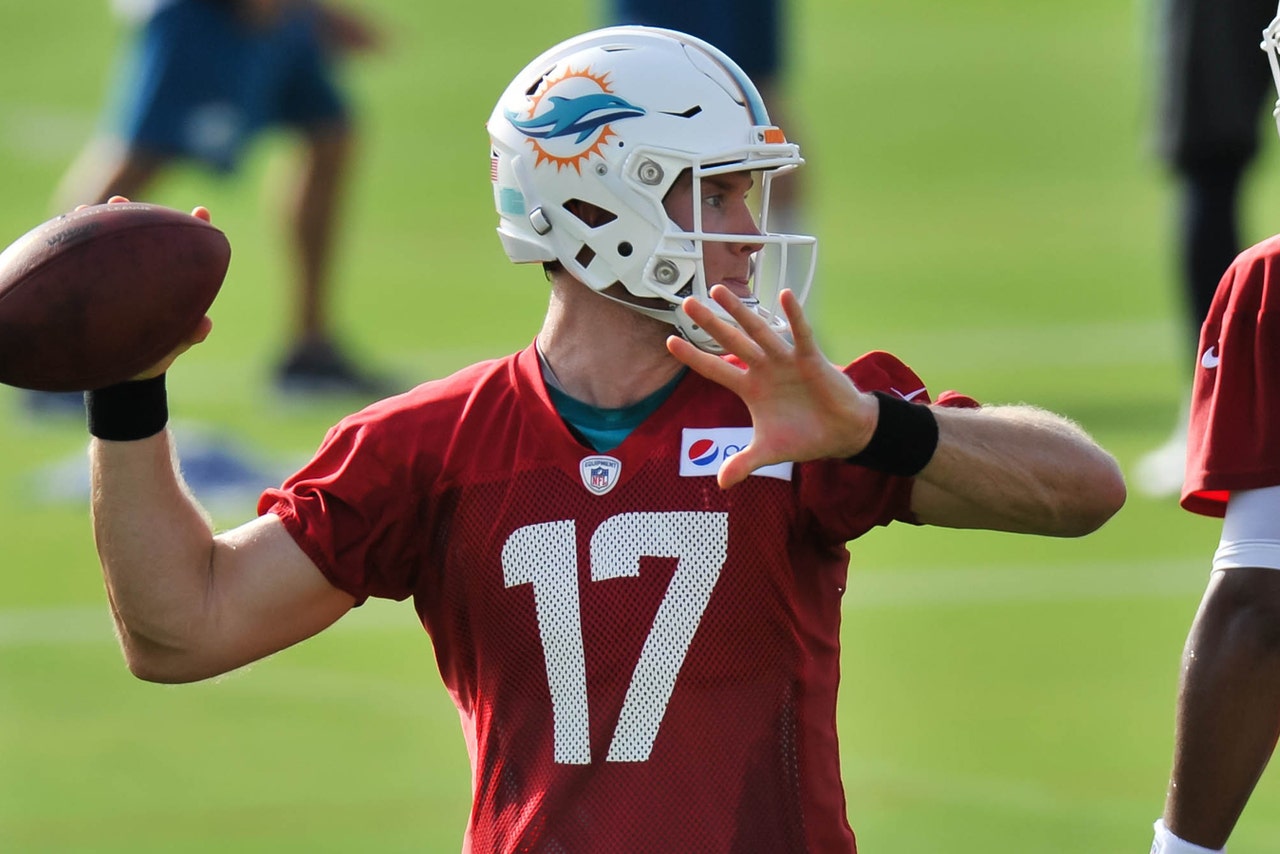 DAVIE, Fla. (AP) -- Not long after connecting on a deep pass Friday, Miami Dolphins quarterback Ryan Tannehill slapped hands with someone in celebration and was clearly smiling underneath his helmet.
Sure, it was only Day 2 of training camp and the pads aren't even on yet.
But Tannehill is making no effort to hide his good mood -- or his confidence.
He has started every game for the Dolphins since he was taken with the No. 8 overall pick in 2012, 48 games in all, exactly zero of them coming in the playoffs. Tannehill boldly expects that to change this season, saying he has "no doubt" that Miami will reach the postseason and end what would be a seven-year drought.
"I'm superbly confident in this team and what we can do," Tannehill said. "We have a lot of work to do, but I'm really excited about what we have."
The Dolphins have been starting their training-camp practices at 8 a.m. in their bubble facility, 30 minutes of air-conditioned comfort before heading outside into the summer heat and humidity that's cranked up even at that early hour. Tannehill has seemed more than just wide awake, exhibiting a big bounce in his step as he goes from one drill to the next, not minding that all eyes are on him -- and plenty of pressure is on his shoulders.
Tannehill's yardage, completion percentage, rating and touchdown total rose in Year 2 from Year 1, and again in Year 3 from Year 2. It all just hasn't translated into enough wins, with Miami 23-25 over the past three seasons.
Now in Year 4, Tannehill expects both he and the Dolphins will be good enough.
"Ryan has all of the ingredients to be an elite quarterback," Dolphins owner Stephen Ross said. "If you look at his performance, he's gotten better every single year. I think with the tools he has around him now, he will continue to get better and I think you'll see that with our wins and losses. You've got to start with the quarterback. I can't think of a better person, a guy with the talent, the brains and the athletic ability combined to really lead this team."
With a receiving corps that includes Jarvis Landry (84 catches as a rookie last year) and newcomers Greg Jennings (552 catches in his first nine NFL seasons) and Kenny Stills (who has 13 catches of 25 or more yards in his first two seasons) -- not to mention first-round pick DeVonte Parker out of Louisville -- Tannehill should have plenty of good candidates to choose from when the season begins.
He never seemed to truly click with Mike Wallace, whose two-year run in Miami is now over. While there's no question that Wallace is among the league's elite, Tannehill doesn't think the Dolphins are lacking at wideout.
"Those guys have all the weapons that we need," Tannehill said.
Landry was asked what changes he's seen in Tannehill this season, and offered a very quick answer.
"Focus. Focus," Landry said. "This year it's definitely critical and vital for him to not only be our leader but continue to get better as he has every year. So I don't think he feels any pressure, but at the same time he knows his potential to perform at a high level -- and he's going to do that for us."
The Dolphins aren't coy these days about their goals. Normally a little reserved on the bold-proclamation front, coach Joe Philbin has talked about contending for titles and that's music to Tannehill's ears.
He's not sure why Philbin is offering such outward confidence, but he's not complaining either.
"We're here to win a championship," Tannehill said. "That's what we're here to do. You ask any man on this team and they'll tell you the same thing, we're here to win a championship. We're not wasting our time out here each and every day, sweating, losing 10 pounds a practice to not be playing in January and February."
Notes: The Dolphins start practicing in pads on Saturday. ... Philbin had high praise for rookie kicker Andrew Franks from Division III's Rensselaer Polytechnic Institute in Troy, New York after Friday's practice -- though couldn't resist poking a little fun at how the kickers aren't exactly overloaded with work in camp. "You can't kick every day, I guess, in the NFL. Our rookies are eating buffets all day, nice hotel room, they work every other day. That's a heck of a gig," Philbin said, drawing laughs.
---
---