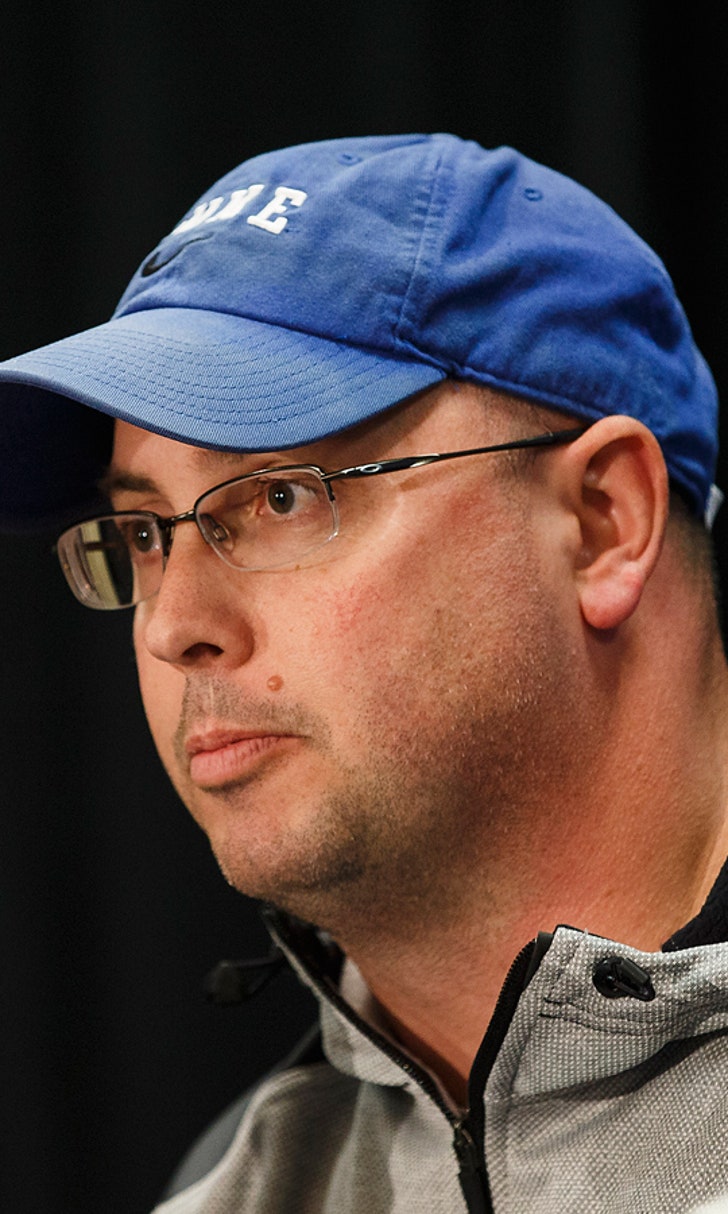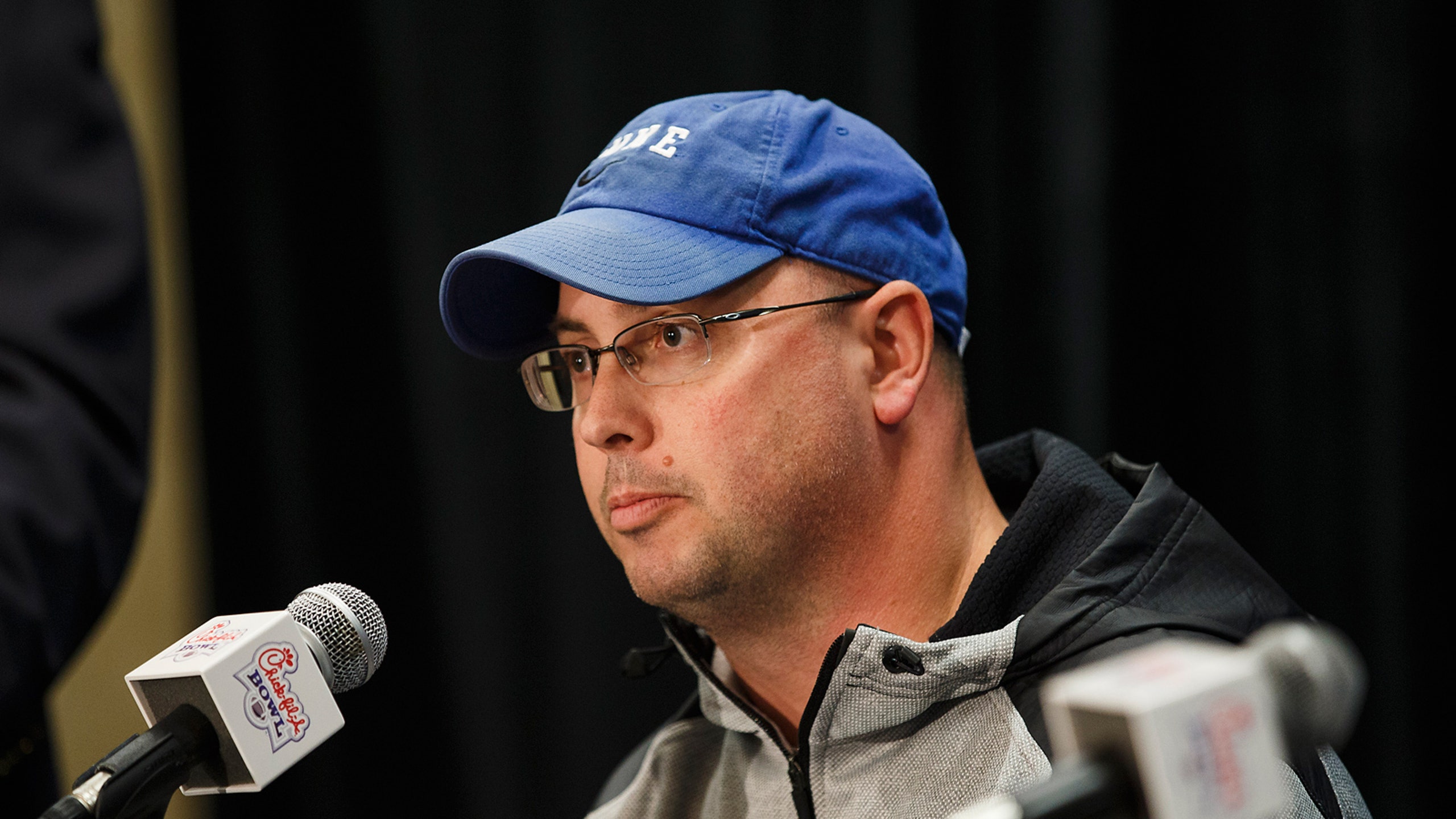 Q&A with Florida Gators offensive coordinator Kurt Roper
BY foxsports • August 13, 2014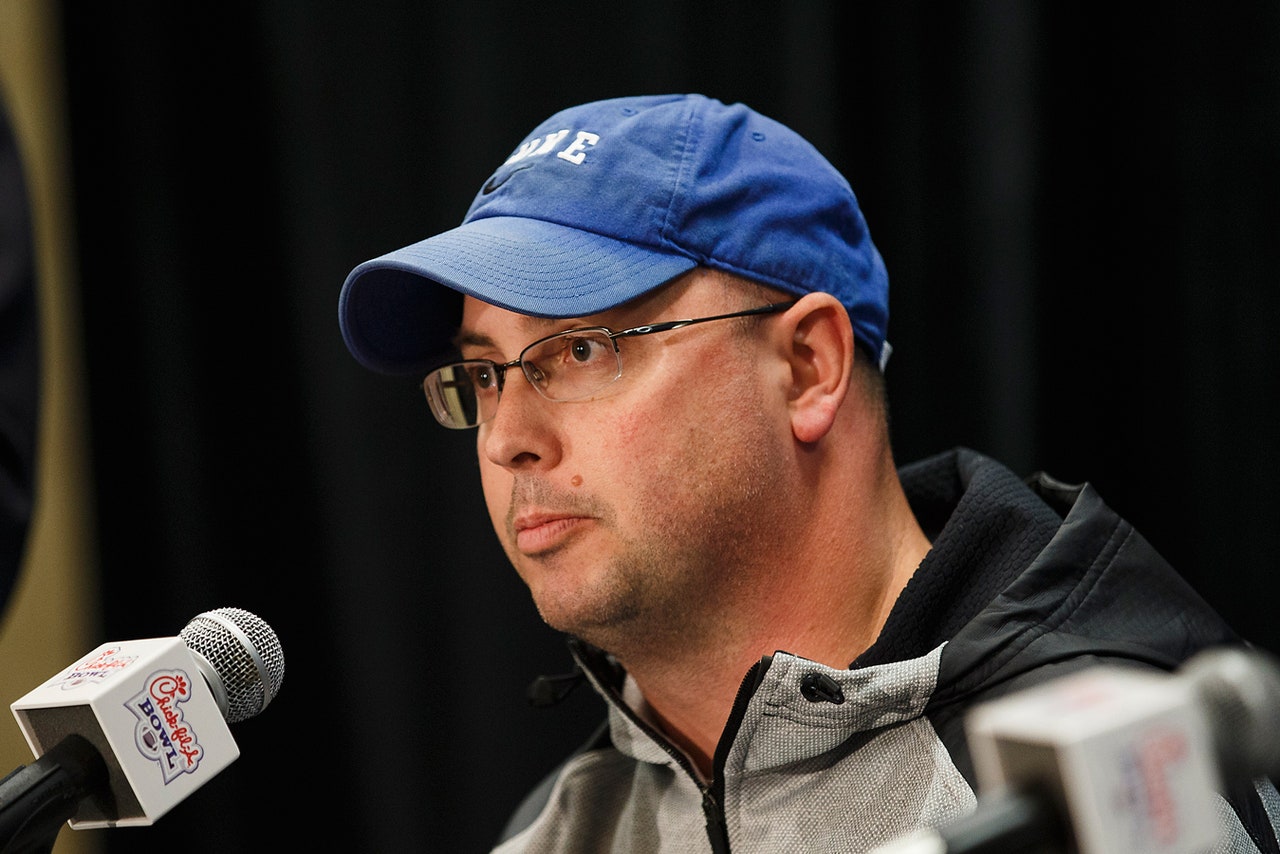 GAINESVILLE, Fla. -- If you have have been to one of the Gators' open practices and watched first-year offensive coordinator Kurt Roper closely, you know what he is talking about.
Roper has an upbeat demeanor and uses a positive teaching style when on the practice field. But the tone can change quickly when one of Florida's quarterbacks holds the ball too long.
That's a no-no in Roper's playbook and his quest to recharge Florida's offense.
"I have a simple rule for young quarterbacks when they come in: when I call a pass I want you to throw the ball,'' he said. "That's hard for young guys to do because they don't know the route concepts, so their inclination is to keep it and run.
"Well, you're not running past Jon Bullard and Dante Fowler. So simple rule: When I call a pass, throw it. Make a decision. We'll learn from our mistakes, but be decisive. If a guy can't be decisive it's hard for him to play."
Freshman quarterbacks Will Grier and Treon Harris have experienced Roper's wrath during camp. Grier and Harris are battling redshirt sophomore Skyler Mornhinweg to back up starter Jeff Driskel.
With the Gators in their second week of camp, Roper and head coach Will Muschamp want to see some separation behind Driskel.
Roper addressed the quarterbacks and many more topics on Tuesday in his first meeting with reporters since camp opened.
Where is the offense at this point in camp?
Roper: I think they've got a really good understanding of what we're asking them to do. Our base offense, I should say. The guys that were not around for those 15 days [in spring practice], our two offensive lines, our two quarterbacks, really the young guys -- it's a battle right now to have great understanding because it is so new to them and our defense is so multiple and causes so many problems. But the guys that have been in the battles before, they can apply obviously experiences to what we're teaching them offensively. I think they have a really good understanding of what we're doing. And now you're seeing situational work, like short yardage today, that we put things in that are gameplan specific that they've picked up really well.
How is the timing in the passing game?
Roper: I think timing is good, I think with our 1s. I think the biggest thing is getting the ball out of your hand in the passing game when you really start talking about timing. I think Jeff has a good feel for that. Every now and then the defense does a good job covering us and we might hold it a little bit too long, but I think our receivers and quarterbacks are doing a good job getting on the same page.
When will you decided on a depth chart behind Driskel?
Roper: We have a little bit more time. I think the biggest thing is deciding the strengths and weaknesses each guy has and decide from there. But we'll have to make decisions here pretty soon through the week and into next week and start trying to get more reps that way. I still think we're in a competitive situation. Let's keeping battling and see what they learn because everything is so new to these guys.
What is your relationship with Driskel like?
Roper: I've enjoyed every second of it. He's a good person. I like being around really good people. That's fun for me. That's one of the things that's important to me in evaluation. A guy that is accountable and does what he says he's going to do, he's that kind of person. He's a guy you can hang your hat on as a person. He's fun to be around and he's obviously a really talented football player, so he's fun to coach that way. But it's been a lot of fun to get to know him and all the guys.
What are your thoughts on the offensive line with the season less than three weeks away?
Roper: I think our offensive line is really pretty good. You know, being able to get Trip [Thurman] back, that obviously was a scare, was important because I think we've got a really good group of seven right now. The young guys, you know, they're learning; they're a ways away. They're working hard. I think our older guys are doing a pretty good job.
Note: Thurman hurt his shoulder on Sunday but was back at practice Tuesday working out with the players sidelined by injuries.
You have some depth at running back; how do you get all those guys involved?
Roper: I don't know if I was necessarily a young coach at this point, but in 2006 I went back to Tennessee and in that backfield was a guy named Arian Foster, Montario Hardesty and LaMarcus Coker; all of them really talented football players. All of them wanted to play, well, everybody can't play; they're sitting on the sidelines. So I'm in a room managing players who aren't getting as many reps as they're wanting to get. I made the comment, 'I have too many good players' and Coach Cut goes, 'oh no.' The next thing I know, all I got is Arian Foster because Hardesty got injured and Coker was not able to play, now you're like, 'wait a second.' We're fortunate to have the numbers, we've got guys that can play really good football at that position but running back is a physical position and a place you do need numbers.
What's your assessment of the receivers?
Roper: We've got good numbers there. You know, we are up six, seven guys that really can get in with Jeff and make some plays. Most camps I've been in you hope the drops lessen as you go on and we keep getting better and better at securing catches and those things. But it's a group that's working hard that's talented.
Do you have a sense of how much up-tempo you will use?
Roper: You saw it today. We're going to call plays that are really fast, that are around the 25, 28, 30-second range. We're going to call some plays that are around the 5-second range. What we try to keep tabs of is that 18-second range. If we can get the ball snapped around 18 seconds on the play clock, then we're keeping a pretty good tempo. But my biggest thing is execution. I never really talked in number of plays or how fast we're going. We're going to be a no-huddle, quick-tempo team. At the end of the day we want to look up and have points on the scoreboard. Typically that's meant more plays in the past by going no-huddle. But we don't just sit here and say, 'hey let's go get 92 plays.' We've got to execute. If we can score in two plays, let's get off and let the other team run 10 plays and punt. That's kind of the thought process.
How would you describe the buy-in from the players?
Roper: It's been really good. I think these guys are excited about playing football. It wouldn't matter who you rolled in here. When this time of season comes around, everybody's excited. I hope they're enjoying the offense. I hope they're enjoying competing every day on the practice field. I think they're excited about competing with players.
You seem to keep it light with players at practice; what is your approach?
Roper: Football is a game. It's supposed to be fun. There's a time to be serious, and there's a time to lock in and all that. I learned a long time ago that if you take a player's hope away from him, that's when you've got a guy that's going to struggle. I want guys to have hope and belief in themselves and enjoy coming out here playing. If I've got a guy playing really, really hard, I'm going to coach and fix the issues, whether it's a route depth or whatever it is. We're going to fix the issues. If we've got a guy not playing hard, you can't coach him. These guys play hard. We're going to coach positive.
---