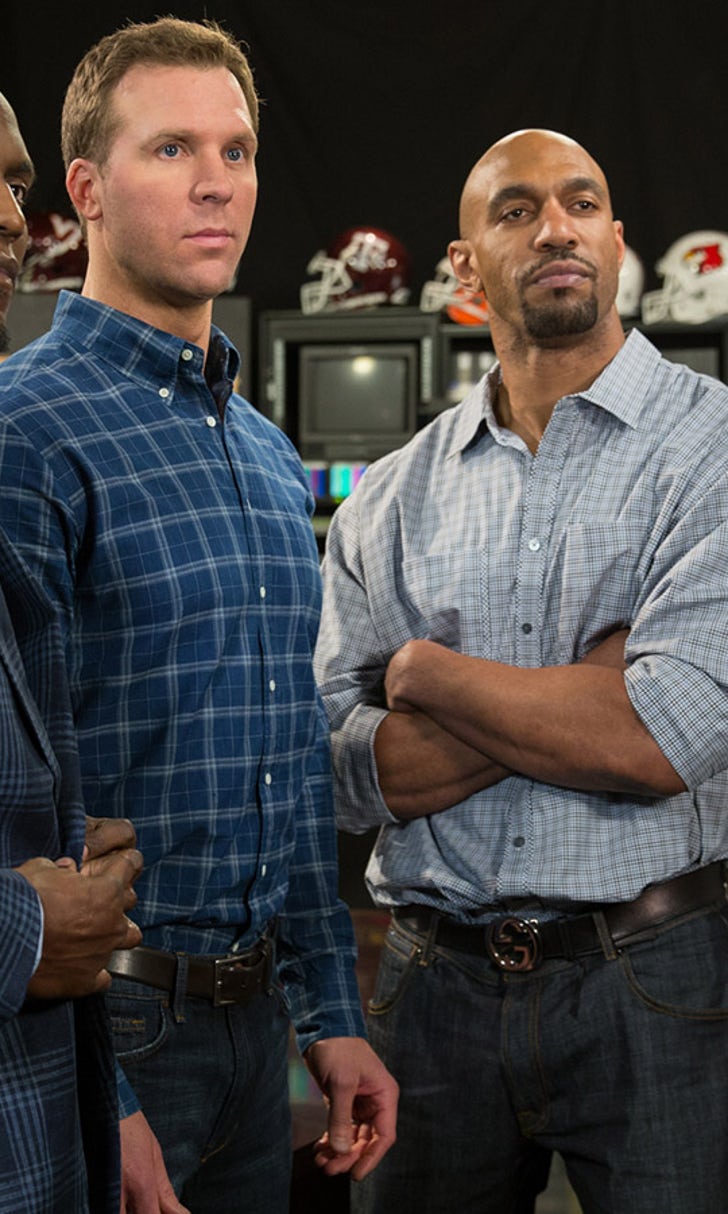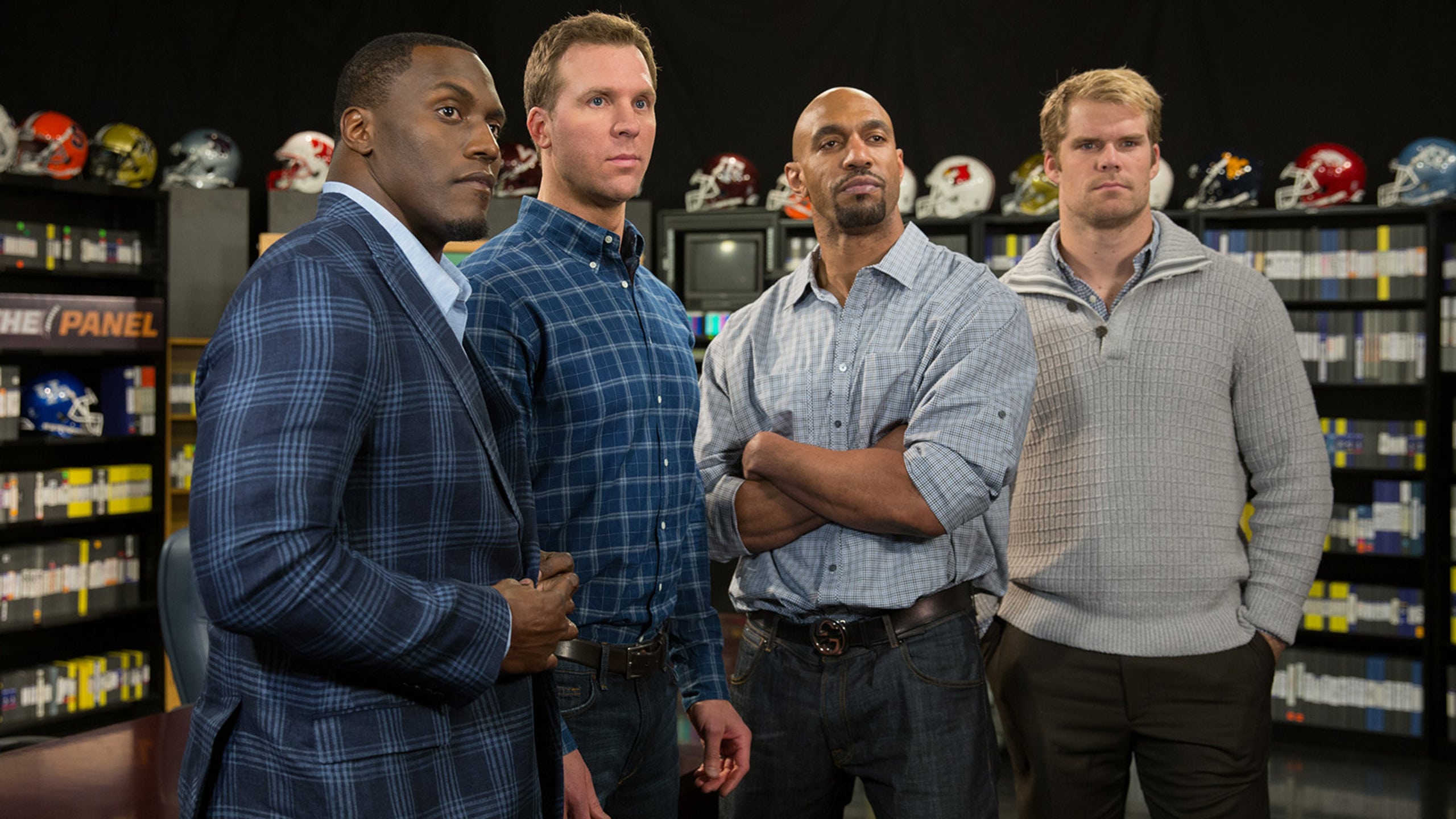 Q&A: 'The Panel' cast on draft process, prospects; more
BY Cory McCartney • March 21, 2014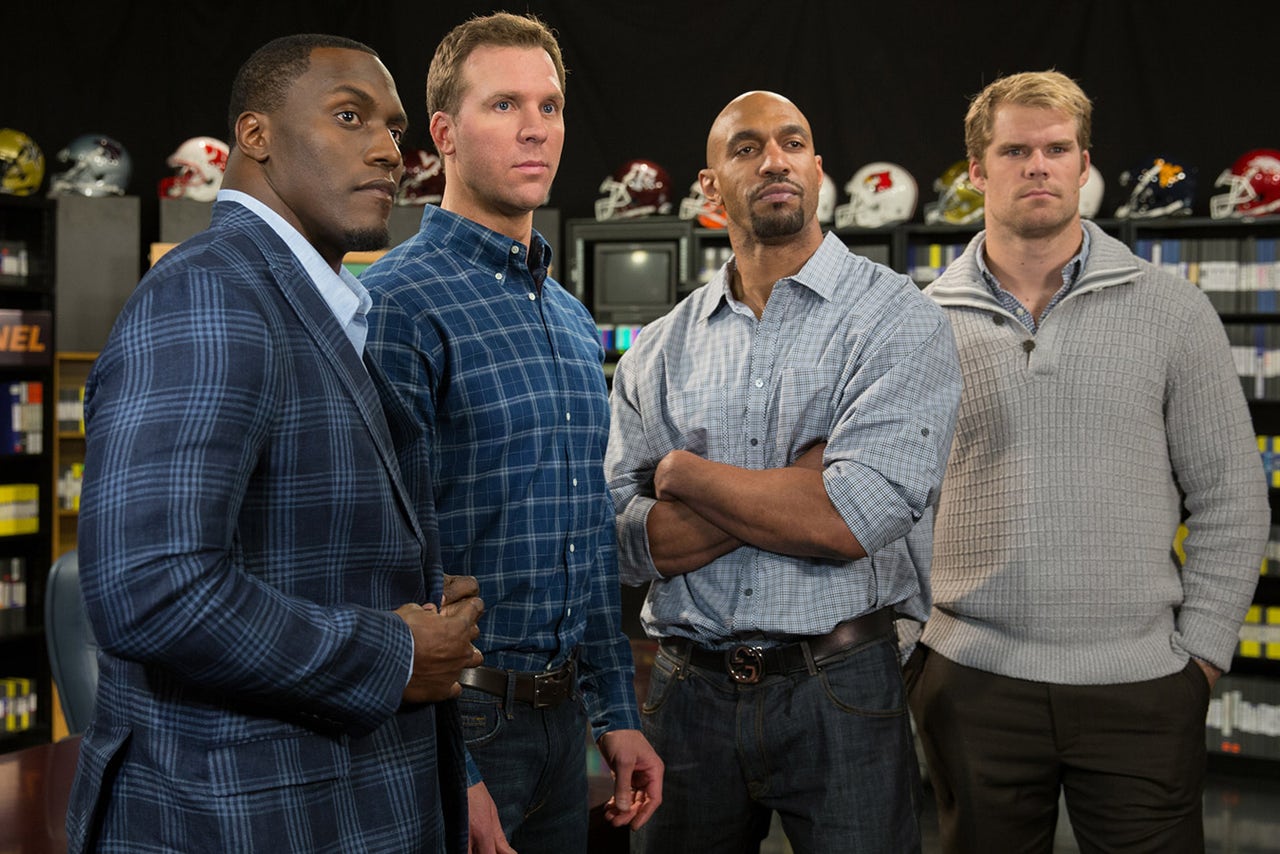 FOXSportsSouth.com sat down with the members of 'The Panel' -- former players Tim Couch, Julian Peterson and Takeo Spikes and current Panthers tight end Greg Olsen -- to discus the draft process, their favorite players in this class -- and the strangest thing they remember about interviewing with teams.
'The Panel,' a five episode original show featuring draft prospects Tajh Boyd (Clemson), Darqueze Dennard (Michigan State), Zach Mettenberger (LSU) and Sammy Watkins (Clemson) will air from March 24-28 on FOX Sports South. Check local listings for complete air times.
FOXSPORTSSOUTH.COM: How similar is what this crop of players is going through -- both in the draft and on 'The Panel' with the interviews -- that you remember about your own draft process?
COUCH: It's pretty similar. I think it's really beneficial to these guys to be able to talk to guys that have been in their shoes and have actually walked it and guys who played in the league.
We have Takeo Spikes, who played 15 years in the league at linebacker and then a current player like Greg Olsen. We all have different experiences and for us to be able to share those with these guys that are coming up behind us, I think it's good for both sides. We like to be able to help out the younger guys and I'm sure it's beneficial for them to learn from out experiences.
OLSEN: I think the structure of it has pretty much stayed the same. I think the scrutiny and coverage has grown over the years.
It's funny, (I was) talking to someone, the NFL now has every month almost a major event it can turn its attention. It was the combine and now it's free agency and then the draft. For these young guys, they learn pretty quickly that they're always under the microscope, they're always being evaluated as a player and as a person. I think that has always been the case, but I think now there are just so many more outlets and so many more eyeballs on the game that the coverage has just grown.
PETERSON: The biggest difference (with what we're doing) is that there's not as much pressure as there would be if it were with a team or a GM or your position coach.
With us, it's more 'We want to know what your knowledge is, but we want to try to help you.'
I think they felt that vibe, like 'OK these are all former players and they're trying to correct me, but they're not overbearing and they want to see me progress.' That's the feel I think I got from a lot of them.
That was the difference for me, being on this panel and seeing their reaction.
SPIKES: What's different, and I think it's priceless information, for us to be players and former players giving them insight on how to deal with certain situations. 'Instead of looking at it this way, how about looking at it this way from a different perspective? Because this is how I'm going to look at it and I'm the guy that you're going to be playing against.'
From that end, I think it's great knowledge.
FOXSPORTSSOUTH.COM: Is your role as former players to simply open the players' eyes to the reality of playing in the NFL? Or is there more to it than that?
COUCH:: With a guy like Sammy Watkins, and I had an opportunity to talk to him, he's a high-profile guy like myself coming into the draft who's going to be a top-5 pick, probably at worst.
Just the expectations that are going to be placed on Sammy, it's high, it's stressful and just to be able to share my experiences and what I went through, I think he's going to feel some of that as well.
OLSEN: I just think if we can give them any sort of insight into what they're going to walk into when they walk into an NFL locker room, whether it's as the No. 1 overall pick or as a seventh-round pick.
I think that's invaluable. I wish someone could have given me that kind of foresight to know what to expect as opposed to just walking in and learning on the fly.
They're still going to have their growing pains. I don't think this is going to teach them everything they need to know in one interview. But it will just open their eyes and when something happens they'll go 'OK, that wasn't totally unexpected. This is kind of what I anticipated.' And just gradually smooth that process from transitioning from the big man on campus in college to now going into a new locker room and developing new relationships and that respect and trust of your teammates and coaches.
It takes time. But they'll all get there, it's just a matter of how smooth the road is.
PETERSON: It's our duty show the next generation how it goes, because not everyone has a good story. Teaching them different ways to how to prolong their career is the biggest thing for us to do.
The NFL stands for Not For Long, so the biggest thing is to make sure you stay in there as long as possible.
SPIKES: It's our responsibility to be able to give back and empower the younger guys with knowledge of walking into the locker room and not feeling entitled vs. going in and saying 'What can I do to go in and be a part of this special team?' Or if the team sucks, 'What can I do to turn this team around?'
That's my mindset coming in on 'The Panel.'
FOXSPORTSSOUTH.COM: What's the strangest thing you remember being asked by a team?
OLSEN: My one I always tell people is, I walked in with the Jets -- and (Eric) Mangini was the coach at the time -- and I walk in and there had to be 25 people there. Every coach, GM, personnel, exec, scout, a million people. I didn't know anyone else but (Mangini) at the time.
So you go around the room and you take 30 seconds to shake everyone's hand and they tell you their name and you say your name back, but you're kind of just going rapid fire. The second I set down, (Mangini asks, pointing to people in the room) 'What's his name? What's his name? 'What's his name?'
I didn't know any of them, so they're just trying to get you off your game and from there, 'Why don't you know anybody's name? They just told you their name?' and then from there to 'OK, let's watch you on tape.' So you're like scrambling and trying to recover and they're going to ask you to break down your stuff.
It's interesting, the mind games. I don't know if they expected me to know anybody's name and I didn't -- but they didn't draft me, so they didn't draft me and maybe that was why.
SPIKES: I remember taking this test with the Giants when they wanted to interview me.
No.1: They picked (24th) and I left as a junior and I knew I wasn't going 20-something. If that were the case, I would have stayed in school. But then the test they gave me, it was like 'What is a chair used for?'
It absurd. It had nothing to do with football. It was so irrelevant. I ended up telling one of the guys 'This has nothing to do with football. I want to come in here and talk ball. I thought that was what the interview process was about.'
FOXSPORTSSOUTH.COM: Who are you high on in this draft class?
COUCH: (Johnny) Manziel is a fun guy to watch and it's going to be interesting to see where he ends up; what type of system he ends up in.
Sammy Watkins has been a guy I've been following for three years. I think he's going to be a great player; has a bright future.
I think it's a strong draft for wide receivers. There's a lot of good wide receivers in this draft. I like a bunch of those guys.
I'm really interested to see what Manziel and what happens in his career.
OLSEN: It's funny, I'm not just saying that but I think Sammy Watkins is a special, not only player, but just getting to know him a little bit, I was really impressed with his whole demeanor, his whole approach, how he treats his preparation and his motivation for why he's successful.
I think that's rare for a young guy that's had nothing but success and nothing but the greatest player at every level. To kind of have that sense of self to say 'I know I'm very good, but there are other things I need to improve on off the field/on the field to get to where I want to be.
His level of humbleness, but also being confident, I think was pretty refreshing to see from a 20-year-old kid on top of the world athletically -- and I think his talent is through the roof.
PETERSON: I have a little favoritism because of (fellow Michigan State product Dennard), but I like Dennard just because he's an in-you-face-guy; he's not backing down from one person.
I really like him and I like (Florida State's) Lamarcus Joyner. He has a lot of talent and has made a lot of big plays on it.
It's a tremendous class. The receiving class is nice. It's one of the better classes in a while.
SPIKES: You look at Anthony Barr, a guy who is a true pure athlete.
What makes him special, you don't find a lot of guys that can be in a 3-4 scheme, a true (strong side linebacker). Those guys are almost extinct and you need those types of players. But with his athletic ability, being able to put him in a 3-4 possibly -- could come here to Atlanta. (Falcons defensive coordinator) Mike Nolan can do so many things around him.
I have fun watching guys like that.
Sammy Watkins, he's like in his second year already coming in as a rookie. That's the advancement of it. A lot of these guys we're taking on now, being mentors to, from a mental standpoint, they are ahead of the game.
---