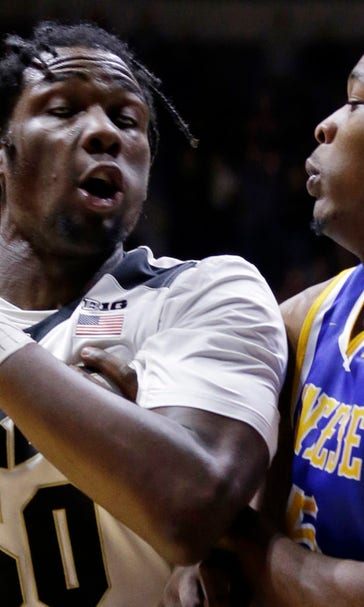 Purdue dominates McNeese State in 109-65 season-opening win
BY foxsports • November 11, 2016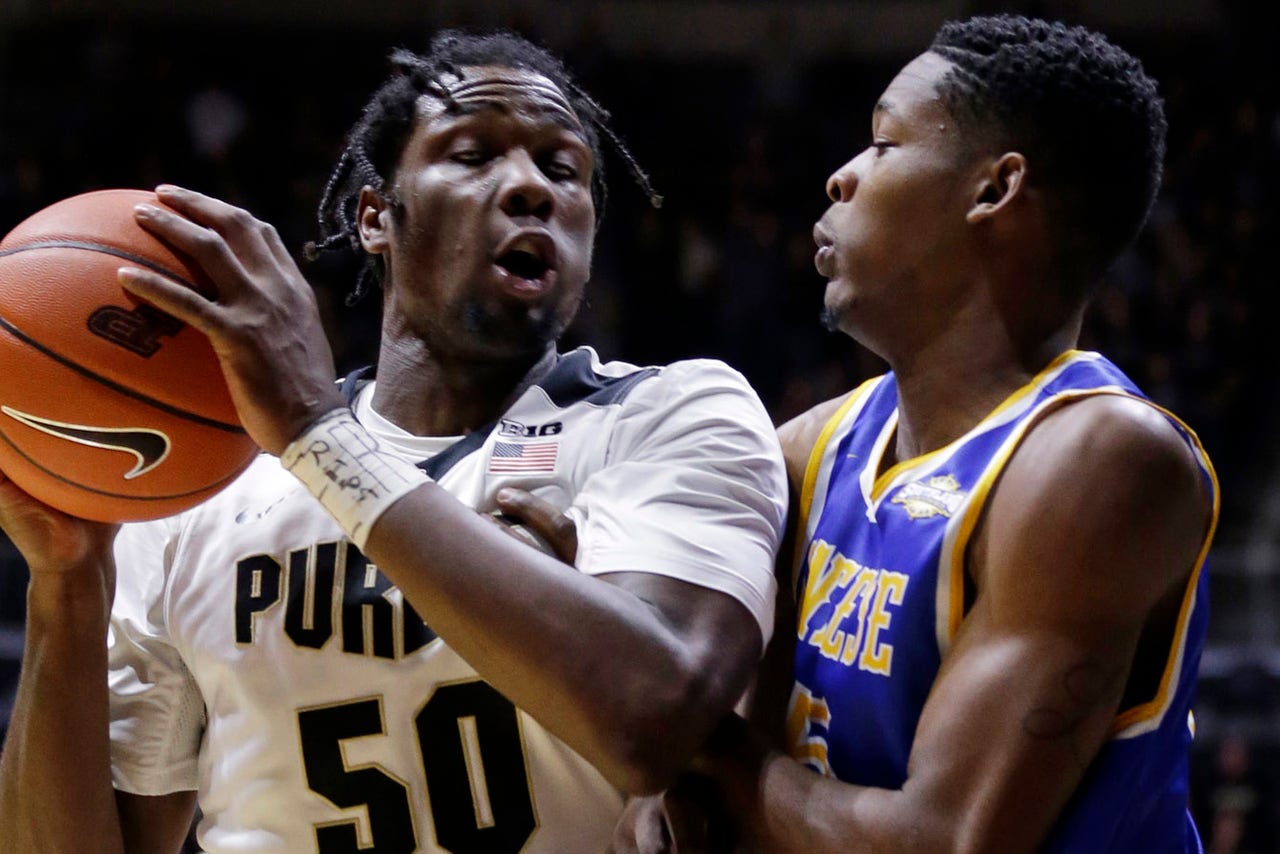 WEST LAFAYETTE, Ind. -- Purdue sophomore forward Caleb Swanigan joined some elite company Friday night during the 15th-ranked Boilermakers' 109-65 season-opening victory over McNeese State.
With 23 points, 20 rebounds and six assists, Swanigan joined No. 1 overall draft pick Ben Simmons of LSU and NBA star Blake Griffin as the only college players in the past 10 years to amass at least 20 points, 20 rebounds and five assists in a game.
"We needed to get the momentum going and moving our way," Swanigan said of his dominant 17-point, 10-rebound first half. "We knew we came out a little slow. McNeese State really competed in those first few minutes, so we had to turn it up."
Center Isaac Haas added 22 points and six rebounds for Purdue, and forward Vince Edwards had 19 points and 11 rebounds.
The Cowboys led 19-14 with 10:16 remaining in the first half when Swanigan and Edwards fueled a 22-3 run that turned a five-point deficit into a 36-22 lead.
Purdue features one of the nation's top front lines, and that was evident as the Boilermakers dominated inside, enjoying a 32-15 rebounding advantage through 20 minutes.
Swanigan, Haas and Edwards combined for 64 points and 37 rebounds, making 23 of 36 field goal attempts.
Swanigan and Edwards, a junior, both declared for the NBA Draft in the spring, but after workouts with professional teams, the forwards opted to return to college for the 2016-17 season.
Check out our gallery of NCAA hoops cheerleaders.
"Sometimes we seem to forget that we have size," Purdue coach Matt Painter said. "But what I liked is that Caleb is getting assists now and is becoming a complete player. There was a time in the first half that it seemed like he was getting every rebound. Then Vince Edwards had a great start to the second half."
Freshman guard Carsen Edwards scored 18 points and guard Dakota Mathias added 13 for the Boilermakers.
"Five guys getting in double figures ... that's just sharing the ball and having fun as a team," Vince Edwards said.
Richard Laku scored 16 points and James Harvey and Jamaya Burr each had 15 to lead McNeese State.
BIG PICTURE:
McNeese State: The Cowboys were competitive for almost 15 minutes, making seven of 13 first-half three-point attempts, but they had no answer for Swanigan, Edwards and Haas, kinds of players rarely seen in the Southland Conference.
Purdue: The Boilermakers played without three scholarship players -- F/C Jacquil Taylor, F Basil Smotherman and G Ryan Cline -- but had plenty of interior strength to win. Taylor underwent ankle surgery on Tuesday, and Smotherman and Cline were both suspended for Friday's game for summer arrests involving marijuana use. Smotherman will return for Monday's game against No. 4 Villanova.
POLL IMPLICATIONS
Purdue certainly did not hurt its chances of climbing in the Top 25 poll with its 44-point victory and will have a chance to open even more eyes Monday night when it plays No. 4 Villanova in Mackey Arena.
STAT TO NOTE:
Big men Swanigan, Vince Edwards and Haas were a collective 15 of 19 from the free throw line. Guard Carsen Edwards was only one of six from the line.
UP NEXT:
McNeese State: The Cowboys will play host to Louisiana College on Tuesday night, hoping to use their perimeter shooting and quickness to get into the win column after facing a Big Ten opponent loaded with frontcourt strength.
Purdue: The Boilermakers will have an opportunity to open some eyes nationally on Monday night when they entertain reigning national champion and No. 4 Villanova. Purdue has never beaten a Top 5, non-conference opponent in Mackey Arena, posting an 0-5 record from the time the building opened in December 1967.
---
---