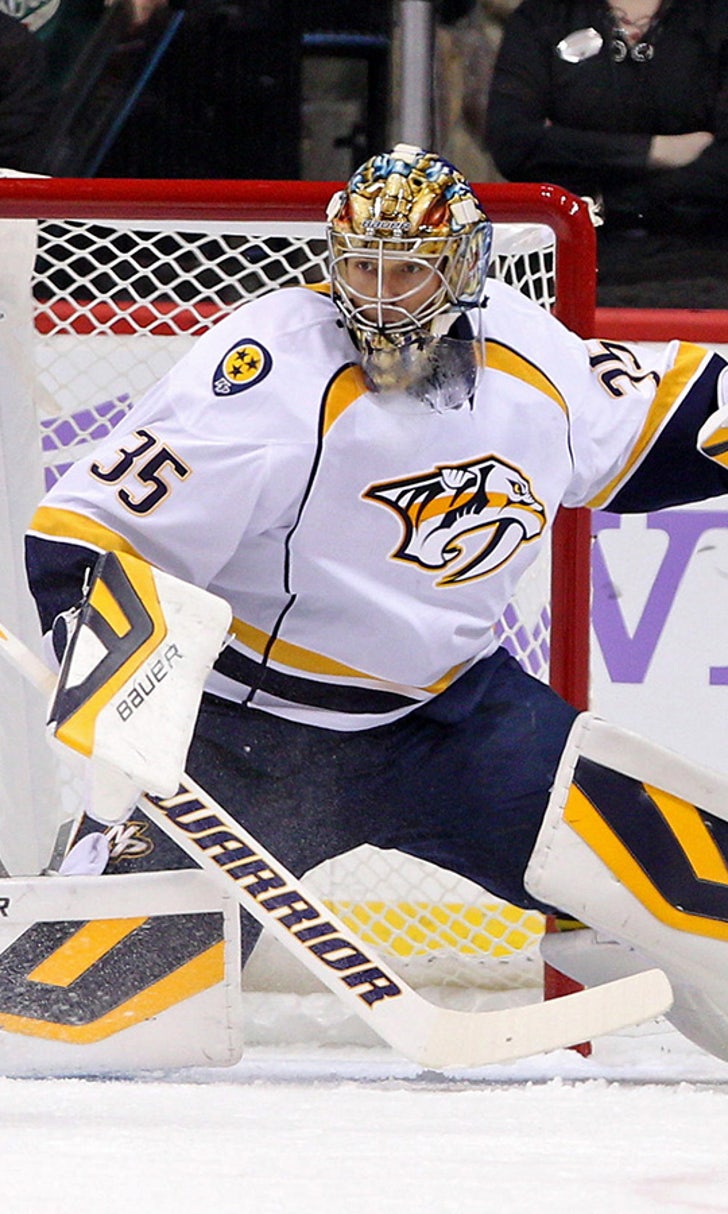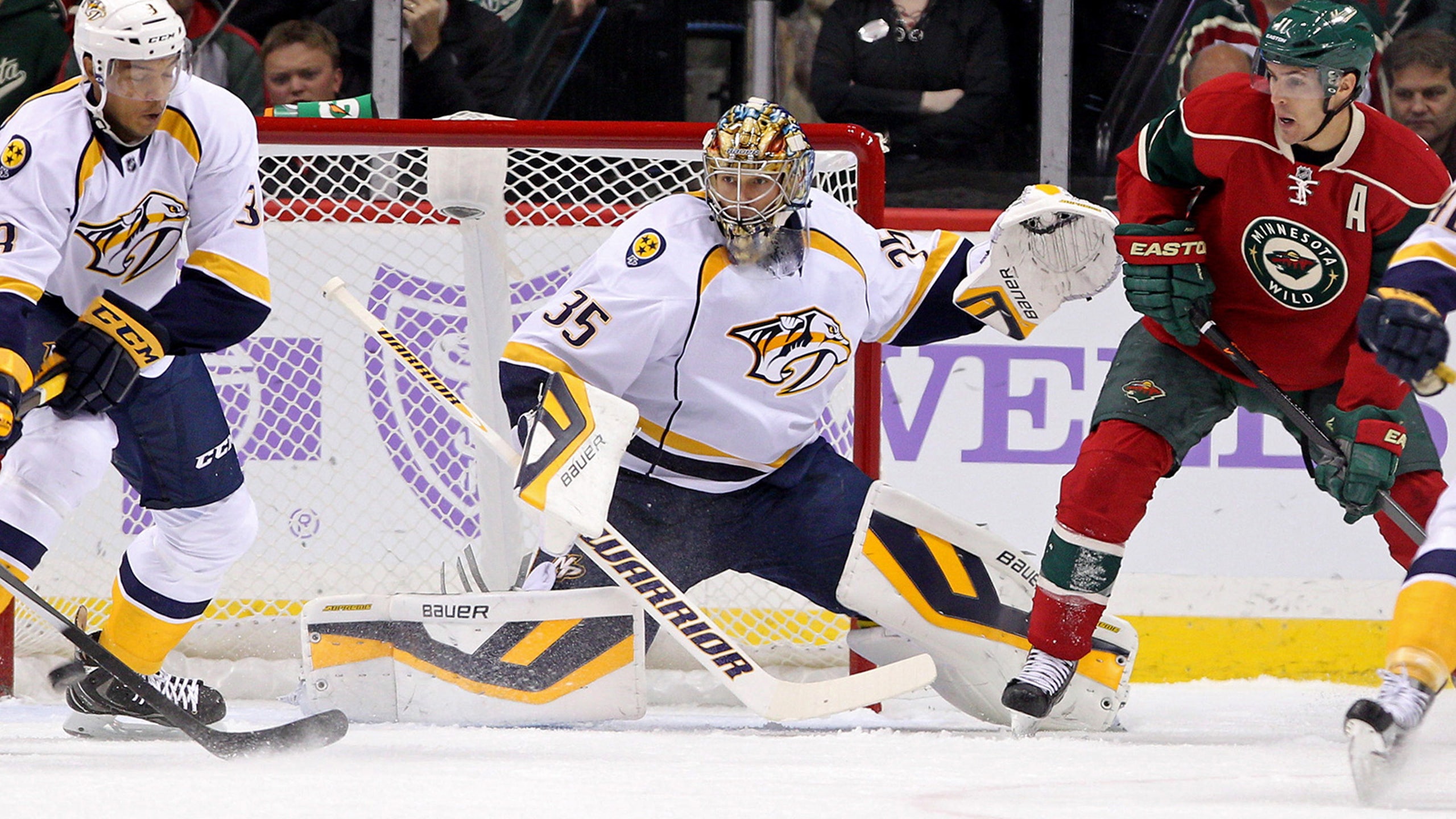 Preds need healthy Rinne for playoff run
BY foxsports • December 17, 2013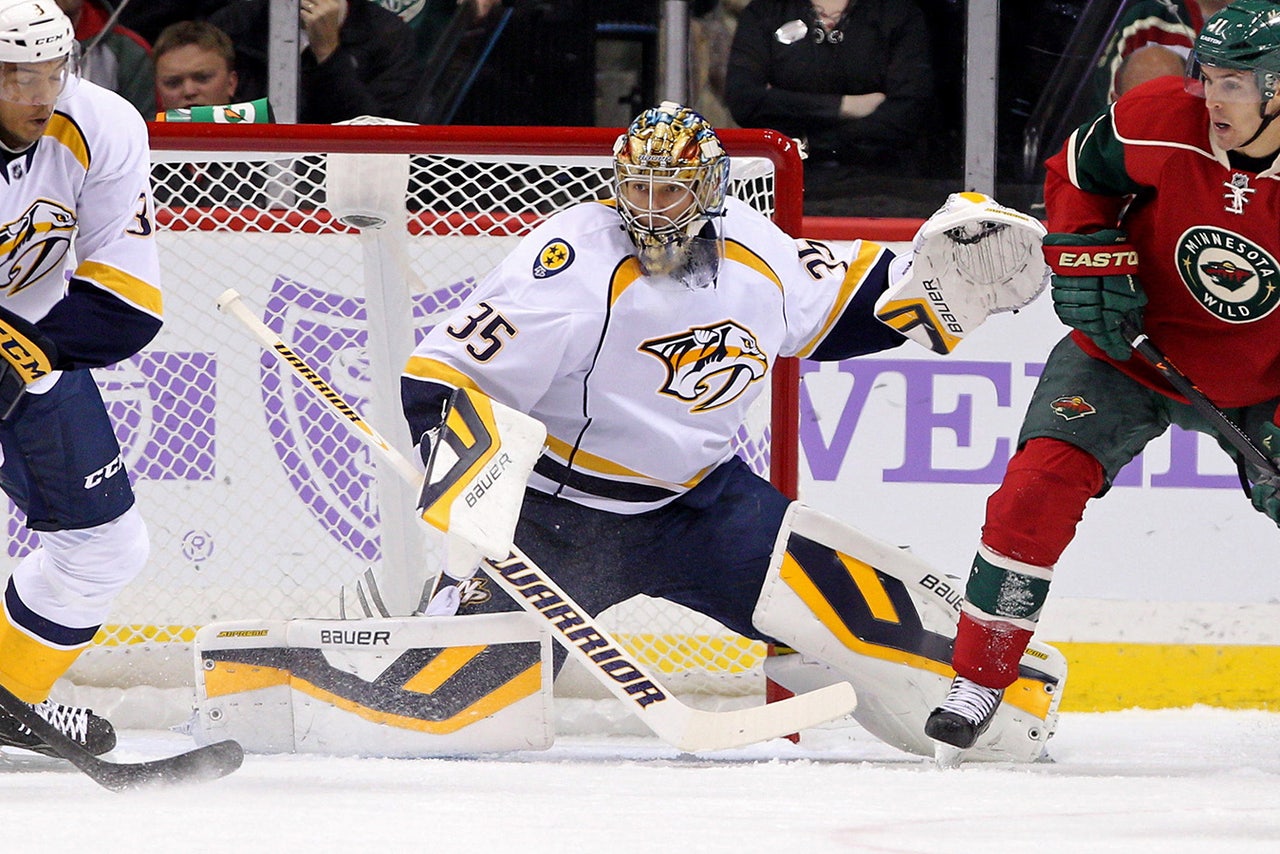 On Friday, Nashville Predators goalie Pekka Rinne is expected to begin what general manager David Poile called "more strenuous activity leading back into playing."
Even if all goes well, it's hard to know when Rinne, one of the NHL's top goalies, will be able to play. Rinne has been on crutches for much of the last two months so it's not like he'll be in perfect game shape and ready for a 40-shot barrage from the likes of the Chicago Blackhawks any time soon.
The Predators no doubt will be patient, as they ought to be, with their franchise goalie, whom they will continue to pay $7 million per season through 2018-19.
With Rinne having played only nine of the first 33 games, the Predators could consider themselves somewhat fortunate that they began the week only eight points out of the eighth and final playoff spot in the highly competitive Western Conference. (The same record in the Eastern Conference's Metropolitan Division would have them two points out.) The Predators are in many ways built around Rinne and in the past he has shown the ability to win games for the Predators virtually by himself --€" 1-0 and 2-1 victories were not uncommon, especially in games when the team was tired during long road trips. Without him, that has not been the case.
Counting down the 10 greatest players in Predators history. VIEW GALLERY »
At the same time, the Predators should consider themselves lucky to have had the goaltending they have so far. With the news on Monday that Carter Hutton was named the league's third star of the week, he becomes the second Predators goalie not named Rinne to have earned honors from the league this season. Marek Mazanec was named the league's rookie of the month for November, as he went 5-4-1 with a 2.00 goals-against average and .932 save percentage.
Together, Hutton and Mazanec entered this season with one combined game of NHL experience (and no wins). Predators coach Barry Trotz, perhaps in jest, has mentioned how most teams hope to get 10 wins out of their back-up goaltender and Nashville already has 12 so the Predators already are ahead of the game. For the Predators, it's been a necessity.
Mazanec has proved something of a revelation. He went through the NHL Draft twice before Nashville took him in the sixth round in 2012. This year was supposed to be his introduction to North America and the American Hockey League. Instead, after five games with the Predators' top minor-league affiliate in Milwaukee and Rinne out, he got the call.
Fortunately, the 22-year-old responded until his play began to tail off and Trotz replaced him with Hutton, who had won three in a row entering Tuesday's game with Chicago.
Trotz has said that, for now, he plans on going with whichever player is hot. Since the Predators don't have back-to-back games for almost two weeks, he can keep doing that without too much concern that either goalie will wear out, as might have happened to both Hutton and Mazanec earlier.
This Predators team has been a hard one to figure but, at the root of it, much of its struggles might have to do with goaltending. The Predators have put together two three-game winning streaks and a separate run of five straight games without a loss in regulation (4-0-1). It has scored impressive victories over some of the league's best teams: 7-2 over Chicago (owner of the league's top record), 4-3 at Los Angeles (tied for fourth in the league in points), 3-2 over San Jose (tied for sixth in points) and 2-1 at Montreal (tied for 10th in the league in points).
What makes the Predators befuddling is that they also have shown they can play horribly at times, such as the four-game losing streak during which they were outscored 17-2 and the five-game losing streak (0-4-1) during which they tallied a grand total of seven goals.
When a team has confidence in its goaltender, it plays more confidently. When it doesn't, it becomes fragile. Players don't take chances offensively for fear that any mistake will end up in their net. A bad early goal can prove deflating. This was the case in back-to-back 5-2 losses recently to Carolina and Washington.
Still, one can only wonder if the Preds' darkest days are behind them or if they will unhappily return at the first shaky signs from Hutton or Mazanec. The organization also has to be wary of placing too high of expectations on Rinne once he returns, even though it will need him to succeed in the long run. To ask him to be their savior immediately upon return after sitting out what could end up being two and a half months would be too much.
Trotz will also have some difficult decisions to make on his own. He will have to balance getting Rinne up to speed while also trying to win games. Look no further than the New York Rangers for a cautionary tale. The Rangers' Vezina Trophy-winning goalie Henrik Lundqvist has missed a small amount of games because of an injury but has struggled mightily to find his top form. Backup Cam Talbot has outplayed Lundqvist, but Rangers coach Alain Vigneault has been forced to continue to start Lundqvist in the hope that he will play his way out of it. To date, he has not and the Rangers have languished with one of the league's worst records.
The Predators must hope that the same fate does not befall Rinne.
It's all part of what makes the question of qualifying for the playoffs so uncertain. It's an uphill climb but not an impossible one. The Predators have played two fewer games than Central Division rival Minnesota, which holds an eight-point lead for the conference's final wild card playoff spot. If the Predators want to make the playoffs, they will have to catch the Wild or hope that another team like Vancouver or Colorado fall off. As Trotz has said, they will need to win almost two out of every three games to get back in the picture and stay there.
The patchwork of goaltenders has gotten them this far. It will have to get them farther before running out of gas. And, at a certain point, the Predators will need the Rinne of old to get where they want to be.
It won't be easy but it's possible.
---