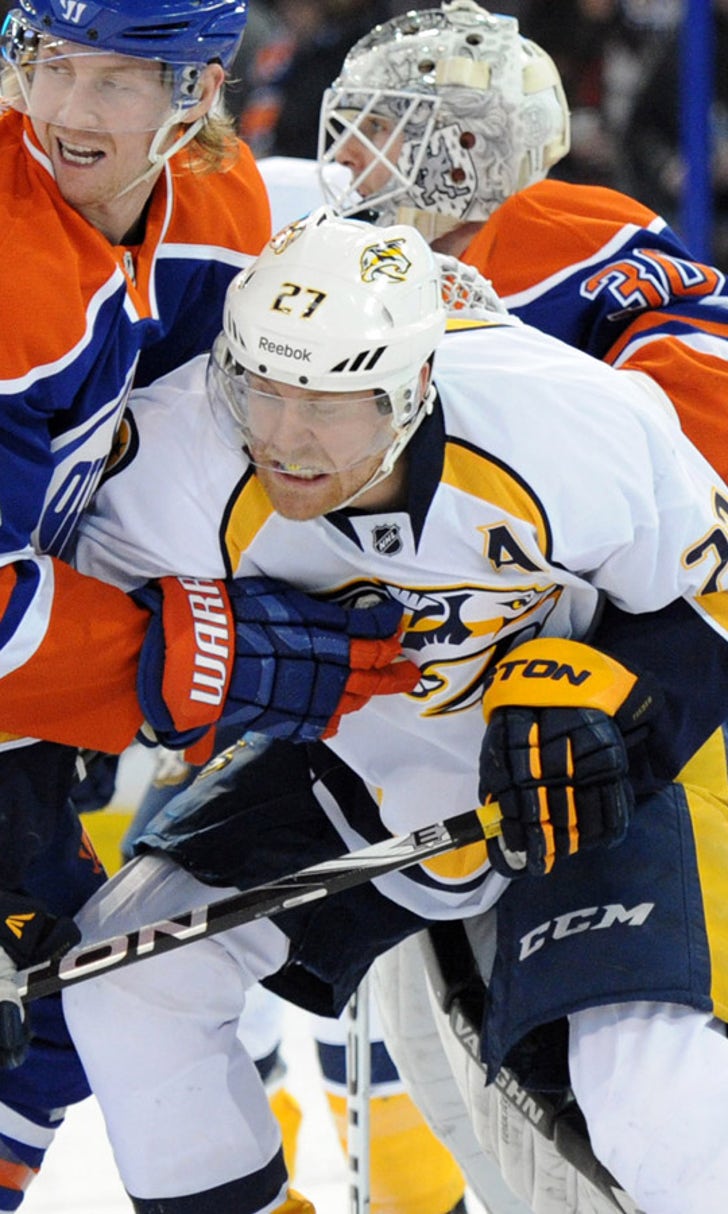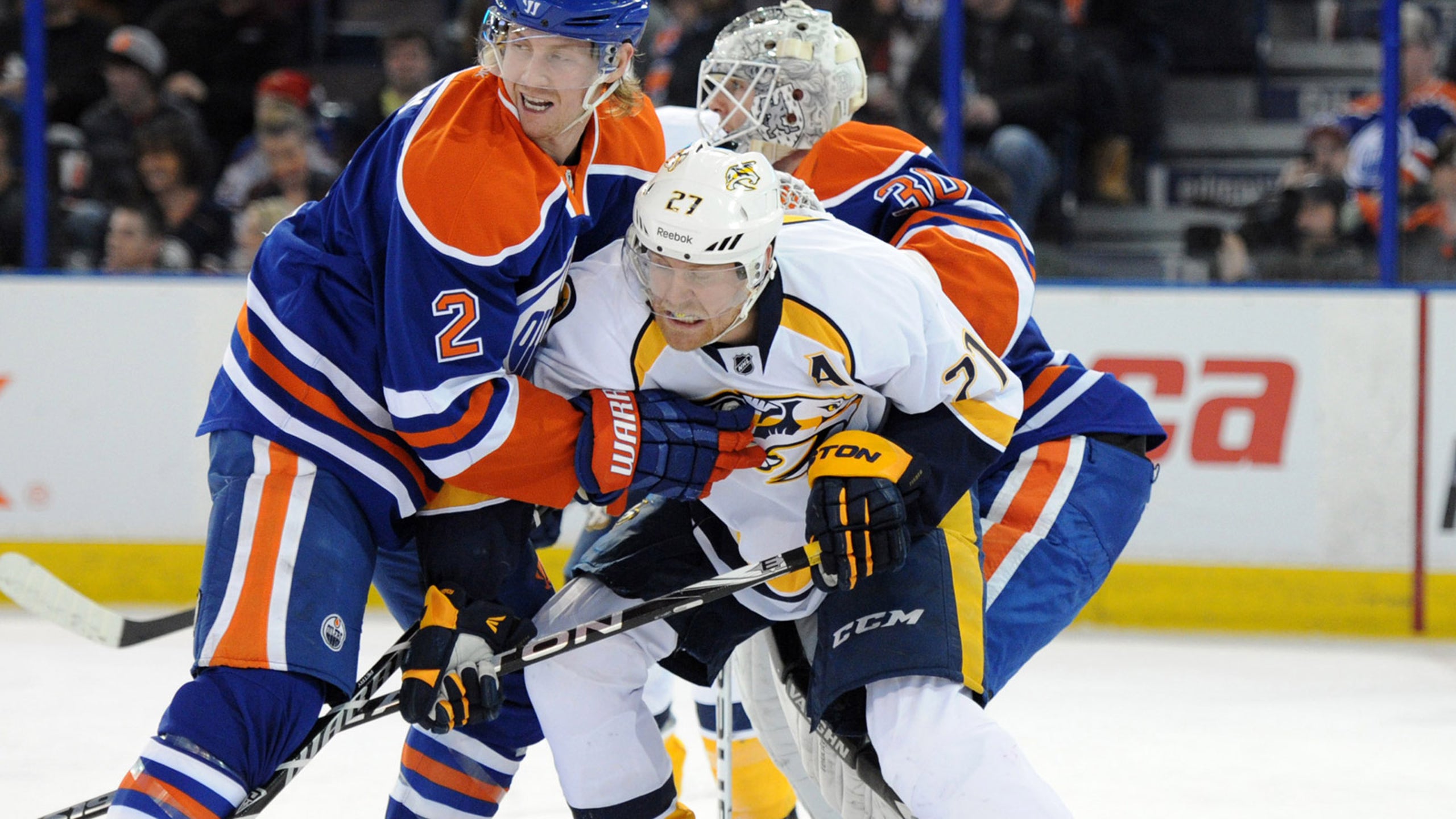 Predators fall as Oilers snap six-game losing skid
BY foxsports • January 27, 2014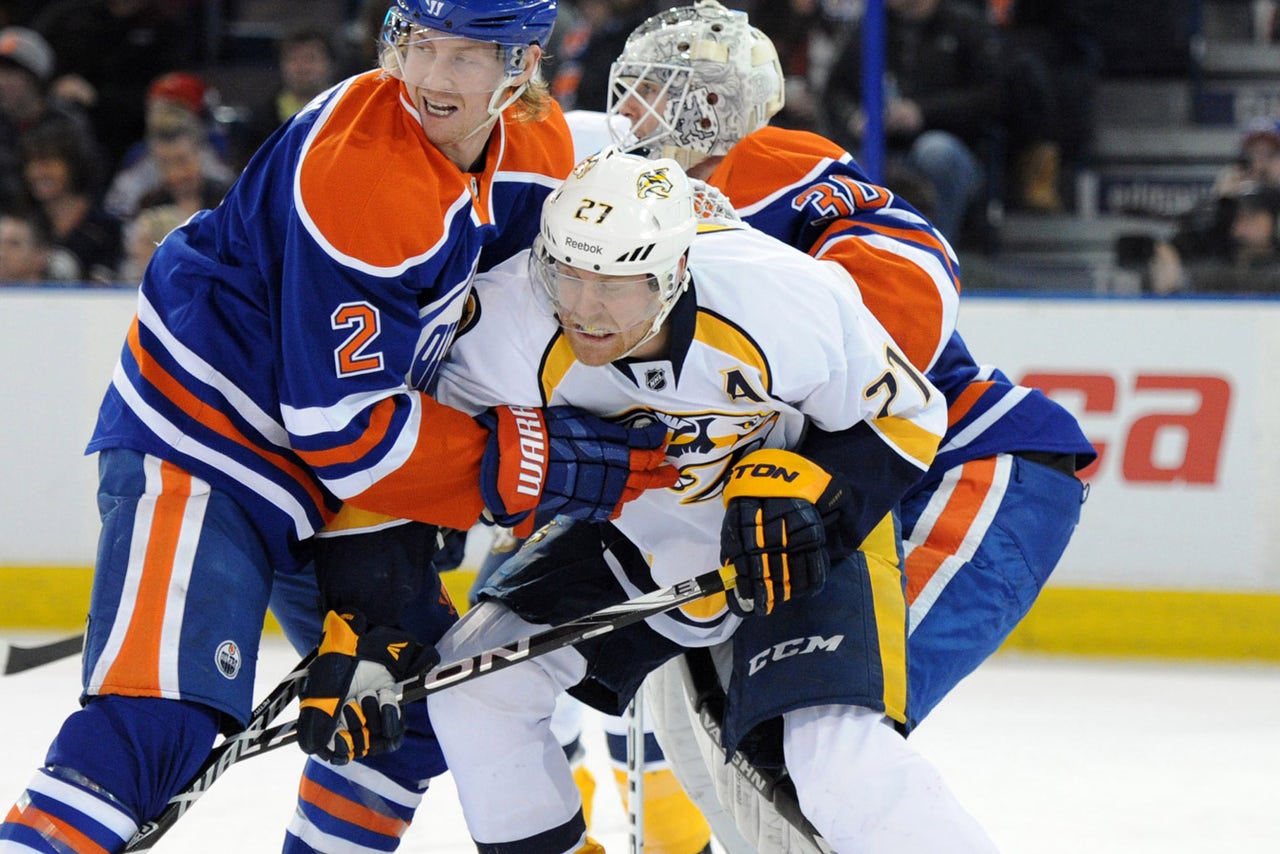 EDMONTON, Alberta -- The Edmonton Oilers' got everyone involved in this slump-busting win.
Ryan Smyth, Justin Schultz, Jordan Eberle and Ryan Nugent-Hopkins each had a goal and an assist, and Ben Scrivens made 34 saves as Edmonton ended a season-high six-game skid with a 5-1 victory over the Nashville Predators on Sunday night.
"It was a good team win, all four lines and all six defense were rolling pretty good," Schultz said. "We got contributions from everyone tonight. Whether they were on the score sheet or not, everyone played well. It was nice to get a win."
Taylor Hall chipped in two assists and Nail Yakupov scored for the Oilers (16-32-7), who captured their fifth win in 22 games.
"It was nice to get out to an early lead and I thought we carried momentum shift after shift in the first period," Smyth said. "We desperately needed a win, to build some confidence. Now we have confidence that we can win. We can come from behind if we need to, but it was nice to play with the lead."
Edmonton has had five losing streaks of at least five games this season.
David Legwand scored for the Predators (23-23-8), who have lost two in a row -- against a pair of Alberta teams, blowing a lead in a 5-4 shootout loss in Calgary on Friday.
"I'm quite disappointed," Nashville head coach Barry Trotz said. "We had a game in Calgary the other day and let a point slip away, and tonight we had it 1-1 late in the first and I thought we would be in good shape. We gave up a poor goal in terms of our structure, it was bad coverage by us. When they got the third goal it took a lot of steam out of our bench."
Predators forward Paul Gaustad said the last two losses have hurt for a team trying to claw its way into the playoff picture.
"It's obviously not the result we wanted," he said. "Every team in this league is a really good team, no matter what the standings always say. We need to find ways to get two points. We have to start making a move up."
Edmonton started the scoring three minutes into the game as Jesse Joensuu saw Schultz streaking in from the point and hooked a pass to the defender for a hard shot that beat Predators goalie Carter Hutton.
Nashville tied it with 4:30 to play in the opening period as Legwand elected to shoot on a two-on-one break and beat Scrivens in the top corner.
The Oilers went into the dressing room after the first on a positive note, scoring with 12 seconds left in the first period. Taylor Hall sent a great pass through the legs of defender Roman Josi to give Eberle an easy redirection into the net from the crease.
The Predators came in with a 1-16-2 record when trailing after the first period.
Nashville thought it had tied it just 48 seconds into the second period, but Taylor Beck was called for goalie interference for running Scrivens over as he chipped the puck in, and the goal was disallowed.
Edmonton went up by two goals midway through the second period as Smyth picked up the rebound in the crease of a long shot by Corey Potter and put it past Hutton. It was Smyth's 125th power-play goal as an Oiler, tying him for second on the team's all-time list with Wayne Gretzky and putting him one back of leader Glenn Anderson.
"For Ryan, that was a special thing to do," said Oilers head coach Dallas Eakins. "Hopefully he can keep moving up the charts. Anything that has Mr. Gretzky's name on it and you can match it, it's a great, great accomplishment."
Edmonton made it 4-1 with three minutes left in the second period as Sam Gagner hit Yakupov trailing on an odd-man rush and the No. 1 pick of the 2012 NHL draft sent home his 10th of the season.
The Predators outshot Edmonton 17-7 in the third and thought they had finally been rewarded on what looked to have been goal by Craig Smith. But, once again, Beck was called for goaltender interference because he was lying on top of Scrivens when the puck trickled across the line.
"I've never seen anything like that," Beck said. "On the first one I was just taking the puck hard to the net and my momentum kind of ran the goalie a little bit. I think the puck would have gone into the net regardless, but the ref called it no goal. On the second one I was getting hacked and whacked and ended up falling on the goalie and again it was disallowed. Those things happen, I guess. Hopefully next time it is called the other way."
The Oilers put the game away for good with 4:30 left after some quick passing on the power play led to Nugent-Hopkins' 15th goal.
NOTES: It was the second of three meetings between the two clubs this season. Edmonton won the first game 3-0 on Nov. 28 with Ilya Bryzgalov earning the shutout. ... It was the first meeting between the teams since a trade on Jan. 15 that sent goalie Devan Dubnyk from the Oilers to the Preds in return for forward Matt Hendricks. Dubnyk has not had a strong start in Nashville, allowing nine goals in his two starts, and was not selected to play against his former team. ... The Oilers were without captain Andrew Ference, who sustained a head injury in their previous game against Phoenix. Forward Ales Hemsky also remained out with an ankle injury. ... Predators goalie Pekka Rinne continues to be on injured reserve with a hip injury. ... Nashville forward Eric Nystrom was coming off a rare four-goal performance against the Calgary Flames on Friday.
---