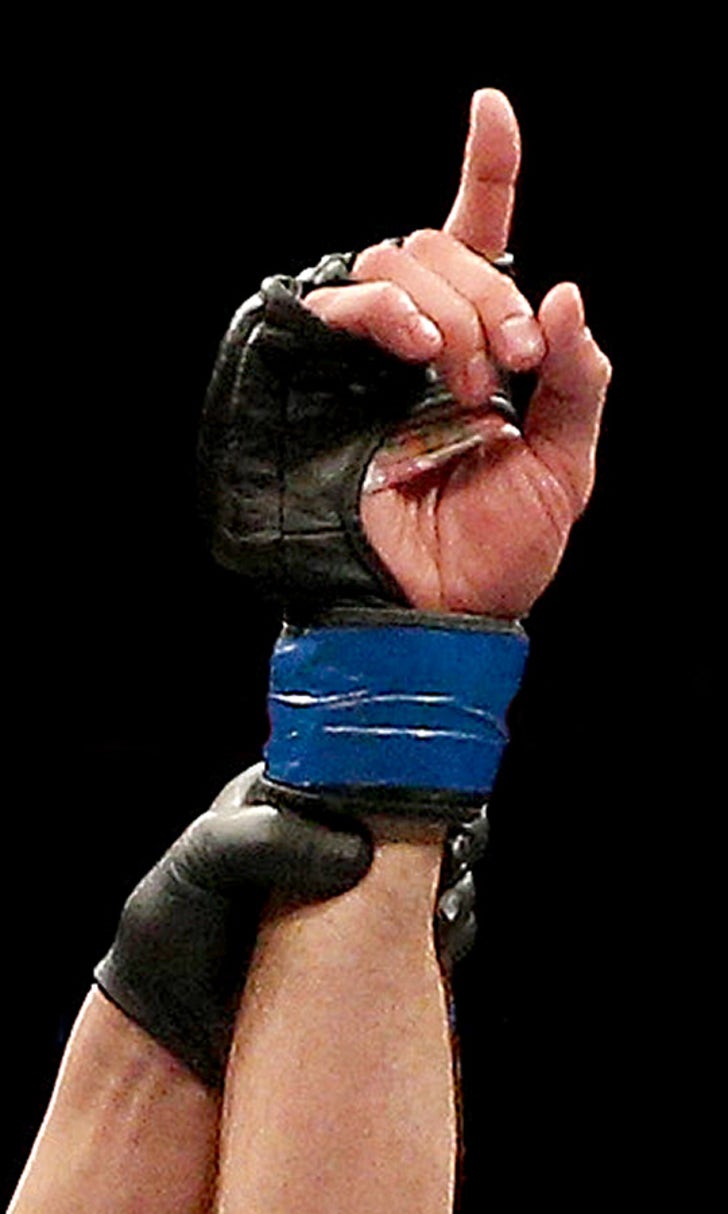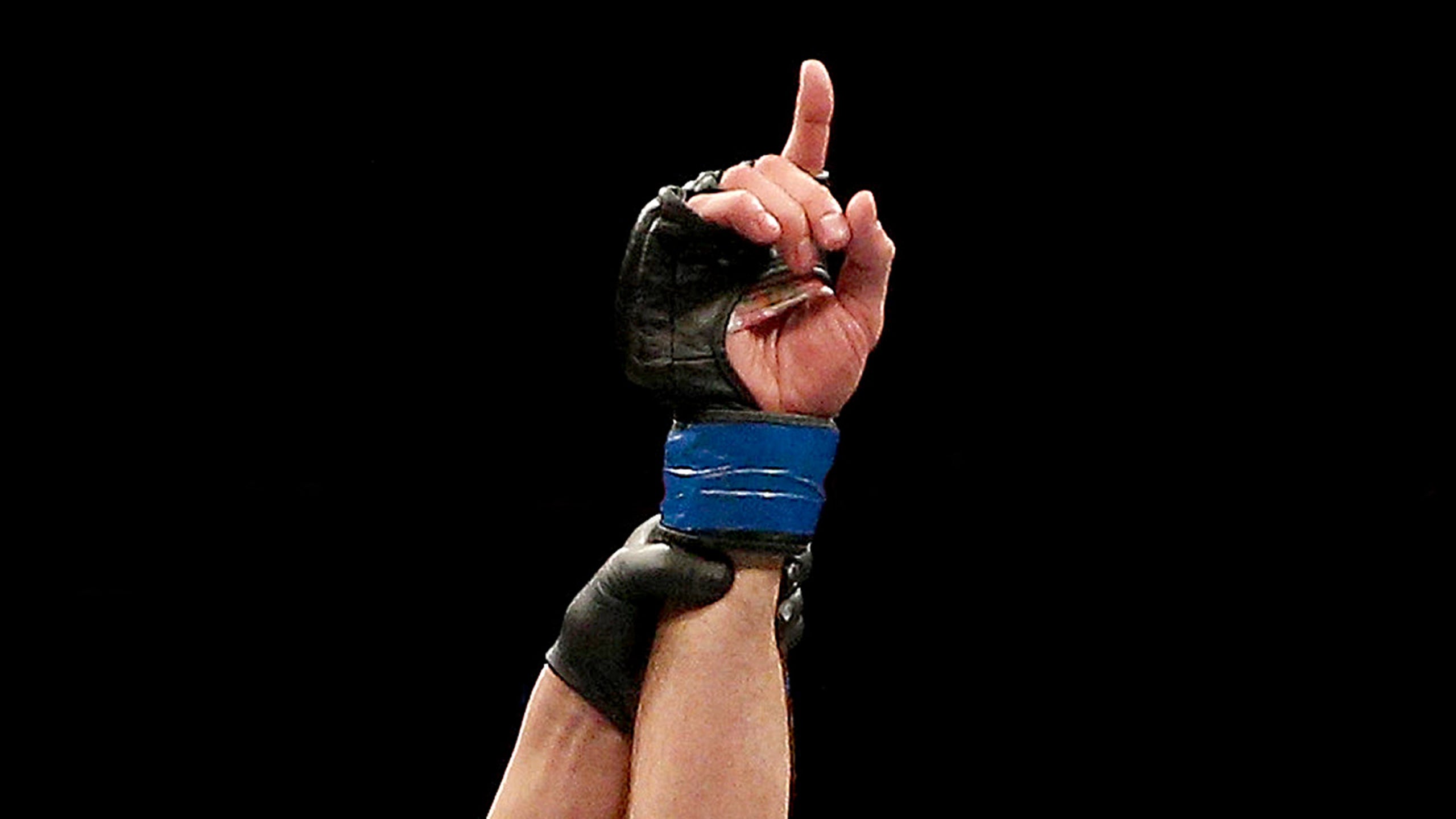 Power-ranking UFC 169's ten decisions by excitement level
BY foxsports • February 4, 2014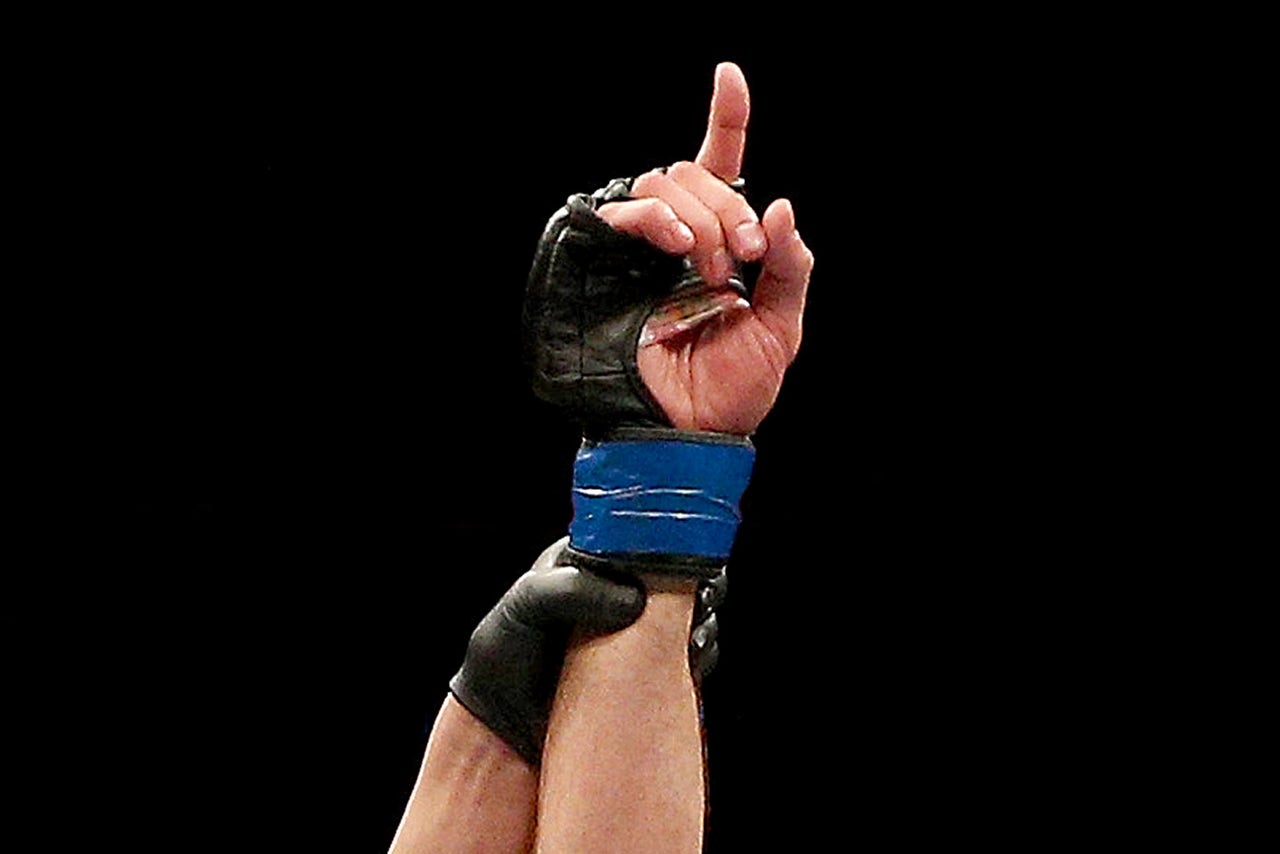 Dana White described UFC 169 as a "10-decision, record-breaking catastrophe." While a decision doesn't inherently mean that a fight was boring, it's still worthy ranking said decisions from least to most exciting to see how far -- or on the mark -- the UFC prez truly was.
#10 – Nick Catone vs. Tom Watson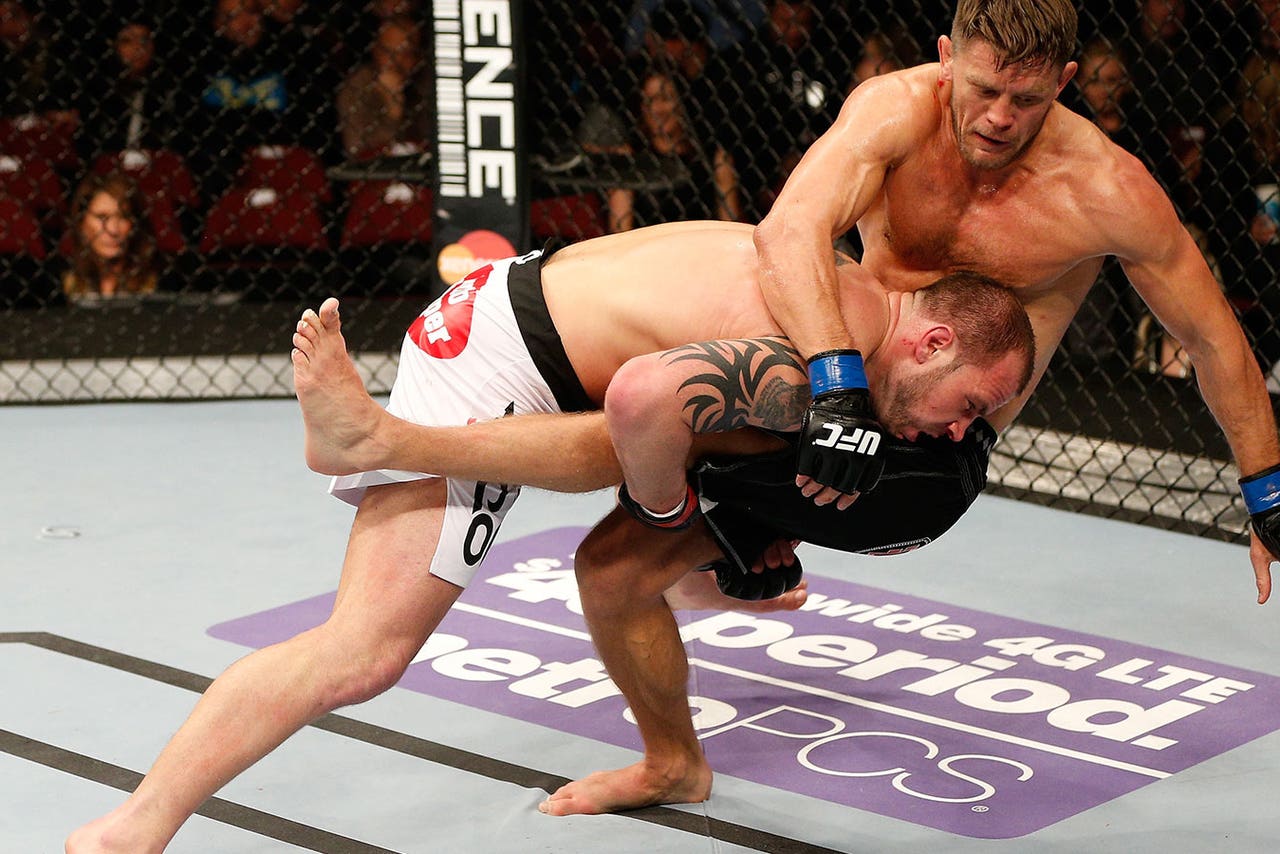 The worst of UFC 169's decisionfest.
Nick Catone is a grappling stud with numerous college wrestling awards to his credit. Tom Watson is British. Any MMA fan with half a brain knew that we'd be in for three rounds of grapplehumpin' on Catone's part in this fight, but the result managed to exceed even the tremendously low expectations. It was Fitchian is what it was, but some credit is due to Catone, who managed to fight through a torn ACL to secure his first UFC win in two years and likely his place in the promotion. We shall see how Watson fares in the coming days.
#9 – Chris Cariaso vs. Danny Martinez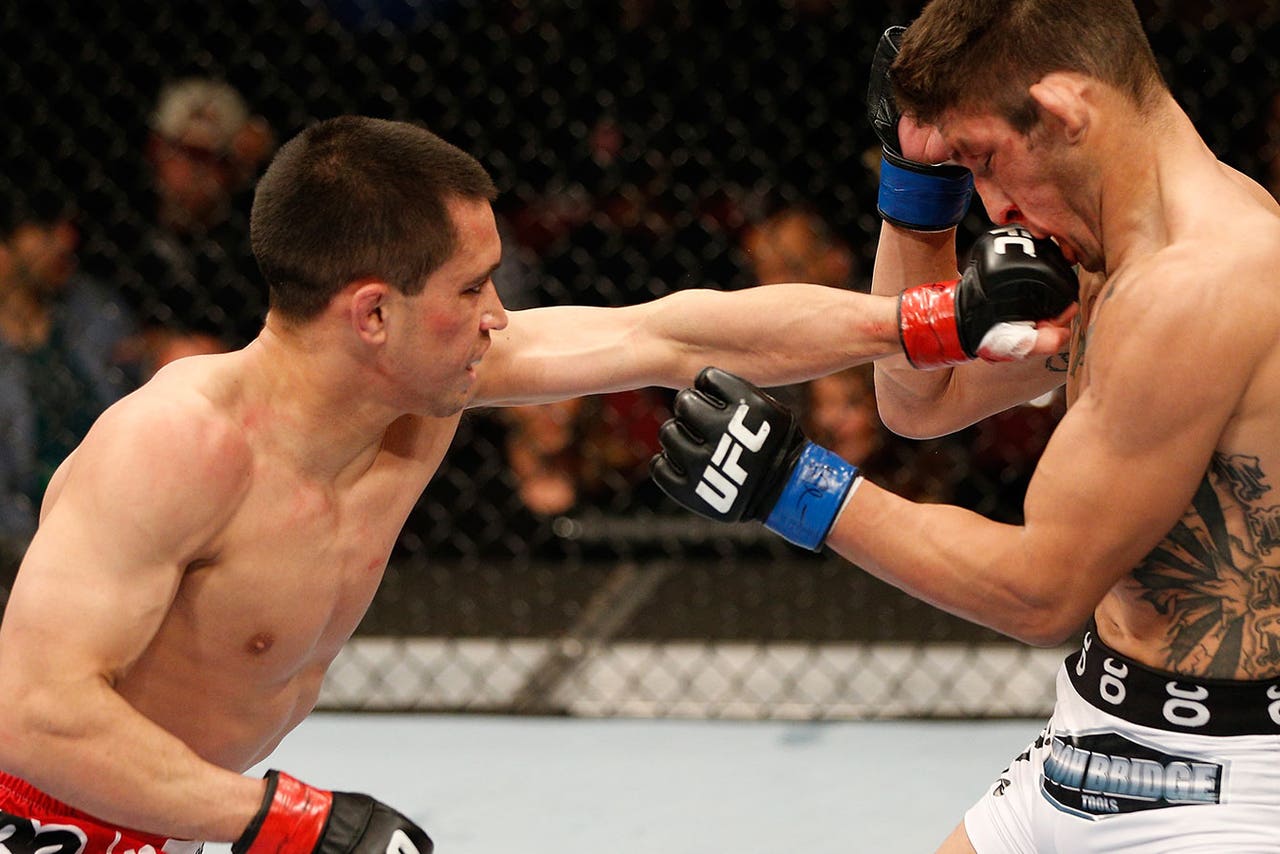 Finish him! (Or don't.)
For a guy who calls himself "Kamikaze," Cariaso doesn't seem all that willing to take risks to finish a fight. In fact, in his nine UFC contests, Cariaso has only finished one opponent. His fight with promotional newcomer and late injury replacement Danny Martinez was more of the same, punctuated by a solid jab, a few solid combinations and some stellar takedown defense but not much else in terms of memorability. Maybe that's why he has gone largely unnoticed despite having fought more UFC contests than 90% of the flyweight division.
#8 - Neil Magny vs. Gasan Umalatov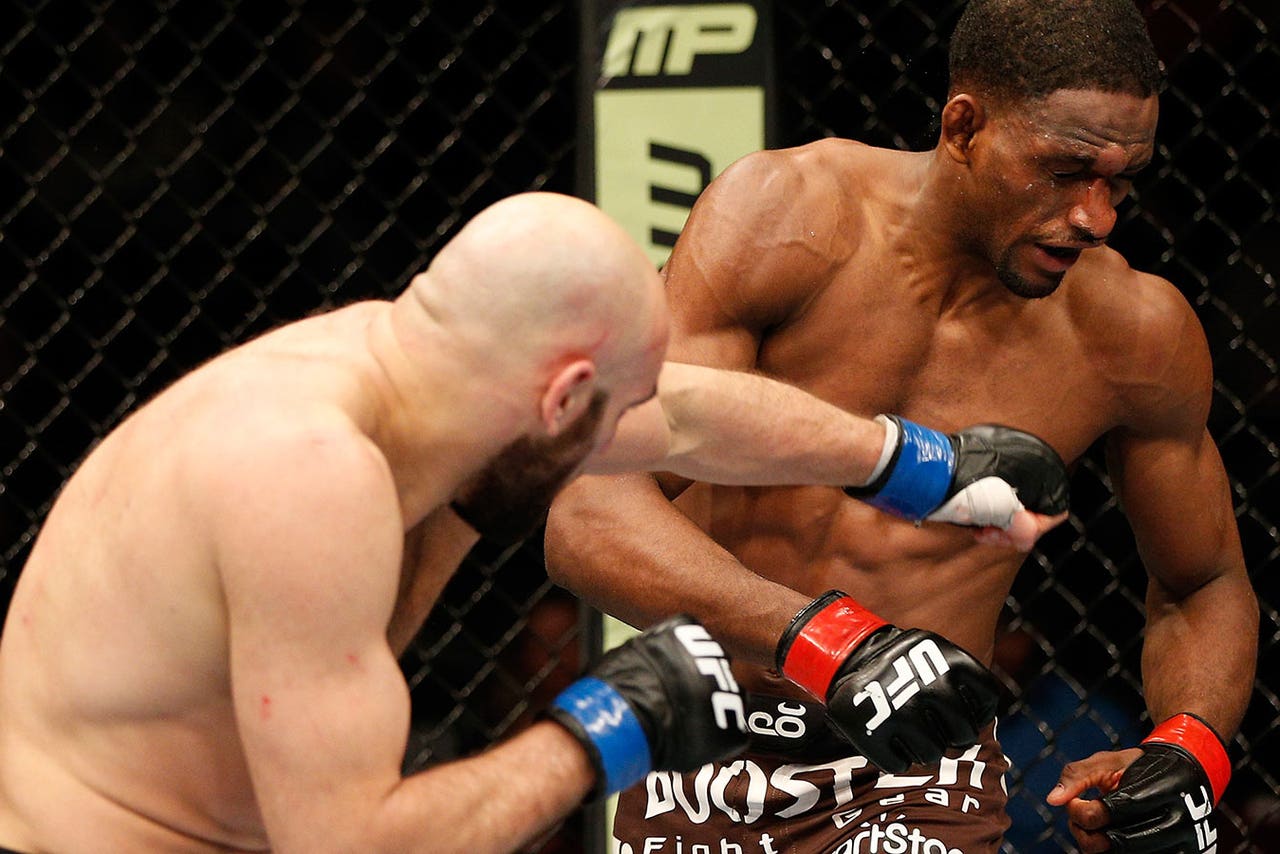 Not the Cold War we were expecting in Newark.
The opening fight of the night could only be viewed on the UFC's new Fight Pass digital network, so Magny's rather one-sided decision over Umalatov probably flew under most (U.S.) fans' radar. Not that they missed a whole lot; Magny utilized his definitive reach advantage to pick apart the Russian on the feet and avoid the majority of his takedown attempts while scoring a couple of his own en route to a unanimous decision victory. A much-needed win for Magny though, who broke a two-fight skid and likely saved his job with the win.
#7 – Alan Patrick vs. John Makdessi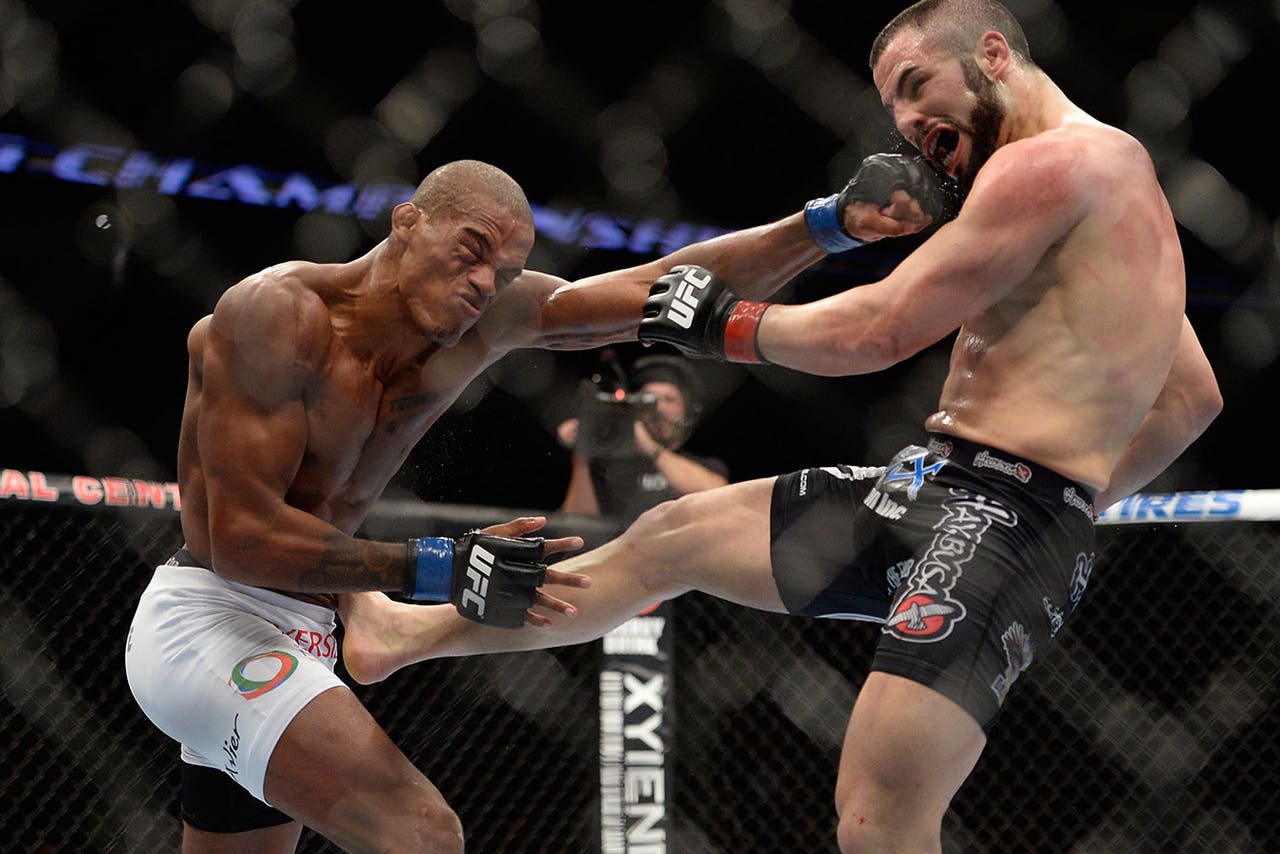 Judge not lest ye be writing a power-ranking article on UFC 169.
A mostly lackluster fight with an equally appalling decision, but then again, we've come to expect nothing less from MMA judges. Despite stuffing nine out of Patrick's 11 takedowns and outstriking him 66 to 42 on the feet, it seems that Patrick's flashy (and completely ineffective) spinning kicks were enough to woo the judges, or at least get them to occasionally look up from the Etch-A-Sketches they were playing with for the majority of the night.
One of the Dana White's slogans may be to "never leave it in the hands of the judges," but if the judges in charge of rendering a verdict are truly this incompetent, why have them in the first place? Starting at UFC 170, I propose that the UFC adopts the "TWO (WO)MEN ENTER, ONE (WO)MAN LEAVES" criteria of determining a fight.
#6 – Clint Hester vs. Andy Enz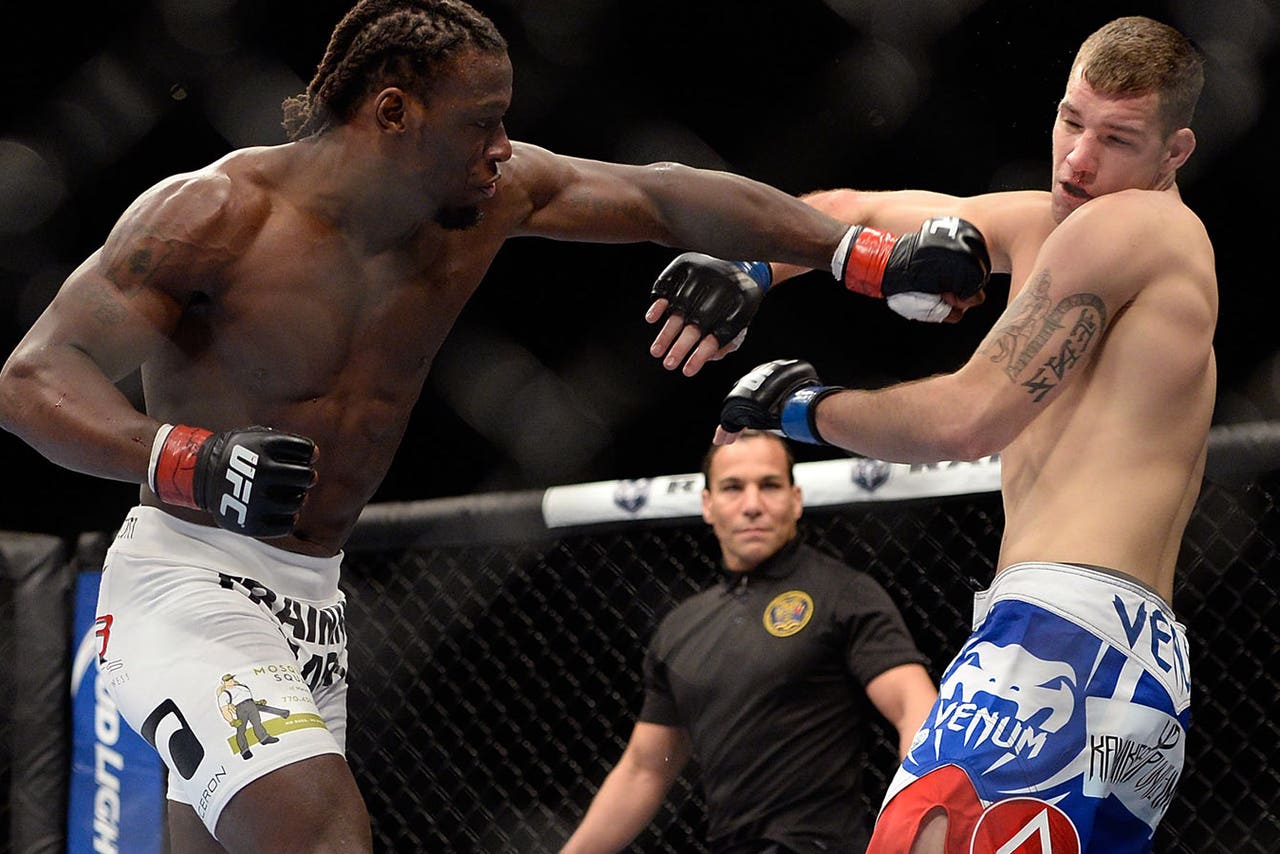 "fuhgeddaboudit... seriously, forget about it."--@jordan_is_ok
Another UFC Fight Pass scrap that went largely overlooked, Clint Hester vs. Andy Enz didn't prove much about either fighter that we didn't already know. Specifically, that Clint Hester hits like a Mack truck and that the most interesting thing about Enz is his completely undeserved nickname, "Tank Mode."
Andy, I served with Tank Mode, I knew Tank Mode. Tank Mode is a friend of mine. Andy, you're no "Tank Mode."
#5 – Ali Bagautinov vs. John Lineker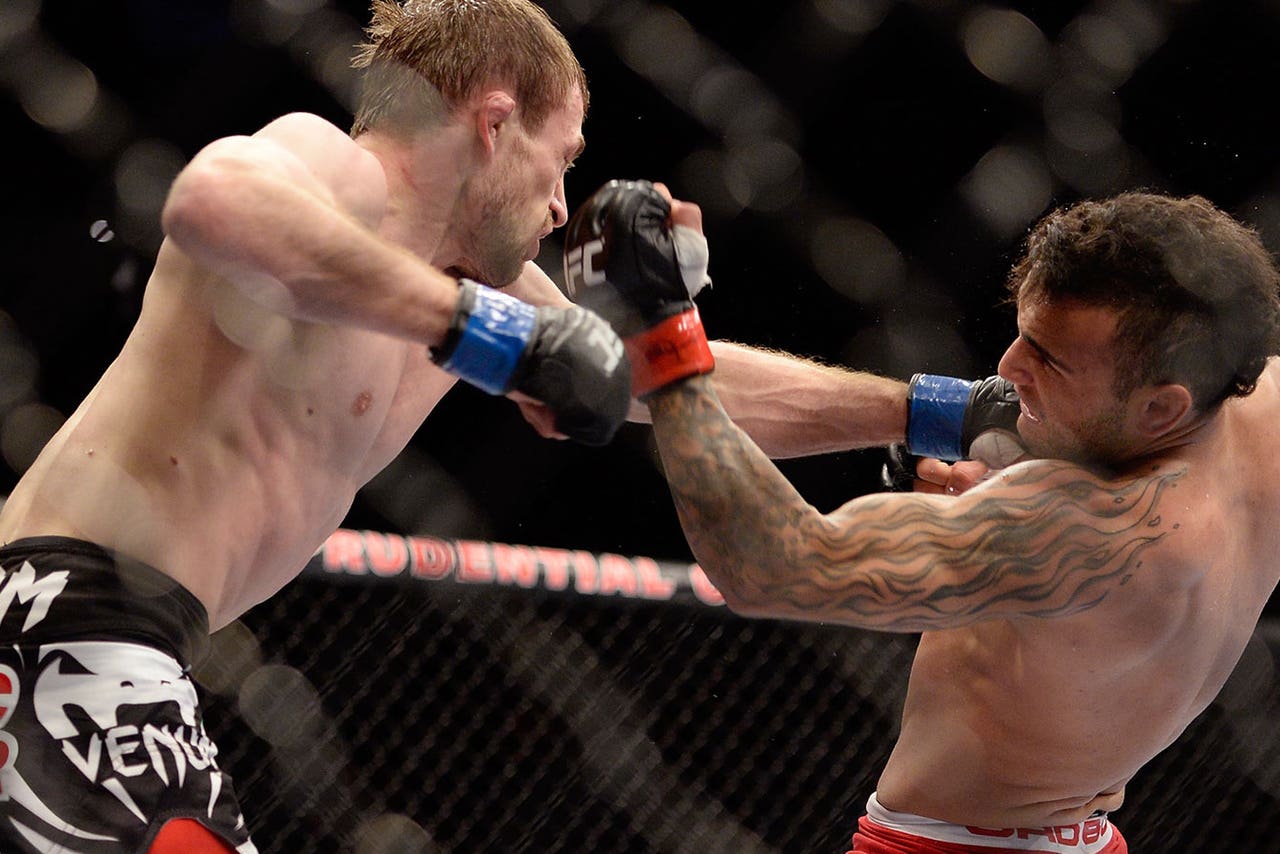 Not really worth the weight after all.

This fight receives such a poor placement not because it was a boring fight, but because it failed to live up to the "grudge match" moniker surrounding it. I guess Dana White was right when he said that "fights with trash talk always suck." In any case, what was supposed to be the coming-out party for "John Lineker: Hard-Hitting Future Title Challenger" lost a bit of steam when the Brazilian initially failed to make weight for his third straight fight.
Lineker's performance in the cage was equally disappointing, as his inability to stop Bagautinov's takedowns effectively wrote off the notion that he could ever tangle with a grappling powerhouse like flyweight champion Demetrious Johnson. As for Bagautinov, well, we can't exactly blame him for opting not to stand and trade with "Hands Of Stone," but he didn't exactly live up to the threat printed across his weigh-in attire either. But we'll give him bonus points for showboating his way through a heel hook in the fight's final seconds.
#4 – Rashid Magomedov vs. Tony Martin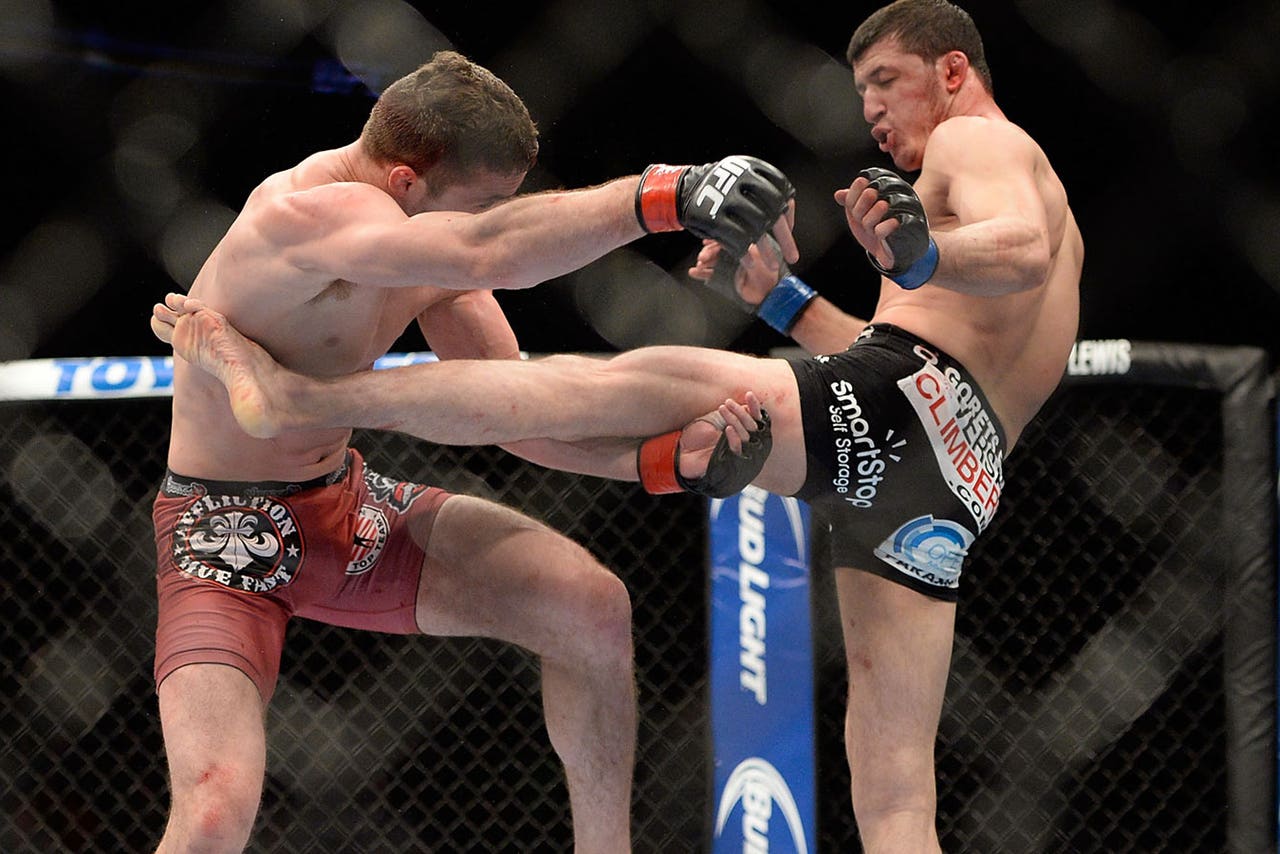 See? Decisions don't always have to be snoozers.
The Fight Pass preliminary fight between Magomedov and Martin was a back-and-forth war that featured one of the most brutal non-finishes of the night (and possibly the year). Early in the first round, Martin locked up a ridiculously tight armbar that appeared to have Magomedov all but on his way out of the arena. The Russian gritted through the pain (and possibly a hyperextended knee), however, and routed the previously undefeated Martin in the second and third rounds, securing a big win in his promotional debut.
#3 – Al Iaquinta vs. Kevin Lee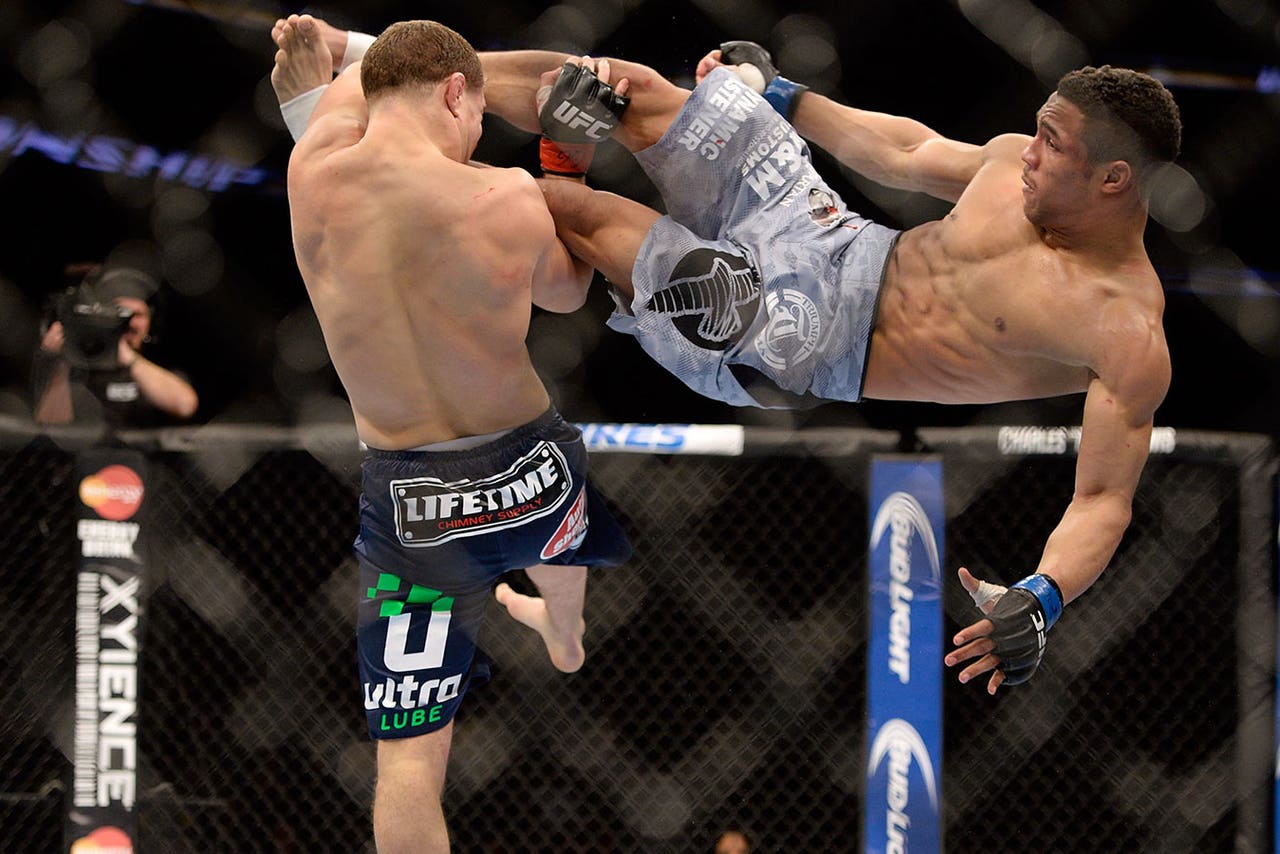 Photo Of The Night bonus winner.

Speaking of back-and-forth affairs, Iaquinta vs. Lee was a fight that could have arguably been declared a draw, as both fighters nearly finished each other in back-to-back rounds rounds. Iaquinta started things off like a man possessed, dropping Lee with a vicious left hand and swarming him with ground-n-pound in the moments that followed. Lee was able to brave the storm, however, and was equally as dominant on the mat in the second round, securing back mount and threatening with a rear naked choke for over three and a half minutes. Iaquinta was able to keep things standing in the third and punched his way to a UD victory, his third straight since being submitted by Michal Chiesa in the TUF 15 Finale.
#2 – Jose Aldo vs. Ricardo Lamas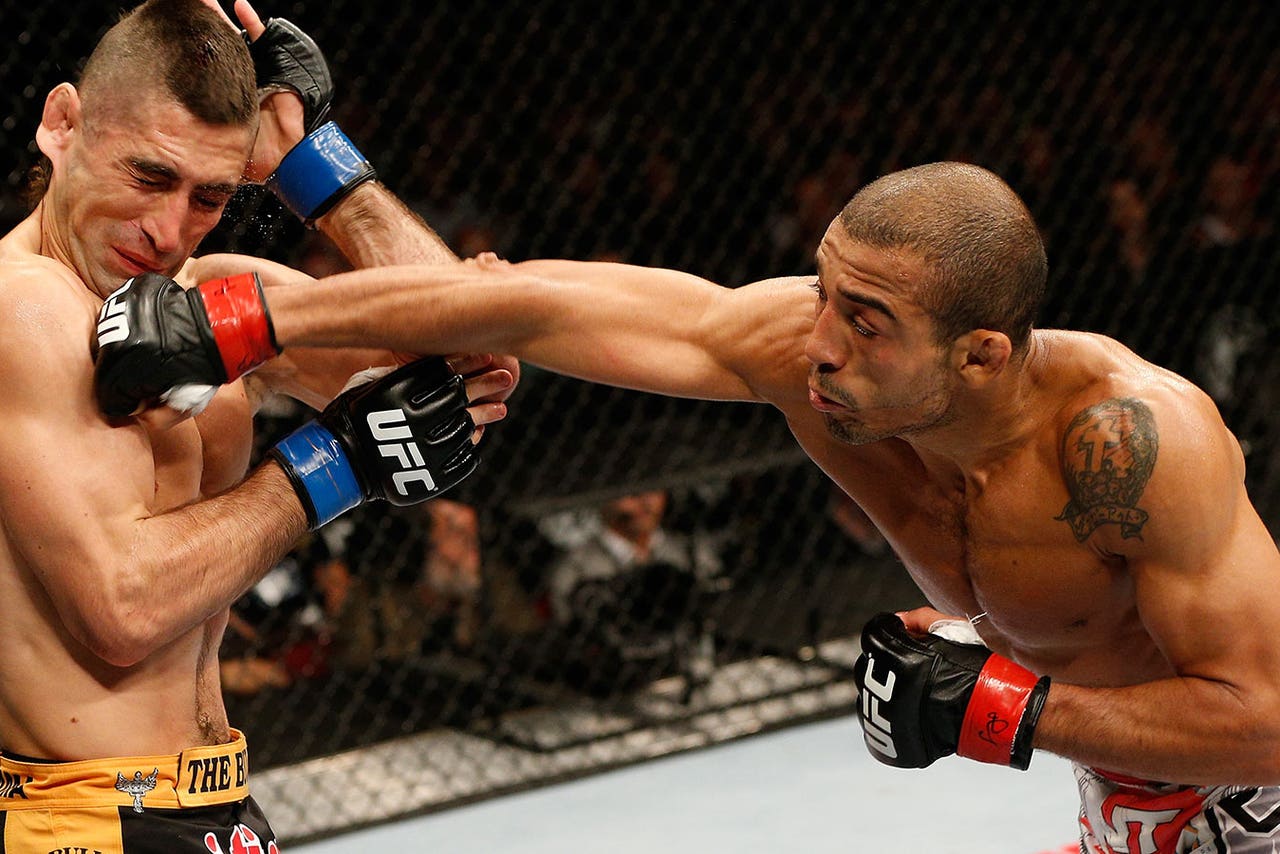 Once again, Aldo proved to be supremely untouchable in the Octagon.

While Jose Aldo didn't exactly come out like the guy who obliterated Cub Swanson or Chad Mendes last Saturday, there's no denying that, save a takedown in the fifth, Aldo picked apart his outmatched opponent with the technical prowess and occasional flare we have come to expect from Aldo. Lamas, on the other hand, showed little of the relentless takedowns and brutal G-n-P that got him to the title shot in the first place. He seemed like a deer caught in the headlights, for the most part, although we will give him credit for eating an onslaught of leg kicks from one of the best kickers in the game without appearing any worse for the wear.
#1 – Alistair Overeem vs. Frank Mir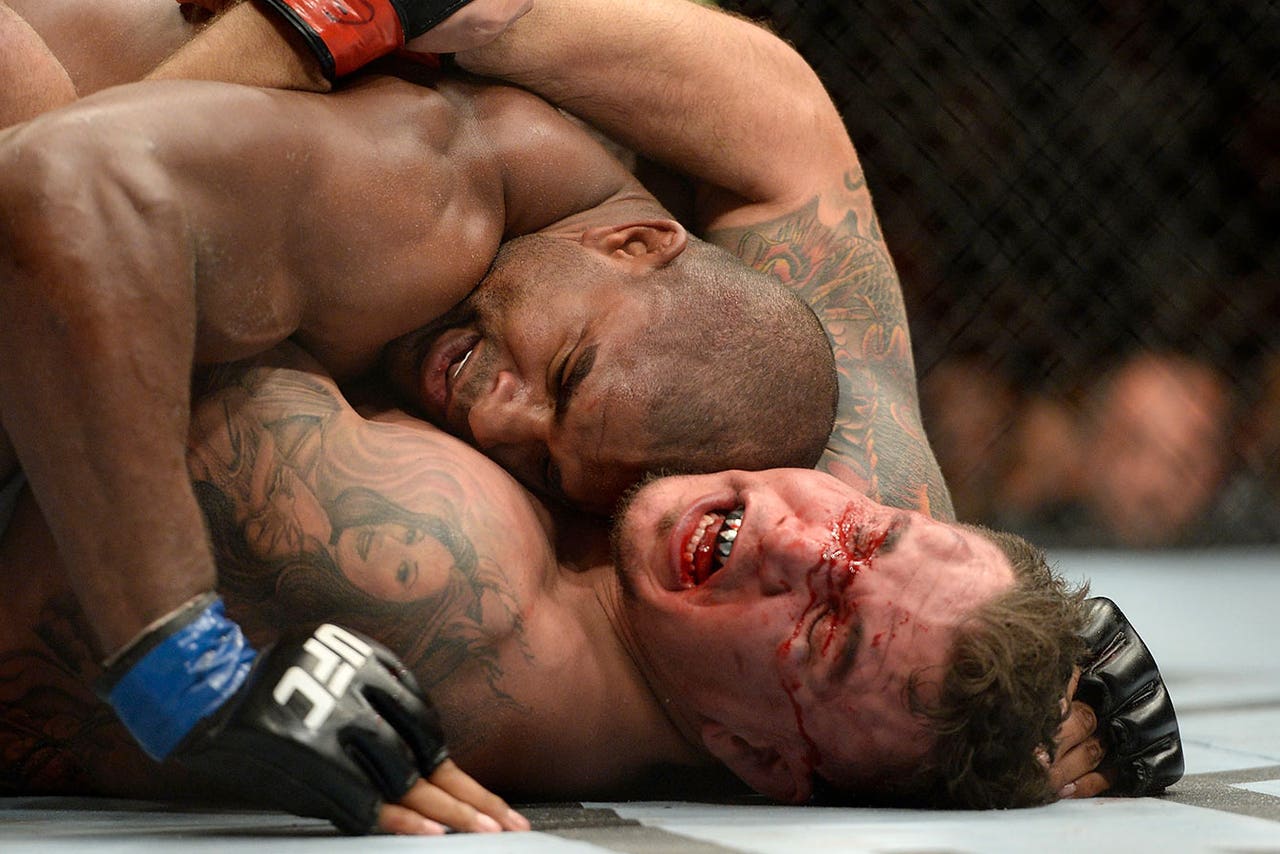 Overeem and Mir appeared to be in play-it-safe-keep-your-job mode at UFC 169. Only one problem for Mir: Overeem's mode was 100x beastlier.

In an interview with FOX Sports 1's Heidi Androl following the fight, Dana White stated that Alistair Overeem had a "crappy performance" against Frank Mir earlier in the evening. How he came to that conclusion defies all logic, as Overeem handily defeated an always dangerous former champion in Mir while absorbing as little damage as humanely possibly. Through a combination of knees, punches, and elbows from the open guard, the former Strikeforce heavyweight champ outstruck Mir 139 to 5. Seriously.
Did Overeem play it safe against Mir? He will admit to as much, but considering that the Reem was coming off back-to-back KO losses and was potentially fighting for his job, who could blame him? Answer: Dana White.
At the end of the day, Overeem's victory over Mir was as technically proficient and triumphant as he could have asked for. Just because he decided to spare Mir from another concussion doesn't make his performance any less impressive. In fact, it's quite the opposite.
---