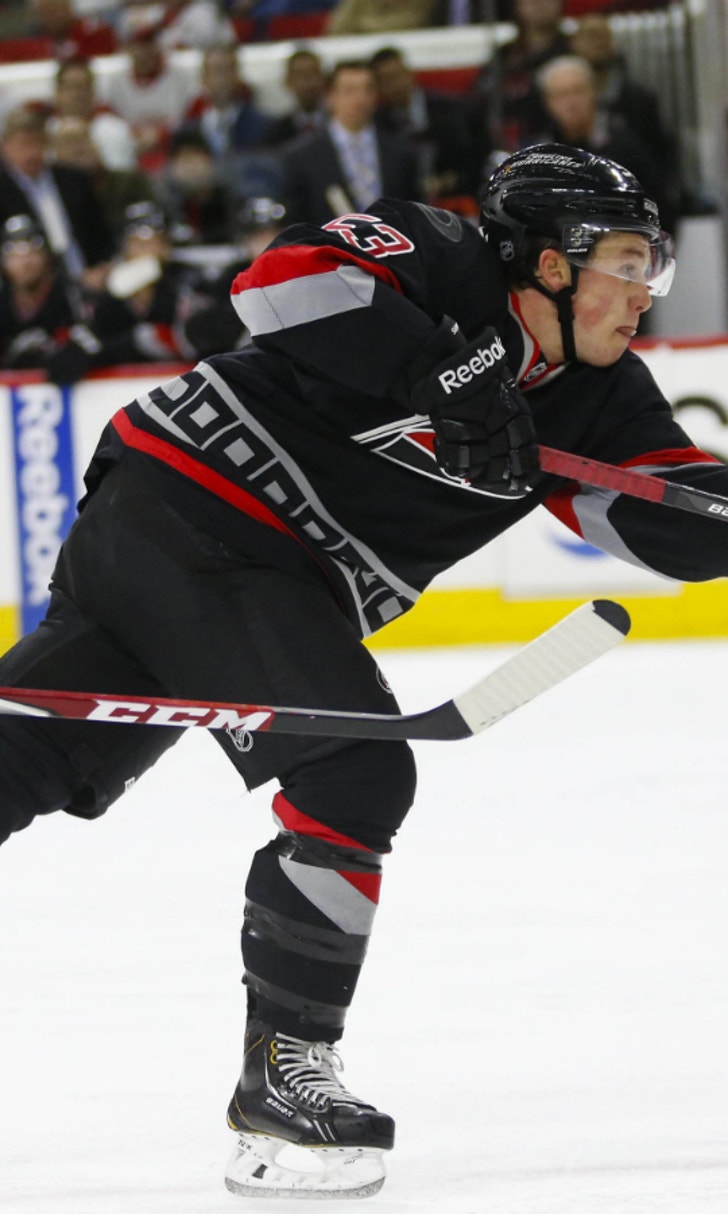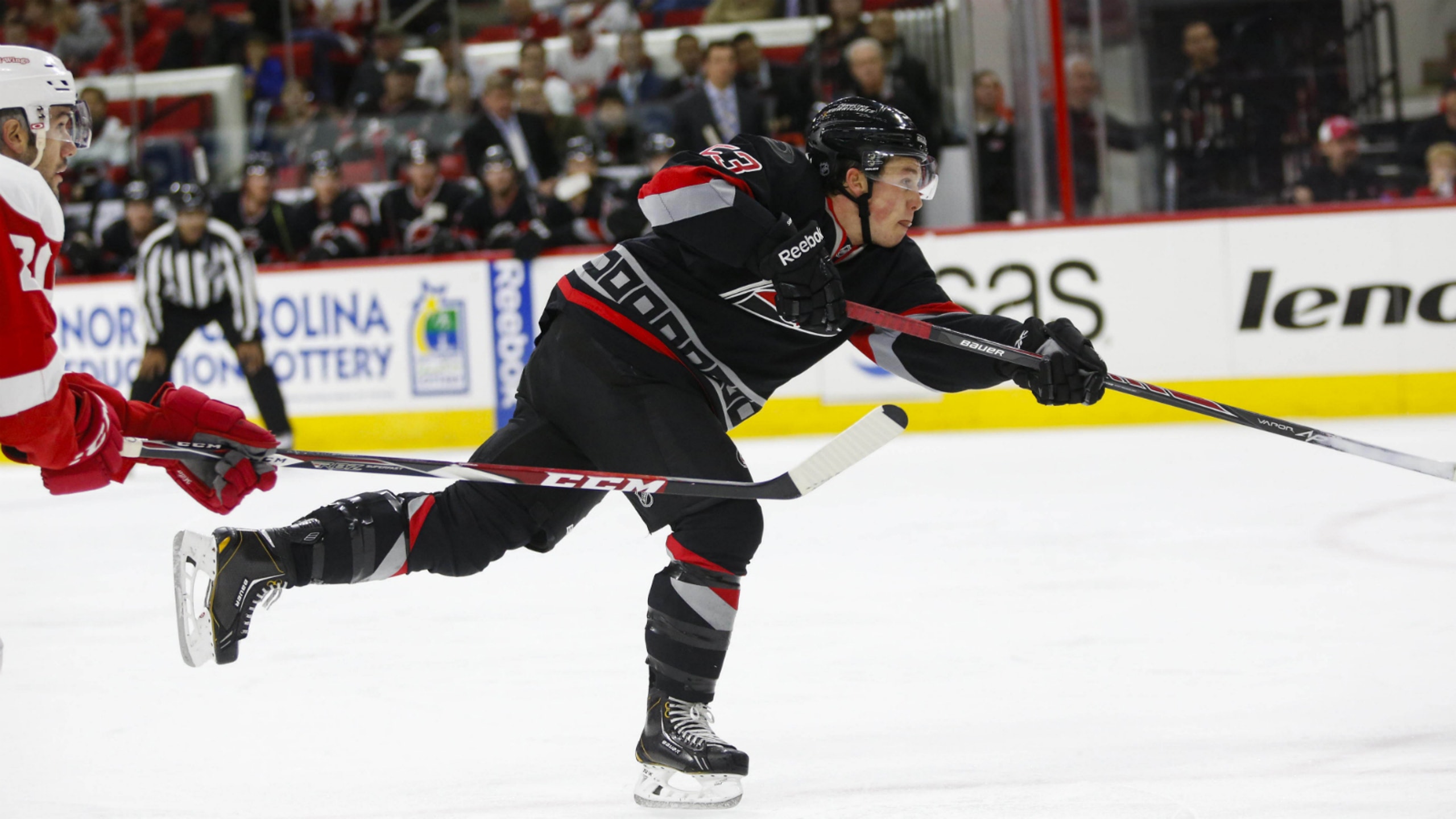 Power Play: Hurricanes finish off disappointing homestand with loss
BY foxsports • December 8, 2014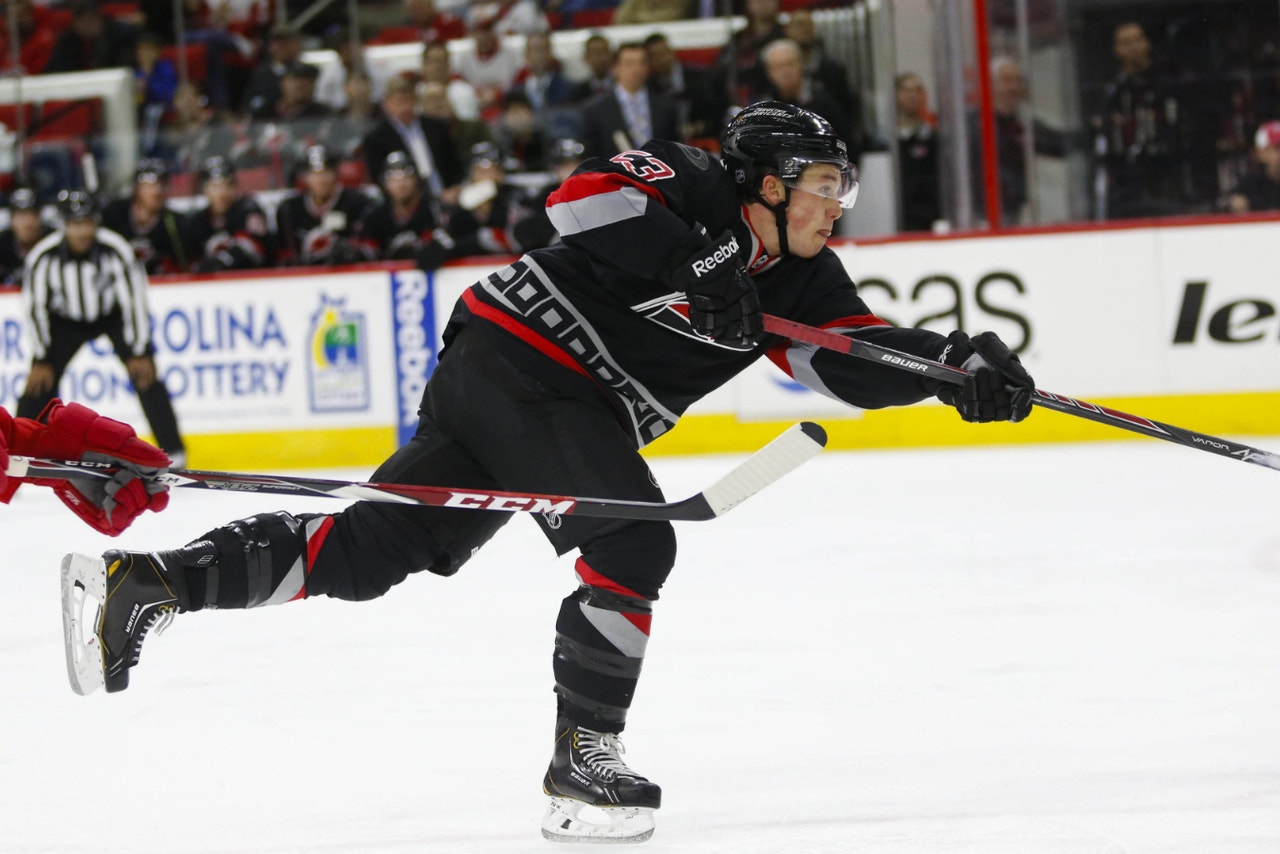 RALEIGH, N.C. -- The Carolina Hurricanes (8-16-3) had a golden opportunity with five straight games at home starting in late November. Instead, they find themselves losers of three straight and four of the five home games, including this last one to the New Jersey Devils (11-13-4), by a final of 2-1. Now, the Hurricanes will go on the road for awhile and there will likely be a lot more clarity about the direction this team is headed when it returns.
1. To say that the Hurricanes' offensive production has dipped would be putting it mildly.
In the last three games, the Hurricanes have scored three goals. In the last five, it's not much better -- seven goals -- but that's all come during this homestand. For the sake of perspective, the Hurricanes scored more goals in their last win (four, at Pittsburgh) than they have in the last three games combined.
Hurricanes head coach Bill Peters put it best, probably, when he said that the Hurricanes essentially had two choices -- hope for shutout 1-0 wins or figure out a way to score more goals.
But the team is making far too many mistakes in its own end to do the former. Both goalies have played well at times, particularly during this homestand, only to have miscues lead to easy chances for the opponent.
"We've got to score, right? What have we scored here in our last three -- one each time, I believe? So we're saying we've got to go out on the road and have a shutout to win, and we're not capable of that," Peters said. "The way we play right now, we make too many mistakes and give up too many Grade-A chances.
"The first (goal allowed) we had the puck on our stick, it ends up on our net. The second one, we're on a power play and next thing you know, we're killing the penalty and there's the game-winner. Disappointing. It's too good a league to give up freebies and we gave up two freebies tonight."
The Hurricanes out-shot the Devils 40-16. Cam Ward was excellent yet again, saving 14 of the 15 shots he saw when the Devils were at even strength with the Hurricanes.
"We can only take it one game at a time, but we've got to win. We've got to score goals. We've got to give our goalie a better chance," Nathan Gerbe said. "Scoring 1-2 goals a game, it's tough for him. He's going to have to have perfect games for us to win. We've got to have the guts to put the puck in the net."
It was that simple to Jeff Skinner, too. Peters has said all season that this team should have to rely on getting ugly goals, if need be, in close to the net and waiting for opportunities. That didn't happen. Or at least, it didn't happen well enough or often enough for this team to score more.
"That's where most of the goals in the NHL are scored, around the net. It's a tough area to play and to get to, but you've got to find ways to get there and bear down," Skinner said. "I don't think we worked hard enough to be rewarded tonight. I think we got a fair amount of shots, but I don't think we had enough sort of drive. I don't know. It's an ability to bear down in tight. ... We've got to find ways to get to the tough areas and get some goals. It's not enough."
2. A five-game homestand was essentially wasted.
After an 0-6-2 start to the season in October, the Hurricanes went 5-0-1 to start out November, only to lose seven of their final nine in that month outright. They started out December 1-0 with a win over the Nashville Predators, and that got them to 1-1 on their five-game homestand with a one-goal loss to the Pittsburgh Penguins the Saturday before.
Since, they've lost three in a row and finished the homestand 1-4.
"We're going to look back on this and regret it for sure," Peters said. "We were 1-4 and I believe we scored seven times. We scored seven goals at home. Plenty of opportunity on the power play. I didn't exactly think that was dangerous enough and not enough urgency."
Now, the Hurricanes will head out on the road for seven of their next 10 games. And simply put, they're running out of time.
"It's big," Gerbe said. "We're going to take them one at a time and not overlook it, but the next game is huge. We know we need to win. We're not going to look beyond."
3. Some reshuffling is likely in order.
And why not? At this point, the Hurricanes don't have anything left to lose.
The biggest issue they need to solve, win or lose, is how to score more goals. Peters has tweaked the lines with some success throughout the year, and he's looking to see if he can figure something else out.
"We've got to find the answers. We've got to be solution-based. We've got a day off tomorrow and then we have a practice prior to heading out on the road to Tampa. So we've got to come up with some ideas, and we'll probably have to look at shuffling the deck a little bit," Peters said. "Maybe (Elias) Lindholm has to be a center. Maybe we move (Eric Staal) to the wing.
"I think we need -- we're capable of more offensively. We should score more. The numbers dictate that. We've got to find a way."
When asked what was different between the team in early November and the team now, Gerbe's initial answer was simple.
"I think everything," Gerbe said. "We were playing a full 60 minutes. Tonight, we didn't play a full 60 minutes. It's tough to win when you don't do that. So we know we've got to do that to win here going forward."
The questions about how the team could stay patient and not get discouraged came more frequently a month ago, after the 0-6-2 start. The players insisted they were still confident things would turn around.
Now, though?
"It's frustrating. Everyone in here wants to win. When you sort of find ways to lose, it's tough. It's frustrating," Skinner said. "I think in a way, we've got to get desperate. We can't be too much more patient. I think we've got to be working harder and trying to find a way to work ourselves out of this."
Jaromir Jagr -- The Devils' 42-year-old forward played in his 1,500th NHL game, making him only the 15th player to ever do that. He also had two points (a goal and an assist), giving him 1,772 for his career (fifth all-time).
Justin Faulk -- The defenseman scored the Hurricanes' lone goal and finished the month of November with 13 points, second among all NHL defensemen.
Nathan Gerbe -- As usual, the Hurricanes' littlest player in height was its biggest in heart, as he gave out a hit and had two blocked shots and a takeaway in a tough, physical game.
---