Porcello serious about contributing to Tigers' success
February 27, 2014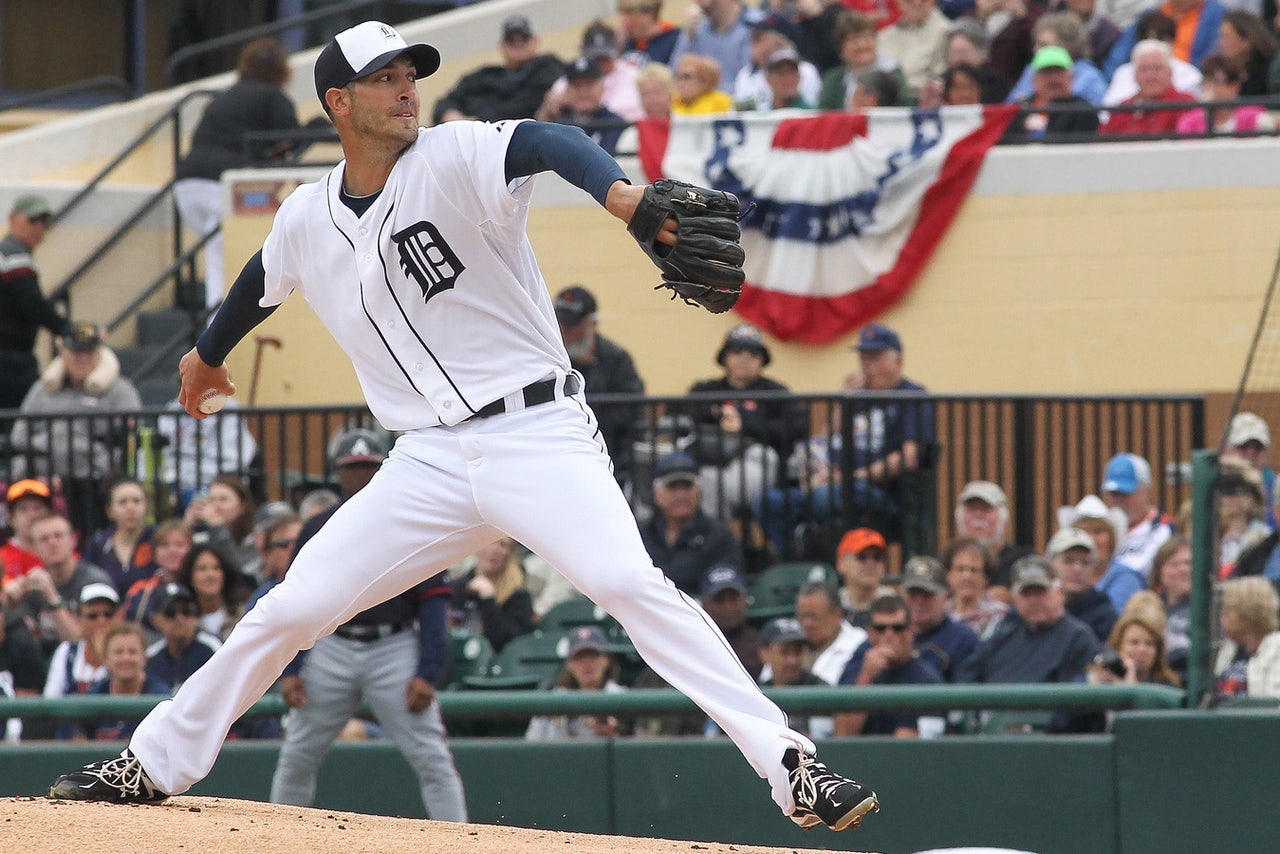 LAKELAND, Fla. -- Rick Porcello is awfully businesslike for a 25-year-old.
That's because he's serious about his pitching and contributing to getting the Tigers back to the playoffs.
Porcello has already won 61 games in the big leagues despite his youth, and he's striving to be even better.
He started his first spring game, Thursday at home against the Atlanta Braves. In two innings, Porcello allowed one run on one hit. He walked one and struck out three -- all three he faced in the second.
"I felt good," Porcello said. "I was happy with the fastball command. Obviously, didn't care for that two-out walk in the first.
"Other than that, threw some good curveballs, some change-ups. Not quite there yet but got better in the second inning. It was pretty good overall."
Porcello said it was energizing to face hitters other than his own teammates in a game situation.
"I was excited to be out there," Porcello said. "It always feels like that the first time -- get a nice little adrenaline rush going. To be out there after a couple months off is a good feeling."
Tigers manager Brad Ausmus, who's still learning his pitchers, had a good feeling watching Porcello.
"Really, his two-seamer or sinker, whatever you want to call it, seemed a little bit crisper in the second inning," Ausmus said. "I know he gave up the run, but I thought he looked good on the mound, delivery looked clean. He was fine."
Last season, Porcello and pitching coach Jeff Jones decided that Porcello needed to focus on the curveball as his primary breaking pitch instead of a slider.
According to fangraphs.com, Porcello threw his curveball 16.5 percent of the time last season, compared to 3.7 percent the previous year.
"I'm going to continue to do that," Porcello said. "I saw some really good results with it last year and saw some good progress. And I feel a lot more confident now, having a year of just mainly throwing that.
"Now's the time to continue to get better with it and really use it as a weapon."
Porcello went 13-8 with a 4.32 ERA and a career-best 1.28 WHIP in 32 games (29 starts).
This spring, He plans to keep using the curveball, trying to make it as effective as his other pitches.
"Last year, I felt like the curveball was a big pitch," He said. "Want to get it going early and continue to get more confident and consistent with it.
"I feel like I'm throwing my breaking ball a lot better and a lot more consistently now than I was in the past. There's still a lot of work to be done there, there's a lot of room for improvement. It's getting better."
Porcello said he's not feeling any different this spring, with a guaranteed spot in the rotation, than he did last year, when he was competing with Drew Smyly for the fifth-starter's job.
"I don't really think about that sort of thing," Porcello said. "It's something I didn't focus on last year and I don't focus on this year. I focus on what I need to do to prepare and get ready for the season to help us win."
Porcello, who gets more than half of his outs on ground balls (55.3 percent last year), also expects some more help winning from his defense. Now, he'll have Nick Castellanos at third base, Jose Iglesias at shortstop, Ian Kinsler at second base and a healthy Miguel Cabrera at first base.
"Obviously, watching Iglesias behind us last year, I'm thrilled to have him playing behind us for a full year," Porcello said. "I've been watching Ian play against us for a number of years now, and he's a heck of a second baseman.
"No disrespect to Jhonny (Peralta) or Omar (Infante). They're great players, too, but the guys we have now are really, really solid. So I'm looking forward to having them behind me."
CHAMBERLAIN, NATHAN GET THEIR WORK IN
Joba Chamberlain and Joe Nathan both got their first appearances in a game this spring on Thursday.
Chamberlain, who pitched the fourth, gave up a leadoff single to Ryan Doumit, who stole second and reached third on a groundout with just one out.
Chamberlain struck out Mark Hamilton and got Edward Salcedo to ground out to end the threat.
"That was big," Chamberlain said. "Everything felt really, really good. Just nice to get off to a good start."
Chamberlain said he and catcher Alex Avila are quickly developing their rapport.
"On the at-bat where we got the strikeout, I was just in my own head knowing exactly what I wanted to do and there was no hesitation on Alex's part," Chamberlain said. "There's always that communication thing, especially when he hasn't caught me too much.
"So just knowing that we were on the same page early is a good sign for me and a good sign for him."
Nathan had a flawless sixth, striking out Ramiro Pena and B.J. Upton, and getting Doumit to fly out to center.
"For me, it's just about getting the reps in and allowing the reps to build the arm strength, and getting it where it needs to be come March 31," Nathan said.
Ian Krol threw a perfect fifth inning between them.
"Right now, for those type of guys, it's more about getting their arm in shape and their legs in shape," Ausmus said.
---