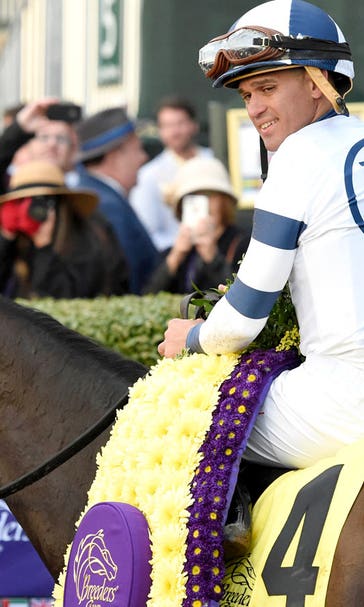 Pletcher's Stopchargingmaria takes bumpy win in Breeders' Cup Distaff
October 30, 2015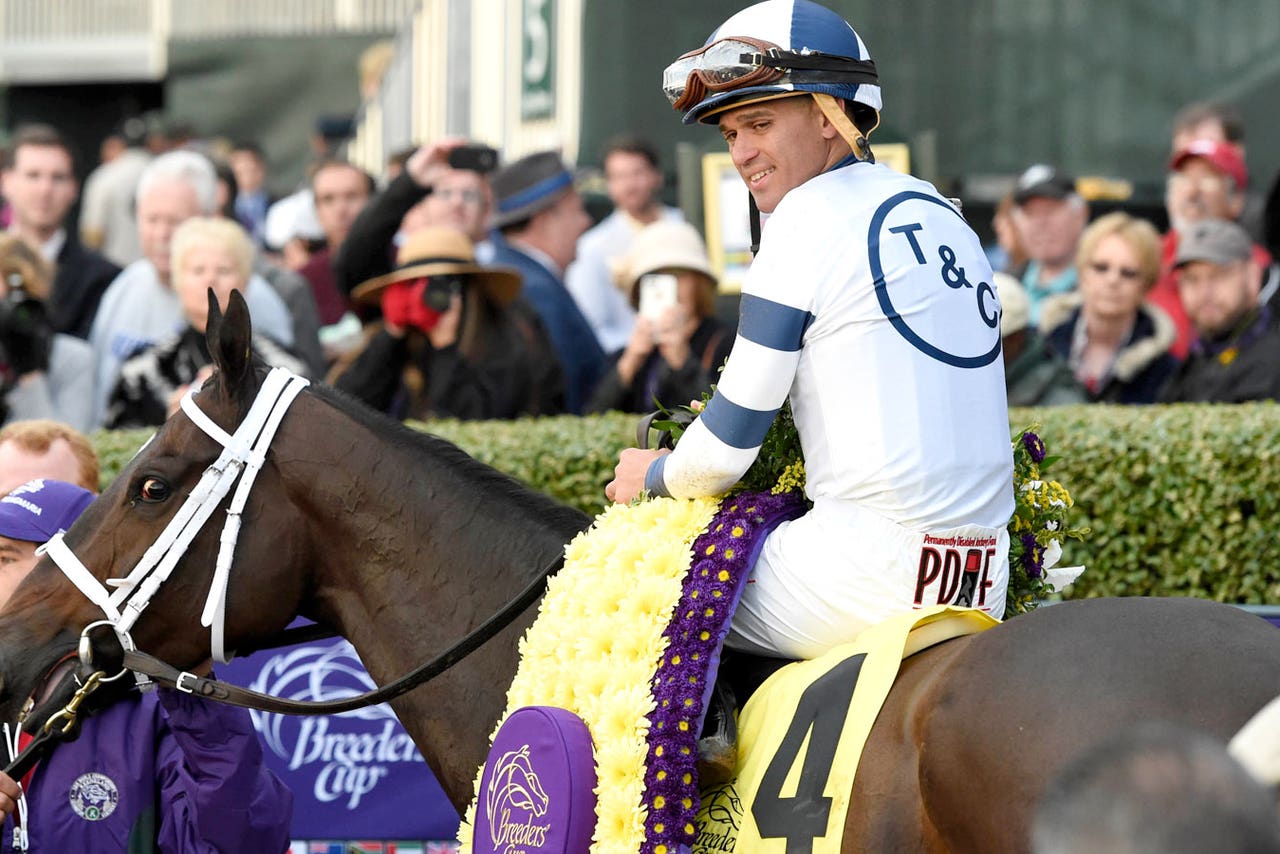 LEXINGTON, Ky. -- Stopchargingmaria won the $2 million Breeders' Cup Distaff by a neck, giving trainer Todd Pletcher and jockey Javier Castellano their second victories Friday on the opening day of the world championships at Keeneland.
The last of the day's four Cup races was the most suspenseful, with the stewards needing several minutes to sort through a foul claim and objection before declaring the results official.
Stopchargingmaria ran 1 1/8 miles in 1:48.98 and paid $16.20, $8.40 and $6 at 7-1 odds.
Stellar Wind returned $9.20 and $6.60, while Pletcher-trained Curalina was another 3 1/2 lengths back in third and paid $7 to show. Pletcher's third horse in the field, Got Lucky, finished 10th.
The stewards examined video of the stretch run, when Stopchargingmaria slightly bumped Stellar Wind and carried her wide toward the grandstand. Victor Espinoza, aboard Stellar Wind, filed the objection against Castellano, saying he was forced to check his horse.
"I almost run into his heels because he took my spot in there," Espinoza said. "From then, I switched my lead to the left; I thought we could give her a little extra room. He just continued to move out and move out. I had no choice. I just had to switch back to my right."
With the crowd of 44,947 clutching their tickets, the stewards made no change in the order of finish, citing insufficient evidence.
"It cost me the race when he moved out and check right there," said Espinoza, who will ride Triple Crown winner American Pharoah in the $5 million Classic on Saturday.
Castellano denied any wrongdoing, saying his filly drifted as a result of the crowd noise and light from the video board.
"You always get scared when this happens because it's such a big race and you don't want to get taken down," he said. "My horse ran a great race, and I kept a straight path and was keeping the horse straight."
Wedding Toast, the 5-2 favorite, finished 11th in the 14-horse field.
Keeneland played host for the first time in the event's 31-year history, bringing the Cup to the heart of American horse country. Against a bucolic backdrop of autumn-colored trees and sloping green acres, many of the competing horses were born, bred or raised at farms within 50 miles of the stately track, famous for its big-money horse auctions.
The attendance was a record for Friday Cup racing since it became a two-day event in 2007.
The Distaff was wide-open, lacking a superstar as in years past. Defending champion Untapable didn't run after she developed a fever earlier in the week.
Stopchargingmaria, a 4-year-old filly, earned the third Grade 1 victory of her career. She was named by former owner Mike Repole after his wife's prodigious shopping habits. Repole sold Stopchargingmaria last year, striking a deal with new owners Town and Country Farms after she didn't meet her reserve price at auction.
"I feel a little bit bad for Mike," Pletcher said. "I'm sure it's not easy for him to watch her win. At the same time, he was well-compensated. He'll have some more Breeders' Cups for himself, I'm sure."
Earlier, Pletcher and Castellano teamed with odds-on favorite Liam's Map to win the $1 million Dirt Mile by 2 1/2 lengths, the lone favorite to reach the winner's circle.
Usually a front-runner, Liam's Map came from off the pace after being stuck back in the pack to overtake pacesetter Lea. Liam's Map ran the distance in a track-record time of 1:34.54 and paid $3, $2.40 and $2.10.
"For him to overcome some adversity and still win as impressively as he did, now he's kind of put the whole package together," Pletcher said. "Speed and brilliance and courage and everything you're hoping for in a good one."
Lea was second and Red Vine finished third.
Pletcher has nine career Cup victories, tying Irishman Aidan O'Brien and Bill Mott for fourth on the all-time list. Castellano has six career wins.
Long shots triumphed in the Juvenile Turf and Juvenile Fillies Turf, both $1 million races.
At 7-1 odds, Hit It a Bomb rallied late to win the Juvenile Turf by a neck for O'Brien. The colt closed with a powerful five-wide surge under Ryan Moore to edge 5-2 favorite Airoforce by a neck, with Birchwood another neck back in third.
Hit It a Bomb paid $16.40 to win. He ran 1:38.86 for the mile over a yielding turf course that was pounded by rain earlier in the week.
Catch a Glimpse, a 6-1 shot, prevailed by three-quarters of a length in the Juvenile Fillies Turf, ending Canada-based trainer Mark Casse's 0-for-25 skid in the Cup.
Catch a Glimpse and jockey Florent Geroux covered the mile in 1:39.08 and paid $14.80 to win.
Alice Springs was second as the 5-2 favorite and Nemoralia third.
---