Andre Drummond
Andre Drummond
Pistons hit a sour note in Utah; Jazz win 110-77
Published
Jan. 14, 2017 2:00 a.m. ET
SALT LAKE CITY (AP) -- Utah Jazz coach Quin Snyder has had a consistent message for Rodney Hood this season: Keep shooting, keep shooting, keep shooting.

Hood did exactly that Friday night and scored a season-high 27 points as the Jazz rolled over the Detroit Pistons, 110-77.

"He just shoots better when he's decisive," Snyder said. "I think he understands what we want and the message is consistent. He's just got to keep doing it.

"And there's going to be nights where they don't go in. But just keep doing the same thing. That's the way he needs to play."

The third-year guard has been inconsistent this season, but Friday was easily his best game, going 7 for 8 from 3-point range and aggressively looking for opportunities on offense.

"I went 7 for 8 tonight, but I also know how it is to go 1 for 10," Hood said. "I knew they were going to start falling and I was going to get in a rhythm. I just came out firing right away tonight. My teammates told me to keep shooting and my coaches as well.

"I got some confidence last game back in my shot and, this game, just came out aggressive."

The Jazz put away the game in the third quarter with a 28-9 run highlighted by a heavy dose of George Hill, including a pair of back-to-back 3-pointers. They shot 65 percent in the quarter.

Hill finished with 22 points and Gordon Hayward added 20.

Tobias Harris scored 13 for Detroit and Andre Drummond grabbed 19 rebounds.

The Pistons looked lost on defense in the second half. Their poor play was summed up on a third-quarter sequence in which Hayward chased down a loose ball in the backcourt that led to a 3-pointer by Hill while Detroit passively watched the ball bounce away.

"Did you watch the third quarter?" Pistons coach Stan Van Gundy said. "We couldn't score and they scored every time they got it.

"We can't stop anybody, we just can't. For the first 21 games we were the second-best defensive team in the league and now we are one of the worst. I am frustrated not with our players, I am frustrated with myself that I can't figure this out. We literally can't stop anyone ever."




The Jazz led 45-43 at halftime after the teams exchanged runs in the first 24 minutes. Utah jumped out to a 10-0 lead as the Pistons missed their first five shots to go with a pair of turnovers on their first seven possessions.

Detroit responded with a 12-2 stretch to close the first quarter thanks to six points from Harris.

The Jazz closed the half with a 9-0 run, including five from Hayward, before Pistons forward Stanley Johnson beat the buzzer with a 3-pointer.

TIP-INS

Pistons: Detroit was without Kentavious Caldwell-Pope, who sustained a Grade 2 left rotator cuff strain against the Warriors on Friday. Coach Stan Van Gundy said he's doubtful for Sunday's game. ... The Pistons started a big lineup with Marcus Morris at shooting guard for the first time this season.

Jazz: Backup point guard Raul Neto was inactive. ... Dante Exum played 17 minutes after getting three consecutive Did Not Play-Coach's Decisions. ... Hayward is now ninth on the Jazz career assists list with 1,628. ... Utah hit 16 3-pointers.

HEAVY HEART

Reggie Bullock returned to the Pistons after missing time due to personal reasons. On Thursday, a Baltimore jury acquitted a man of all charges in the 2014 slaying of his transgender sister. The 46-year-old Shawn Oliver was acquitted of all charges after being charged with first-degree murder in the July 2014 stabbing death of 26-year-old Mia Henderson, formerly known as Kevin Long.

News media report that Bullock tweeted the verdict on Thursday along with a broken-heart emoticon and "(hash)standupforMIA."

QUOTABLE

"It has to be fixed or it is going to be a long (expletive) season," Pistons guard Reggie Jackson said when asked if things can be fixed. "It has been a season from hell so far, so it is going to be a long (expletive) season if we don't find a way to fix it."




UP NEXT

Pistons: Detroit travels to Los Angeles to face the struggling Lakers on Sunday.

Jazz: Utah hosts the Orlando Magic on Saturday in their home back-to-back of the season.
---
---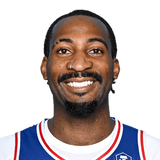 Get more from Andre Drummond
Follow your favorites to get information about games, news and more
---