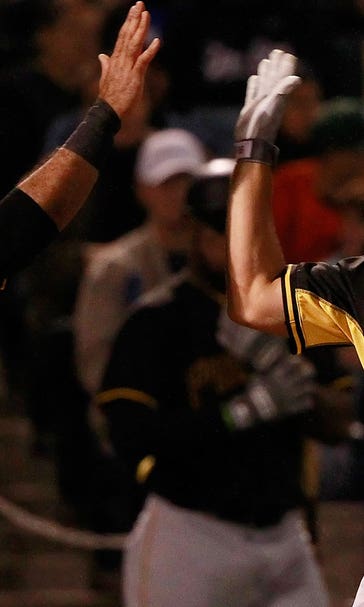 Pirates hit three home runs, beat Tigers 8-7
March 18, 2015

BRADENTON, Fla. (AP) -- Tony Sanchez, Starling Marte and Willy Garcia homered, leading the Pittsburgh Pirates past the Detroit Tigers 8-7 Wednesday night.
Pirates center fielder Andrew McCutchen missed his fifth straight game because of lower body soreness. Outfielder Jose Tabata fouled a pitch off his left foot in the third inning and left the game on a golf cart.
Marte also doubled and singled, raising his spring average to .370.
Ian Kinsler doubled and singled twice for the Tigers.
Starting pitchers A.J. Burnett of the Pirates and Shane Greene of the Tigers both went 3 2-3 innings and allowed two runs.
Burnett gave up five hits, walked two and struck out five. Greene allowed four hits and fanned four.
Sanchez's two-run homer in the second was his fifth hit in a row, and his eighth hit in nine at-bats. He is batting .526 this spring.
"He mashes," Burnett said.
Neil Walker scored on a bases-loaded wild pitch by Tigers reliever Alberto Cabrera in the fourth for a 3-2 lead. Marte hit a two-run homer in the sixth and Garcia had a three-run shot in the seventh.
Down 8-3, the Tigers rallied for four runs in the ninth before Josh Wall induced a double-play grounder with two runners on base for a save.
STARTING TIME
Tigers: Greene featured his cutter and slider, and was generally pleased with the outing.
"The cutter was good, I threw some good sliders and I threw one that went about 500 feet, too," he said, referring to Sanchez's home run. "I babied it a little bit, I was just trying to get it off the plate so he could chase it and I left it over the plate."
Pirates: Burnett threw 68 pitches and left with bases loaded and two outs in the fourth. "It would have been good (to finish)," he said. "But skip (Clint Hurdle) is going to take care of us. It's still spring. It's just pitch counts right now."
UP NEXT
Tigers: RHP Anibal Sanchez is the planned starter against Washington's Gio Gonzalez in Viera, Fla. Sanchez has allowed six runs in 8 1-3 innings this spring.
Pirates: RHP Radhames Liz is expected to start Thursday against Baltimore's Chris Tillman. Liz will likely end up in the bullpen, but the Pirates are stretching him out this spring for more depth.
---