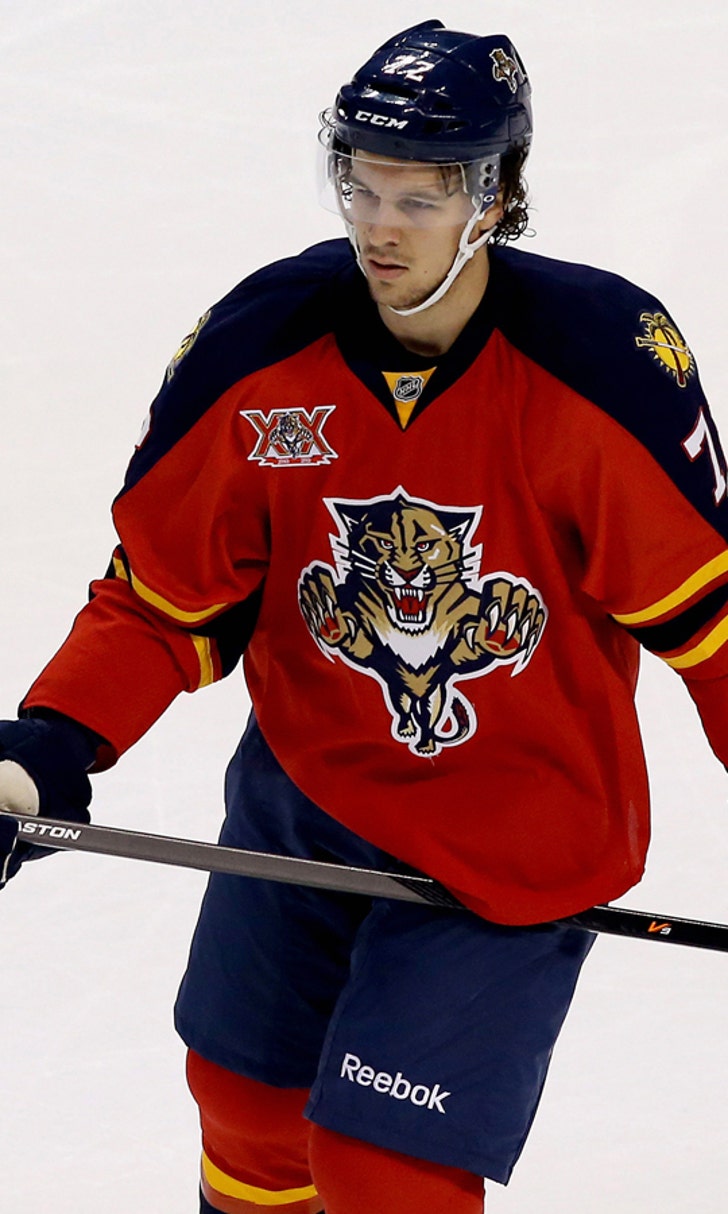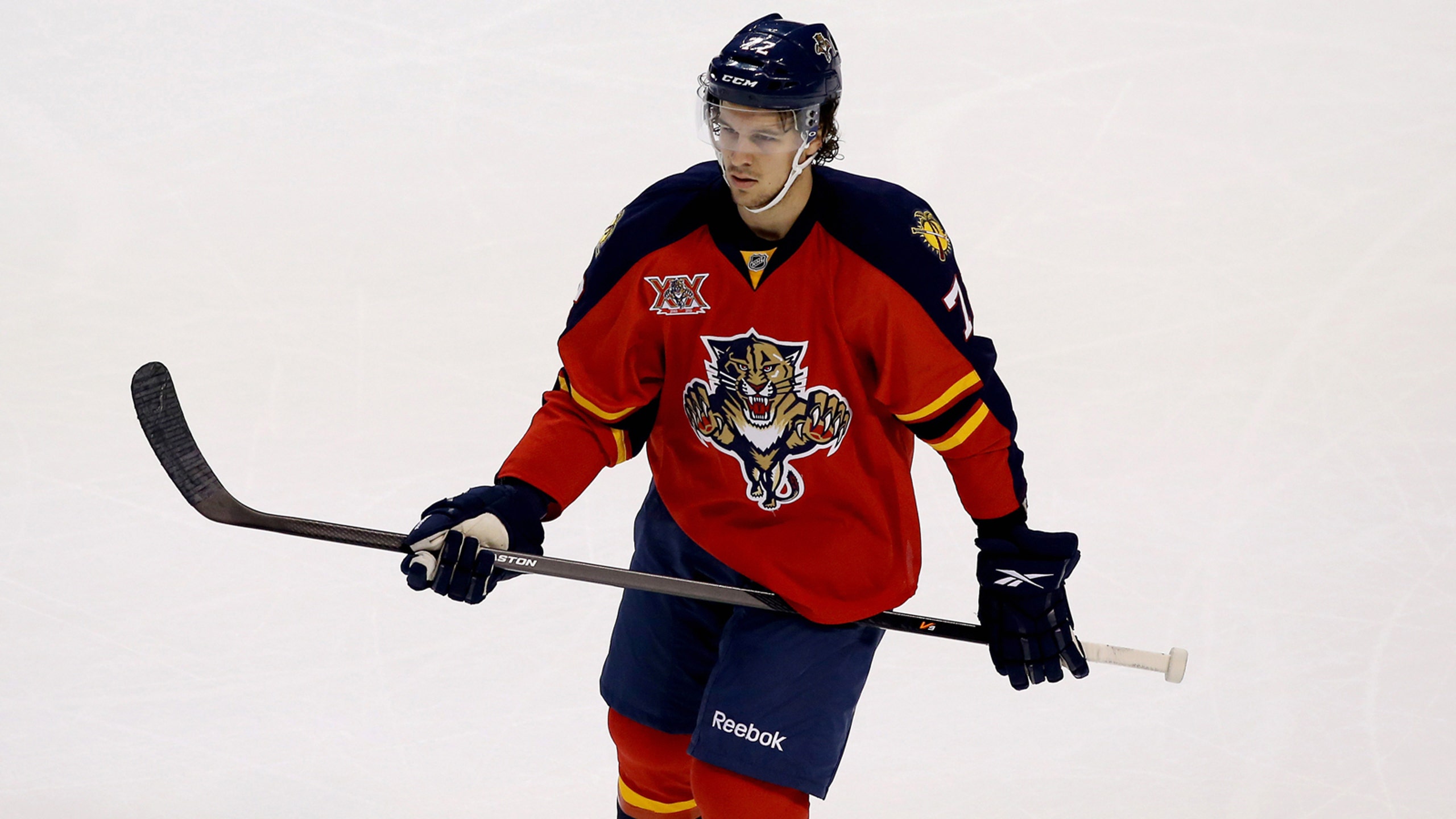 Petrovic hoping to secure roster spot in third stint with Panthers
BY foxsports • February 6, 2015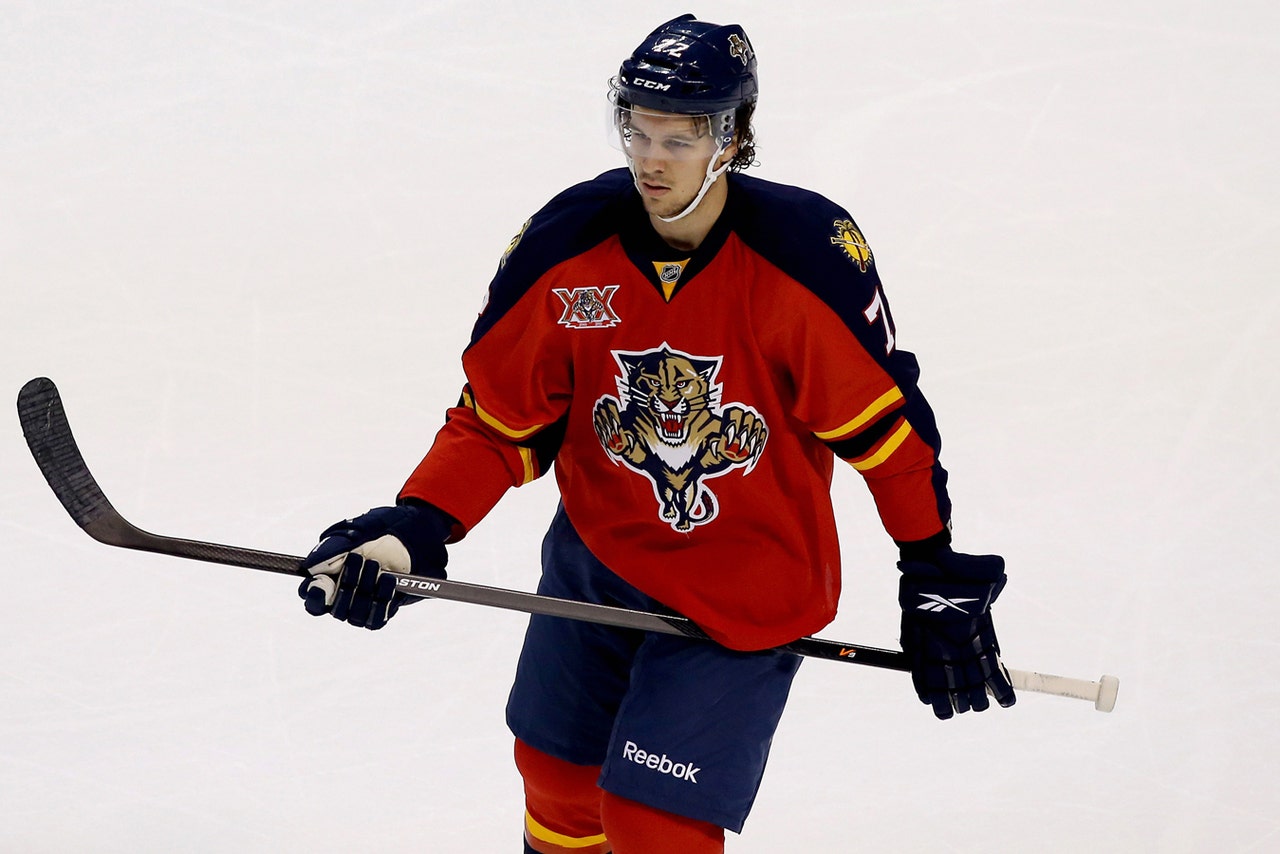 SUNRISE, Fla. -- When the Florida Panthers recalled defenseman Alex Petrovic from their American Hockey League affiliate on Jan. 28, head coach Gerard Gallant admittedly didn't know much about the young defenseman that had been dropped in his lap.
A brief eye test at September's training camp and a glowing endorsement from San Antonio Rampage head coach Tom Rowe were all the first-year Panthers coach had to go on when he slotted Petrovic into the lineup before a Jan. 29 victory against the Columbus Blue Jackets.
Four games later, Gallant had nothing but good things to say about the 22-year-old blueliner that, only a few weeks ago, was just another name on his lengthy depth chart.
"Solid, really solid," Gallant said of Petrovic's play. "He played real good games for us and I'm real happy with his play so far. Nothing stands out, but he's been solid. When you bring up a kid from the minors you just hope he plays a solid game. Petro has been really good."
A second-round pick, 36th overall, of Florida in the 2010 NHL Draft, Petrovic has earned rave reviews from both teammates in coaches since re-joining lineup in place of a struggling Dylan Olsen, who cleared waivers and was assigned to San Antonio on Jan. 30.
"It's a tough situation for the kid right now," Gallant said of Olsen.
For now, though, Olsen's loss should be viewed Petrovic's gain as the Edmonton, Alberta, native continues to make the most of his third opportunity with the Panthers after underwhelming in his previous 13 NHL games over parts of the last two seasons.
"Feeling pretty good," said Petrovic, who has notched one assist in five games for the Panthers this season. "The last three games my minutes have been going up each game, so I think keeping it simple is where I'm getting my confidence. It's just building up from there and I've done a good job of it up until now."
Unlike his previous stays in Florida, however, Petrovic doesn't plan to return to the minors anytime soon.
"I expect myself to be up here," said Petrovic, who was named to the AHL All-Star Game earlier this year. "If I play well and play consistent every game I think I can stay up here."
With the team's sixth defenseman spot up for grabs, Petrovic acknowledged that his play from here on out would not only have an affect on whether or not he returns to the AHL this season, but also serve as an early audition for next year's team and a full time roster spot.
"I think if I take care of business this year and help the team win and get some success here, I think that'll set me up for next year," he said.
Unable to gain a foothold in the lineup during his two previous stints with the Panthers, Petrovic says that he's learned from his mistakes. Each call up served as a measuring stick of where he was at in his development and each demotion, while hard to swallow at first, gave the young defenseman something to work on.
One of the most important lessons, according to Petrovic, was how to manage his time off the ice.
"You don't really play as much minutes up here as I would down in San Antonio," said Petrovic, who tallied three goals and 19 points in 39 AHL games this season before his promotion. "After games you've really got to keep your conditioning up and that's one of the things I've kept up with this year. I think that's one of the biggest things."
So far, a strong dedication to self-improvement has paid off for the budding blueliner as Petrovic's 67.0 Corsi For per 60 minutes of ice time, according to war-on-ice.com, currently leads all Panthers skaters. Yes, a five-game sample size isn't quite a trend and those numbers will undoubtedly return to earth, but a start that strong is indeed both surprising and worthy of note.
Looking ahead, both Petrovic and the Panthers hope that the third time will inevitably prove be the charm for the young defenseman in his quest to become a full-time NHL-er.
For now, at least, he certainly feels and looks like he belongs.
"I haven't been up here all year, but as soon as I got here I felt right at home," said Petrovic. "Willie (Mitchell) has done a great job of having a good core of guys here and it just shows how good of a group we are."
You can follow Jameson Olive on Twitter @JamesonCoop or email him at JamesonOlive@gmail.com.
---