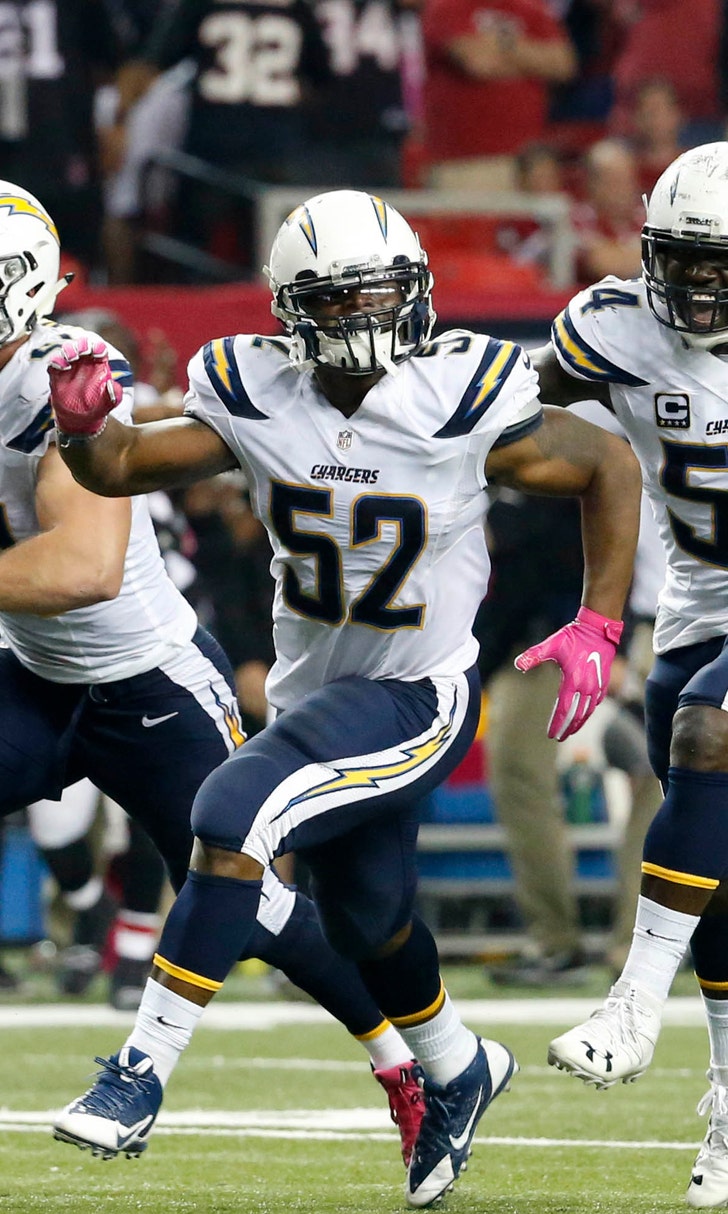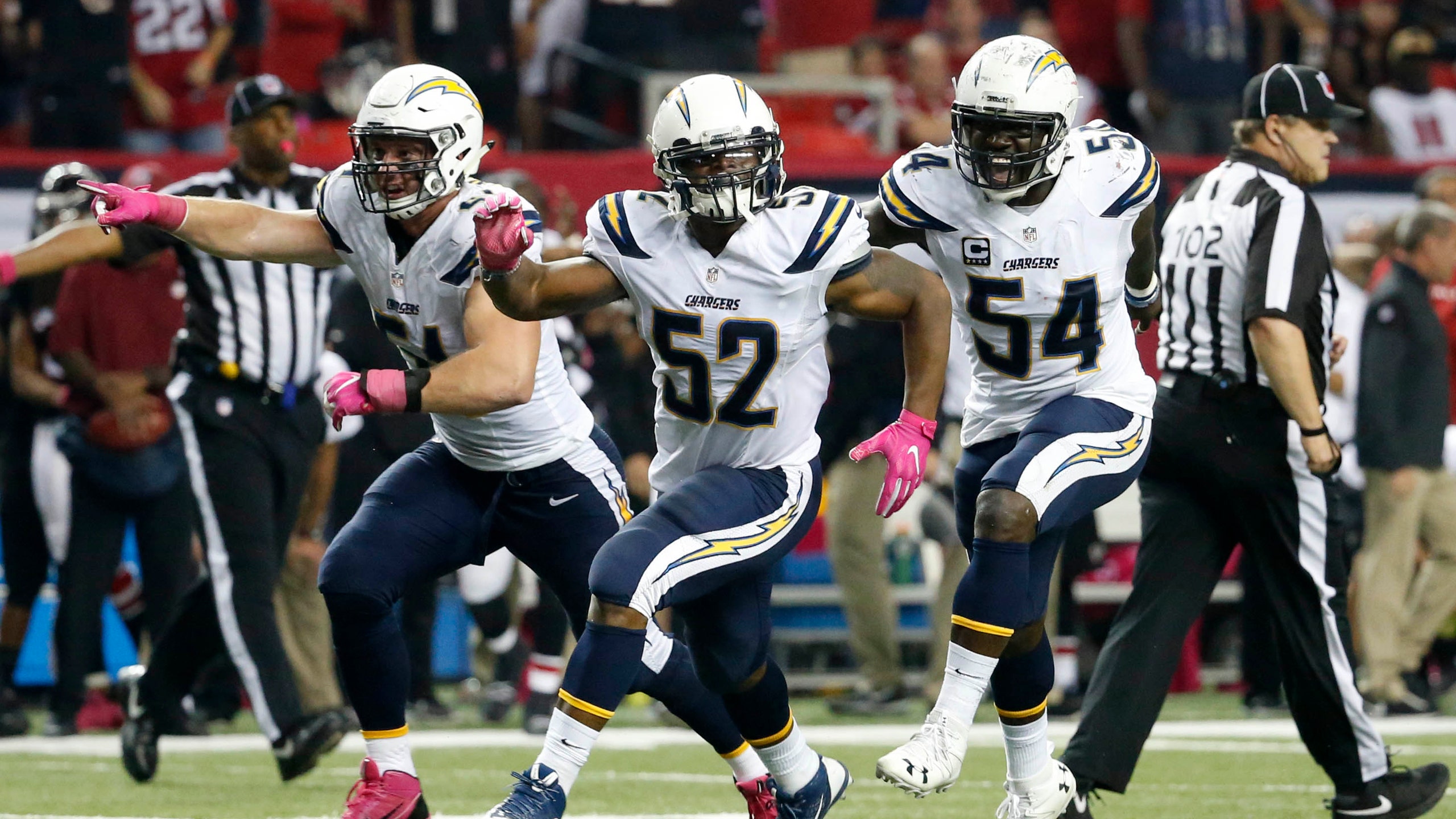 Perryman overcomes sore shoulder to help Chargers rally
BY foxsports • October 24, 2016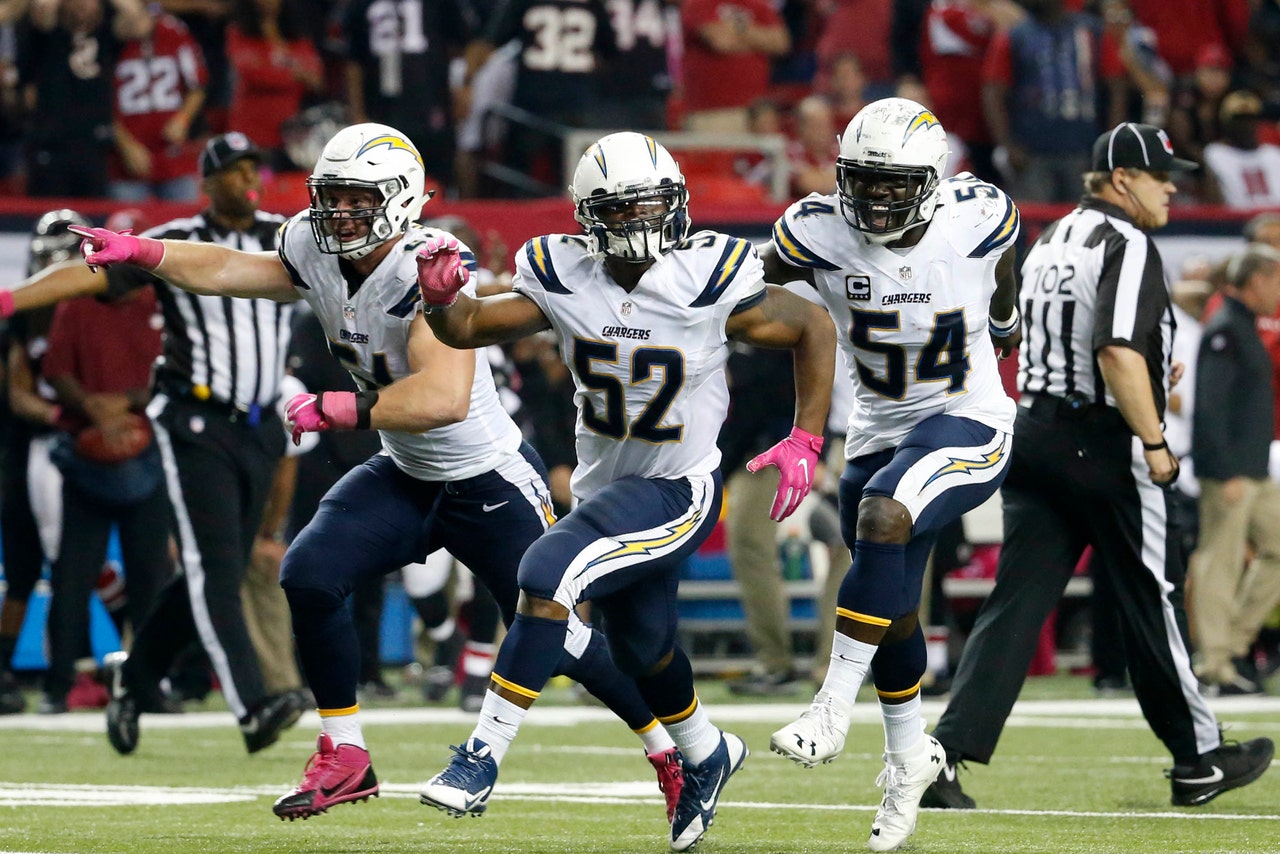 ATLANTA (AP) -- Chargers linebacker Denzel Perryman kept picking himself back up despite a throbbing shoulder that felt worse as the game wore on.
Perryman watched two defensive teammates, Caraun Reid and Craig Mager, leave with injuries, and he had to take a couple of snaps off to give his shoulder some rest.
It turned out to be just enough.
San Diego rallied from a 17-point deficit Sunday, holding the NFL's most potent offense to three points after intermission for a 33-30 overtime victory over the Atlanta Falcons.
Perryman intercepted Matt Ryan with 3-plus minutes remaining to set up the tying field goal and he had the big stop in overtime, tackling Devonta Freeman for a 1-yard loss on fourth down to set up the Josh Lambo's 42-yard winning kick.
"Honestly, it was just instincts," Perryman said. "It was fourth-and-one. They were successful running the ball today. We stopped them a couple of times, but it was fourth-and-one and, no-brainer, they're going to run the ball. The d-line did their job. I did my job. All 11 did their job."
It's been a hard month for Perryman. He injured his left shoulder in the second quarter of a one-point home loss to New Orleans on Oct. 2. He missed the following week's loss at Oakland and took just 23 snaps in last week's home win over Denver.
"Right now the adrenaline that's going on, I don't feel it," he said. "But as soon as the cameras leave and I get on that plane, I'm going to feel everything."
Perryman gave himself a quick moment to savor his first career interception. He carried the ball to the sideline during the change of possession and clutched it next to his chest as he lay on his back smiling.
Some teammates helped him get back on his feet and Perryman got to watch quarterback Philip Rivers and the offense run 11 plays and Lambo kick a 33-yarder in using up all but the last 18 seconds of regulation.
Perryman and the defense got the chance they wanted after Matt Bryant missed a 58-yarder that would've won the game with no time left in regulation.
"I just stuck it out and just fought today, man," he said. "I told the coaches I was going to give everything I got. I told (teammates the same thing) and they did a good job making sure I was staying positive, that I wasn't too down on myself because of the injury."
When Freeman tried to spin away from pressure on fourth-and-one, Perryman already had his feet wrapped up, and the running back went down, touching off a big celebration on the field and the Chargers' sideline.
"He knows how much he means to this football team," San Diego coach Mike McCoy said. "He has something he's been dealing with. You all know about that. He didn't want to come off the field. He came off a couple of plays, felt a little better and went back out there." 
---
---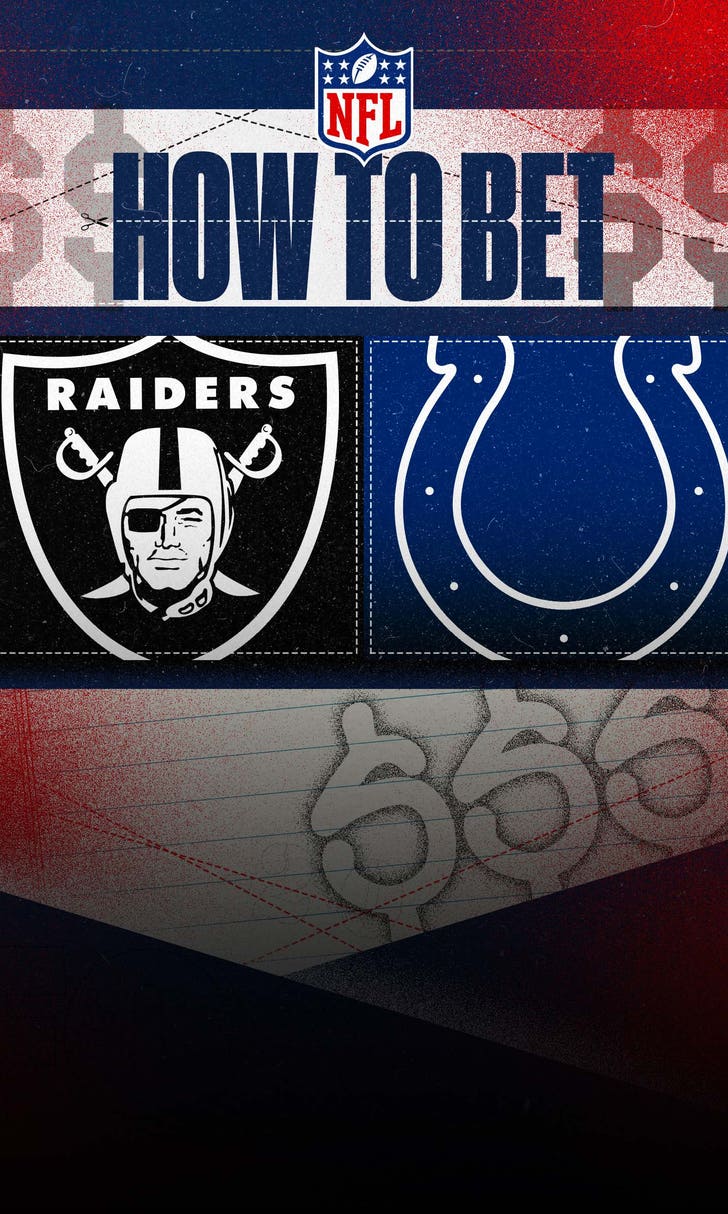 NFL odds: How to bet Raiders-Colts, point spread, more