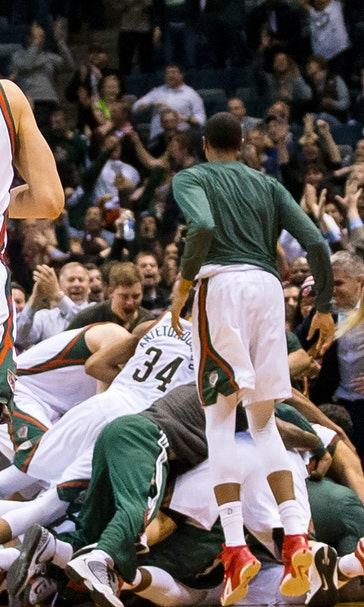 'Perfect storm' helps Bucks win on buzzer-beater
BY foxsports • March 25, 2015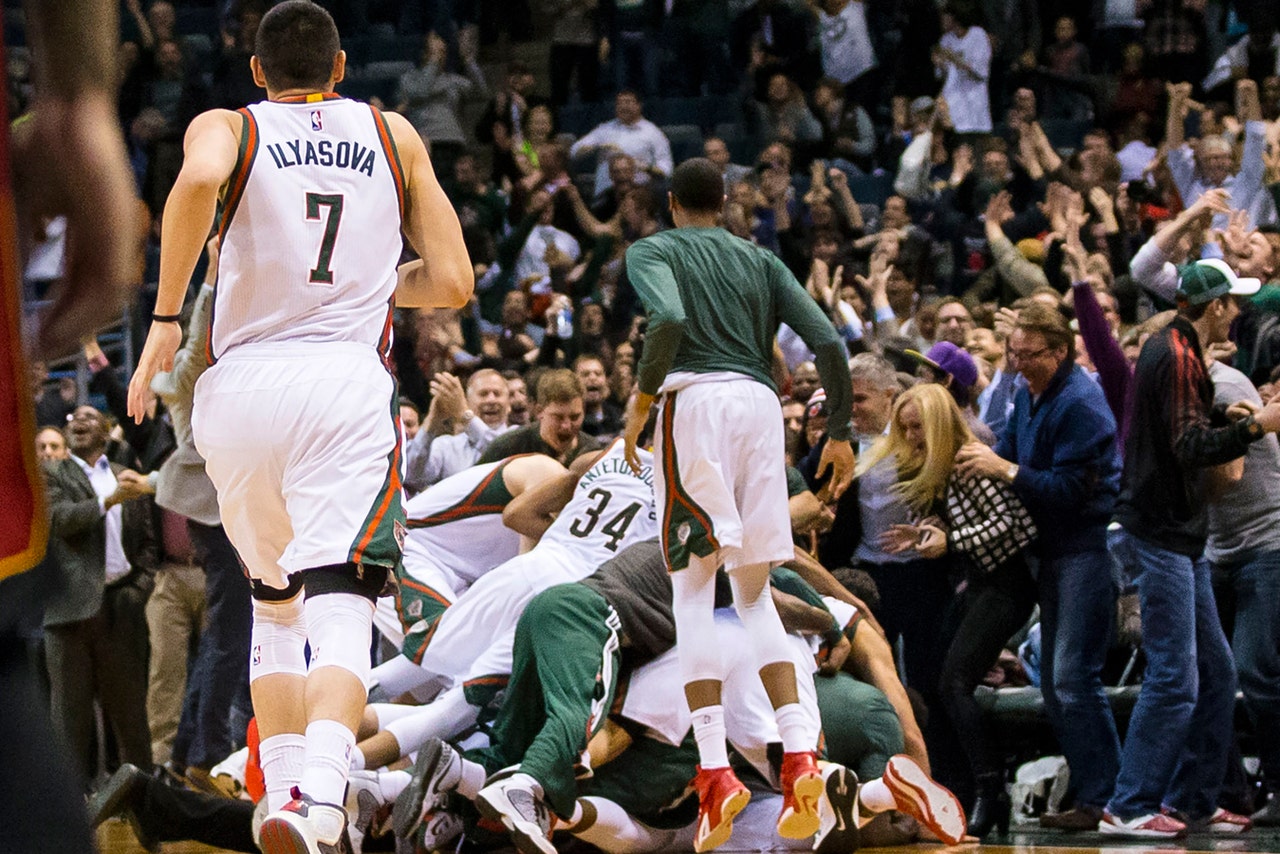 MILWAUKEE -- Somehow, some way the Milwaukee Bucks found a way to win Tuesday night.
A crazy sequence of events in the final minute led to Khris Middleton hitting a game-winning 3-pointer as time expired, as the Bucks overcame a 16-point fourth quarter deficit to snatch an 89-88 victory over the Miami Heat at the BMO Harris Bradley Center.
Not only did the comeback snap Milwaukee's six-game losing streak, but it also pushed the Bucks' lead over Miami for the sixth seed to 2 1/2 games.
"It is big," Bucks guard Jerryd Bayless said. "We've been struggling. There's no ifs, ands or buts about it. We've been struggling. We could have quit. There were plenty of times tonight where it seemed like we were going to cave in, but we fought, man. Being able to fight like that feels good."
Quite a bit had to go right just for Middleton to have a shot to win the game.
Down 85-71 with 6:33 to play, the Bucks rattled off a 14-0 run to even the score on a Zaza Pachulia layup with 1:20 remaining.
Milwaukee forced a stop on the other end, but Pachulia's pass attempt out of a scrum was deflected right into the hands of Dwyane Wade, who converted an easy layup to put Miami back in front.
The Bucks then had two chances to tie the game, but Middleton threw the ball away on one possession and Pachulia missed a layup on the next.
Fresh off winning Eastern Conference Player of the Week honors, Wade set up Milwaukee's wild final possession by missing the a free-throw attempt with Miami up, 88-85.
What happened during the ensuing 17.0 seconds may have saved the Bucks' season.
"Everything that could go wrong went wrong," Wade said. "That's got to be the perfect storm."
First, Middleton misfired so badly on a game-tying 3-point attempt that the ball fell right to Ersan Ilyasova, who was fouled by Henry Walker with 12.8 seconds left.
Ilyasova made the first free throw to cut Miami's lead to 88-86, but he missed the second. Michael Beasley appeared to have control of the rebound until Bayless slid in and tied him up for a jump ball.
"I saw his back was turned," Bayless said. "I was trying to steal it, honestly. He held on. I was going to let go. I saw he called a jump ball. I knew I was going to go get it."
Go get it he did. The 6-foot-3 Bayless outjumped the 6-9 Beasley to tap the ball back to Middleton.
"I've got bounce, man," Bayless said with a laugh. "I just tried to time the ref. A lot of the times with the ref, you just have to time them. I was able to time it, and I got lucky."
Bayless drove the lane but missed a game-tying layup attempt. The ball bounced to the corner, where Pachulia was able to save it from going out of bounds. He got enough on a pass to find Middleton, who got the game-winning shot off just before time expired.
"I saw the ball was going outside," Pachulia said. "This is the second year Khris and I have played together. Talking to each (other), trusting each other -- we are on the same page with offensive rebounds.
"I knew where to look for him. I was kind of going out of bounds, but I knew where he was going to be. When I turned around and looked he was wide open. I'll take his 3-point shot any time, any day. It was a huge shot."
It was Middleton's second game-winning 3-pointer of the season, making him the first NBA player to hit two buzzer-beating 3-point shots in the same season since Kobe Bryant did so in 2009-10.
"I knew it was ticking down, so I knew I had to catch and shoot," Middleton said. "I couldn't think about anything else.
"I just tried to get to that side and try to get to the ball. Then let it go if I got it."
Milwaukee played so poorly for three quarters Tuesday, which made the victory even more improbable. The Bucks seemed headed for an ugly, seventh straight defeat, one that would have left the Heat even in the loss column.
But the Bucks turned up the defense just in time. Miami shot just 3 of 14 in the fourth quarter with eight turnovers, allowing Milwaukee to get back in the game.
"Just the character of those guys fighting to the end," Bucks coach Jason Kidd said. "They played 48 minutes and fought until the clock said 0:00. The guys in that locker room get a lot of credit for staying together, playing the game out and they found a way to get the last shot and get it to go in."
With their first season sweep of Miami since the 1990-91 season, the Bucks find themselves up 2 1/2 games over the Heat. But because they own the tiebreaker, Milwaukee is really up 3 1/2 games over Miami with 11 to play.
Milwaukee is now in the playoffs by four full games over ninth-place Charlotte.
One win certainly won't cure what has ailed the Bucks in the second half of the season, but it could go a long way in helping Milwaukee get back on track as it chases a playoff berth.
"We desperately needed this win, especially with Miami right behind us," Pachulia said. "Tonight's game was very important for us. We've been struggling, losing a lot of close games. Hopefully we can build on this. We have 11 games left. "But we have to play better. Playing bad basketball is nonsense. You are going to get swept."
Follow Andrew Gruman on Twitter
---