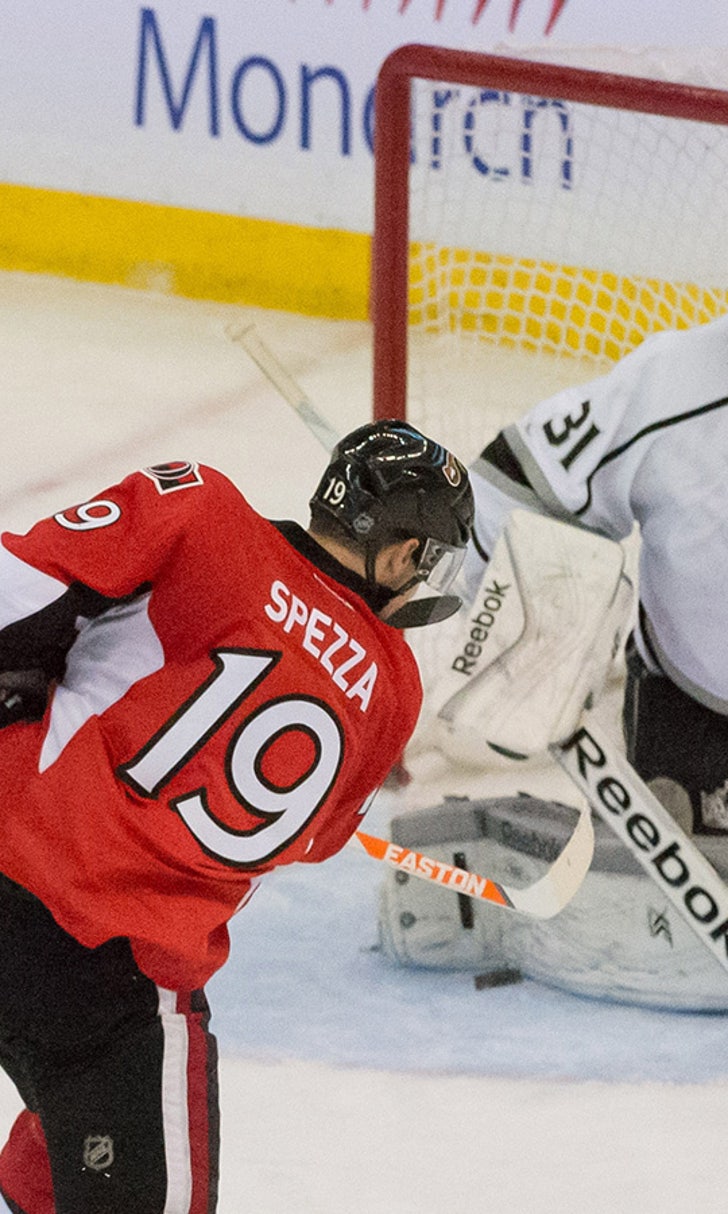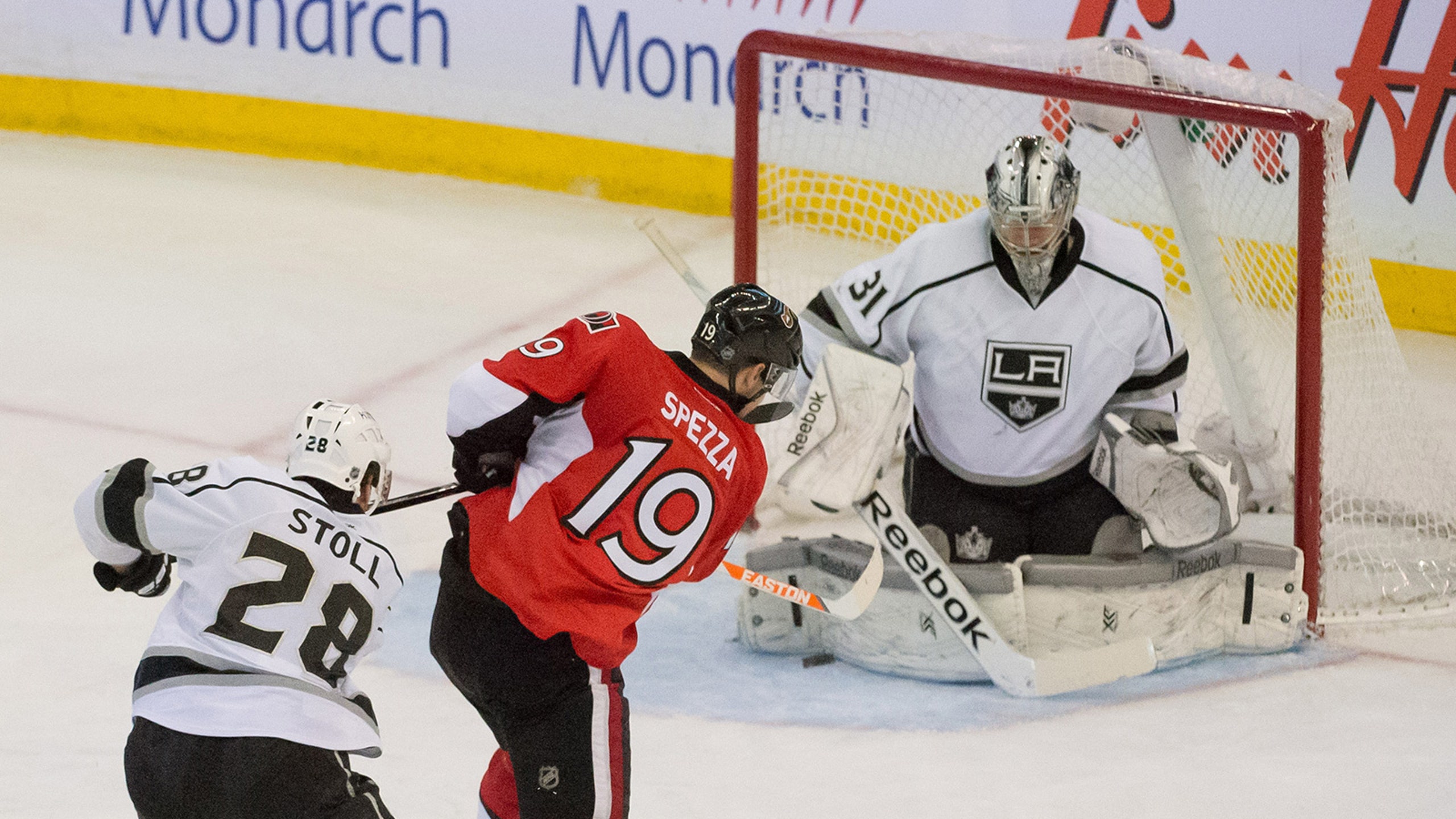 Penalty Minutes: Year of the Backup Goalie
BY foxsports • December 18, 2013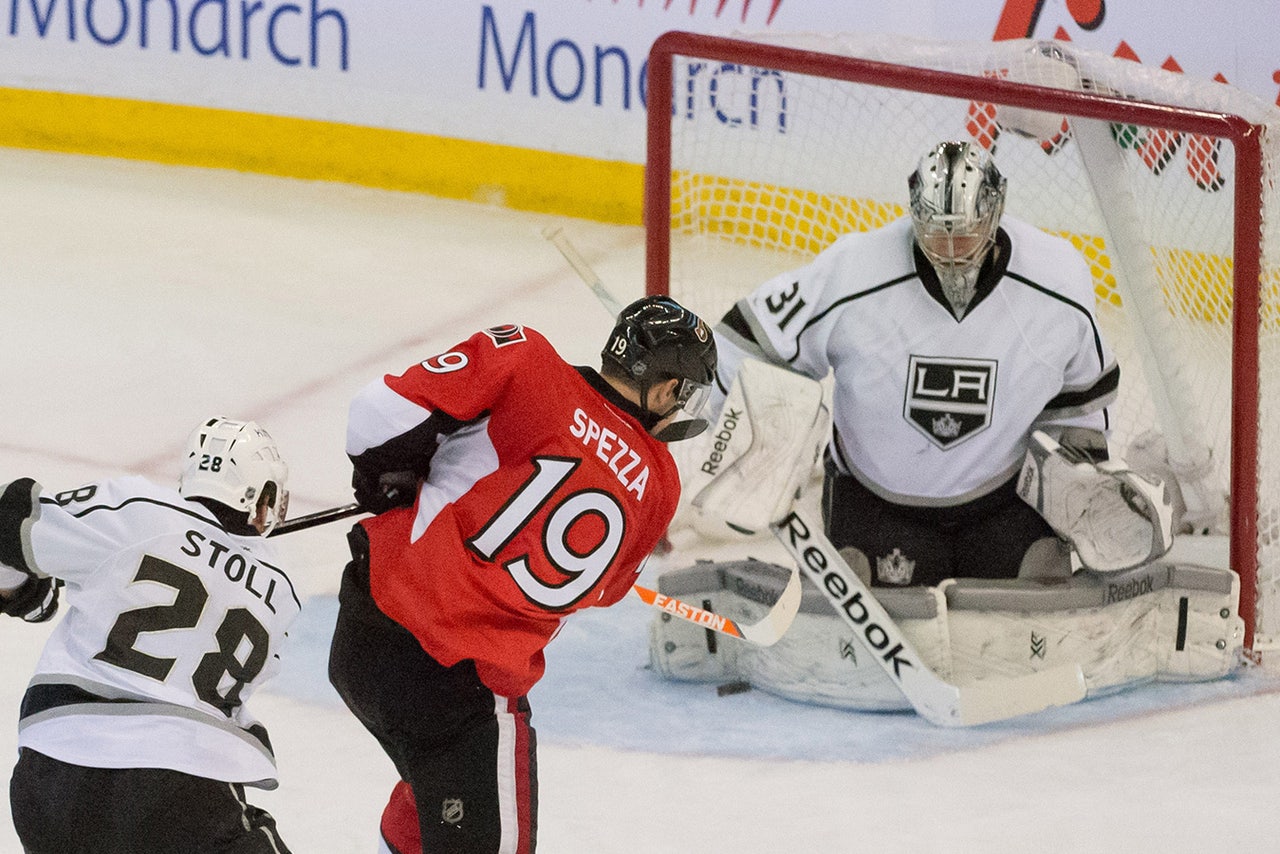 It's an age-old tale: the mentor, wizened by his years, helps his talented-but-undisciplined pupil to harness his skills and mature, thereby helping the pupil to reach his potential.
This storyline appears to be playing out in Dallas, where 21-year-old Tyler Seguin, under the tutelage of long-time NHL head coach Lindy Ruff, could be blossoming before our eyes into the kind of player that the Boston Bruins feared he could become.
The second overall pick in the 2010 NHL Draft was sent out of Boston amid not-so-covert rumors that they were unhappy with Seguin's partying. Shortly after he was traded to Dallas in July there was an unfortunate homophobic Twitter post in which Seguin claimed his phone was hacked.
If it's possible to explain away these stories as youthful indiscretions, then what Seguin is doing on the ice could be showing that those days are behind him. Entering Wednesday, Seguin ranked sixth in the NHL in goals with 18 and 13th overall in points with 33 as the Stars sit eight points behind Central Division rival Minnesota for the Western Conference's final wild card playoff spot, though the Stars have played three fewer games than the Wild. Among the top 26 scorers, Seguin's 31 games played is the fewest, underlining his productivity.
Until the Colorado Avalanche held him off the scoresheet on Wednesday -- a 3-2 victory for the young Stars in which Seguin skated 18:59 and was even -- he had three goals and three assists in his previous two games. If there's one thing Seguin has shown that he can do this season, it's score in bunches. He has four multi-goal games already, including a four-goal game and a three-goal game.
"He's got one of the best shots I've seen," Ruff said. "He's a terrific skater and he's got as quick a wrist shot as anyone in the game."
Asked if he were at the top of his game, Seguin said he has "a lot of room for improvement."
"There's still a lot of things I'm trying to get better at," he said. "That's going to take some time."
The no-nonsense Ruff, in his first season in Dallas, deserves some credit for helping to get the most out of Seguin. Early on, the coach and the center held their share of closed-door meetings to set expectations and Seguin has responded to the tough love.
"He's very hard on me but it's in a good way," Seguin said. "I definitely appreciate it and I like it. ... "He can be pretty honest, pretty blunt with you. I definitely feel like it's helped my game and helped me be a better player."
Seguin agreed that he would call Ruff's talks constructive criticism.
"Areas of the game that I need to be better," he said. "He told me he's going to harp on me about it and wants me to be a top-end player so I definitely appreciate that and I treat his words with a lot of respect."
Ruff said most of those conversations have revolved around Seguin's defensive play. As a young forward in Boston on a team loaded with high-end, responsible centers, Seguin mostly played wing where he showed flashes of what he was capable of: his 29 goals and 38 assists in 2011-12 led the Bruins in points. Seguin seems to be handling well the additional duties in the defensive zone that centers bear. He is a plus-9, second-best on the team and especially strong considering the Stars' goal differential is minus-6.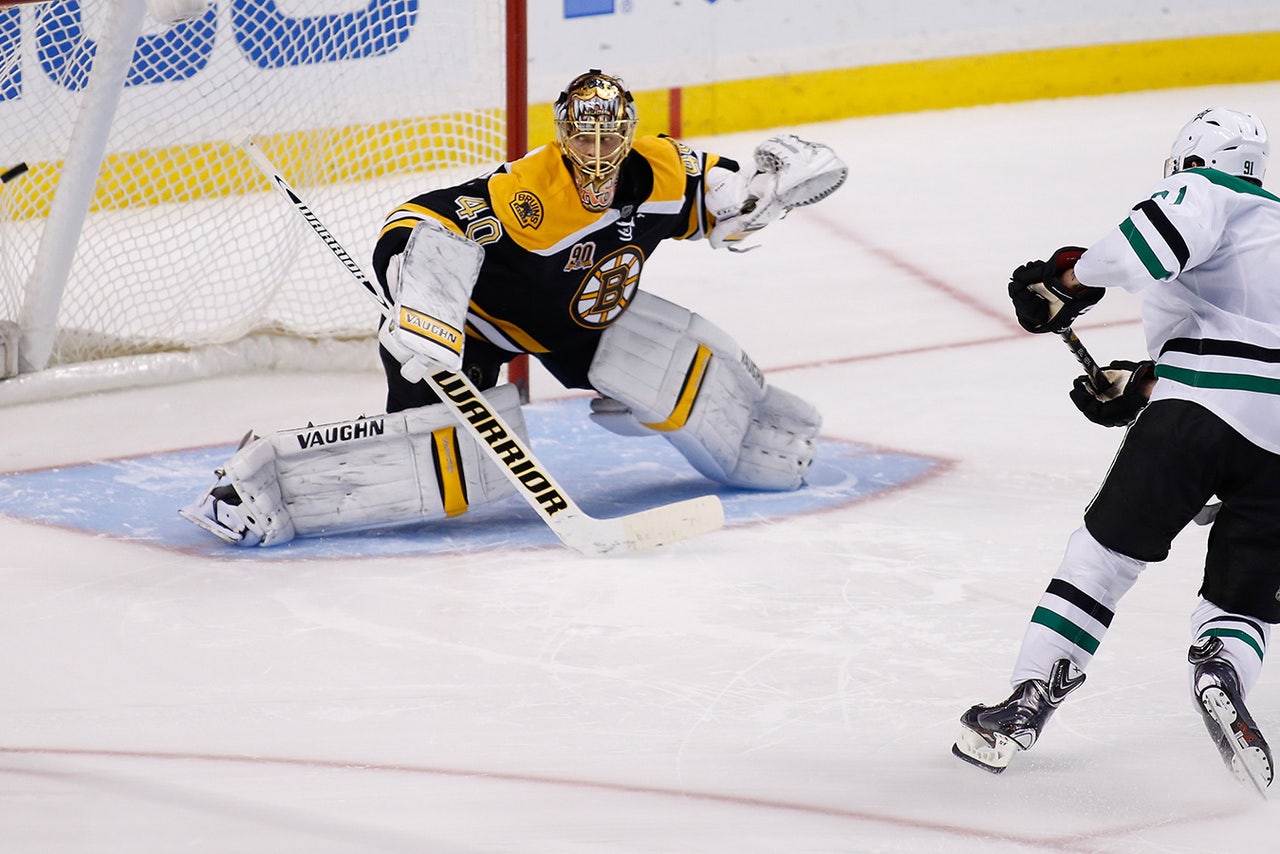 Dallas Stars standout Tyler Seguin, a former first-round pick, is plus-9 this season.
"I think understanding what I expected," Ruff said of his conversations with Seguin. "I don't know if I was hard on him but just understanding how I want him to play in his own end, some of the situations because he hasn't been in the middle for quite some time. A better understanding of what he can bring and what I can ask him to do. The main part was the defending, how to play inside our system."
Seguin also appears to enjoy having a greater role in Dallas than he had in Boston where he averaged 15:14 of time on ice in three seasons. H was on two teams that went to the Stanley Cup Final, including the '11 team his rookie year that won it. Seguin's time on ice has increased to 19:21 per game in Dallas, tops among the team's forwards, and centers a line with Jamie Benn and Valeri Nichushkin, the 10th overall pick in this year's NHL Draft, which already is evolving into one of the league's most potent.
Seguin made a revealing comment when a questioner inartfully asked about Nichushkin being "forced" to play on the first line.
"I wouldn't say he's forced," Seguin said. "To be 18 and be on the top line is a pretty good opportunity. I never saw that in Boston so I think he makes the most of it and we all find some consistency as individuals and as a team. ... It's different, it's a different opportunity than it was in Boston. I'm just trying to take advantage of it as much as I can and try to turn my game into a complete, two-way player and be a good centerman in this league."
It's not looking pretty for the Detroit Red Wings these days.
In their 5-2 loss to the Anaheim Ducks on Tuesday, the Red Wings played without eight injured players -- 40 percent on their regular lineup. It's hard for any team to cope with so many injuries but they have hit the Red Wings' especially hard.
Their starting goaltender Jimmy Howard (hand, knee), their leading scorer Henrik Zetterberg (back), their second- and third-line centers, Darren Helm (groin, shoulder) and Stephen Weiss (groin) and No. 3 defenseman Danny DeKeyser (shoulder) are all on injured reserve. On Tuesday, gritty wing Justin Abdelkader, former 30-goal scorer Johan Franzen and up-and-comer Gustav Nyquist all were scratched because of injuries.
All of this has led to a situation in which the Red Wings are 0-4-2 in their past six games, having been outscored 12-3 in their past three games, all regulation losses. The Red Wings have not won since Dec. 6 and have lost five in a row at home.
The rut might have hit a low point on Tuesday as Detroit trailed Pacific Division-leading Anaheim 5-1 at home at second intermission. Goalie Jonas Gustavsson was pulled after allowing three goals on 11 shots in the game's first 15 minutes.
After the game, Red Wings coach Mike Babcock bestowed the dreaded "fragile" label upon his squad.
"I guess we're a fragile group when things go bad," Babcock told reporters. "We lost energy instead of just gritting our teeth and keep going."
The Red Wings are now five years removed from their last appearance in the Stanley Cup Final and recent seasons have proved challenging for them. In 2011-12, they had to get hot late to avoid missing the postseason. Last season, they overachieved and held a 3-1 series lead over eventual Cup champion Chicago in the second round before succumbing. This season is posing another test for the Red Wings' mettle.
If the swoon continues, it could jeopardize the Red Wings' playoff position. They currently hold the first wild card spot in the Eastern Conference, five points over Philadelphia. However, the improving Flyers hold two games in hand and have points in four of their last five games.
Entering Tuesday's game, the Red Wings already had lost 116 man games to injury. Until some of those big names come off injured reserve or can get back on the ice and start producing, it's looking a little dire for the Red Wings.
1. Chicago: The Blackhawks are so good offensively that they scored on their first three shots of the second period in a 7-2 win over Philadelphia last Wednesday.
2. Anaheim: The Ducks are 7-1-2 in last 10, third-best in the league over that span.
3. Los Angeles: Kings goalies have combined for a league-best seven shutouts. New Jersey is second with five.
4. Pittsburgh: Star forward Evgeni Malkin suffered a scary-looking leg injury but is day-to-day. Penguins are optimistic it's not serious.
5. Boston: Bruins coach Claude Julien said he would speak to noted pest Andrew Marchand after Marchand taunted Vancouver by pretending to kiss his Stanley Cup ring during a game between the two last Saturday.
26. Florida: Interim coach Peter Horachek's bunch has won four straight and is 6-4 in last 10.
27. Calgary: President Brian Burke canned GM Jay Feaster last week. Flames have gone 2-1-1 on an Eastern swing since.
28. Edmonton: The Oilers have lost four straight -- being outscored 10-4 -- and have been shut out twice in that span.
29. Buffalo: Finally, the Sabres get out of the bottom spot. 4-2 comeback win over Winnipeg on Tuesday is bad news for Jets.
30. New York Islanders: The Isles have one win in their last 14 games and haven't won in regulation since Nov. 12.
This game marks the first game visit back in Calgary for Blues defenseman Jay Bouwmeester, whom the Flames dealt on April 1 of last year. The 6-foot-4, smooth-skating Edmontonian might have looked as if he were on the downside of his career towards the end of his run in Calgary but he has been revitalized in St. Louis.
Many are saying that the Canadian national team will appropriate both Bouwmeester and defense partner Alex Pietrangelo to play as a tandem on its Olympic team. Bouwmeester, 30, has 24 points in 33 games, putting him on pace for 60 points, which would exceed his career high (46) by far. The deal helped Bouwmeester, now in his 11th season, to play in the playoffs for the first time in his career last season. In exchange, the Flames received a first-round pick, goalie Reto Berra (4-8-2 this season) and defenseman Mark Cundari, who is in the minors. That deal might not stand up as one of the best by former Flames' GM Jay Feaster, who was relieved of his duties last week.
In a 3-2 shootout win over the New York Islanders on Tuesday, Filppula scored with 2:53 left in regulation to cut the lead to 2-1, then scored with four seconds left in regulation to send the game into overtime. Of course, the speedy 29-year-old center also scored in the shootout as the Lightning prevailed 2-1 in that segment. Filppula's 22:42 led all Lightning forwards and he was plus-1 with a blocked shot, although he also had three giveaways to go with one takeaway. With Steven Stamkos (broken leg) out, Filppula has helped to fill the void, as Filppula's 12 goals rank third on the team. His 23 points in 34 games now pull him even for second on the team with Stamkos, who has played half as many games.
Honorable mention: Mike Ribeiro, Phoenix. In a 6-3 win on Thursday over the New York Islanders (why do all of these top games seem to come against the Isles?), the crafty 33-year-old center had two goals, one assist and was plus-3 in 16:25, as he also won 62 percent of his faceoffs and had one hit and one takeaway. Ribeiro, whom the offensively challenged Coyotes signed to a four-year, $22-million deal in the offseason, has lived up to expectations. He leads the Coyotes, ninth in the West but 13th overall in the league standings, with 26 points.
Dishonorable mention: Taylor Hall, Edmonton. In a 4-2 loss to Boston last Thursday, Hall was on ice for all four Boston goals, causing him to finish minus-4 with three shots, one hit and one giveaway in 19:51. He lost his only faceoff. Only four players on his team have a worse rating than Hall's minus-10, which ranks him 743rd in the league. Offensively, the 22-year-old left wing is one of the league's more productive players with 28 points in 29 games.
It used to be that the life of a backup goalie was all guts and no glory. They would get horrible assignments like mopping up in a blowout or playing the second game of a back-to-back situation on the road in front of a clearly exhausted team.
Not so in 2013-14. Could it be the year of the back-up goalie? Certainly, the number of them who have outstanding numbers or who are outplaying their team's No. 1 stretch the memory of this correspondent. Here is an admittedly subjective list:
Former NHL backup goalie and Fox Sports Detroit analyst Darren Eliot voiced a number of potential reasons behind this phenomenon, including the fact that 2014 is an Olympic year. That means the schedule has been compressed so backups are getting more starts.
Throw in injuries to starters on a bunch of those teams -- Corey Crawford in Chicago, Jonathan Quick in Los Angeles, Jonas Hiller in Anaheim, Henrik Lundqvist with the Rangers at one point in the season or other -- and it means the back-ups are getting more games. The more often a goalie plays, the more often he can settle into his comfort zone. Eliot for years has bemoaned the "back-up goalie blues" -- when the back-up is given a terrible assignment with little chance of success. Perhaps this season the back-ups are getting better opportunities.
Eliot said players also tend to stay out longer nowadays when they get injured. No. 1 goalies like Quick have big contracts and teams are looking out for the long term.
"The league overall when they get hurt, they stay hurt," Eliot said. "... The age of rushing back -- it's wrong -- but the age of rushing back is over."
He added: "Some have had a chance to run with it in a short burst, which is always for a young back-up, that's usually the best. It's tough to expect them to do it over a long period consistently like Scrivens had to do it."
Eliot also mentioned that a number of them -- Scrivens, Jones, Talbot, Andersen, Raanta, Johnson -- are rookies.
"Which should be a different motivator," he said. "He's new and he's all on adrenaline."
Another common theme is that a number of these goalies have been No. 1 themselves. Giguere, Gustavsson and Elliott all fit that category. Eliot noted that Gustavsson is in a contract year.
Another factor, Eliot said, is that this is the time of the season when back-ups make their hay. In the stretch drive for the playoffs, they hardly see the net -- if their coaches can help it.
"Backups make it their time of the year through about February any way," Eliot said.
San Jose coach Todd McLellan sees it as part of the natural evolution of back-ups outcompeting No. 1s to their jobs. He referenced his goalie, Antti Niemi, who is tied for second in the league in wins. Niemi served as a back-up in Chicago and played less than half his team's regular-season games in 2009-10 before wresting the job from Cristobal Huet and backstopping Chicago to the Stanley Cup.
"I think the backup goaltenders -- the starting goaltenders right now were all back-up goaltenders at one point that have graduated on," he said. Cory "Schneider in New Jersey and even Jonathan Quick started in Manchester (of the American Hockey League) and worked his way up. Niemo wasn't the starter in Chicago so a lot of those goaltenders have come up and got a break and established themselves with injuries… Others get the opportunity and when they jump in and seize the opportunity, confidence goes up -- not only the goaltender's confidence but the organization's confidence and all of the sudden you've found a goaltender or a player, for that matter."
Today's back-up, tomorrow's No. 1.
---