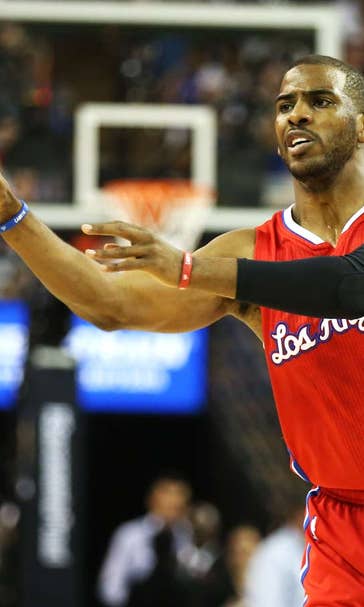 Paul, Garnett similar, but KG was 'nuts,' Rivers says
April 19, 2015

Clippers Coach Doc Rivers recently compared Chris Paul to Kevin Garnett, but before Saturday's practice, he made sure to clarify.
"Kevin was insane," Rivers said. "He was insane, I'm telling you, in a very positive way, but he was on another level."
Rivers coached Garnett for six seasons when he was with the Boston Celtics. He has coached Paul for two seasons with the Clippers, who open their first-round playoff series against the San Antonio Spurs on Sunday.
The coach said that the two players both have incredible focus in common, but not much else.
"They're similar in the fact of their intensity and their preparation, but Chris is not anything like KG as far as his outward emotions," Rivers said. "Chris is the exact opposite of that. He has an inner fire that I love, that's amazing. But he's not a rah-rah guy."
Rivers said that on game days, Garnett would refuse to talk to anyone and required the Celtics' locker room to be dead silent. One time, Rivers said, he saw Garnett explode at a teammate who was listening to music with headphones on because he was incensed that he could overhear it.
"I always thought there's no way anybody could be that nuts," Rivers said. "Then when I coached him, I was like, this guys is nuts, he's nuts."
Rivers said he would always cringe when kids would wait near the team bus, hoping for Garnett's autograph before a game.
"I feel bad for the kids," Rivers said. "[We'd be] going to the bus, and those kids were outside sitting there, and I was like, 'This is going to go bad.' After the games, he was a sweetheart. Before the game, he didn't want anyone talking to him."
Rivers intimated that Garnett had an unparalleled way of harnessing darkness to motivate him before games.
"Pregame, where Kevin could get himself was really awesome in some ways, and scary in some ways," Rivers said. "He needed to create this hate for the opponent that was amazing."
Paul shares Garnett's deep, deep desire to win -- but, apparently, that's about it.
When Blake Griffin was asked whether he thinks Paul and Garnett have much in common, he quickly debunked that idea.
"They're both intense, and they're both great leaders, but I think they do it in a different style," Griffin said. "You never see CP banging his heads on the stands or talking to himself."
J.J. Redick perhaps gave the best analysis of Paul's intensity.
"There's certain guys, regardless of what they accomplish, how much money they get paid, what endorsements they get, they're wired to be great, and they don't let that stop them from working and getting better," Redick said. "Chris is one of those guys. There's nothing that he could accomplish that would stop him from saying, 'I want more, I want something else.' It's remarkable given all that he's done."
---