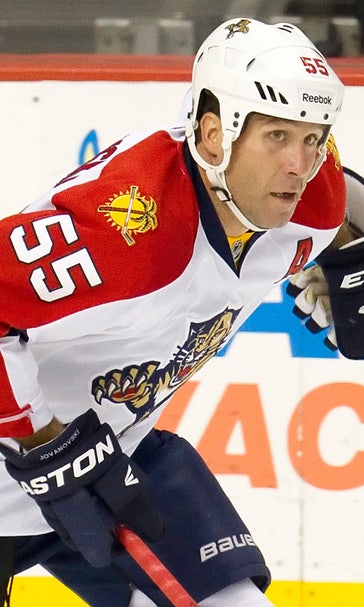 Panthers use compliance buyout on defenseman Ed Jovanovski
BY foxsports • June 30, 2014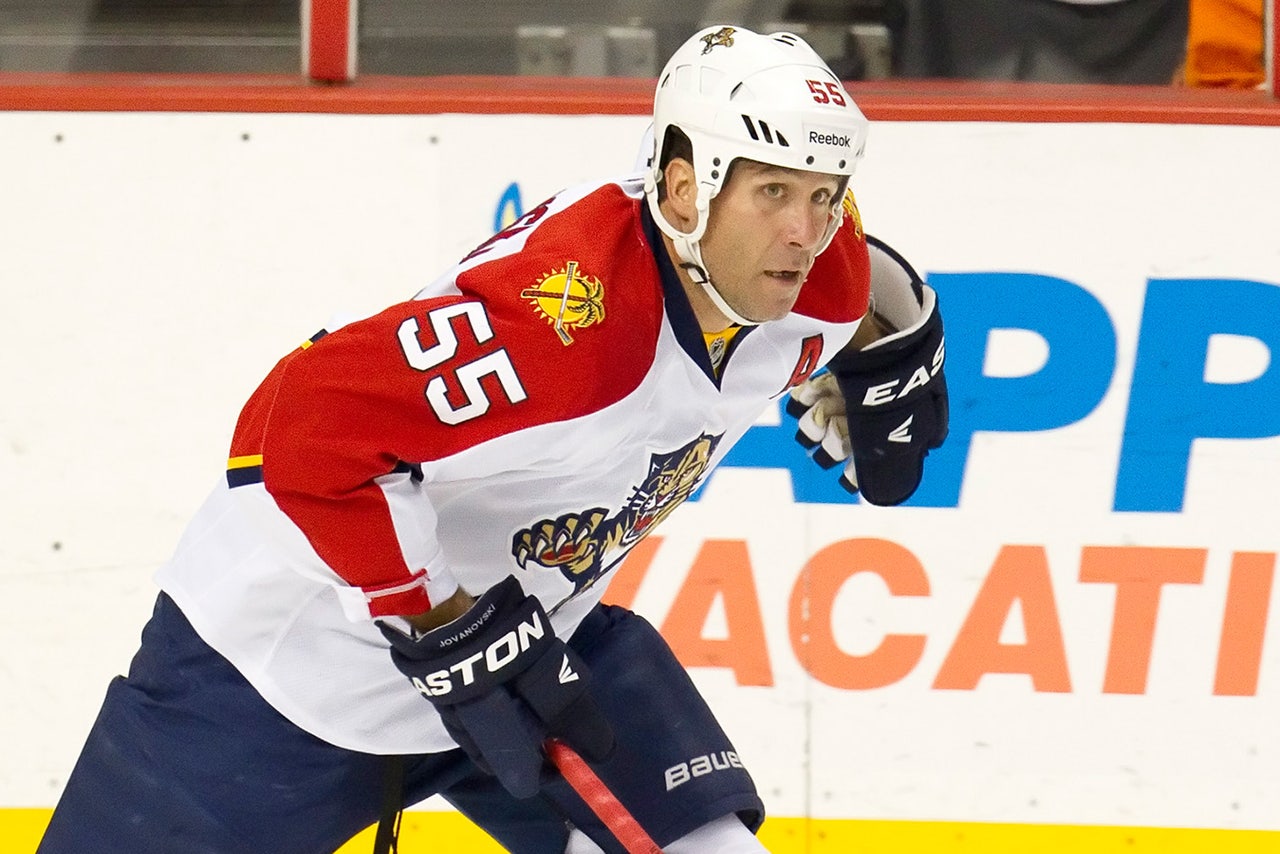 SUNRISE, Fla. -- Out with the old and in with the new.
Just days after selecting 18-year-old defenseman Aaron Ekblad with the No. 1 pick in the NHL draft, the Florida Panthers have announced they will be parting ways with one of their all-time great blueliners: 38-year-old captain Ed Jovanovski.
With one year remaining on his four-year, $16.5 million contract, the Panthers have opted to use one of their two remaining compliance buyouts on Jovanovski, the team announced Monday. In accordance with the collective bargaining agreement, Jovanovski will be paid $1,333,333 in each of the next two seasons, however, his salary will not count toward the team's cap.
With Jovanovski's contract off the books, the team has $32,259,625 in cap space to spend when free agency opens at noon on July 1.
"We sincerely thank Ed for his seven years of service and dedication to the Florida Panthers and the South Florida community," Panthers general manager Dale Tallon said in a release. "He is a true professional in every sense and is well respected throughout the league for the way he handles himself both on and off the ice. This was not an easy decision and we wish him success and happiness in his future endeavors."
The No. 1 overall pick at the 1994 NHL draft, Jovanovski played four seasons in Florida before being traded to the Vancouver Canucks on Jan. 17, 1999, in a seven-player deal that brought future Hall of Famer Pavel Bure to Florida.
Prior to being traded, Jovanovski earned 83 points in 253 games for the upstart Panthers and was an integral part of the team's miracle run to the Stanley Cup Final in 1996. Given his gritty, in-your-face style of play, South Florida fans affectionately dubbed him "JovoCop," a moniker that has stuck throughout his career.
On July 1, 2011, Jovanovski, then a free agent, signed a four-year deal to return to the Panthers.
In the three seasons following his return, Jovanovski was unable to find sustained success as a series of injuries kept him off of the ice for the majority of his time in Sunrise. In his second stint with the Panthers, he compiled four goals and 15 assists in 109 games. Often lauded for his outstanding leadership both on and off the ice, he was named team captain on Jan. 18, 2013 -- the seventh captain in franchise history.
Limited to just six games during the 2012-13 season, an ailing Jovanovski chose to undergo hip resurfacing surgery in hopes of returning to form. After eight months of rehabilitation, he returned to the ice, but was unable to reach the high level of play that he was accustomed to. In the 37 games after his return, he tallied just one goal and four assists as his ice time dwindled.
Jovanovski is believed to be the only athlete in the four North American professional sports leagues to return to play after undergoing hip resurfacing surgery. For this reason, the South Florida chapter of the PHWA nominated him for this year's Bill Masterton Memorial Trophy, awarded each season to the player who best exemplifies the qualities of perseverance, sportsmanship and dedication to hockey.
Five times an NHL All-Star, Jovanovski compiled 500 points in 1128 games split between Florida, Vancouver and Phoenix.
Though there is a chance another team may sign him this offseason, it is possible that, at 38 years old and coming off a major surgery, Jovanovski may have played his last game in the NHL.
You can follow Jameson Olive on Twitter @JamesonCoop or email him at JamesonOlive@gmail.com.
---