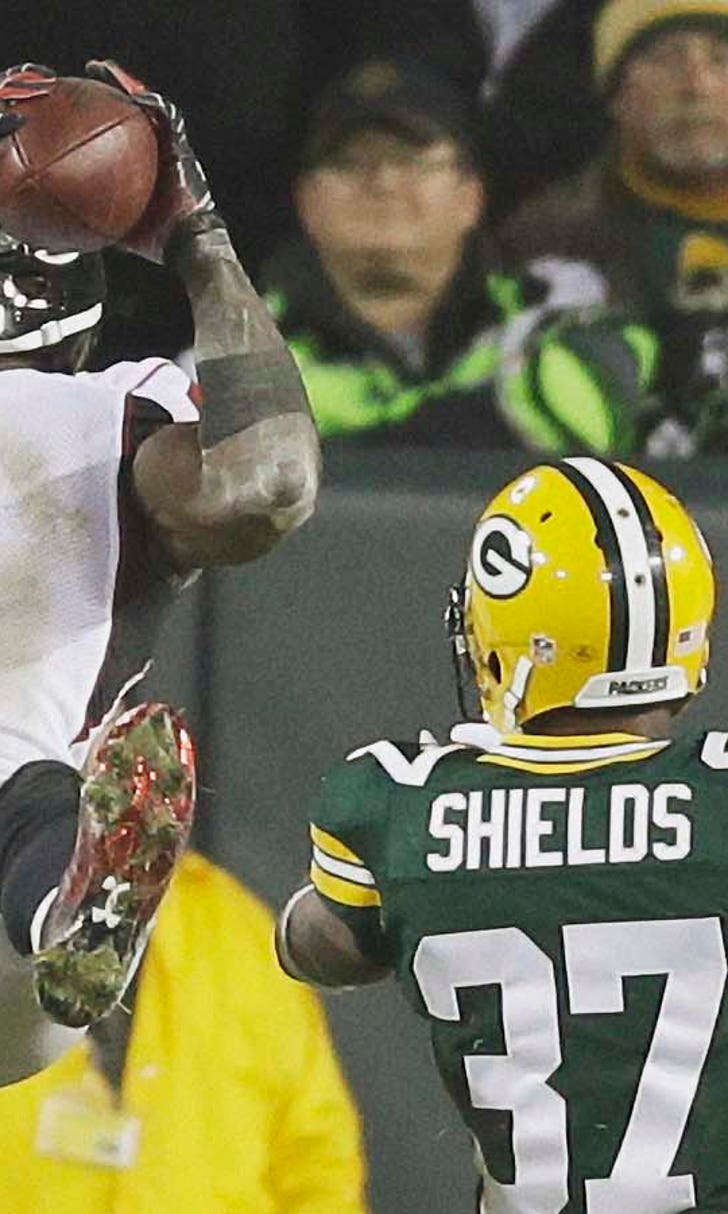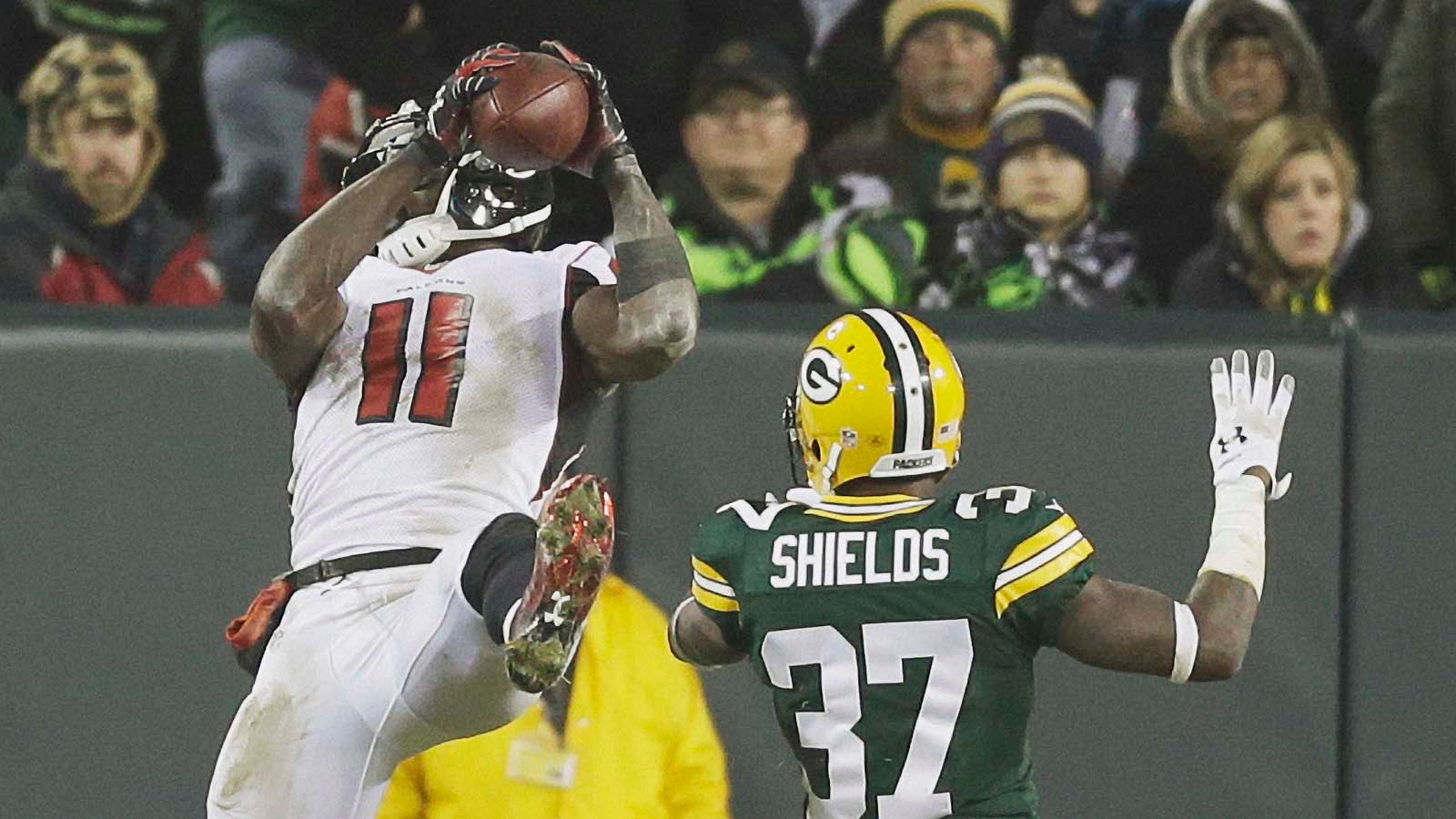 Packers report card: Offense bails out passing defense
BY foxsports • December 9, 2014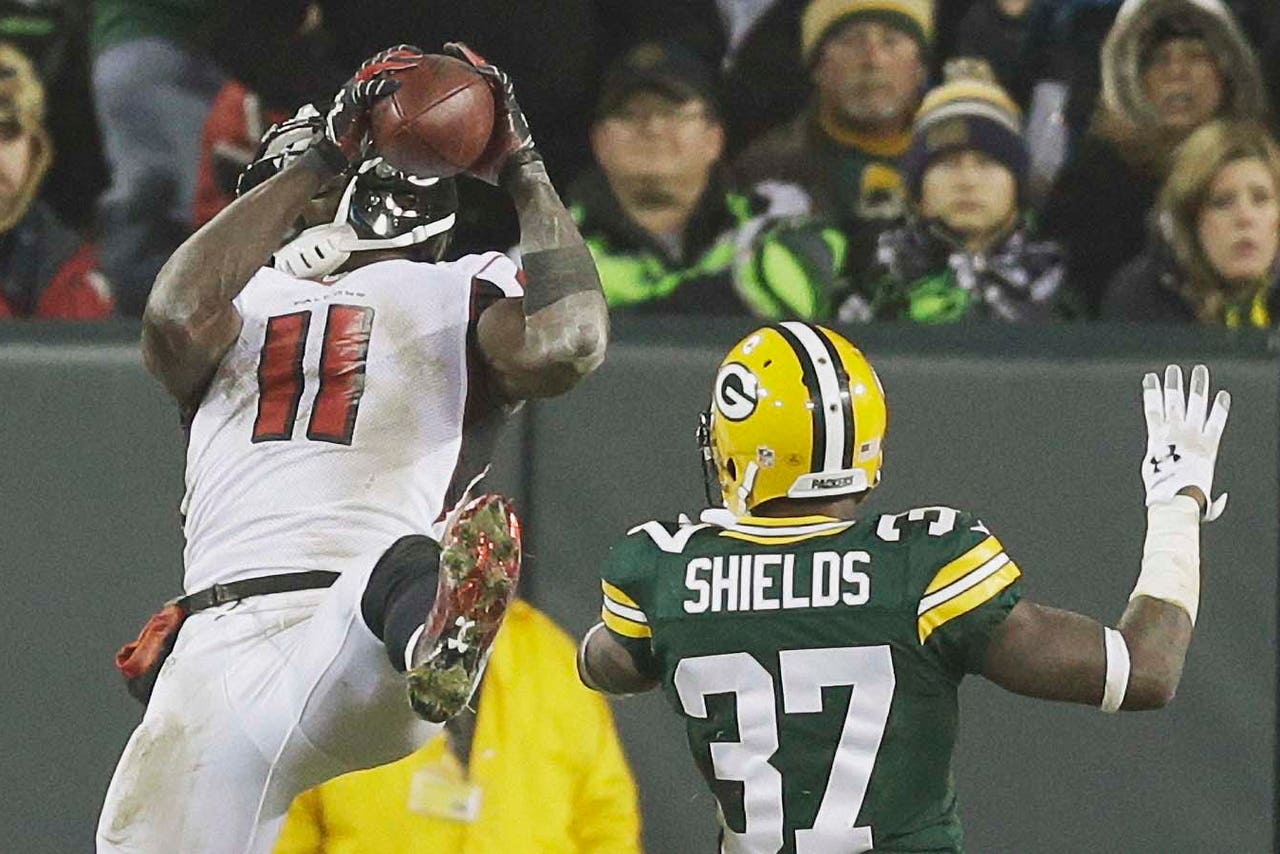 GREEN BAY, Wis. -- Handing out grades following the Green Bay Packers' 43-37 win over the Atlanta Falcons in Week 14 of the 2014 season:
Passing Offense: A
Aaron Rodgers' 100th career regular-season start was a lot like many of his first 99 starts. Given Atlanta's passing defense is one of the worst in the NFL, Rodgers took the Falcons apart in the first half and got the Packers the touchdown that was needed in the second half.
Rodgers completed 24 of 36 passes for 327 yards with three touchdowns and no interceptions for a 123.3 passer rating. There were a couple memorable plays from Rodgers. He had a delayed blitz coming his way from Kroy Biermann, but Rodgers side-stepped him without being touched and delivered a strike in the end zone to Jordy Nelson for a 10-yard touchdown. Rodgers connected with Nelson again later on a 60-yard touchdown on a deep pass that was perfectly thrown. Displaying just how much of a perfectionist Rodgers is, he was visibly frustrated with himself after completing a 28-yard pass to Nelson that could have gone for a lot more had it been delivered more accurately.
Green Bay allowed a sack in the first quarter, something that shouldn't happen against a team that had the second-fewest in the league entering play. And while Rodgers got hit hard one other time in the pocket, the pass protection for him was otherwise mostly very good. As he's done a lot this season, Rodgers praised the offensive line for the protection they gave him.
Nelson led the way receiving for the Packers with eight catches for 146 yards and two touchdowns. Randall Cobb had four receptions for 58 yards, including a key third-down play in which Green Bay scored on the next snap with the 60-yard pass to Nelson. Andrew Quarless had a 30-yard catch on a 3rd-and-17 play, while running backs Eddie Lacy and James Starks combined for seven receptions and 59 yards. Rodgers said it just came down to matchups, but Davante Adams was unable to follow-up his big Week 13 performance by recording just one catch for six yards.
Rushing Offense: A
Lacy was unable to finish the game with a bruised hip, as team physician Dr. Pat McKenzie wouldn't clear him to return. Before that, though, Lacy was dominant on the ground with 13 carries for 73 yards (5.6 average). Early in the game, the evolution of Lacy continued when he waited patiently behind the offensive linemen before making his way upfield for a 10-yard gain.
Lacy again forced several missed tackles and even had a few Falcons defenders running into each other, showing his rare blend of agility and power. He ran over safety Kemal Ishmael in a moment that brought to memory the Week 5 game when he de-helmeted Vikings safety Robert Blanton.
Starks was mixed in during the early parts of the game and then finished it out when Lacy was sidelined with the injury. Starks ran hard, showed his speed and looked like a fresh running back that could pay off big time for the Packers' offense down the stretch. With 75 yards on 10 carries, Starks reminded many why he can be a very good No. 2 option in the backfield if head coach Mike McCarthy opts for a one-two punch more frequently.
Rodgers put himself in danger on a couple plays when he scrambled. Rather than sliding, Rodgers went for the extra yards and took shots. He ran four times for 32 yards.
Rushing Defense: B
Atlanta has not been a good running team this season, ranking 25th entering the game. But with Green Bay's run defense ranking 28th, it's not as if the Packers can overlook any opponent in this area.
Steven Jackson is an accomplished veteran running back, and Green Bay did a good job containing him. Jackson had 50 yards on 16 carries (3.1 average) with his longest run being only 10 yards. Jacquizz Rodgers had a 14-yard gain and finished with 20 yards on three rushing attempts. Matt Ryan scrambled twice for 23 yards.
The Packers spent much of the game not playing their base 3-4 defense. With A.J. Hawk's significantly reduced role, wherein he now plays only in the 3-4 package, he didn't even step on the field until the Falcons' fourth offensive series.
Allowing a total of 91 rushing yards boosted Green Bay's ranking up to 25th in the NFL.
Passing Defense: D-minus
There are three reasons this isn't a grade of "F."
But when a receiver gains more yards than any other receiver had against the Packers in the history of the franchise? That can't grade out better than a D-minus. Jones destroyed Green Bay nearly the entire game with 11 catches for 259 yards and one touchdown. He likely would have finished with an even better statistical line had he not suffered a hip injury in the fourth quarter that kept him from finishing the game.
Micah Hyde tried his luck on Jones early in the game on 3rd-and-7. Atlanta converted. Tramon Williams was on him when Ryan connected with Jones on a 77-yard passing play. Williams was flat out beat in coverage. Shields was beat by him on the left side of the end zone, but Jones didn't get both feet down when making the catch. Later, Jones got a touchdown with Shields in coverage that led to Shields being benched in favor of House. Casey Hayward also had a shot on Jones and was unable to deliver. Jones got wide open time after time, picking apart the zone coverage the Packers frequently deployed.
While Jones' production was the headliner, he wasn't the only problem for Green Bay to defend. Eric Weems had a touchdown with Hyde in coverage, Harry Douglas scored against Hayward and Roddy White added a late touchdown. Brad Jones also looked lost in coverage on one play in his role as the dime linebacker.
This was an ugly game for the Packers' passing defense.
Special Teams: B-minus
It was certainly a noteworthy game of special teams plays.
On the positive side for Green Bay, Brad Jones blocked a field-goal attempt right before halftime that might have saved what turned out to be an important three points. Also, Mason Crosby crushed a line-drive, 53-yard field goal late in the fourth quarter.
On the negative side, the Packers had an extra point blocked when Atlanta got pressure up the middle. Also, in a rare punting situation, Green Bay's communication was such a mess that it almost resulted in a delay of game and then almost resulted in a block. McCarthy was disappointed with the substitution errors on special teams.
Overall: B
The Packers' offense was great. They ran the ball with the two-headed attack of Starks and Lacy, Rodgers was in MVP form, Nelson was tremendous and the offensive line played very well.
Defensively, this could be what keeps Green Bay from getting back to the Super Bowl. If the Packers can't stop Atlanta from scoring 37 points, there are much better offenses that could have turned this into a Green Bay loss. That will need to get cleaned up in a hurry, especially before Detroit travels to Lambeau Field for what could be a division-deciding Week 17 matchup.
Follow Paul Imig on Twitter
---