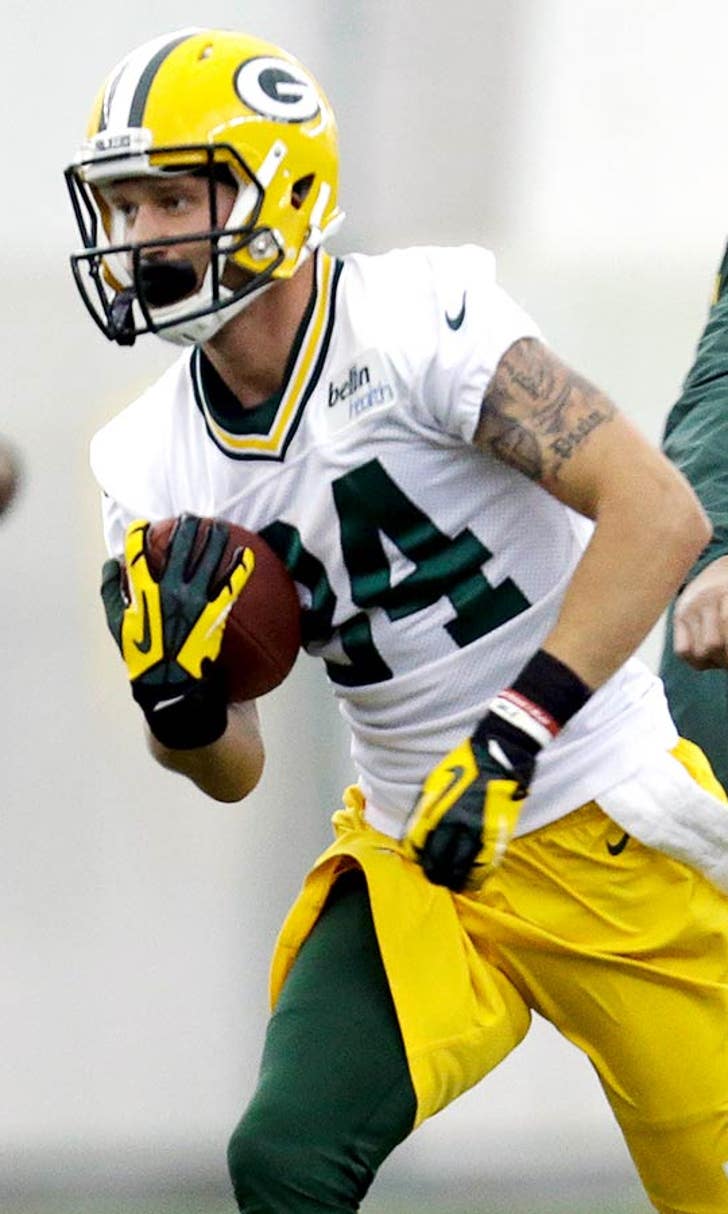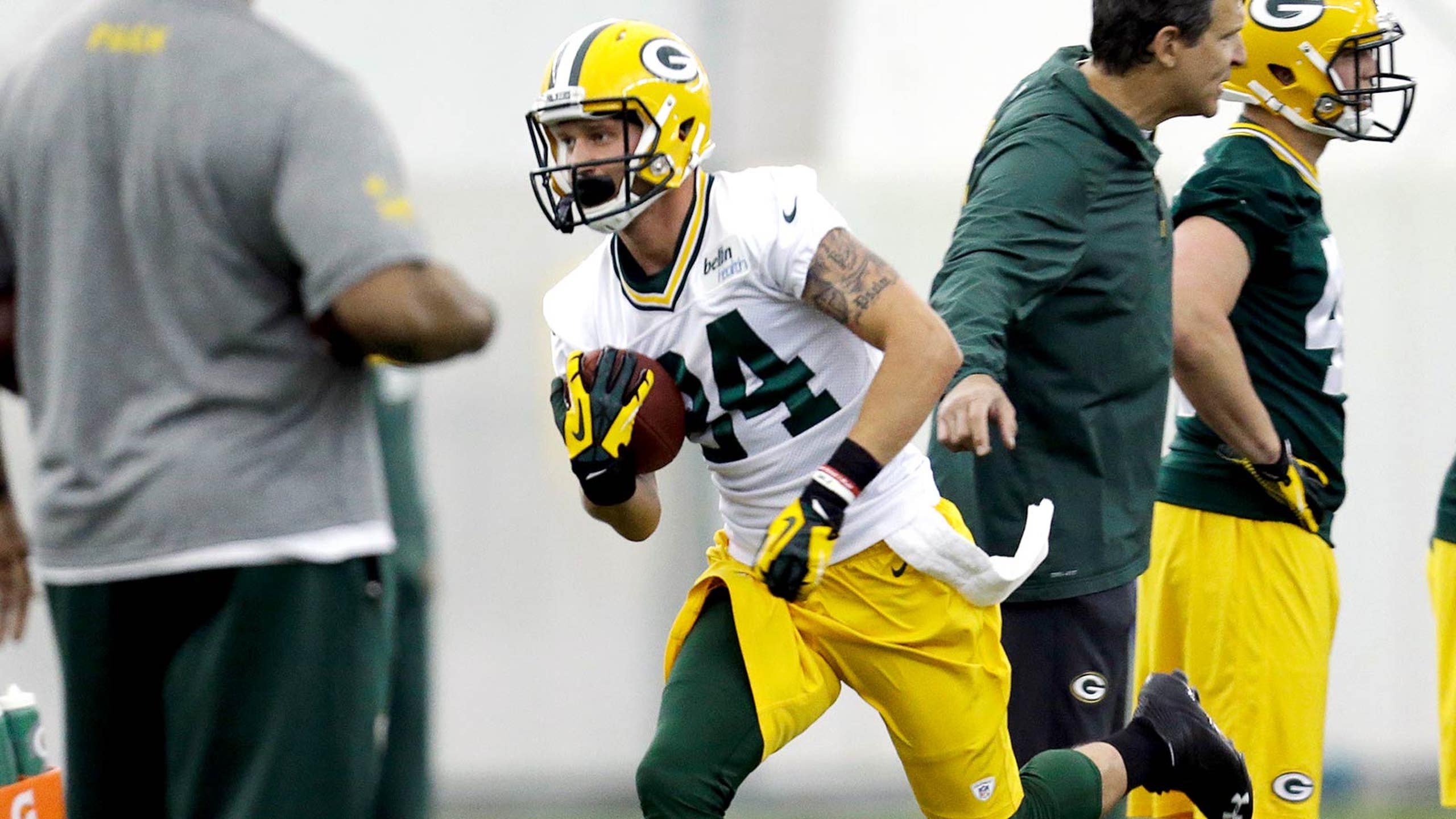 Packers Annual Checkup: Jared Abbrederis
BY foxsports • February 4, 2015
FOX Sports Wisconsin's Paul Imig gives an in-depth statistical analysis and film study of every Packers player in his annual offseason checkup. You can find every report here.
Jared Abbrederis, wide receiver
Season stats: 0 games (suffered season-ending injury in training camp)
ProFootballFocus.com season rating: N/A
Best game: N/A
Worst game: N/A
Expectations at the start of training camp: Medium
Expectations were ... Incomplete
Looking live: When the Packers picked Jared Abbrederis in the fifth round (No. 176 overall) of the 2014 draft, he became the first Wisconsin Badger selected by Green Bay since 2001.
Abbrederis instantly became a fan favorite when training camp opened on July 26. It was not uncommon for Abbrederis to generate one of the loudest reactions from the assembled crowd at Ray Nitschke Field in those early practice sessions. When multiple drills were going on at once in practice, it was obvious when Abbrederis caught a pass due to the amount of applause.
On the first day of training camp, Abbrederis was one of four players working as punt returners. It was Abbrederis, Micah Hyde, Randall Cobb and Myles White. The Packers ended up going with Hyde and Cobb in the regular season. That same group of four punt returners was back sharing that role in the ensuing days, with Tramon Williams joining them at times.
On Day 6 of training camp, Abbrederis was on the sideline with a sleeve over his right knee. Surprisingly to Abbrederis, he had torn the anterior cruciate ligament in his right knee two days earlier. He practiced with the torn ACL on July 31 before getting it checked out and finding out the diagnosis.
"I just thought I was fine," Abbrederis said. He later added, "It's not what I wanted, obviously. I was excited to be here in camp, I had a couple good first days, excited for the season. Obviously a bump in the road but I'll come back stronger, and I'm excited to get back and get back with the team."
Upon further review: Abbrederis was officially placed on injured reserve on Aug. 26 when the Packers made their first big set of roster moves leading into the regular season. As a result, there's no film to review on Abbrederis.
Where might Abbrederis have fit in on the 2014 Green Bay roster had he stayed healthy? The Packers had a very good punt returner in Hyde and a good secondary option with Cobb, so that's a role Abbrederis might not have had much of a shot at in the regular season. Green Bay did not perform nearly as well on kick return with DuJuan Harris in that spot, but Abbrederis didn't have the same level of experience returning kicks as he did punts. Abbrederis returned 28 kickoffs in 2011 at Wisconsin but didn't have a single one in his junior or senior seasons.
On offense, the Packers could have used a consistent receiver toward the back of the depth chart to help out. Jarrett Boykin failed as the No. 3 receiver, which forced then-21-year-old rookie Davante Adams up to that job. Boykin was rarely even used as the No. 4 receiver after that, either. But Green Bay didn't have anyone else to supplant Boykin, especially after it became apparent that the team wasn't ready to use preseason sensation Jeff Janis in non-exhibition games. Coming from a Big Ten school, Abbrederis had more big-game experience than Janis, so he should've been more ready than the speedster from Saginaw Valley State. That could have given Abbrederis opportunities on offense, especially once Boykin's spot became up for grabs.
Overall 2014 grade: Incomplete
Status for 2015: Ninety-nine percent chance of being on the Packers' active roster to begin the 2015 season. Abbrederis will have waited one year longer than expected to play for his childhood team, but he should make his official debut for Green Bay in 2015. Assuming Cobb re-signs, the Packers are set in their one, two and three receiver roles, but No. 4 could be available. Boykin, a restricted free agent, is unlikely to return. That could mean a battle between Janis and Abbrederis to be the fourth option, unless Ted Thompson hits the draft again for that position one year after selecting three receivers. It will be difficult for Abbrederis to take the punt return job from Hyde and Cobb, but Green Bay could sure use a dynamic kick returner. Abbrederis would have to get comfortable in a hurry during training camp to be trusted with the kick return responsibilities.
Next: Wide receiver Davante Adams
Follow Paul Imig on Twitter
---