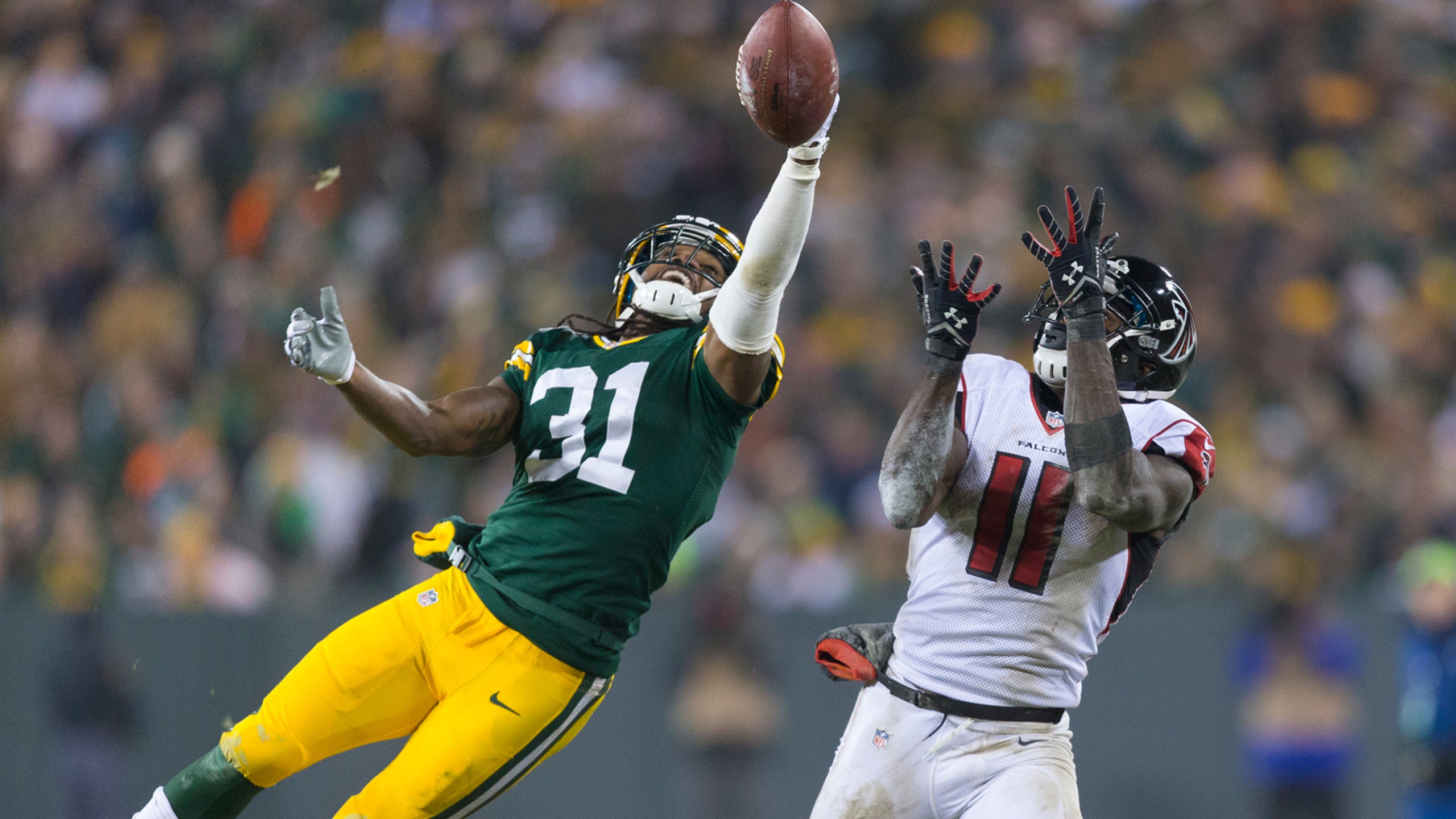 Packers Annual Checkup: Davon House
BY foxsports • March 6, 2015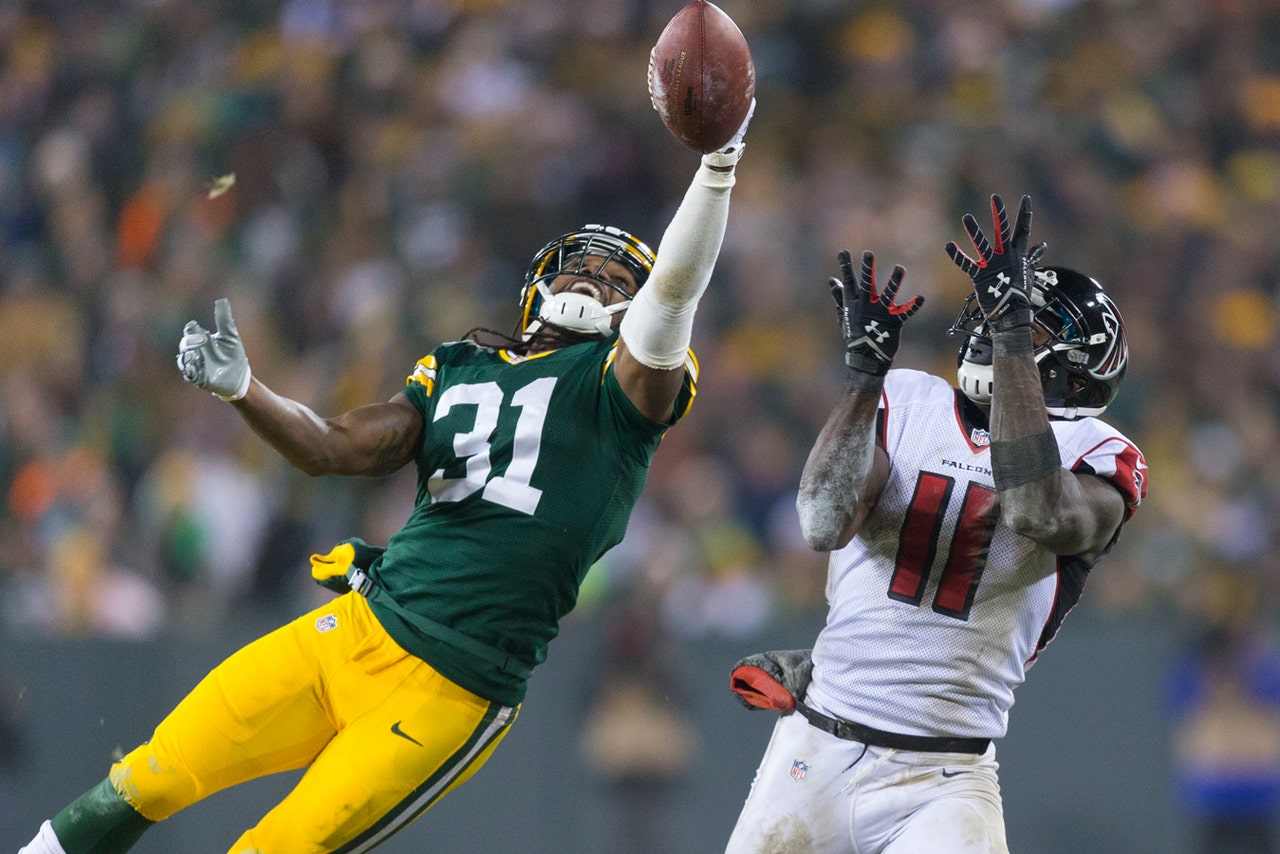 Davon House, cornerback
FOX Sports Wisconsin's Paul Imig gives an in-depth statistical analysis and film study of every Packers player in his annual offseason checkup. You can find every report here.
Season stats (playoffs included): 15 games, four starts (411 snaps; 33 percent of total defensive snaps), 30 tackles, six missed tackles, zero sacks, one quarterback hurry, one interception, 10 passes defensed, one forced fumble, four penalties committed, three stops (solo tackles that resulted in offensive failure); targeted 47 times in coverage, allowing 22 receptions for 261 yards and three touchdowns
ProFootballFocus.com season rating: minus-0.1 (ranked No. 9 out of 24 Packers defensive players; ranked No. 43 out of 110 among NFL cornerbacks)
Best game: Week 14 win over Atlanta (played 22 of 68 snaps); zero interceptions, two passes defensed, two tackles, zero missed tackles; targeted six times in coverage, allowing three receptions for 38 yards and one touchdown; 0.4 PFF rating
Worst game: Week 8 loss at New Orleans (played 68 of 69 snaps); zero interceptions, one pass defensed, seven tackles, three missed tackles; targeted eight times in coverage, allowing six receptions for 77 yards and zero touchdown; minus-2.8 PFF rating
Expectations at the start of the season: Medium
Expectations were ...  Met
Looking live: Davon House spent the offseason leading into the 2014 season by training with Darrelle Revis in Phoenix. The goal for House during those sessions was to see firsthand how an elite cornerback plays and to try to pick up a few new tricks.
"Just how patient and how balanced he was and how controlled he was," House said of his time with Revis. "His confidence level is top-notch. I guess you could say kind of like how you see A-Rod (Aaron Rodgers), so smooth, and he makes everything look so easy. That's how Revis was."
Whether it was the work with Revis or just the next natural step in his own progression, House got off to a great start in training camp and was thoroughly impressing the coaching staff. House really gained their attention July 30 when he stepped in front of a pass from Rodgers to Jordy Nelson and batted it away a split-second before it would have become a touchdown.
"Davon House is clearly having his best year here as a pro," head coach Mike McCarthy said after that practice. "Just what he's done in the offseason, some of the things he's focused on, things he knew he could improve on. You saw that since April. He's a big, long, strong corner. He does a lot of good things, (and) I think Davon is off to an excellent start."
House became a key part of the special teams groups during training camp, too. He was being used every day on the first-team units on punt return, punt coverage and kickoff coverage. Not that there was any doubt that House would make the 53-man active roster, but he was helping to prove his value to the team with the way he stepped up on special teams.
Upon further review: Without a shoulder injury during the 2012 preseason, it's very possible that House would've entered the 2014 regular season with two years as an outside starting cornerback already to his name. Instead, that job went to Sam Shields at the time, and it's stayed with him since (and got him a four-year, $39 million contract in March 2014). That's left House always having to look for opportunities and needing to wait for an injury to hit before he can really get significant snaps.
House has remained at a disadvantage because he hasn't proven to the coaching staff that he can ever play in the slot. That's the bit of versatility that his game has lacked, whereas a defensive back like Casey Hayward can play both spots on the field.
Given House's good size for the position, plus a skill set that easily passes the eye test, it's hard to believe that the 533 defensive snaps he played in 2013 remains a career high for him. But that's what happens when injuries tend to haunt a player. It happened again to House during the 2014 season. Stepping on the field late in Week 14 to try to shut down Julio Jones, who had 11 catches for 259 yards in the game, House did what no one else on the Packers had been able to do: He disrupted Jones' seemingly unstoppable rhythm. House batted away two passes intended for Jones, including one into the end zone in one-on-one coverage. House put his body on the line for that ball and paid the price, fracturing his scapula. That injury sidelined House for several weeks, and though he returned in time for the playoffs, he wasn't used on defense against either Dallas or Seattle.
Still, it's matchups like the one against Jones that display just how valuable House can be. It also shows how his physical style is a changeup from the way the rest of Green Bay's more speed-oriented cornerbacks play.
Overall 2014 grade: B-minus
Status for 2015: Sixty percent chance of being on the Packers' active roster to begin the 2015 regular season. House is an unrestricted free agent, and he's ultimately competing against fellow free-agent cornerback Tramon Williams to see who Green Bay prefers to keep. With Shields signed to a big-money contract and Hayward needing a chance to show whether he can be viewed as a long-term core player, the Packers won't keep both House and Williams. House offers youth at 25 years old, and he should just now be entering the prime of his career. Williams is the durable, consistent veteran who is past his prime but still a starting-caliber player in the NFL. House is given a "sixty percent chance" here because of Ted Thompson's history of preferring younger players.
Next: Defensive back Micah Hyde
Follow Paul Imig on Twitter
---