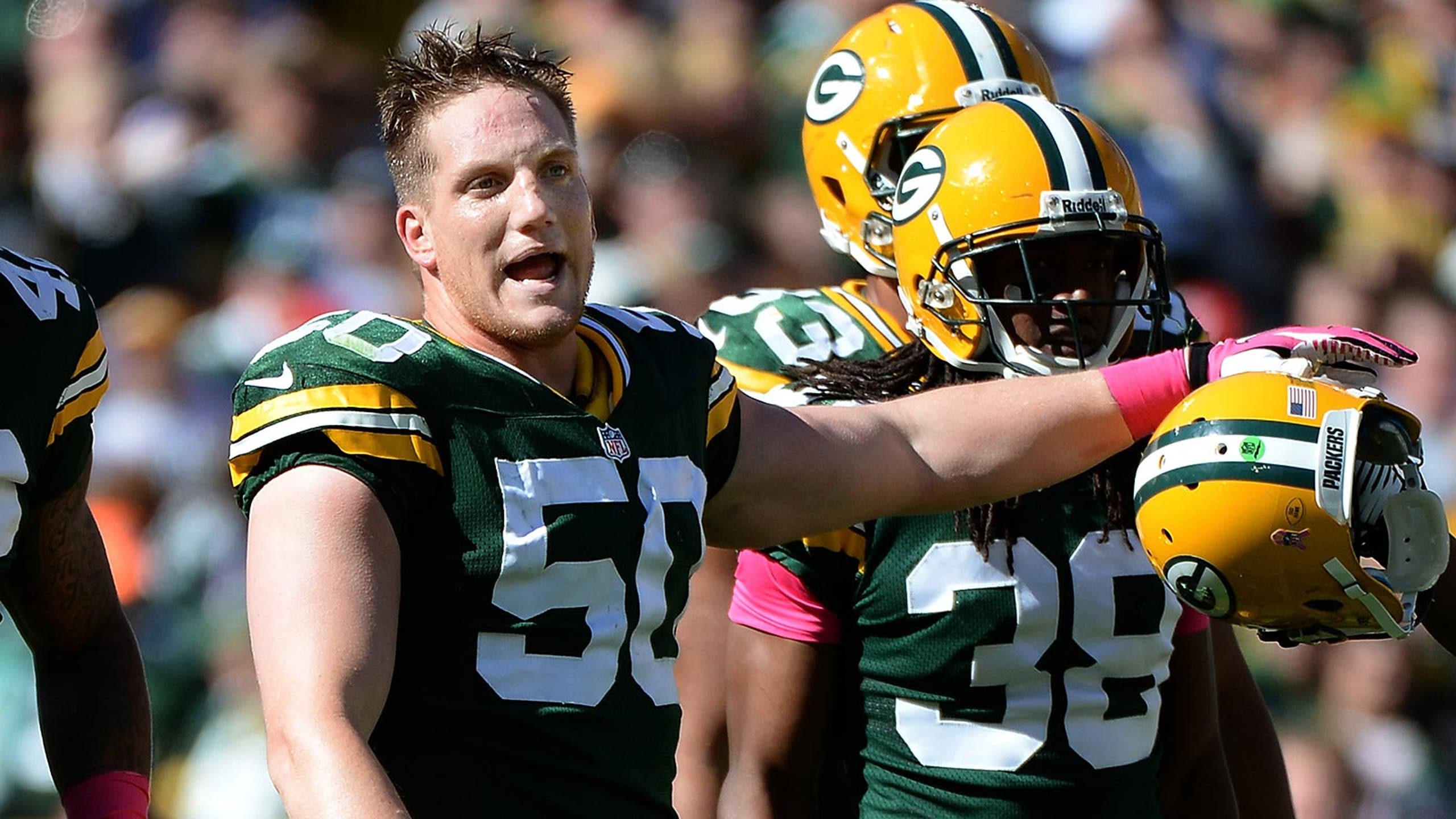 Packers Annual Checkup: A.J. Hawk
BY foxsports • February 21, 2014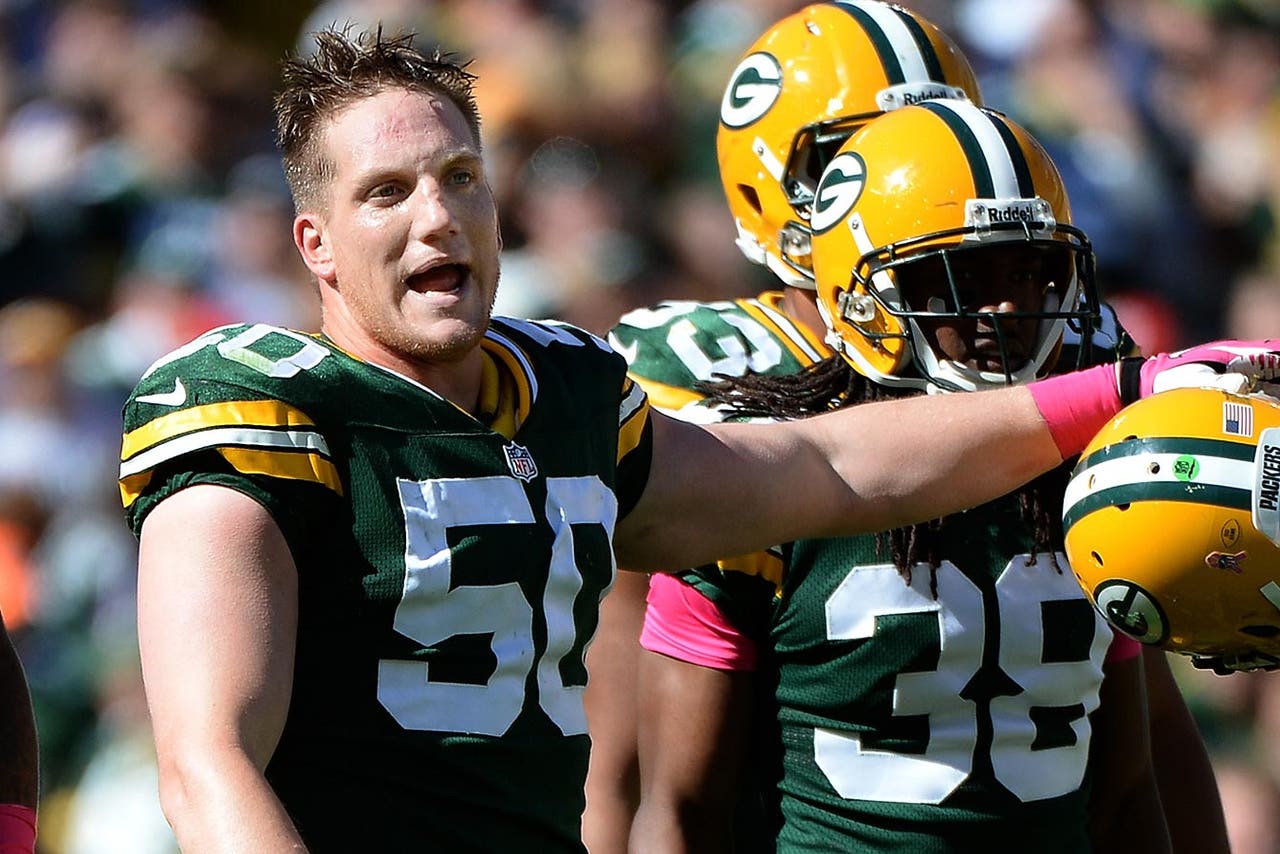 FOX Sports Wisconsin's Paul Imig gives an in-depth statistical analysis and film study of every Packers player in his annual offseason checkup. Check every weekday through mid-April for his latest report.
A.J. Hawk, inside linebacker
Season stats: 17 games (1,078 snaps; 94.8 percent of total defensive snaps); 124 tackles, 5.0 sacks, 11 quarterback hurries, seven tackles for loss, 13 missed tackles, one interception, four passes defensed, one forced fumble, 35 stops (solo tackles that resulted in offensive failure); targeted 53 times in coverage, allowing 37 receptions for 408 yards, two touchdowns
ProFootballFocus.com season rating: minus-12.8 (second-worst on Packers defense; ranked No. 42 out of 53 NFL inside linebackers)
Best game: Week 16 loss vs. Pittsburgh (played all 60 defensive snaps; six tackles, one interception, zero sacks, zero missed tackles, four stops; 3.4 PFF rating)
Worst game: Week 9 loss vs. Chicago (played all 77 defensive snaps; eight tackles, two missed tackles, zero stops; minus-3.1 PFF rating)
Expectations at the start of the season: Medium
Expectations were . . . Exceeded
Looking live: A.J. Hawk's 2013 offseason began with the Packers restructuring his contract and having him take a pay cut. Coming off a 2012 season in which he only played 67.2 percent of the snaps (down significantly from 2010 and 2011 when he was over 92 percent), Hawk's role appeared to be on the decline. Later in the offseason, though, Green Bay released both Desmond Bishop and D.J. Smith, offering more opportunities for Hawk to regain a larger role in the defense. Hawk was ranked No. 19 in FOX Sports Wisconsin's "Most Important Packers in 2013" list heading into training camp, noting that his proven durability would be counted on again with the departures of Bishop and Smith. Hawk noted then that, in order to maintain that clean bill of health at age 29 (and having turned 30 in January 2014), he was getting frequent massages and weekly acupuncture, as well as spending less time in the weight room. He added that he used to do "stupid stuff" in the weight room for 3-4 hours, "killing myself, killing my body," he said. Hawk had a quiet training camp, which is not too surprising from an eight-year veteran. His name only appeared once in the Training Camp Report series, and that came when Hawk intercepted a bad pass from B.J. Coleman.
Upon further review: The Packers' coaching staff felt this was probably Hawk's best season ever, and it'd be difficult to argue otherwise. He went right back up to his playing time from 2010 and 2011, being on the field for 94.8 percent of the defensive snaps in the 2013 season. Some of that was due to Brad Jones' injuries, but the bigger factor was that Hawk was performing the best out of Green Bay's inside linebackers. No, he didn't suddenly become ultra-athletic or shed seconds from his 40-yard dash time. And if Hawk is an NFL team's best inside linebacker, that team needs an upgrade at inside linebacker. But he performed at the peak of his ability, and that is something that any player deserves a lot of credit for (even though ProFootballFocus continued its annual trend of giving Hawk very low marks). Looking back at some of Hawk's most memorable moments in 2013, his one-handed interception in Week 16 may have been the top play of his career. It came in a key moment of the game, too, as the Steelers led by 10 points late in the third quarter when Hawk leaped high into the air and pulled down Ben Roethlisberger's pass. Leading the Packers in total tackles, Hawk also led the team in stops and tied for the team high in tackles for loss.
Overall 2013 grade: B-minus
Status for 2014: Ninety percent chance of being on the Packers' active roster to begin the 2014 season. As mentioned, Green Bay needs to upgrade its inside linebackers group. Hawk should not be playing nearly 95 percent of the snaps. But after his restructured contract from last offseason and a productive 2013 campaign, it's very likely that Hawk plays a ninth season with the Packers. The coaching staff loves his durability, and unless Hawk starts coming down with frequent random injuries, there should be a roster spot for him. Adding top-level talent around him that puts Hawk into a lesser role, however, is a very important aspect of what Green Bay needs to accomplish before training camp opens in July.
Next: Cornerback Casey Hayward
Follow Paul Imig on Twitter
---