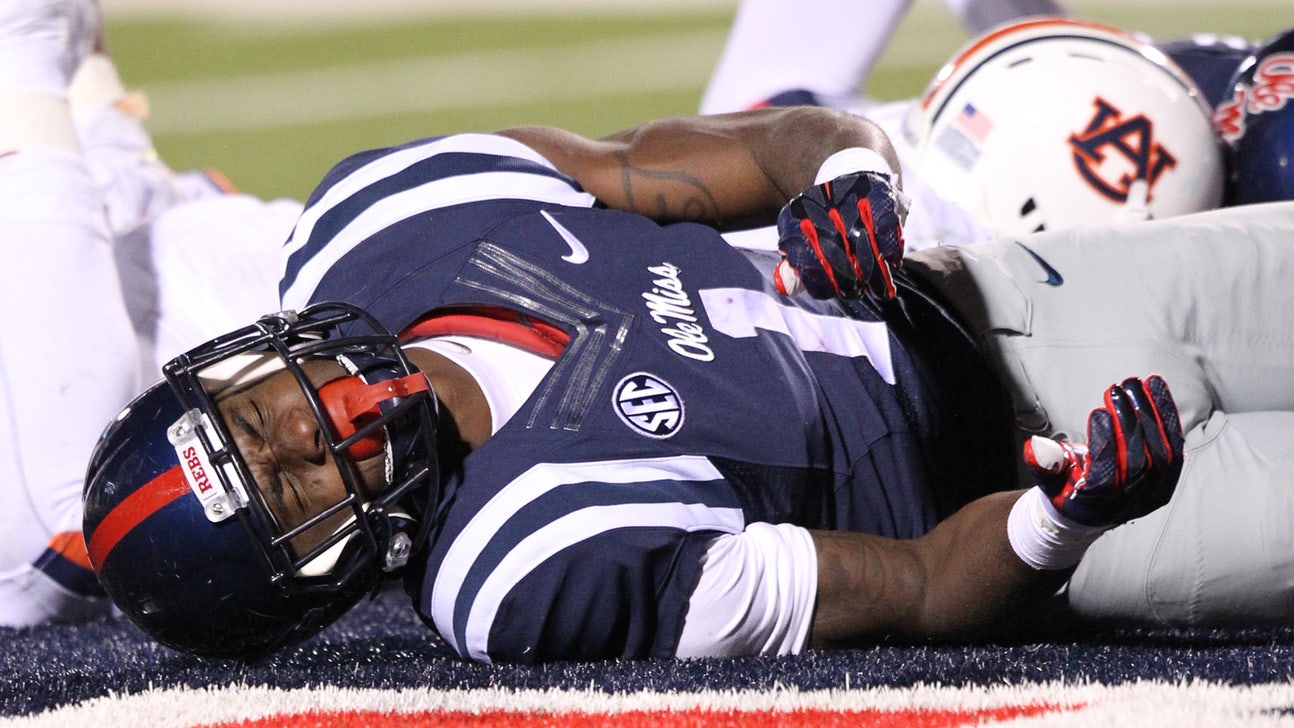 Ole Miss loses game, star receiver Treadwell on same play
Published
Nov. 2, 2014 1:56 a.m. ET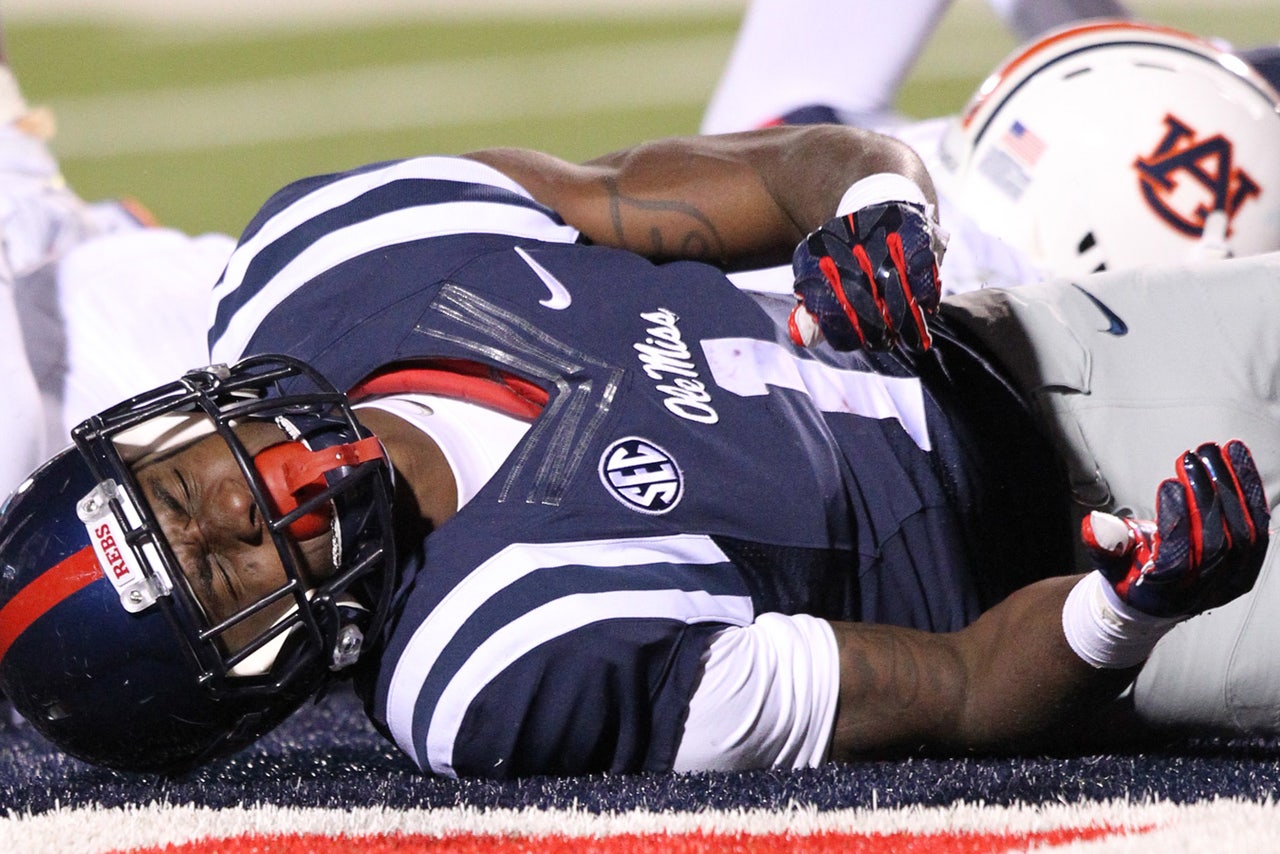 OXFORD, Miss. -- If there is a worse way to lose a football game, it will have to be invented.
On one play Saturday, Ole Miss lost 35-31 to Auburn, likely lost the SEC West and a chance at a national championship and a key playmaker.
Ole Miss sophomore Laquon Treadwell scored what was ruled a touchdown with 90 seconds to play. The Rebels briefly had a 37-35 lead. With Treadwell pulling Auburn linebacker Kris Frost into the end zone for more than three yards, Frost took him down near the belt in what fans wanted called a horse-collar tackle. Treadwell was slammed backward to the ground, his legs violently turned underneath his own body.
With Treadwell on the ground writhing in pain with a broken left fibula and dislocated ankle, the play was overturned and ruled a fumble before he crossed the plane, thus likely ending Ole Miss' bid to, well, everything.
The Rebels entered the game as the fourth team in the first release of the playoff rankings. Auburn was No. 3. Ole Miss coach Hugh Freeze had trouble finding words.
"Um, it's, you know, this is, when you see your young men put so much into preparing for opportunities like we had tonight, you see the hurt that they go through," Freeze said. "We have to be brothers right now as we stand together and get through a challenging time."
One replay changed the national championship picture and the trajectory, for who knows how long, of Ole Miss (7-2, 4-2).
The Auburn (7-1, 4-1) locker room was celebratory. Tigers fans on the front row took selfies with players. At the same time, Freeze's postgame press conference felt like a funeral.
"I am going to tell you right now. Ole Miss is still one of the better teams," Auburn coach Gus Malzahn said. "People are talking about an elimination game, but bottom line, No. 3 was playing No. 4. Ole Miss is still a great team."
Freeze somberly pointed out that life's problems are greater than football's. But Saturday night in Oxford, one play made more than 62,000 people forget their problems, most of them celebrating a play that was headed happily into Ole Miss lore.
Then, the replay crew ripped their hearts from their chests as the Ole Miss training staff carted its star off the field with a season-ending injury.
Ole Miss isn't Alabama or Auburn or Florida State. The Rebels, as well as rival and current No. 1 Mississippi State, are trying to get there. Not there yet, that one play devastated a crazed and hungry fan base. A handful tossed cups onto the turf, but the majority stood silently stunned.
Ole Miss quarterback Bo Wallace marveled after the game about how breaks continue to aid Auburn, but he also had a pleading message.
"I don't see how, when you watch the game, if they're really watching games, I mean, we can't drop far," Wallace said. "We lost the game by that much. I just watched the replay of Quon. We literally lost it by that much. So, our season's still alive we feel like. We'll find out Tuesday how far we fall, but we're going to keep fighting. Crazy things can happen."
And did.
Ole Miss is beat up. A shoulder injury kept top NFL left tackle prospect Laremy Tunsil out. Safety Cody Prewitt and defensive tackle Robert Nkemdiche are banged up. Now Treadwell is done.
Life was unfair to Ole Miss on Saturday. The tackle on Treadwell was violent and the fumble was unfair in the painful circumstance. But it wasn't a horse collar. Auburn completed a couple of prayers from Nick Marshall to Sammie Coates, passes Coates made NFL plays on, but also passes that rarely get completed. The Rebels did turn the ball over twice near the end zone, the first time at the Auburn 1 in the fourth quarter as Wallace landed on top of Auburn defenders and was stripped of the ball before forward progress was stopped.
"If those guys weren't laying there, he would have been down and would have got the first down," said Ole Miss offensive coordinator Dan Werner, who described Treadwell as "down" after the game. "It just seemed like everything that had to happen for us to lose that game did happen."
Ole Miss has three games to play. There's what should be a walk-through against Presbyterian before an off-week, then games at Arkansas and Mississippi State at home; the Egg Bowl is now even bigger for the two-loss Rebels.
No one was thinking ahead as players frantically yelled for medical staff to attend to Treadwell. There were cheers for a touchdown, but also a chilling silence from thousands of eyes staring down at Treadwell, who already had 10 catches for 103 yards and a touchdown.
After the game, much of the student-section end zone stood at their seat or sat head-in-hands, staring in disbelief. They'll do the same in the morning, disgusted, saddened and some physically sickened. It's the beauty, and this year, the Halloween horror of college football.
If anyone ever thought life was fair, watching a play that will go down as one of college football's most defining will change their mind.
A 19-year-old kid lost control of a football near the goal line in a game that would have had his team in a position to do things that don't seem possible at Ole Miss. He had already broken three tackles on the 19-yard run and lost possession of the ball as a bone snapped.
That's as Shakespearean as college football will ever be.
"Our character trait this week was adversity. We're staring it in the face a bit and that's life," Freeze said. "That's the way it goes. A friend loves at all times and there's a brother born for adversity and we've got to be brothers right now as we stand together and get through a challenging time.
"Life's not easy sometimes."
The Associated Press contributed to this report.
---