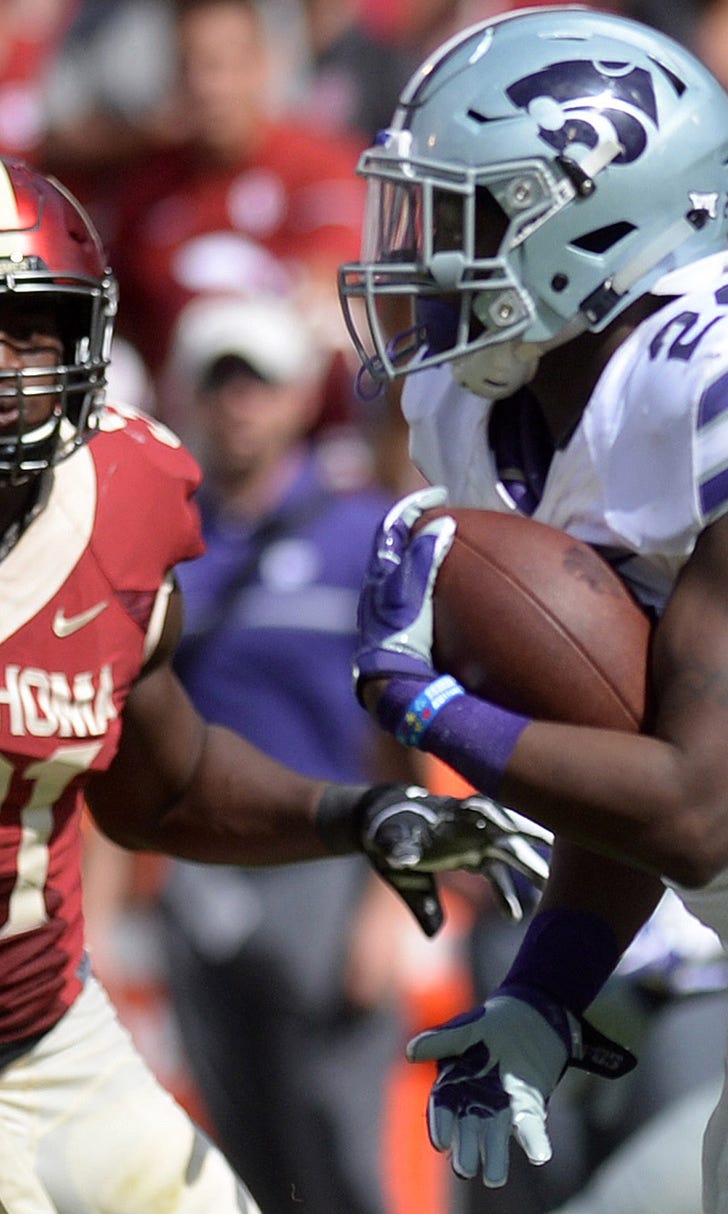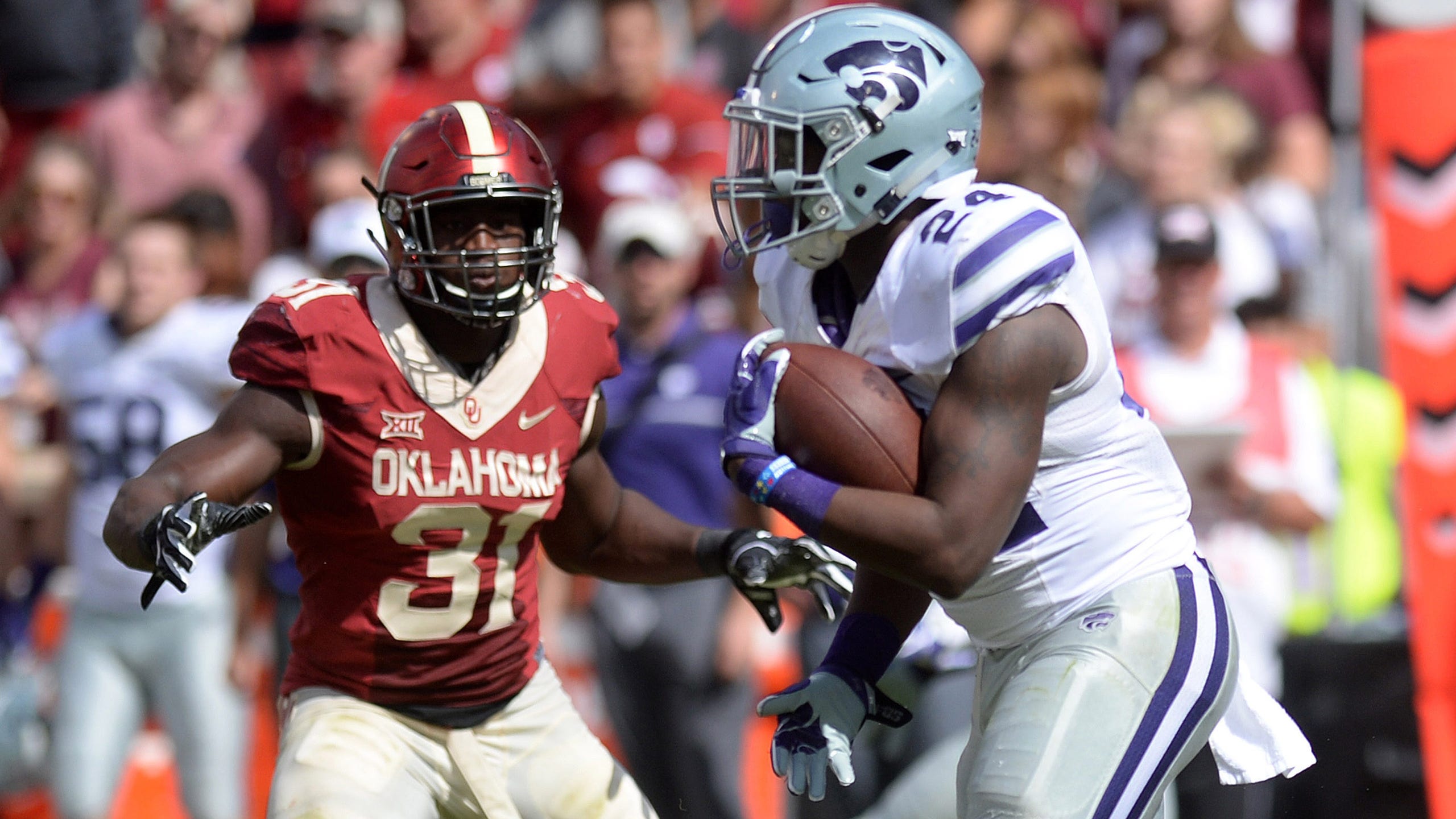 Old school: Look for both Wildcats and Longhorns to pound it
BY foxsports • October 21, 2016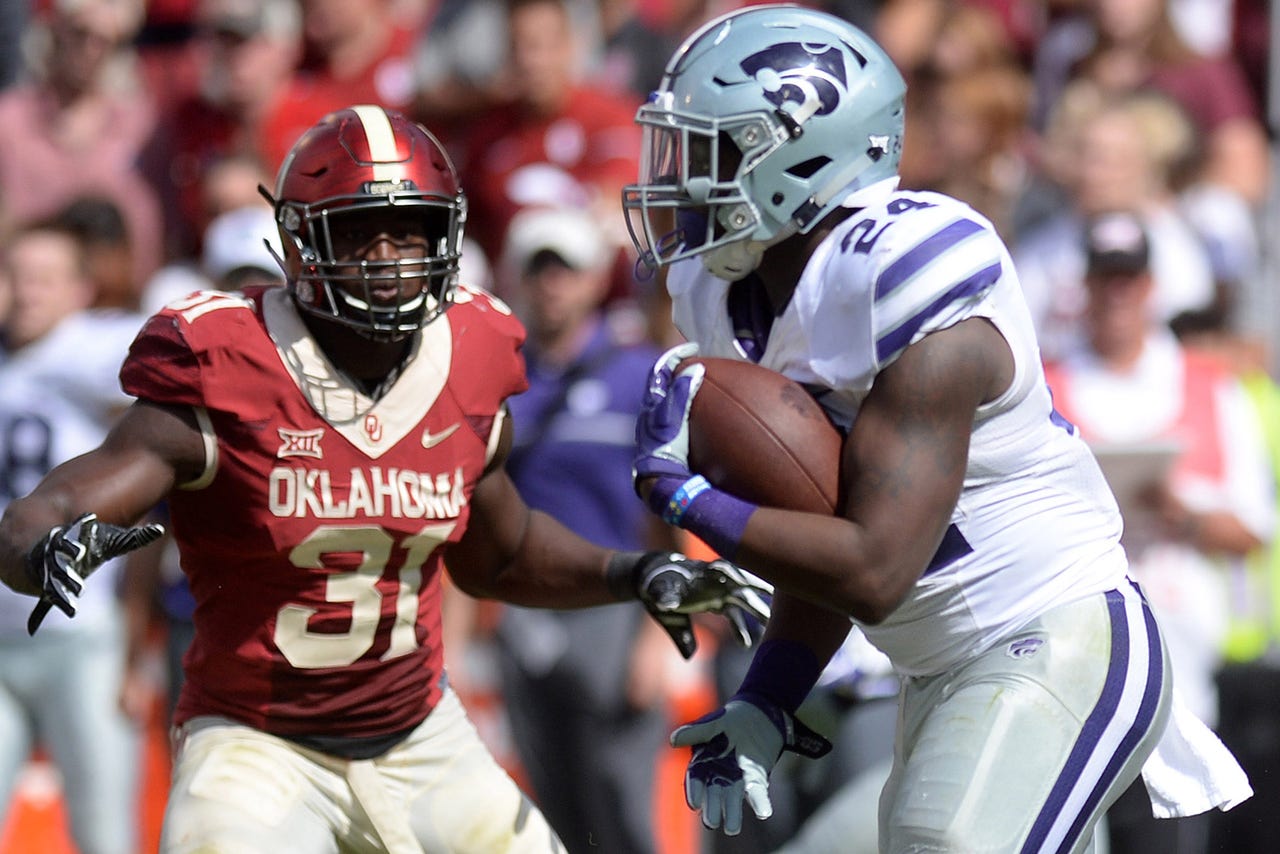 MANHATTAN, Kan. -- The Big 12 has developed a reputation over the years for high-flying offenses, mainly because of the pass-happy exploits of teams such as Texas Tech, Baylor, Oklahoma State and Oklahoma.
Kansas State and Texas are bucking the trend.
The two teams meet Saturday in what can only be described as an old-school matchup between teams that take pride in pounding the football. The Wildcats average more than 175 yards rushing per game and the Longhorns (3-3, 1-2 Big 12) nearly 240.
Texas also has the league's top running back in D'Onta Foreman. The 250-pound bruiser averages 146 yards, second nationally to San Diego State's Donnel Pumphrey, and has reached the end zone eight times through the Longhorns' first six games.
"That man right there is rolling right now. He's really impressive," Texas quarterback Shane Buechele said, "and he's fun to watch. Just seeing what he can do with the ball, he's a great player, and just being able to hand it off to him and seeing what he can do, it's a lot of fun."
Not so much fun is trying to stop him.
But if the Wildcats (3-3, 1-2) have one thing going for them, it just may be that they have the best run defense in the conference. They held the Sooners in check last weekend -- they were ripped apart through the air -- and have generally made things tough on opposing runners.
Then again, Foreman serves up a totally different test.
"He's a very powerful runner, stays on his feet extremely well, has excellent lower-body strength but can bounce the ball out as well," Kansas State coach Bill Snyder said. "He's a very talented, young back, and what is impressive to me is he's been consistent about it throughout the season."
The Wildcats counter with a committee approach to running the ball -- Charles Jones, Dalvin Warmack, Justin Silman, Alex Barnes and fullback Winston Dimel all have had a part this season.
Their performance will be especially crucial with quarterback Jesse Ertz dealing with a nagging shoulder injury. It prevented him from finishing the game against Oklahoma, though Snyder said early in the week that he expects his starter to play Saturday.
As the Wildcats prepare to meet the Longhorns, here are some of the other key story lines: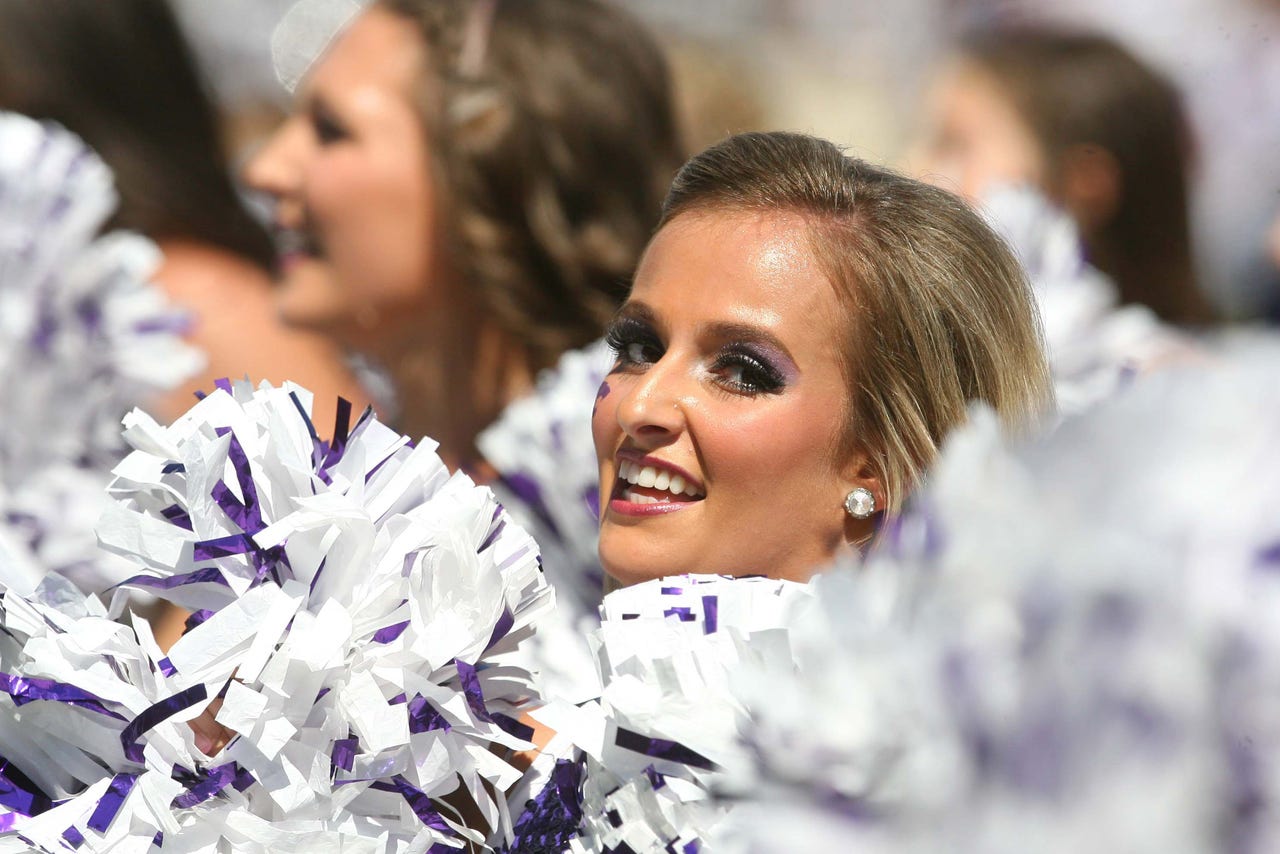 View from the sidelines: College football cheerleaders 2016.
PROTECTING THE QB: Ertz's health could become a factor considering Texas ranks fourth nationally with 23 sacks. Kansas State has shuffled the offensive line a bit and surrendered two sacks last week, but a young group has mostly played well this season.
BACKUP PLANS: The Wildcats' Joe Hubener struggled after taking over for Ertz last weekend, but Snyder indicated that he would be first off the bench. Alex Delton has also played this season but he's primarily a run-first threat, and Kansas State would prefer to keep some offensive balance.
SHAKY PASS D: One reason the Wildcats want to throw the ball? Texas has the nation's third-worst pass efficiency defense. Oklahoma's Baker Mayfield shredded the Longhorns for 390 yards and three TDs a couple weeks ago, though Iowa State fared much worse last weekend.
"We've got to play smart, and we have to be consistent in our play," Texas coach Charlie Strong said, "but we have to go get stops, and we need to just -- on defense we need to go play defense."
BIG NUMBERS: While the Wildcats have struggled to move the ball this season, Texas has had no such problems. The Longhorns have piled up at least 500 yards of offense four times, more than the past two seasons combined. The school record for a season is six times.
"Part of our preaching is about playing a complete game," Texas offensive coordinator Sterlin Gilbert said. "If we're playing good on the defensive side of the ball and special teams, then we've got to do our part on the offensive side of the ball. We're just continuing to preach that."
K-STATE DOMINANCE: The Longhorns have won only once in seven tries in Manhattan, back in 2002, and the Wildcats are the only Big 12 team to have a series lead. They are 9-7 against Texas all-time.
"It would mean a lot to keep that streak alive," said Kansas State offensive lineman Abdul Beecham, a Texas native. "K-State is all about tradition, and to keep that tradition going would mean a lot to not only me, but to my teammates and the school as well."
---