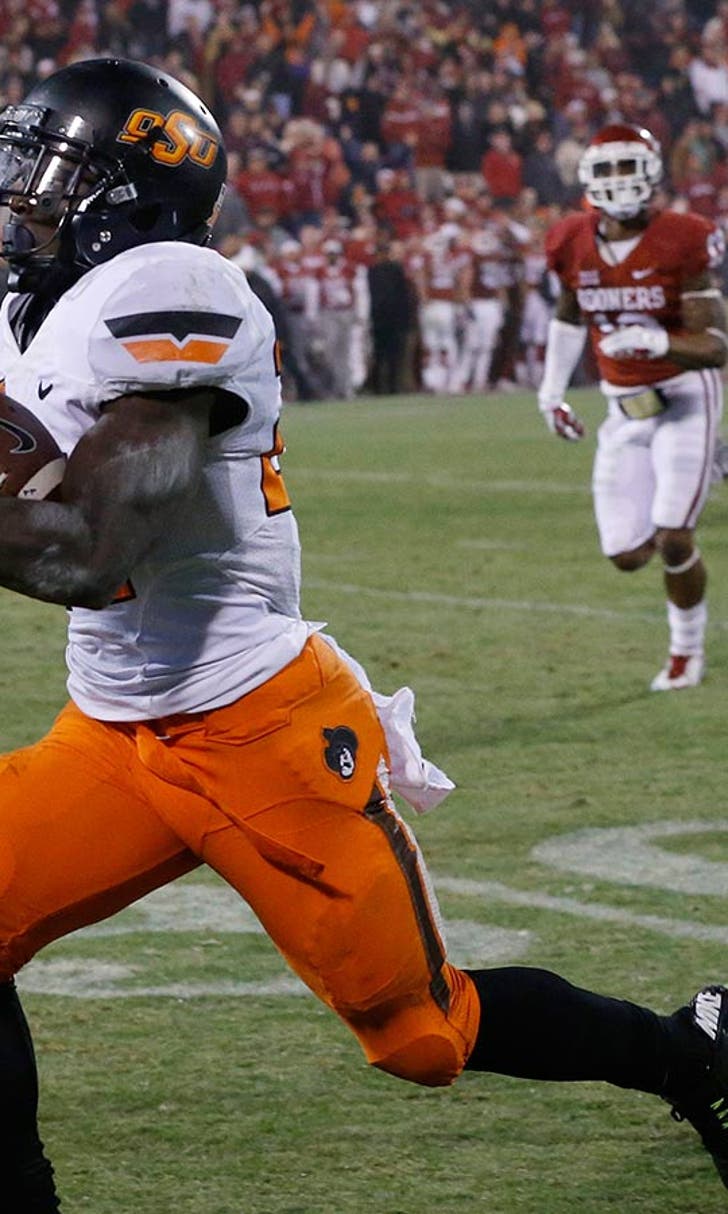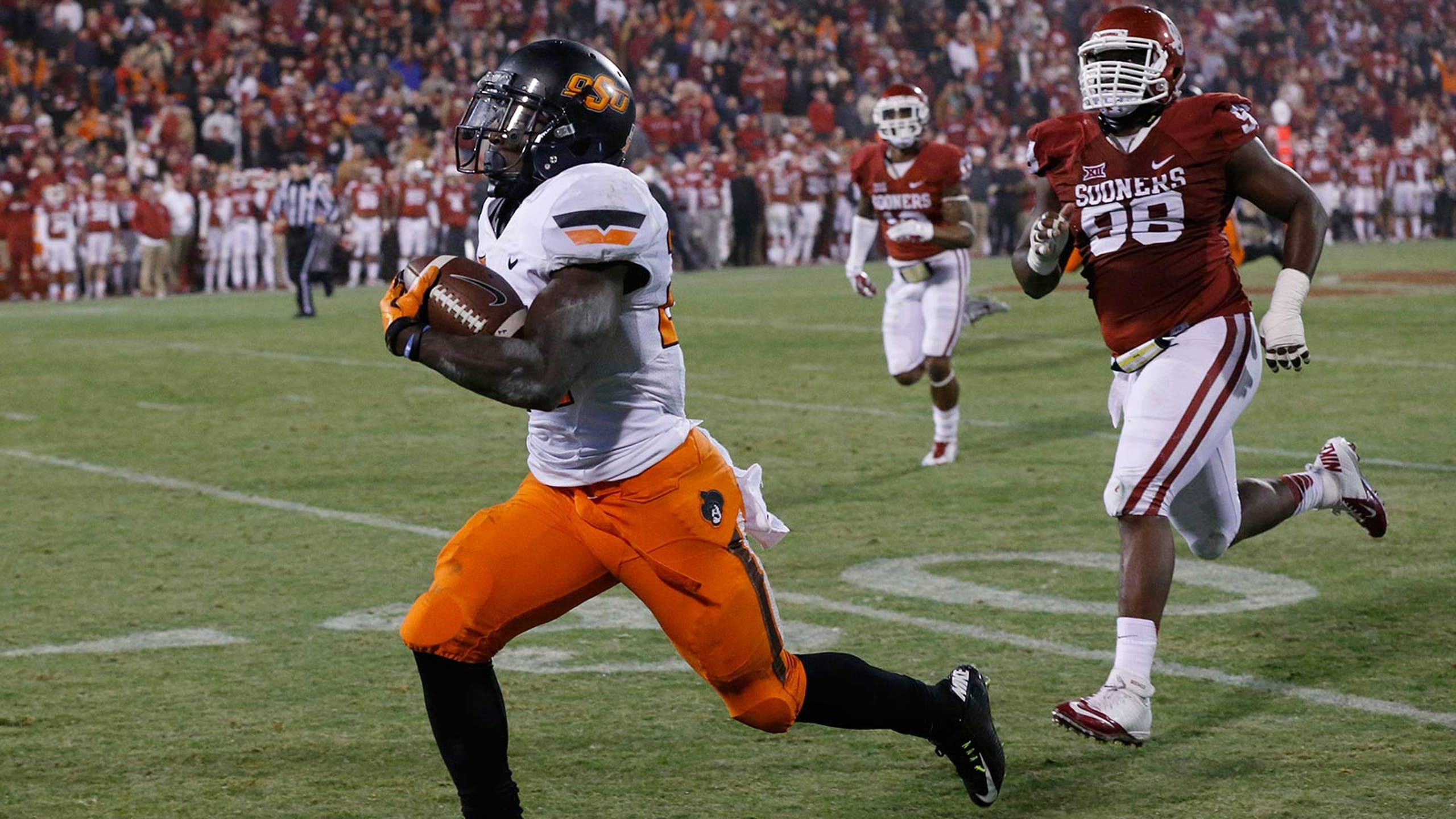 Oklahoma State star Hill dismissed after domestic violence complaint
BY foxsports • December 12, 2014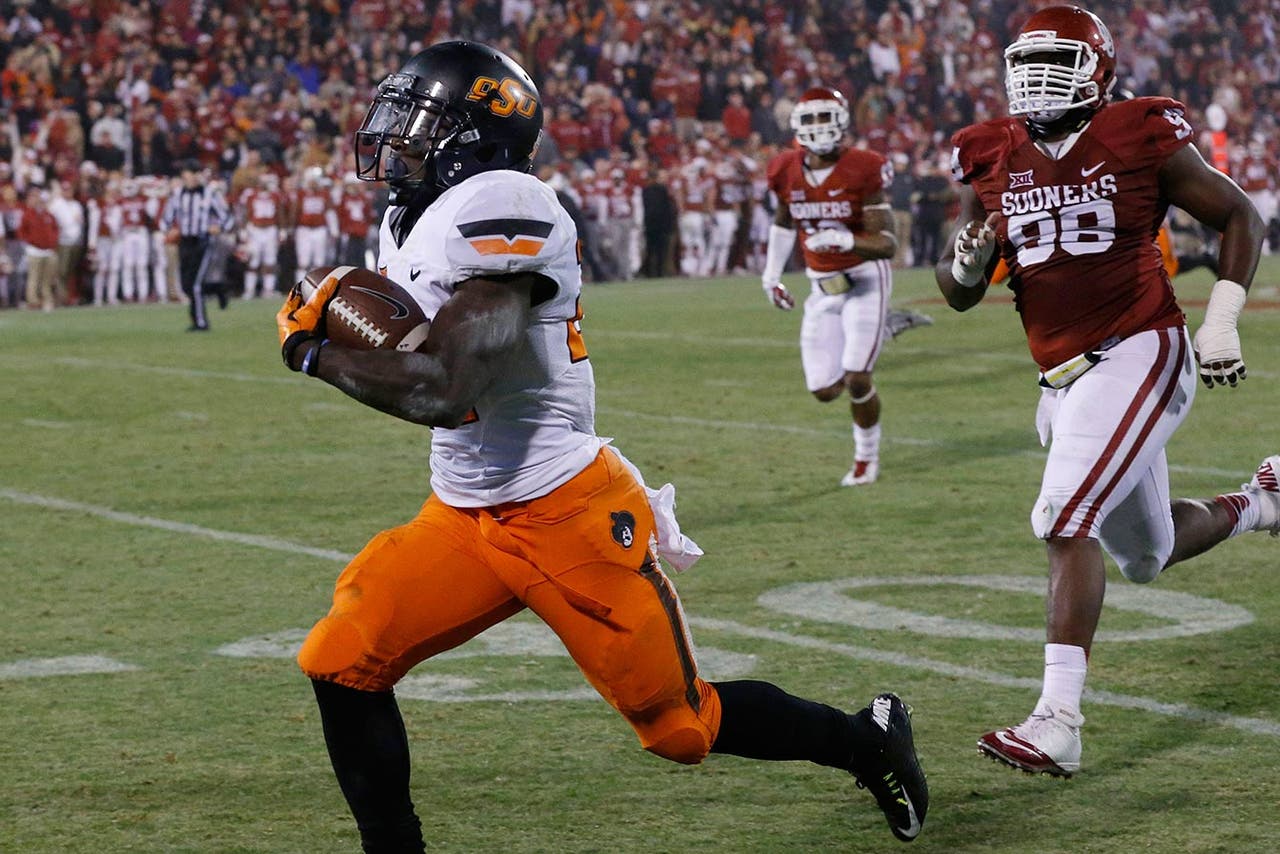 Oklahoma State junior running back Tyreek Hill was arrested late Thursday night on felony domestic abuse by strangulation charge, Stillwater police said Friday. 
The alleged victim, an unnamed 20-year-old female who identified herself as Hill's girlfriend, told police at the Stillwater Medical Center Emergency Room that an argument escalated into a physical altercation. 
Oklahoma State announced Friday evening that Hill was dismissed from the football and track programs, and that the Oklahoma State Office of Student Conduct will undertake an investigation of the allegations independent from Stillwater Police.
The alleged victim had gone to the hospital to treat her injuries after the altercation, and police responded to the report at 9:39 on Thursday evening. 
Shortly after 11 p.m. on Thursday, police contacted Hill at his residence, where he was arrested on the felony charge, which is punishable by one to three years imprisonment and/or a $3,000 fine. 
The alleged victim said Hill struck her in the face and stomach and choked her during the assault. She also said Hill "threw her around like a 'ragdoll,'" according to the police report. She had suffered a busted lip and police observed a mark under her left eye that darkened while the officer was in Hill's home. The officer also said the right side of the victim's neck was red, where she said Hill had choked her. 
Police said her injuries were consistent with her statements. 
The alleged victim said her and Hill had been dating since June and she was eight weeks pregnant with his child. She told police she was "very concerned" about her pregnancy because Hill had punched her in the stomach, the police report said. 
She told police that there had been previous violence "a few times," but it "had not been this bad." She said there was a lot of "man handling" but that Hill had never hit her. 
Hill said he was being arrested for being black and that his girlfriend was white, according to the report
The Oklahoman reported that Hill remained in the Payne County Jail as of 9:30 a.m. Friday morning.  
Hill, a junior college transfer from Pearson, Ga., helped Oklahoma State upset Oklahoma with a 92-yard punt return in the final minute of the Cowboys' 38-35 Bedlam upset last Saturday. He finished the regular season with 534 rushing yards and a touchdown with 281 receiving yards and a score. 
Earlier this week, he was named Big 12 Newcomer of the Year, as voted on by the league's coaches. 
---