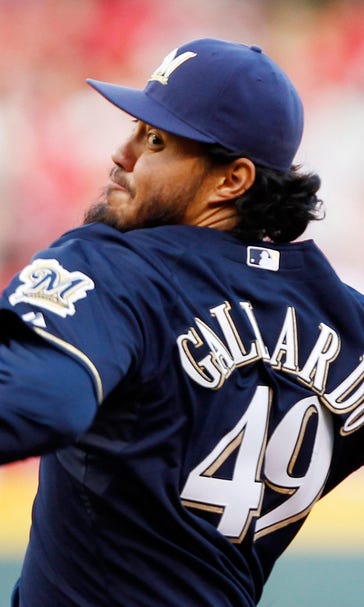 Off the mark: Brewers stung by Cincinnati
BY foxsports • May 3, 2014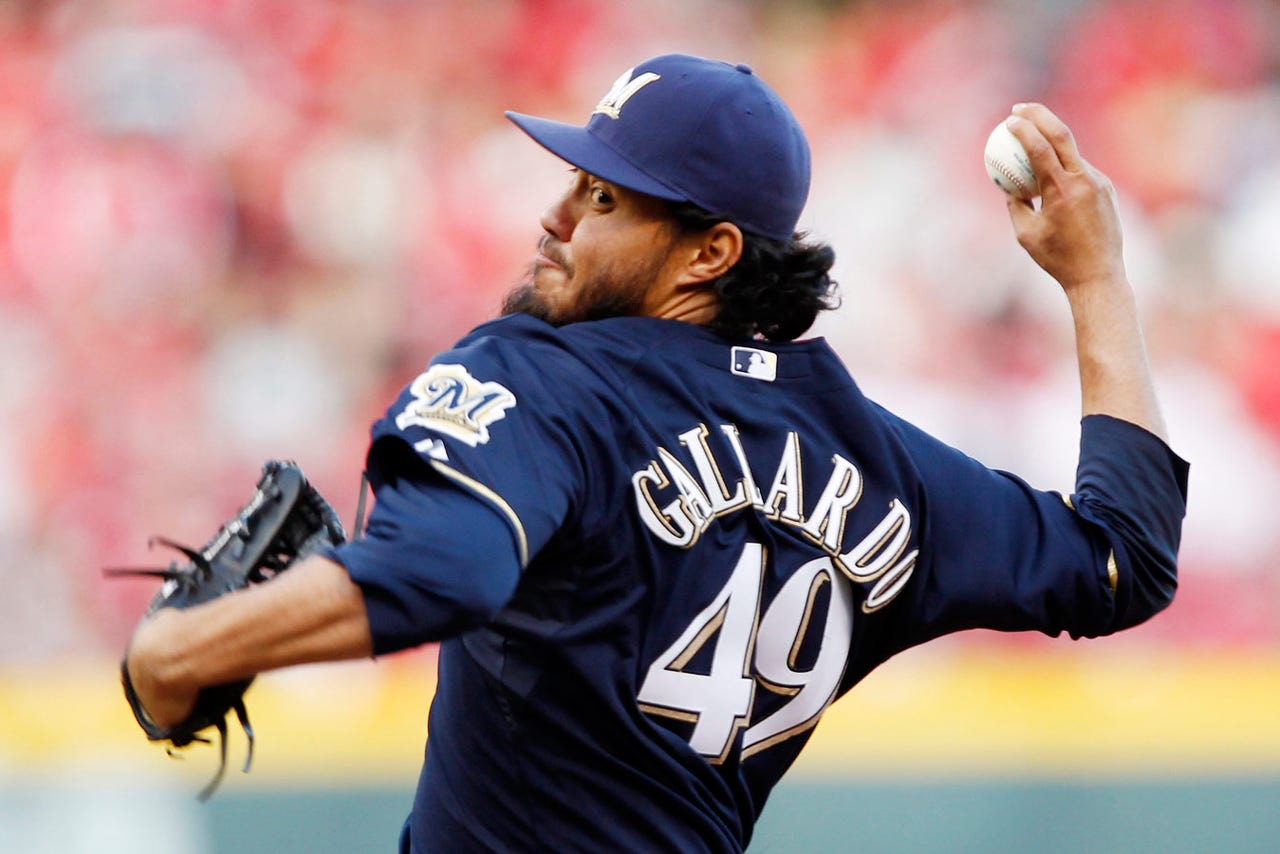 With the way Johnny Cueto has been throwing the ball, the Milwaukee Brewers knew they needed a strong pitching performance to have any chance of winning Saturday night.
Yovani Gallardo was unable to match his counterpart, as Cueto continued his early season dominance by allowing just three hits over eight innings to lead the Cincinnati Reds to a 6-2 victory over the Brewers at Great American Ballpark.
Cueto, who entered with a major-league best 1.15 ERA, also entered having allowed just one earned run over his last 30 innings. He's now worked eight or more innings in his last four starts and hasn't allowed more than two earned runs all season.
The right-hander's stretch of seven starts of going at least seven innings with fewer than two earned runs to start the season is one off the all-time record set by Fernando Valenzuela in 1981.
"We knew we were going to have a tough time when we faced him," Brewers manager Ron Roenicke said. "We were hoping we'd get a great pitching performance to match him."
To put in perspective just how good Cueto has been, right-handed hitters entered Saturday with a .152 batting average, while lefties were hitting .115. The two teams that have beaten Cueto in 2014 did so by winning 2-1 and 1-0.
That meant Gallardo had to be sharp, and he wasn't. Gallardo came into Saturday's start with a sub-2.00 ERA himself, but didn't have his best stuff against the Reds.
Aramis Ramirez put the Brewers up 1-0 with a solo home run in the second, a lead that stood until the bottom of the fourth when Cincinnati scored three runs off Gallardo to take control of the game.
Brandon Phillips and Jay Bruce singled with one out, while Gallardo hit Todd Frazier with a pitch to load the bases. After Ryan Ludwick tied the game with an RBI single, Brayan Pena flared a hit into left to score two to make it 3-1 Reds.
Mark Reynolds cut the Cincinnati lead to 3-2 with a solo home run in the fifth, but the Reds scored again against Gallardo in the sixth inning on a two-out RBI single by Cueto.
Gallardo allowed four earned runs on nine hits and struck out just one batter for the first time since July 30 of last season.
"Yo wasn't quite on today," Roenicke said. "He battled today and kept us in it, but he wasn't on. He didn't throw any curveball for strikes.
"We need to get (Gallardo's curveball) back. He has to have something that's off speed that they have to worry about instead of just cutter-fastball. It's different when you are Cueto. If he throws 95-96, with a 90 mph cutter, that's a pretty good combination."
Milwaukee's struggling offense was no match for Cueto, as the right-hander didn't have to work out of the stretch until after he allowed an infield single to Jean Segura in the eighth inning. Two of the three hits the Brewers got off Cueto were solo home runs, and their only walk came in the eighth inning.
"Going into the game you know how tough it is going to be to score runs," Roenicke said. "You get two and you hope your pitcher keeps them to one or two and then you are matching bullpens."
The Brewers have now scored three runs or fewer in four straight games, but a lot of Saturday night's struggles can be contributed with how well Cueto is throwing the ball.
"We're not swinging the bat that well," Roenicke said. "It's hard to say what to do with the lineup. Guys are playing enough. If somebody is hot, they are going to be in there more. As a group, we'll get it going."
Reaction to Braun's DL stint: The Brewers tried to hold out hope Ryan Braun's strained right oblique wouldn't require a trip to the disabled list, but eventually the move had to be made.
Braun was placed on the 15-day disabled list prior to Saturday day's game, freeing a roster spot for the Brewers to activate Logan Schafer from his stint on the DL.
"I think for a lot of reasons this made the most sense for me and for the team," Braun said. "Just looking at it from a longterm perspective it made sense to try to get healthy now instead of really trying to force it and rush back, and the difference would have probably been only a couple games."
Out since April 26, Braun said the earliest he could have played would have been sometime late next week. He's eligible to return from the DL on May 12, making the difference only a couple of days.
"We're headed in the right direction," Braun said. "If we weren't I think we would have made this move immediately. It's definitely gotten better. The oblique's one of those tricky injuries that's challenging in working your way back from it. It's definitely something you need to be careful with, so hopefully we can completely get rid of it when I'm able to come back."
Ramirez's funk: Aramis Ramirez came into Saturday's game mired in an 0-for-28 slump at the plate, tying the longest hitless streak of his career.
Ramirez went through an 0-for-28 stretch from June 25 to July 5 in 2008 with the Cubs and then went through a 26 at-bat hitless streak from July 13 to July 23 of 2008.
"It happens," Ramirez said. "You don't want that to happen. You never want to let it happen during the season, but it happens. You're not going to be hitting well for 162 games -- that's next to impossible. But the important thing is we're winning, and that's all that matters."
Just as he did in 2008, Ramirez broke out with a home run. His solo blast off Cueto in the second inning gave him the most home runs of any active player against the Reds' ace.
Follow Andrew Gruman on Twitter
---