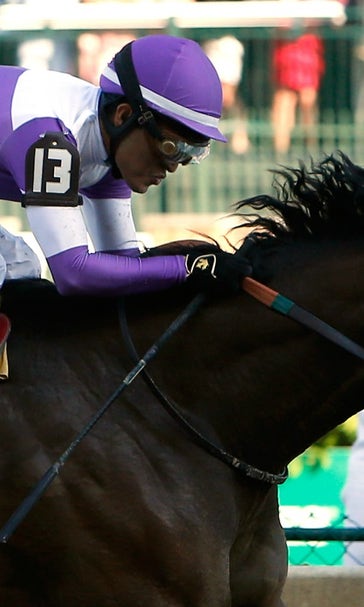 Nyquist shapes up as strong choice to capture the Preakness
May 11, 2016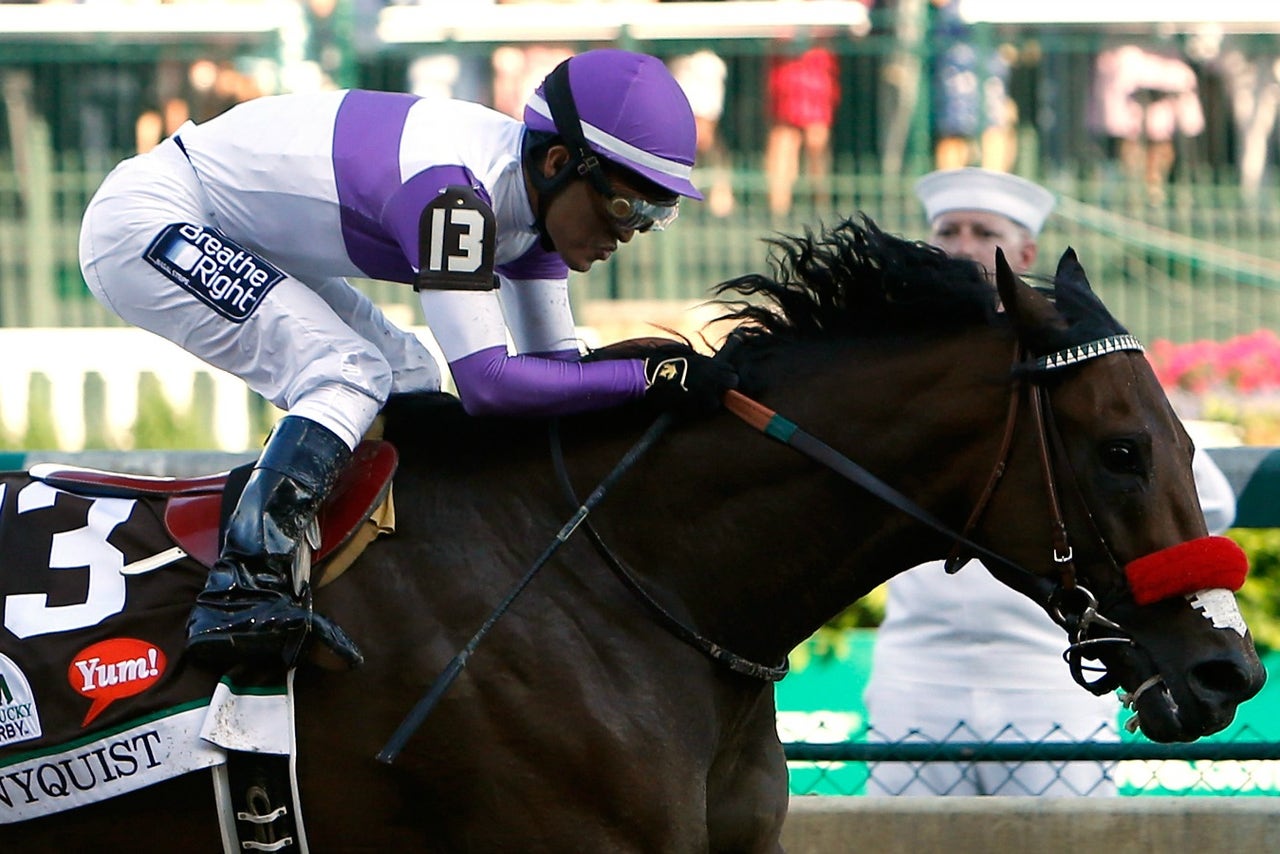 Making the Grade, which will run through the 2016 Belmont Stakes, focuses on the winners of the big races, usually from the previous weekend, who could impact the next Triple Crown. We'll be taking a close look at impressive winners and evaluating their chances to win classic races based upon ability, running style, connections (owner, trainer, jockey) and pedigree.
This week we take a closer look at Nyquist, winner of the Kentucky Derby on May 7 at Churchill Downs, and evaluate his chances to win the Preakness Stakes on May 21.
Nyquist looked like a formidable favorite entering the 2016 Kentucky Derby as an unbeaten champion who had overwhelmed highly regarded Mohaymen in the Xpressbet.com Florida Derby in his previous start. He showed the ability to overcome trouble when winning the Sentient Jet Breeders' Cup Juvenile, boasted a valuable asset with his tactical speed and clearly relished a battle. On paper, Nyquist was by far the best horse in the race and he delivered on the racetrack.
Ability: Nyquist improved to 8-for-8 in the Kentucky Derby. Easily the best 2-year-old male in 2015, he has thus far proved the best 3-year-old of 2016 as well. He has the speed to dominate when sprinting -- Nyquist has four wins at seven-eighths of a mile or less -- and the stamina to carry it around two turns. I'm not sure he's a natural 1 ¼ miles horse, but he's clearly superior to the opposition and his winning time in the Kentucky Derby of 2:01.31 was the fastest since Funny Cide (2:01.19) in 2003. That, no doubt, was assisted in part by the blistering opening half-mile in :45.72, set by Danzing Candy, but Nyquist showed he could stay within striking distance of a very fast pace and still have enough fuel in the tank to unleash a powerful finishing rally.
Nyquist has yet to run a superb speed figure, but he has been very consistent with 107, 107 and 108 Equibase Speed Figures in three races this year. He also has demonstrated a strong will to win and appears to be a very smart horse who doesn't get rattled by travel or crowds or adversity.
Nyquist also is pretty well rested with five weeks off between the Florida Derby and the Kentucky Derby and only two starts before the Triple Crown, so he should have at least another solid race in him. Ten of the last 19 Kentucky Derby winners have gone on to win the Preakness as well, and Nyquist is well-positioned to become the 11th in 20.
Running style: This is where Nyquist really fits the mold of a dual classic winner. Blessed with a high cruising speed, Nyquist is able to use that asset to gain good position early in races as he did when Mario Gutierrez had him in the clear in second or third through the first three-quarters of a mile in the Kentucky Derby. Of the 10 runners in the last 25 years to win both the Kentucky Derby and the Preakness, none was worse than fourth with a quarter-mile remaining in the Derby. Eight of those 10 were within four lengths of the lead after three-quarters of a mile in the Derby. Derby-winning closers have not had success in the Preakness, but stalkers and horses who press the pace like Nyquist have a very high strike rate.
Connections: Nyquist shares the same connections as 2012 Kentucky Derby and Preakness Stakes winner I'll Have Another. He is owned by Paul Reddam and trained by Doug O'Neill. I'll Have Another's jockey Mario Gutierrez also has been aboard for all eight of Nyquist's races.
Dennis O'Neill, Doug O'Neill's brother, picked out both I'll Have Another and Nyquist from 2-year-olds in training sales. He landed I'll Have Another for $35,000 out of the 2011 OBS spring sale of 2-year-olds in training. Nyquist was purchased for $400,000 at the Fasig-Tipton Florida sale of selected 2-year-olds in training.
Reddam has raced Thoroughbreds since he claimed his first horse in 1998. He previously won the Breeders' Cup Juvenile in 2004 with Wilko, whom he owned in partnership. Nyquist gave him a second Breeders' Cup Juvenile win and his third overall at the World Championships. He also won the Breeders' Cup Turf in 2006 with Red Rocks. Reddam is the president of CashCall, a finance lending company.
Doug O'Neill took out his trainer's license in 1994 and earned his fifth Breeders' Cup win with Nyquist. O'Neill won the 2005 Breeders' Cup Juvenile with Stevie Wonderboy, the 2006 Sprint with Thor's Echo, the inaugural Filly and Mare Sprint in 2007 with Maryfield and the 2013 Dirt Mile with Goldencents. For years, O'Neill was best known as the trainer of superstar gelding Lava Man. O'Neill claimed Lava Man for $50,000 and he went on to win seven Grade 1 races and earn more than $5 million in O'Neill's care.
Gutierrez, a native of Mexico, became a household name as the jockey of I'll Have Another during his 2012 Triple Crown run that featured wins in the Kentucky Derby and Preakness. Gutierrez, 29, has amassed more than 950 wins and 112 stakes wins since he took out his jockey's license in 2006. Gutierrez will turn 30 the day before this year's Preakness.
Pedigree: Nyquist is from the first crop of 2010 champion 2-year-old male Uncle Mo, who was an absolute monster on the racetrack as a 2-year-old when winning his three starts by a combined margin of 23 ¼ lengths. He earned an incredible 123 Equibase Speed Figure for winning the 2010 Juvenile at Churchill Downs. Purely from a speed figure perspective, Uncle Mo is arguably the fastest juvenile in recent history. Uncle Mo did not win any of the Triple Crown races at 3, but he did have a pair of blistering races in 2011, earning a 120 speed figure for his runner-up finish in the Grade 1 King's Bishop Stakes at seven-eighths of a mile and a 123 for winning the one-mile Kelso Handicap.
Uncle Mo is off to a remarkable start as a sire. In addition to champion 2-year-old male Nyquist, Uncle Mo had Wood Memorial Stakes winner Outwork and graded stakes winner Mo Tom from his first crop in the field for the Kentucky Derby. His 13 stakes winners from his first crop also includes 2015 Grade 1 winner Gomo.
Uncle Mo never won a race longer than 1 1/16 miles, but it appears his top runners can go a bit farther than their sire, as evidenced by Nyquist and Outwork.
I was concerned about Nyquist's chances in the Breeders' Cup Juvenile because of the pairing of Uncle Mo with Nyquist's dam (mother), Seeking Gabrielle. Her only win came in a sprint at three-quarters of a mile and she was unplaced in three races at a mile or longer.
Seeking Gabrielle does boast class, however, as a half-sibling (same dam, different sire) to graded stakes winner and producer Seeking the Sky, graded stakes-placed winners Seeking the Money and Seeking It All and stakes-placed winner Seeking the Glory. All five were produced by 1994 Adirondack Stakes winner Seeking Regina, the grandam (maternal grandmother) of Nyquist.      
I expect a very good performance from Nyquist in the Preakness. I hesitate to state that only a troubled trip could prevent him from moving on to the Belmont Stakes with a shot at the Triple Crown because he did look a little gassed after the Kentucky Derby. Still, I think he wins the Preakness and does so rather easily.
---