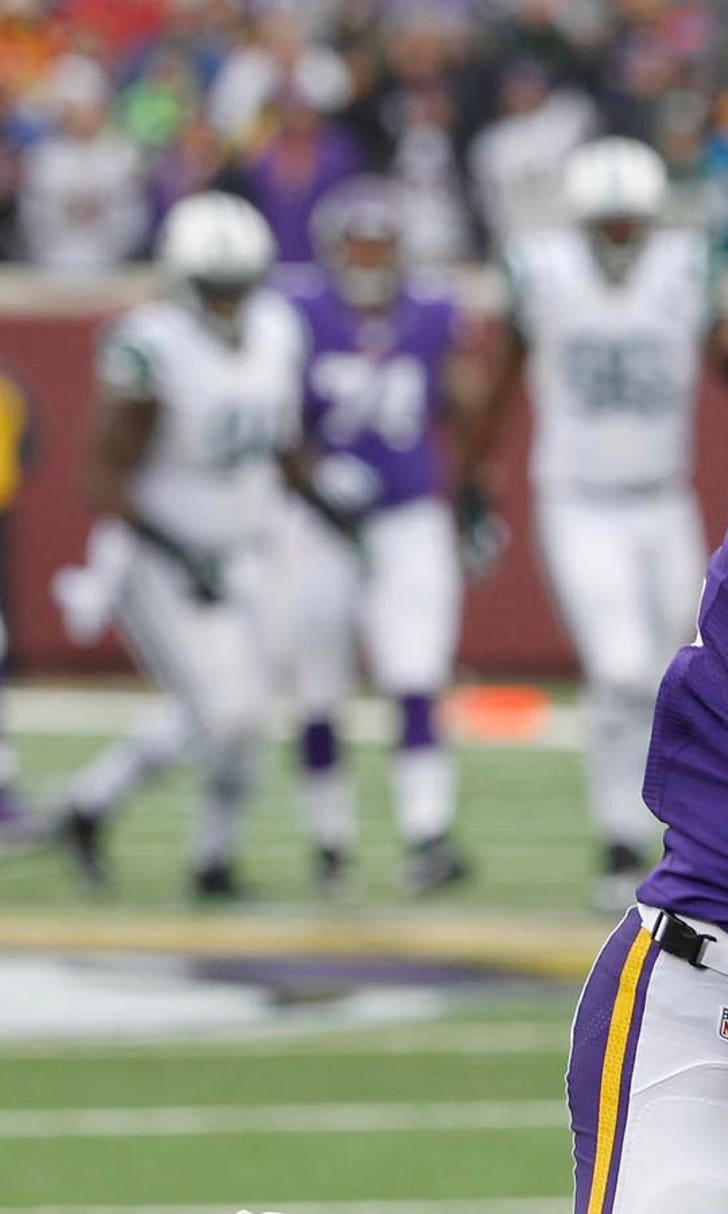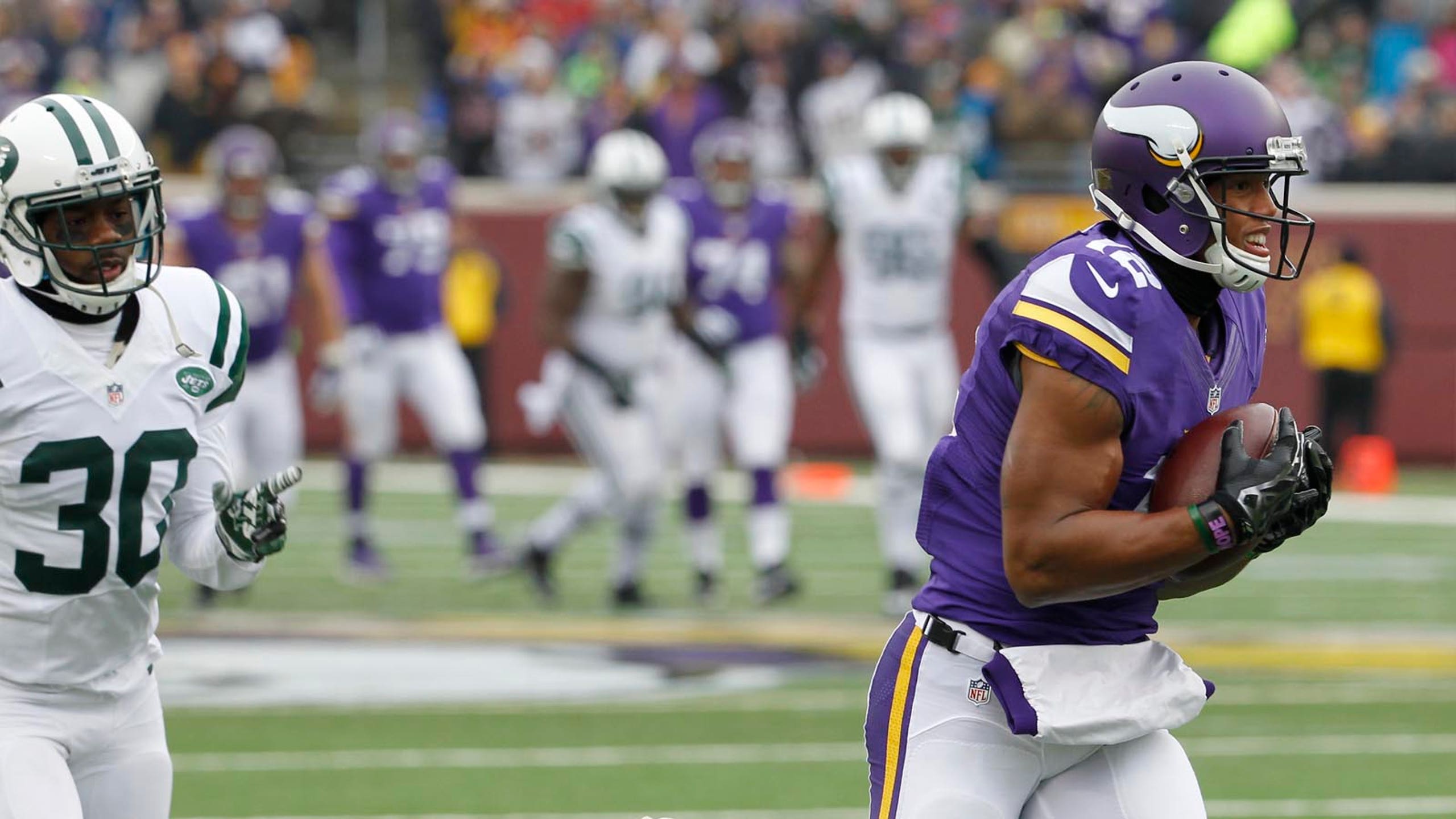 Notebook: Johnson's big day separates him further from Patterson
BY foxsports • December 7, 2014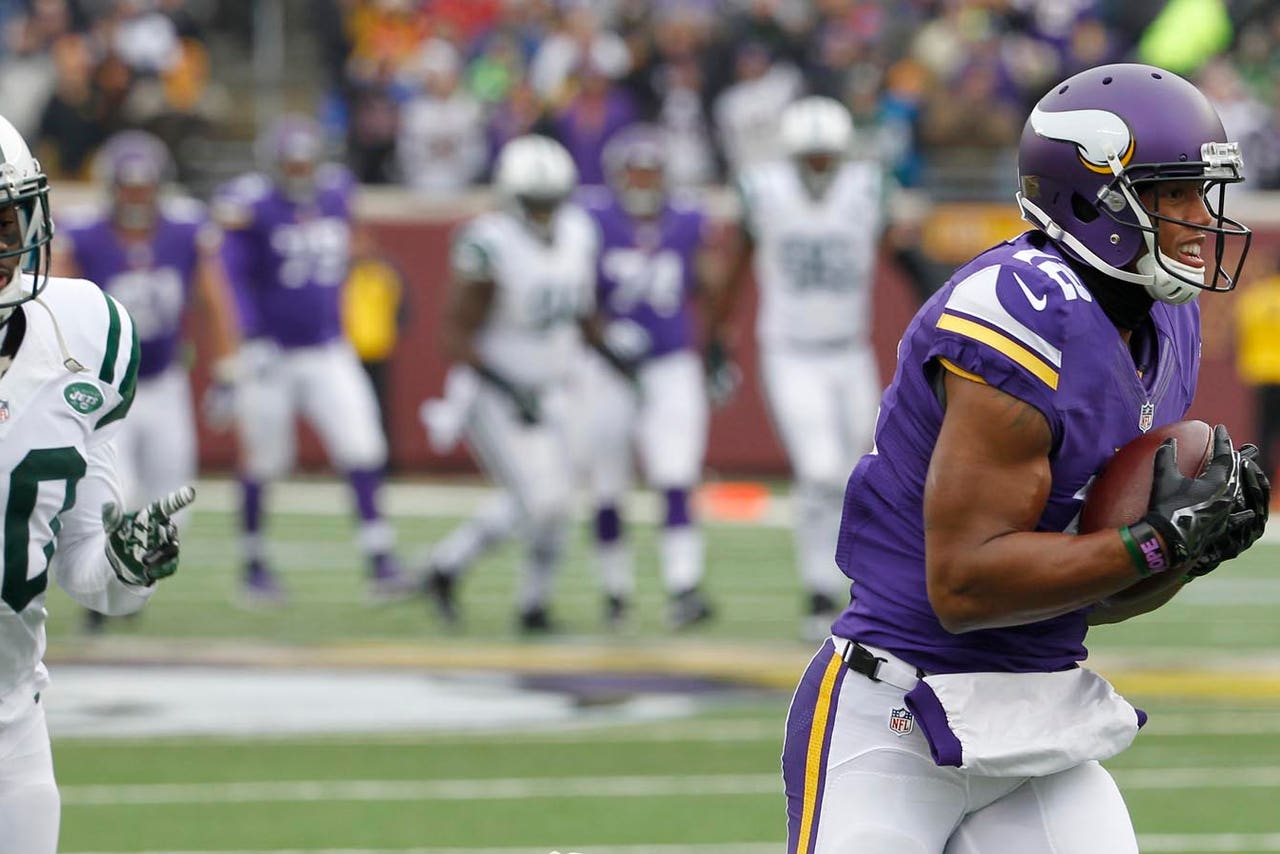 MINNEAPOLIS -- Offensive coordinator Norv Turner confirmed this week that receiver Charles Johnson had surpassed Cordarrelle Patterson on the Minnesota Vikings' depth chart.
Johnson demonstrated again why he's now Minnesota's starting split end.
The second-year receiver who was signed off the Cleveland Browns' practice squad in September caught four passes and posted the first 100-yard receiving day of his career with 103 yards and a touchdown in the Vikings' 30-24 win against the New York Jets on Sunday.
Johnson has been the receiver most consistent in getting open despite not being on Minnesota's roster at the beginning of the season, and rookie quarterback Teddy Bridgewater has been looking in Johnson's direction.
"I don't like being covered," Johnson said. "I don't like the feeling of another man feeling like he beat me. That's my whole motive. There's some plays out there that I left out there. That play (in the end zone) where I didn't make the jumping catch, I should've made that. We're going to get better each and every week and clean it up."
Johnson had three catches for 86 yards in the first half leading the way for Minnesota's offense. He had a 56-yard touchdown catch, beating his defender on a stop-and-go double move and Bridgewater found Johnson streaking down the right side to put the Vikings up 14-9.
"He continues to show every week," Minnesota coach Mike Zimmer said. "He's a big strong guy that can run routes. He's got good acceleration and he can get guys off of him. And then he feels routes and he feels the zone and feels the thing."
Johnson was a seventh-round draft pick of the Green Bay Packers last season when Patterson was a first-round pick by the Vikings. Johnson dealt with injuries. Cleveland picked up Johnson from Green Bay, but he spent the end of the season on injured reserve for the Browns.
Seeing the opportunity to get Johnson after releasing Jerome Simpson, Minnesota snatched Johnson off the Cleveland practice squad.
"I knew what type of player I was," Johnson said. "I knew what type of ability I have. Injuries kept me off the field my first year and I'm glad I've got the opportunity now and I'm able to showcase a little bit. I'm just trying to get better, man. That's all I can do. I'm still young and I'm still new to this game of NFL football. I'm just going to keep getting better each and every week."
Johnson also helped Bridgewater show his deep ball accuracy. Bridgewater hit Johnson in stride more than 40 yards downfield.
Zimmer said the coaches talked with Bridgewater about his mechanics a few weeks ago when Bridgewater was throwing high to receivers.
"We talked about the mechanics some," Zimmer said. "I do think that he's continued to get stronger as the season is progressing and in practice he really hums it and it comes out like you say, you can see a little bit more velocity coming."
Zimmer has mentioned a few times recently about Bridgewater getting stronger as the season progress.
"He's so accurate that at times it looks like he's floating it on some of the outside breaking routes," Zimmer said. "It looks like he's floating it, but the ball really jumps out of his hands. I have seen a lot lately where he's gunning it a little bit harder. Norv talks about throwing it with a grunt."
Meanwhile, Patterson didn't have a catch for the second straight game and saw limited offensive snaps. He had one run for six yards and also fumbled on a kickoff return.
"I don't have a lack of confidence in him," Zimmer said of Patterson. "Obviously he didn't do as well in the return game, but he had the one run that was pretty good. We just didn't get him in the game."
Hodges fills in for Barr: Gerald Hodges got his fourth start of the season at linebacker with rookie Anthony Barr inactive because of a knee injury. Hodges then opened the game with a big play.
On New York's first offensive play, Jets quarterback Geno Smith tried a quick slant to Percy Harvin. Hodges stepped in front and tipped the ball in the air to himself and intercepted the pass and returned it for a 27-yard touchdown.
"That is what coach Zimmer is really hard on is formations, formations, formations," Hodges said. "You get the chance to see the formations so many times that when it comes up in game time, you see the formation and you already know what play is coming."
Hodges said it was the first time he's ever returned an interception for a touchdown.
"My eyes just lit up," Hodges said. "When you see that end zone, you get that running back feeling like nothing can stop me. When you're like 10 to 15 yards away, that is all you smell."
Hodges finished with eight tackles -- tied for third on the team -- and had two pass deflections.
Felton's first: Hodges wasn't the only one scoring his first touchdown.
Fullback Jerome Felton, surprisingly, scored the first touchdown of his career when he recovered a Johnson fumble in the end zone.
"It was kind of a cheap touchdown, but I'll take it," Felton said. "It's all about finishing hard and playing through the whistle. That's something we preach every week and it paid off today."
Zimmer not happy: Minnesota won in overtime on Jarius Wright's 87-yard touchdown reception, but Zimmer wasn't pleased with what he called a "sloppy" game.
"We didn't cover anybody today," Zimmer said when asked what bothered him the most. "We let them off on third downs. We didn't protect the quarterback nearly as well as I'd thought. We were sloppy with the ball. I don't know. How much time you got?"
Smith, who entered the game with the league's worst quarterback rating for qualified leaders, threw for 254 yards. The Jets also ran for 168 yards as a team.
Minnesota was penalized six times for 70 yards, had two turnovers and surrendered three sacks. The Vikings also let a 21-12 second-quarter lead slip away.
"I think it's honesty, to be honest with you," Zimmer said of his postgame comments. "I'm trying to be honest. That's not the kind of performance I want to have. Quite honestly, I think we should have won that game handily, and I expected us to.  . . . We go out and we score on the first play of the ballgame. You know, we get a penalty on an extra point, have to kick the ball from the 20-yard line.
"Good teams don't do these things. Just because you win doesn't cover up your mistakes, just like sometimes when you lose you play good, too. My expectations are way higher than that performance."
Floyd, Johnson, Blanton leave: Minnesota had three players leave the game with injuries.
Defensive tackle Sharrif Floyd has been dealing with a knee injury and he had to leave early for the second game in a row. Floyd also left last week's game in the first half after playing sparingly.
Left guard Charlie Johnson had his leg rolled up on in the second half. Johnson was carted to the locker room and underwent X-rays, which he said showed no broken bones. The injury is to Johnson's left ankle.
Johnson left the locker room on crutches and had a walking boot on his right foot.
"It was a feeling that I had never felt before; it kind of felt like a little grind in my shin area," Johnson said. "I'd never felt that before. That was what was scary, probably. Then I looked up and everything was pointing the right way, so I was like, 'Oh, I'm alright.' Just as long as something wasn't tilted the wrong way, I was fine."
Johnson said he will have a magnetic resonance imaging test done. He was replaced by Vladimir Ducasse in the game.
Zimmer said Blanton will also have an MRI to reveal the extent of his injury. Blanton appeared to injure his left leg late in the game and he was replaced by Andrew Sendejo.
Follow Brian Hall on Twitter
---