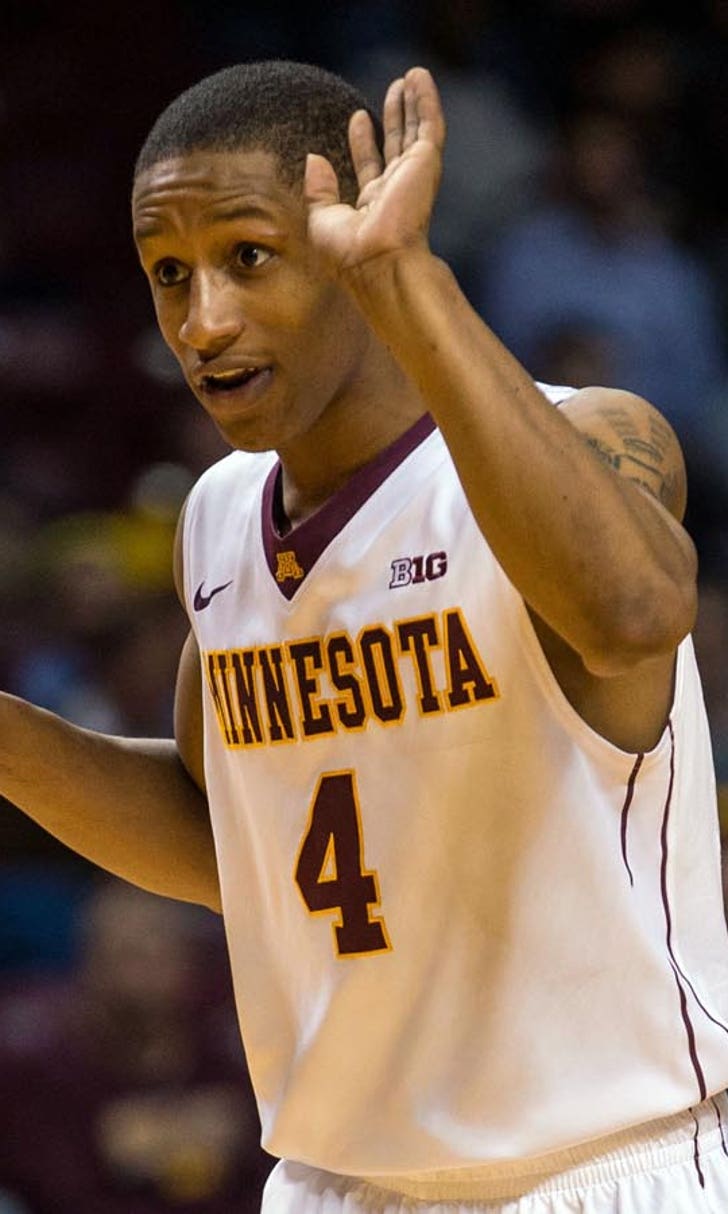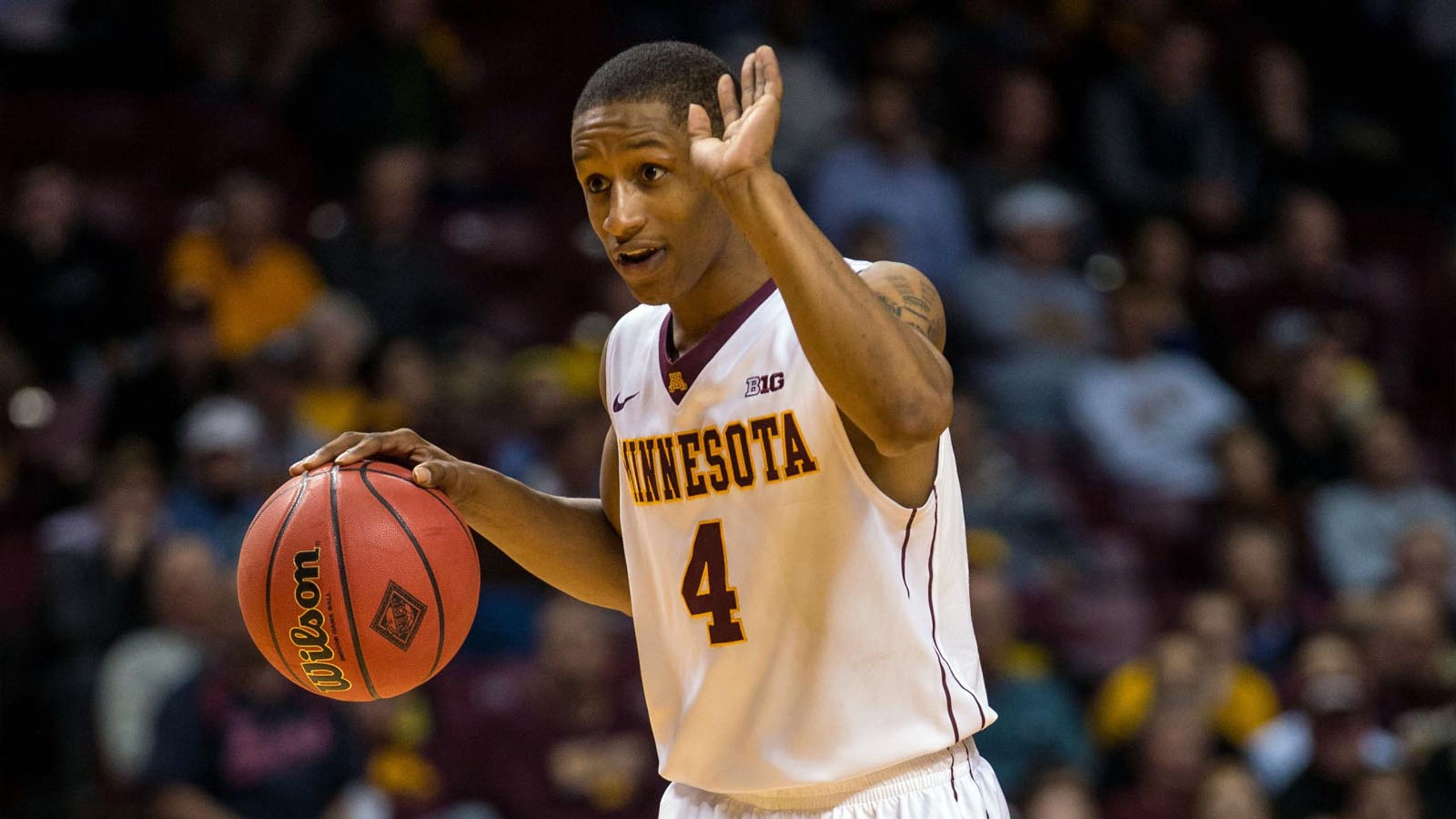 Notebook: Gophers best in nation at helping themselves
BY foxsports • December 18, 2014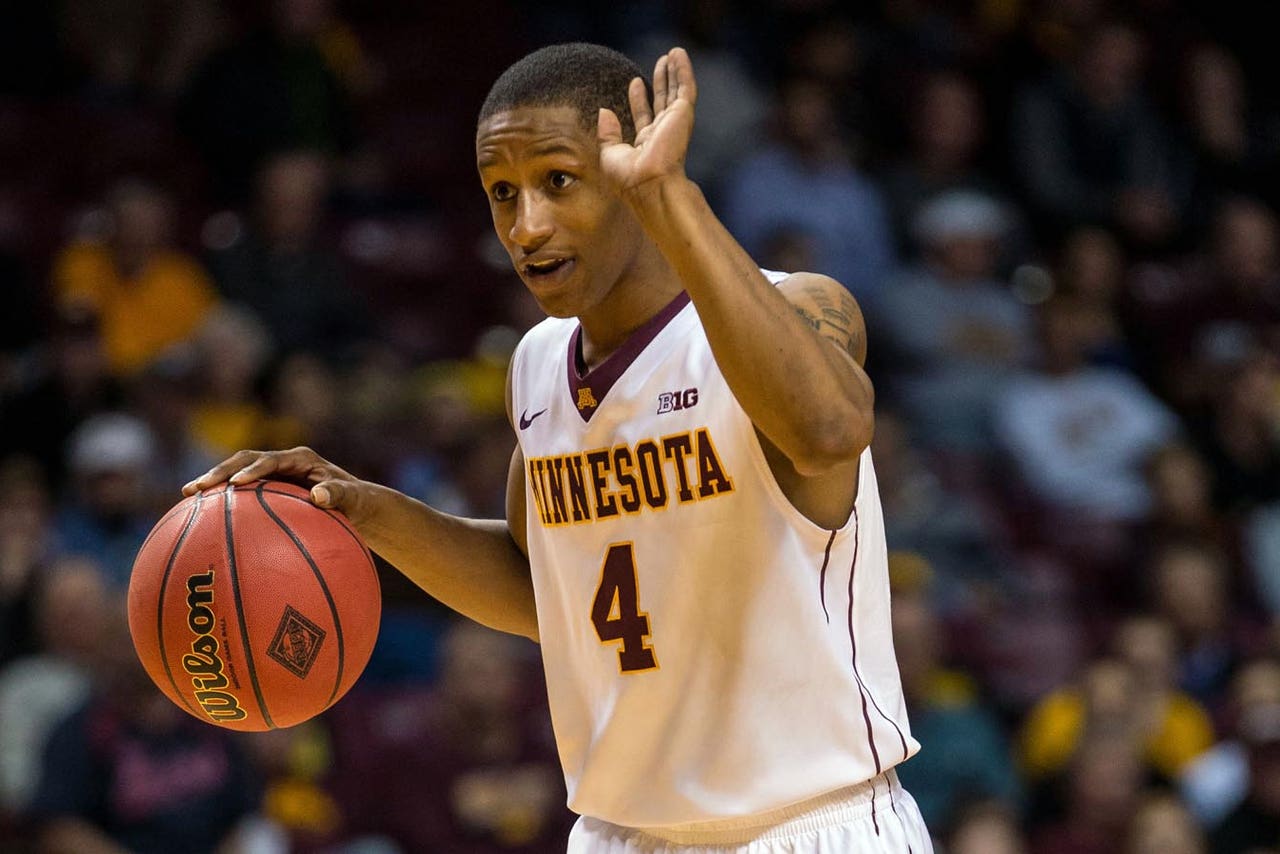 MINNEAPOLIS -- Gophers second-year coach Richard Pitino says he doesn't think his team is a great passing team, but believes it is an unselfish one. That unselfishness through the first 10 games of the season has resulted in Minnesota leading the nation in one specific statistic.
The Gophers are averaging 19.7 assists per game, more than any other team in Division I. The next closest is Arkansas, which has averaged 19.2 assists a night. Though some players have risen their games in the assist department, Pitino praises his whole team for its proficiency in that category.
"I don't think we've got players that are naturally great passers like (Ricky) Rubio," Pitino said Thursday, one day before the Gophers take on Seattle. "I think we're very unselfish. And I think a lot of it, to be honest, because we're getting steals, we're getting assists."
Pitino also raved about the way that senior point guard DeAndre Mathieu has elevated his play. Though he was a sparkplug in his first year at Minnesota last year, Mathieu has done a better job of taking care of the ball. As a junior, Mathieu had 160 assists but committed 102 turnovers, an assist-to-turnover ratio of 1.57. This year that ratio is 3.69 (59 assists, 16 turnovers).
Mathieu isn't scoring at quite as high of a rate as he did a year ago, but his ability to distribute the ball has been key in the Gophers leading the nation in assists per game. Mathieu ranks 20th in Division I (and tops in the Big Ten) in assists per game with 5.9. His assist-to-turnover ratio is 13th in the country, while freshman guard Nate Mason isn't far behind at 17th.
"I think DeAndre is the difference maker, to be honest with you," Pitino said. "I think it's all DeAndre, I really do. And I think it's contagious."
Senior guard Andre Hollins also sang the praises of Mathieu as a reason for Minnesota's efficiency on offense.
"DeAndre is the catalyst for us," Hollins said. "He's been penetrating good in the lane. He's causing a lot of havoc from his penetration, gets a lot of us open."
Minnesota is playing a more uptempo style than it was a year ago as players have finally started finding their groove in Pitino's system. The result early on has been plenty of steals.
The Gophers rank fourth in the nation in total steals (117) and third in steals per game (11.7). Because of the way Minnesota likes to push the ball in transition, those steals have led to assists the other way.
"It's great right now. We're really playing team basketball," Hollins said. "We're sharing the ball, making shots, really efficient offensively."
Pitino uses football as teaching tool: Minnesota freshman center Bakary Konate was a bit rough around the edges when he arrived on campus, and he remains somewhat unpolished despite playing in eight games with the Gophers. The 6-foot-11 native of Mali played a career-high 23 minutes in Minnesota's last game against Southern, a good chance for him to gain extra playing time.
But Pitino still wants Bakary to work on his hands and his ability to catch the ball in traffic. So the Gophers coach turned to another sport to help the freshman with that.
Pitino and Konate went to the Minnesota football team's facility to throw a football around. Pitino also used a JUGS machine to fire passes at Konate in order to develop his catching ability.
"We're just trying to get creative with him," Pitino said. "Obviously his hands need to get better. . . . We're just trying to keep it fresh, keep it light. He enjoyed it."
When Mo Walker and Elliott Eliason graduate after this year, Konate will be one of the Gophers' main options at center. His development is a work in progress, and he's shown some positive signs early. But his ability to play in traffic in the lane is something that has been lacking.
"He's not real comfortable around crowds," Pitino said. "When he catches the ball and guys are slapping down on him, that's something he's got to figure out."
Follow Tyler Mason on Twitter
---