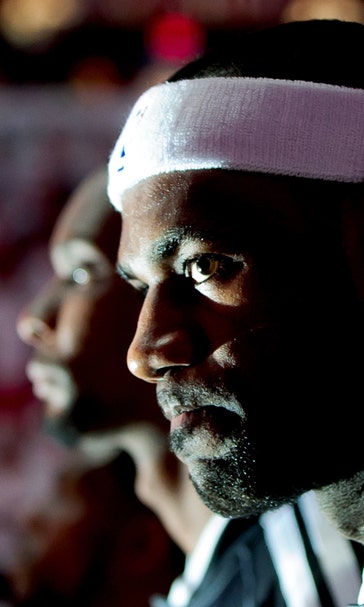 No MVP award, but LeBron James puts leadership on display in Game 1 win
BY foxsports • May 6, 2014
MIAMI -- LeBron James sat for his postgame media conference Tuesday night and immediately did something he hadn't done since 2011.
"I want to congratulate Kevin Durant on winning the MVP," said James, league MVP the past two seasons and four of the past five. "Unbelievable season and all the support from me, from one MVP to the next MVP. So, hell of a season K.D."
James spoke after leading the Miami Heat to a 107-86 victory against the Brooklyn Nets in Game 1 of their best-of-seven Eastern Conference semifinal series.
Miami's King, if not NBA MVP, finished with 22 points, five rebounds and three assists as the Heat defeated Brooklyn for the first time in seven meetings (two preseason, four in the regular season).
Clearly, the game showed Miami didn't need a dominant, MVP-type performance from James to be successful. Right?
"On the contrary, that's LeBron's strength. He was pretty amazing in all facets of the game tonight, and when he's like that, we're just so much better," said Shane Battier, who after playing little more than two minutes during the first-round playoff sweep of Charlotte started to match up against the Nets small lineup.
"Obviously, it's not going to grab headlines to get 22 points and five rebounds. For those who didn't watch the game, they'll say, 'Oh, LeBron had a pedestrian game.' (But) he was so good across the board, it elevates us to a higher level."
James' Game 1 efficiency included 10-of-15 shooting, just two fouls committed and only one turnover. And that was after he had committed 17 turnovers total in the four regular-season games against Brooklyn.
"We were in attack mode and we didn't turn the ball over," James said. "Their defense can leave you stagnant, especially if you walk into screens or you're not really playing offense at a high level, they're able to switch off and make you become a 1-on-1 team.
"I think tonight we got the ball from one side to another and attacked their closeouts and got what we wanted."
After a week without a game to play, the Heat defeated a Nets team that had taken three one-point victories and another double-overtime win in season series between the teams.
Miami, which led 46-43 at the half, took control in the third quarter and never led by fewer than 13 points in the final period.
Chris Bosh (15 points, 11 rebounds) and Dwyane Wade (14 points) played like the Big Three members they are, and Ray Allen contributed 19 points off the bench.
Then there was LeBron.
"We have a new MVP, but when you talk about the best players in the world, (James) is 1-A or 1-B with Durant," Nets coach Jason Kidd said. "When he gets to the post, he can cause a problem because of his strength and IQ.
"He knows when someone doubles him, he knows who the open guy is. We have to make it a little tougher on him."
Neither team was afraid of shooting from behind the arc. Miami was nine of 23, and Brooklyn was 10 of 24.
James, however, attempted no 3-pointers.
"When he's not shooting them, it means he's working down there in the post, hitting open shooters," Bosh said. "We want him to be aggressive. If the shot is there, take it. He's such a great facilitator ... it's a good thing for us."
James became the eighth player in league history to score 4,000 postseason points. He has scored in double figures in all but one of his 143 postseason games, 72 with Miami.
"He's the best player in the world, but sheesh, he can't win (MVP) every year," Bosh said. "Somebody else is gonna have a good year, too."
You can follow Charlie McCarthy on Twitter @mccarthy_chas or email him at mac1763@bellsouth.net.
---