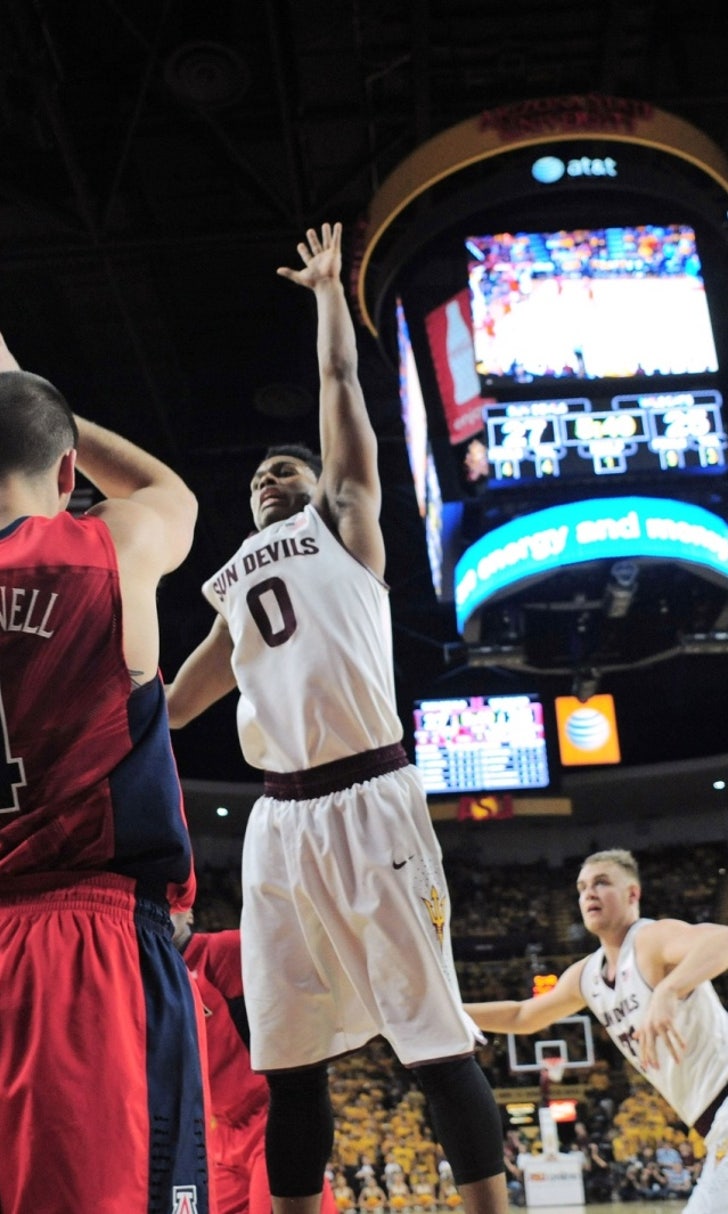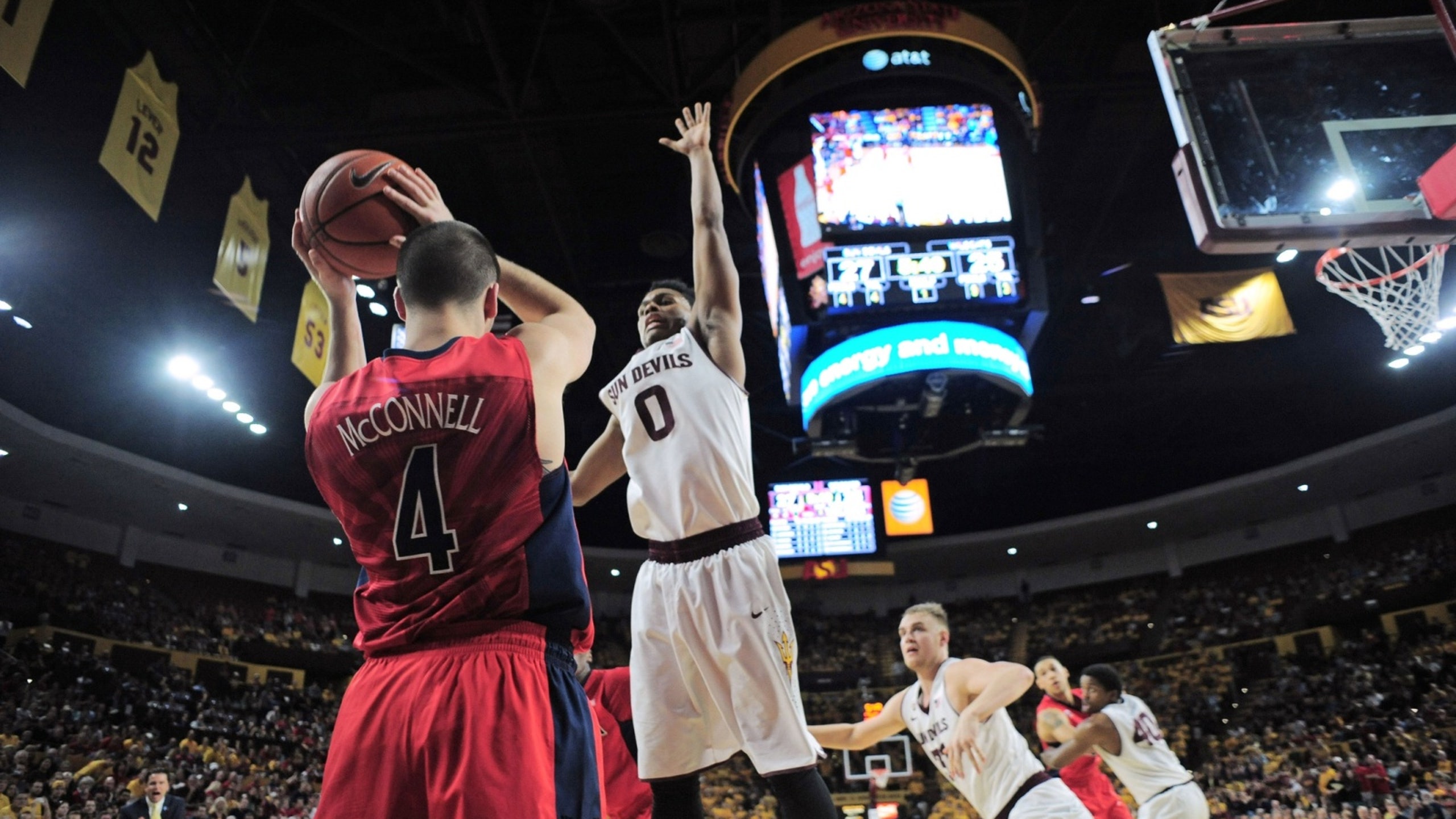 No. 6 Arizona falls flat in rivalry game
BY foxsports • February 7, 2015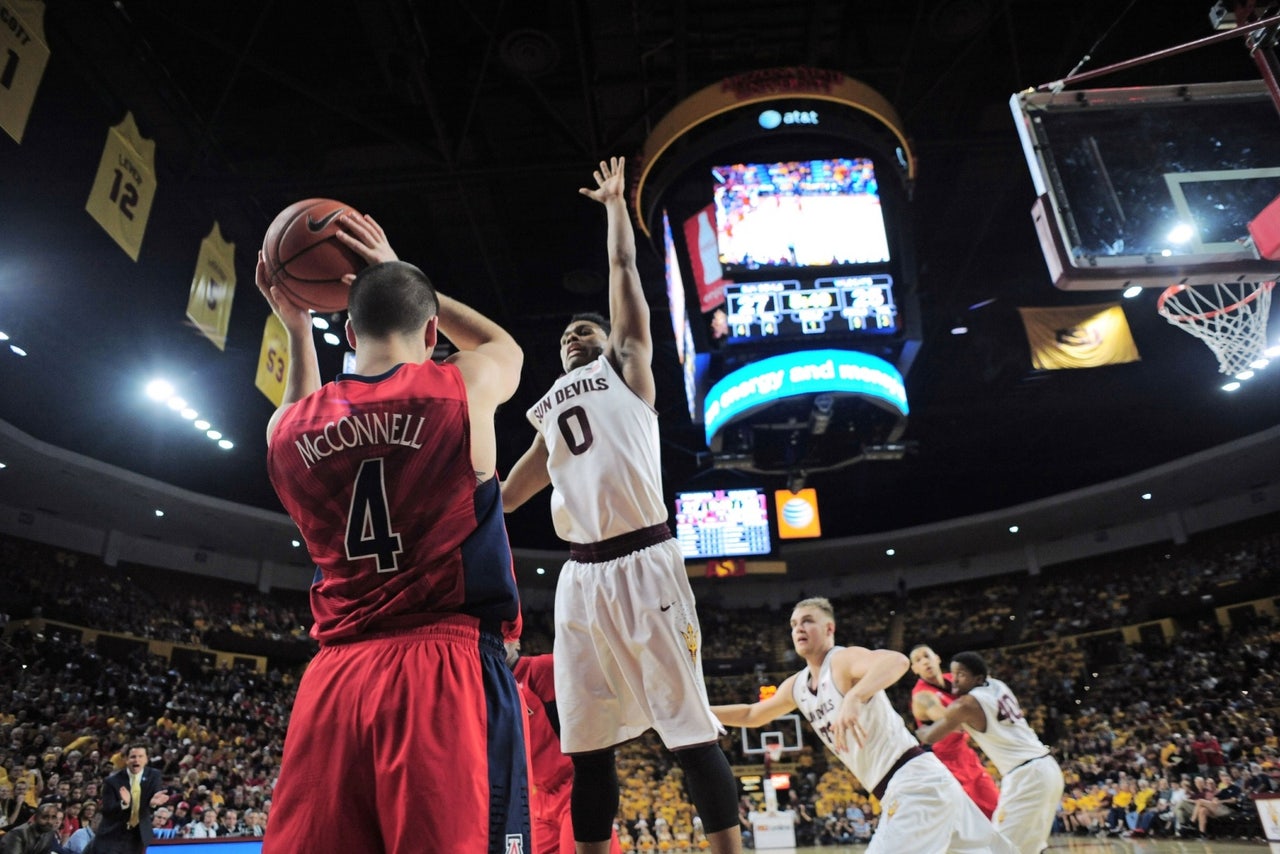 TEMPE, Ariz. -- Arizona's players watched the clock tick down to zero and had to work their way off the court as Arizona State's fans rushed to celebrate.
The Wildcats didn't like the feeling last year and it didn't get any better this year.
T.J. McConnell scored 25 points and Stanley Johnson added 16, but No. 6 Arizona had a hard time stopping Arizona State in an 81-78 loss on Saturday, the Wildcats' second-straight road loss to the rival Sun Devils.
"We just weren't ready, to be honest," said McConnell, who hit 11 of 19 shots. "When we have a team that is not ready, we aren't going to win against any team."
Arizona State (12-1, 4-6 Pac-12) shook off a lopsided loss to Arizona a month earlier by out-scrapping the Wildcats and working the ball around to get good shots against one of nation's best defensive teams.
The Sun Devils dominated Arizona inside early and were good from the perimeter all game, hitting 7 of 15 from 3-point range while shooting 50 percent overall. Unlike a few games this season, Arizona State was able to seal a victory by hitting its free throws, finishing 22 of 28 from the line.
Bo Barnes scored 18 points and hit the biggest shot of the game, a fallaway 3-pointer with less than a minute left. He also hit all eight of his free throws, including four in the final 19 seconds.
Freshman Tra Holder gave the Sun Devils a lift early, attacking the Wildcats on his way to 15 points and eight assists.
Savon Goodman muscled his way past Arizona's defenders, scoring 15 points on 7-of-9 shooting and grabbing nine rebounds.
The shots went in and the fans stormed the court, a perfect combination for the Sun Devils against their biggest rival.
"Every time you beat U of A, it's an amazing feeling," said Barnes, who hit all eight of his free throws, including four in the final 19 seconds.
Arizona was caught in the middle of a Sun Devil storm for the second straight season.
The Wildcats (20-3, 8-2) were inconsistent offensively and had too many breakdowns on defense after routing Arizona State in Tucson a month ago.
Rondae Hollis-Jefferson had 14 points and Brandon Ashley added 13 for the Wildcats, who had to fight their way through Arizona State's onrushing crowd for the second straight season.
"We did not get the job done on the defensive end, really in any way," Arizona coach Sean Miller said. "Around the basket we had no rim protector, we had no physicality and it seemed a little too easy."
Arizona State had an upset in the Territorial Cup series a year ago in Tempe, pulling out a 69-66 win in double overtime.
But that team had Jahii Carson and Jordan Bachynski, and was headed to the NCAA Tournament.
This year's team is without those two key players and may need a huge late-season push to get into the bracket.
Arizona State already played the Wildcats once this season and didn't fare too well, blown out 73-49 in Tucson to open the Pac-12 season on Jan. 4.
The Sun Devils looked more like the team that beat Arizona last season, going right at the Wildcats.
Holder, who had two points in 12 minutes the first game, was the catalyst, repeatedly beating Arizona defenders off the dribble.
The freshman had a hand in every point during a 9-0 run, finishing the first half with 10 points and five assists. The Sun Devils hits 15 of 29 shots, including 4 of 9 from 3-point range, and led 41-34 at halftime after a steal led to a last-second putback by Willie Atwood.
Goodman helped Arizona State keep its cushion early in the second half, bulling his way to the rim for eight points in the opening 4 1-2 minutes.
Arizona chipped away at the lead as the game became more chippy, getting it within a single possession with just under 4 minutes left.
The Sun Devils kept them at arm's length from there.
Gerry Blakes, who had 14 points, hit a 3-pointer to put Arizona State up 68-63 and Barnes helped seal the upset, hitting a fadeaway 3-pointer with 54 seconds left.
"It's a great day for our guys," Sun Devils coach Herb Sendek said. "I'm so happy for these players."
---