No.25 UCLA vs. Colorado: Three things to watch
BY foxsports • October 24, 2014
Colorado has improved this season, that much we know. But how much is another question. 
The Buffaloes have had their hearts broken all season. Head coach Mike MacIntyre's group has played teams exceptionally tough without a whole lot to show for it. The Buffs lost in a double-overtime thriller at California and suffered single-digit losses at home against Arizona State and Oregon State, coming into the matchup against No. 25 UCLA 0-4 in the Pac-12. 
Here are three things to watch for when UCLA faces Colorado on Saturday morning at Folsom Field in Boulder.
1. A more mature Sefo Liufau
For the second week in a row, the Bruins will face an young quarterback and a pass-heavy offense. Sefo Liufau, a sophomore, is on pace to set Colorado's single-season passing record with the fourth-best passing average in the Pac-12 (290 yards per game). Liufau has shown a more refined game this season and his gains are obvious.
"Last year, I think we could see that he was a true freshman and had a great skill set," UCLA head coach Jim Mora said. "He can stand in there and throw the ball, get out of the pocket and throw the ball and run the ball."
However, Liufau is still making too many mistakes, as he leads the Pac-12 with nine interceptions. The UCLA pass rush got to Cal quarterback Jared Goff three times last week and has shown flashes of dominance. 
Despite being sacked three times and throwing two interceptions last week at USC, Liufau doesn't appear to be worried about the Bruins' pass rush.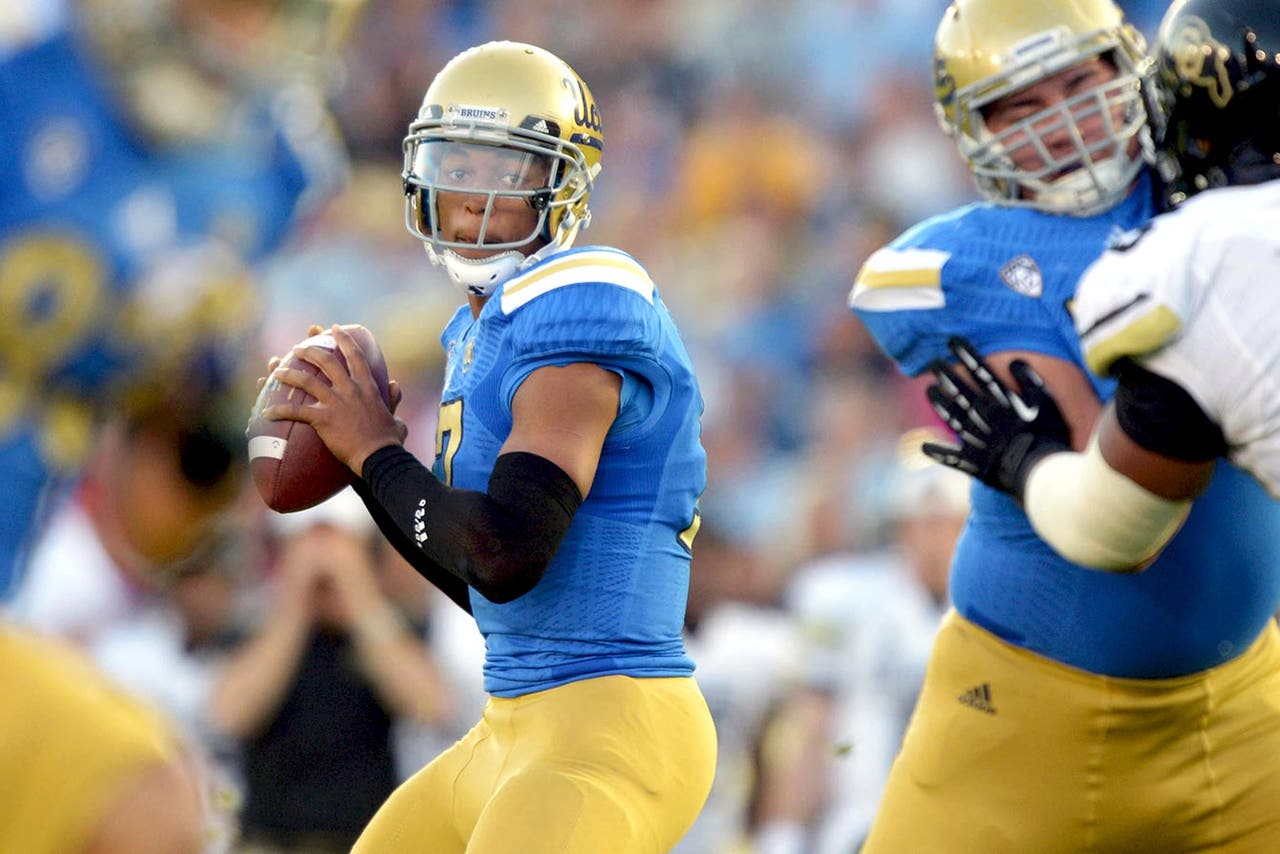 Breakdown: No. 25 UCLA vs. Colorado
"I wouldn't say so," he said earlier this week. "For the most part also, I'm not really looking at the rush. I couldn't tell you what they're doing. Obviously, if they get to me, then they must be doing something right on the defensive side. But, I'm not looking at the rush. If I was, that would be bad as a quarterback."
2. Costly Mistakes
Last week, the near-undoing of UCLA was three key turnovers. Meanwhile, USC scored 28 points off of turnovers, dooming the Buffs early. 
Both coaching staffs made an appeal to their teams to take care of the football this week. 
"Our group of guys have always been pretty good at that but the last two weeks, we've had some turnovers. That's something that we've got to be more conscious of," UCLA offensive coordinator Noel Mazzone said. "Hope it goes away? Protecting the football, it's all about the ball."
In other news: the Bruins and the Buffs are two of the most penalized teams in the conference. This could end up a sloppy affair.
3. Kicking Cancer for Quiz
With the month of October significant as National Cancer Awareness month, UCLA, Colorado, San Jose State and Navy will honor Houston Texans offensive lineman David Quessenberry in a pregame ceremony. 
This week is somewhat serendipitous for Quessenberry, as all four teams that he has ties to happen to be playing against one another. Quessenberry, who is currently battling non-Hodgkins Lymphoma, played college ball at San Jose State under MacIntyre and most of his current Colorado staff. His younger brother, Paul, currently plays at Navy and the Midshipmen happen to be hosting the Spartans this weekend. His other younger brother, Scott, is an offensive lineman at UCLA. 
The Buffs will wear DQ emblems on their helmets. During his weekly press conference, an emotional MacIntyre explained his bond to Quessenberry.
"It's a tough situation. There's a young man that played for me at San Jose State named David Quessenberry, best leader and best captain I've ever been around as a coach or a player," he said. "When I went to San Jose State, he was a walk-on tight end and he wasn't playing much. I saw his effort and his intensity and I told him that if he could gain about 20 pounds over the summer, I'd put him on full scholarship. We ended up starting him at tackle for three years, he ended up being the team captain, he was an all-conference player and fourth-round draft pick for the Houston Texans."
Quessenberry is currently in the midst of his seventh round of chemotherapy and started a campaign called DQStrong 10. The campaign asks supporters to do 10 pushups and donate $10 to the Lymphoma Research Foundation. 
---