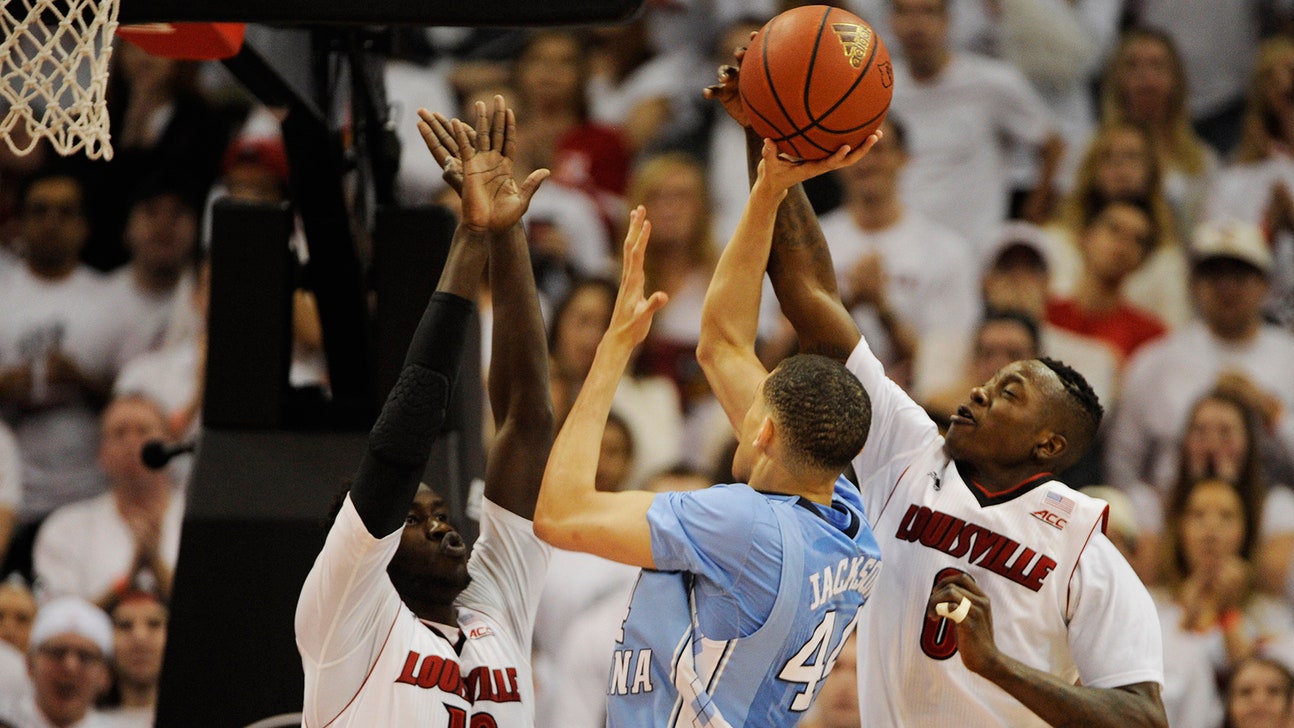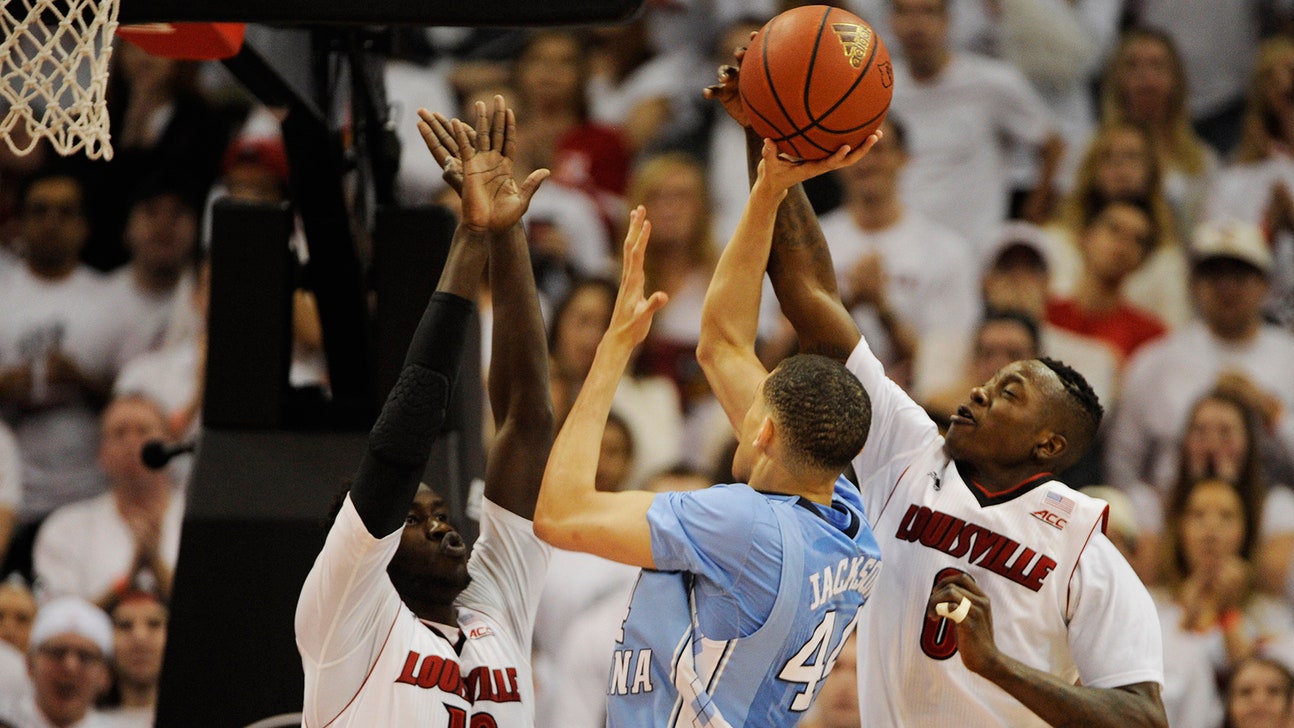 No. 10 Louisville rallies from 18 down to beat No. 13 UNC in OT
Published
Jan. 31, 2015 10:04 p.m. ET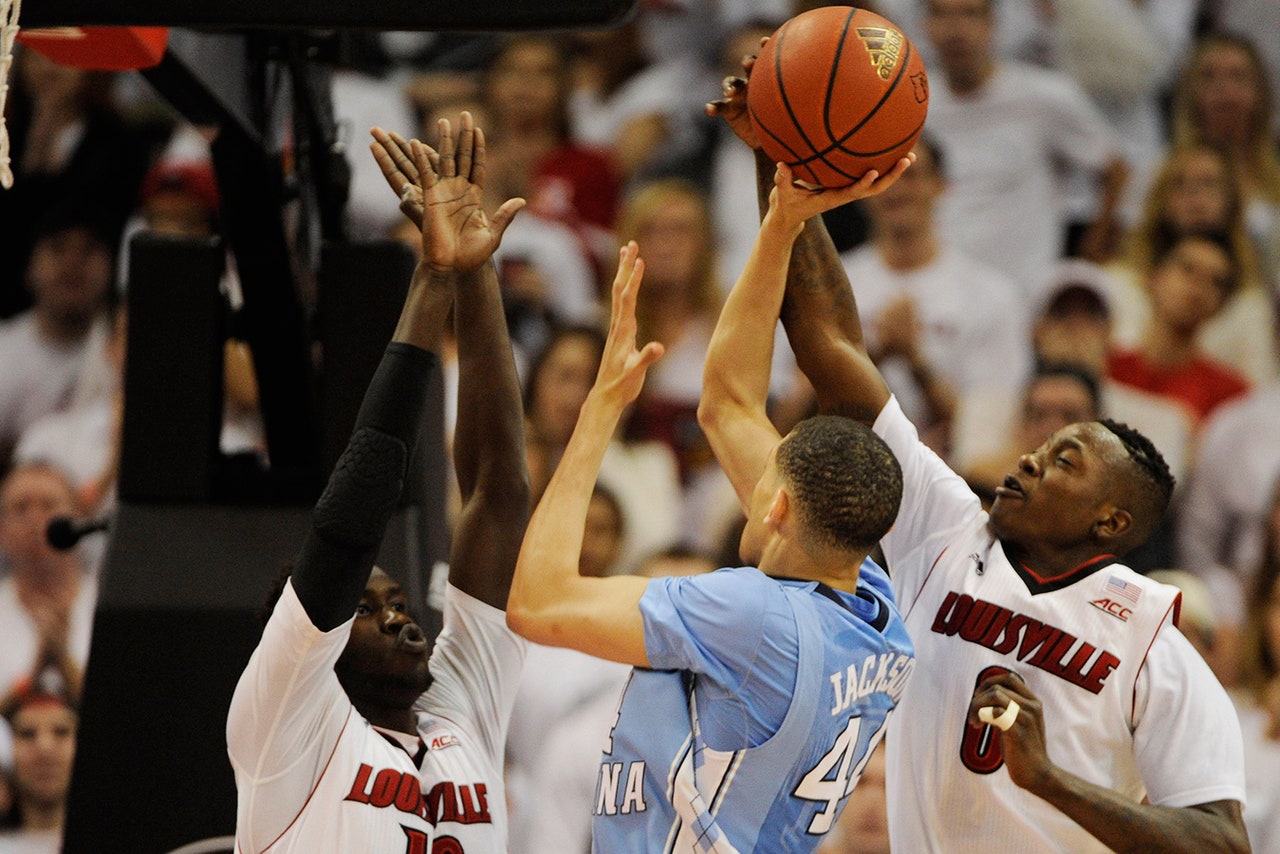 LOUISVILLE, Ky. -- A few weeks after North Carolina shocked Louisville by rallying from a double-digit deficit, the Cardinals returned the favor.
Montrezl Harrell scored 14 of his 22 points after halftime and No. 10 Louisville rallied from a 18-point second half deficit to beat No. 13 North Carolina 78-68 on Saturday night.
Harrell also added 15 rebounds in a performance North Carolina coach Roy Williams described as "possessed."
"It seemed like he got every rebound and ran the floor, posted our guys up," Williams said of the North Carolina native.
Terry Rozier scored the first six points in overtime for Louisville (18-3, 6-2 Atlantic Coast Conference) to complete the comeback but said Harrell's play put the team in position for the improbable win.
"It was like we were desperate for a bucket, desperate to get something going," said Rozier, who finished with 22 points and 10 rebounds. "Trez got us going. We fed off his energy. He did a good job of just talking to us, bringing us in. His energy was just through the roof."
Rozier's sweeping layup 43 seconds into overtime gave Louisville (18-3, 6-2 Atlantic Coast Conference) a 62-60 lead, its first since four minutes into the game. Two free throws following a Kennedy Meeks layup again put the Cardinals up and his 15-footer with 2:43 remaining gave Louisville the lead for good as Louisville scored 10 straight to take a 76-64 lead.
Harrell showed he doesn't have to be a captain to carry the Cardinals. The preseason All-America forward stepped down as a co-captain prior to Louisville's Jan. 25 win at Pitt, a move Louisville coach Rick Pitino said was Harrell's decision due in part to being too harsh on the work ethic of younger players.
Harrell's teammates joined him in outworking North Carolina in the second half. UNC did not get a second-chance point in the second half or overtime as Louisville used 15 offensive rebounds in that span to outrebound the Tar Heels 46-44.
"They just competed harder than we did both ends of the floor," said North Carolina guard Marcus Paige, who led Carolina with 15 points. "They just stepped up to the challenge. They competed harder than us. We thought we had the game."
Paige was one of four Tar Heels (17-4, 7-2) in double figures.
North Carolina led 43-25 with 17:51 remaining but Louisville clawed back to single digits by forcing eight turnovers in a six-minute stretch.
The Cardinals tied the game at 53 with 8:20 remaining after a 9-0 run in 80 seconds that featured 3s from Rozier and Chris Jones and a 3-point play from Harrell.
North Carolina led 59-55 with 7:10 remaining but scored just one point the rest of regulation, going scoreless for the final 3:34. Tied at 60, Harrell hit the back iron on his open-look 3 as the buzzer sounded to send the game to overtime.
Chris Jones scored seven of his 17 points in the extra period for Louisville. J.P. Tokoto added 11 points and 11 rebounds for UNC but committed six of the team's 19 turnovers.
North Carolina had a 27-16 rebounding edge, scoring 11 second-chance points, and led 36-25 at halftime. They stretched their lead to 18 in scoring the first seven points of the second half.
TIP-INS
Louisville: The comeback gave Pitino his first win in seven tries against North Carolina. Three of his previous six tries came while at Kentucky, including a 1995 loss that sent the Tar Heels to the Final Four.
North Carolina: The loss ends a six-game winning streak that started three weeks ago against Louisville. Paige's layup with 8.5 seconds left capped a 13-point comeback victory that saw the Tar Heels lead for a total of 85 seconds in the second half.
COMEBACK CARDINALS
Louisville overcame its largest deficit for a win since trailing by 18 in the second half of its 71-70 against Marquette on Jan. 15, 2011. It was the first overtime win since 2012 for the Cardinals and the first overtime game since Feb. 9, 2013 when the lost in five overtimes at Notre Dame.
UP NEXT
Louisville heads to No. 23 Miami on Tuesday.
North Carolina hosts No. 2 Virginia on Monday.
---