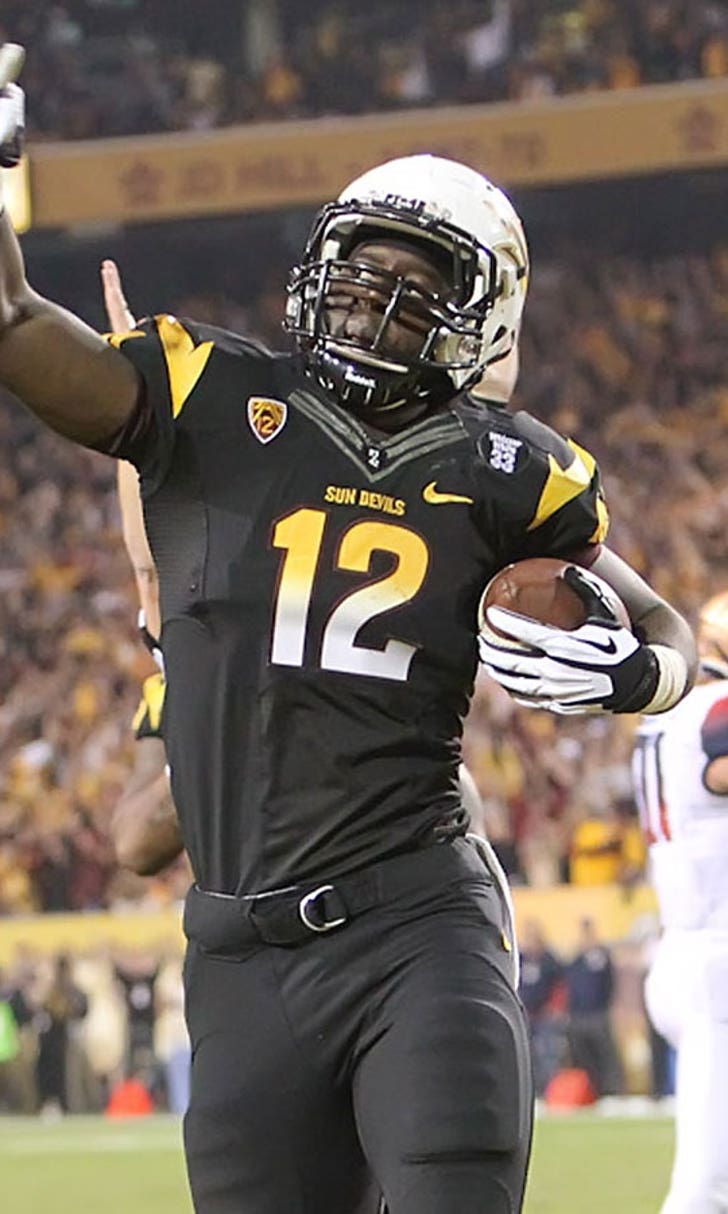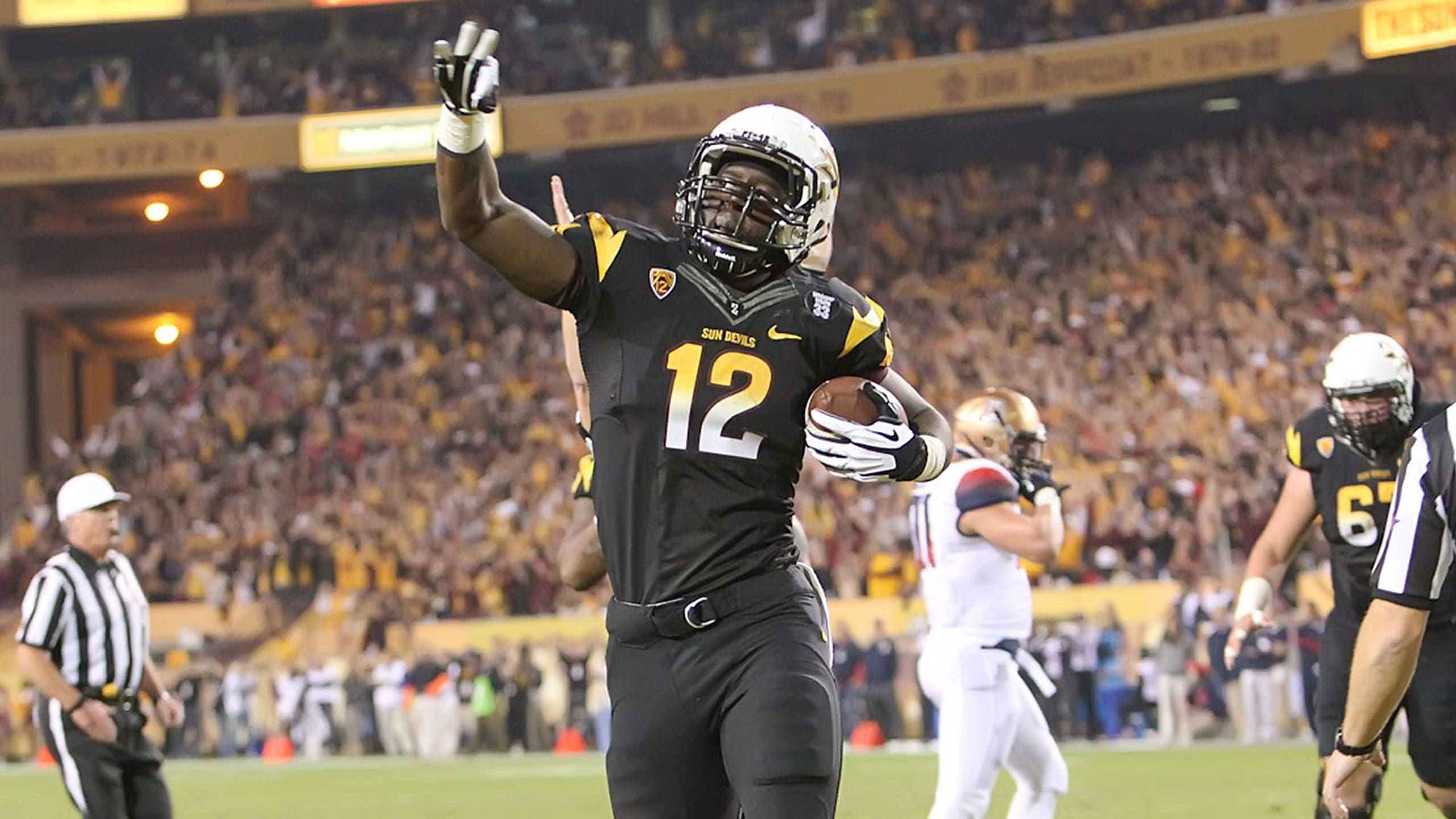 Nelson's value to offense could scuttle Devil-backer plans
BY foxsports • August 11, 2014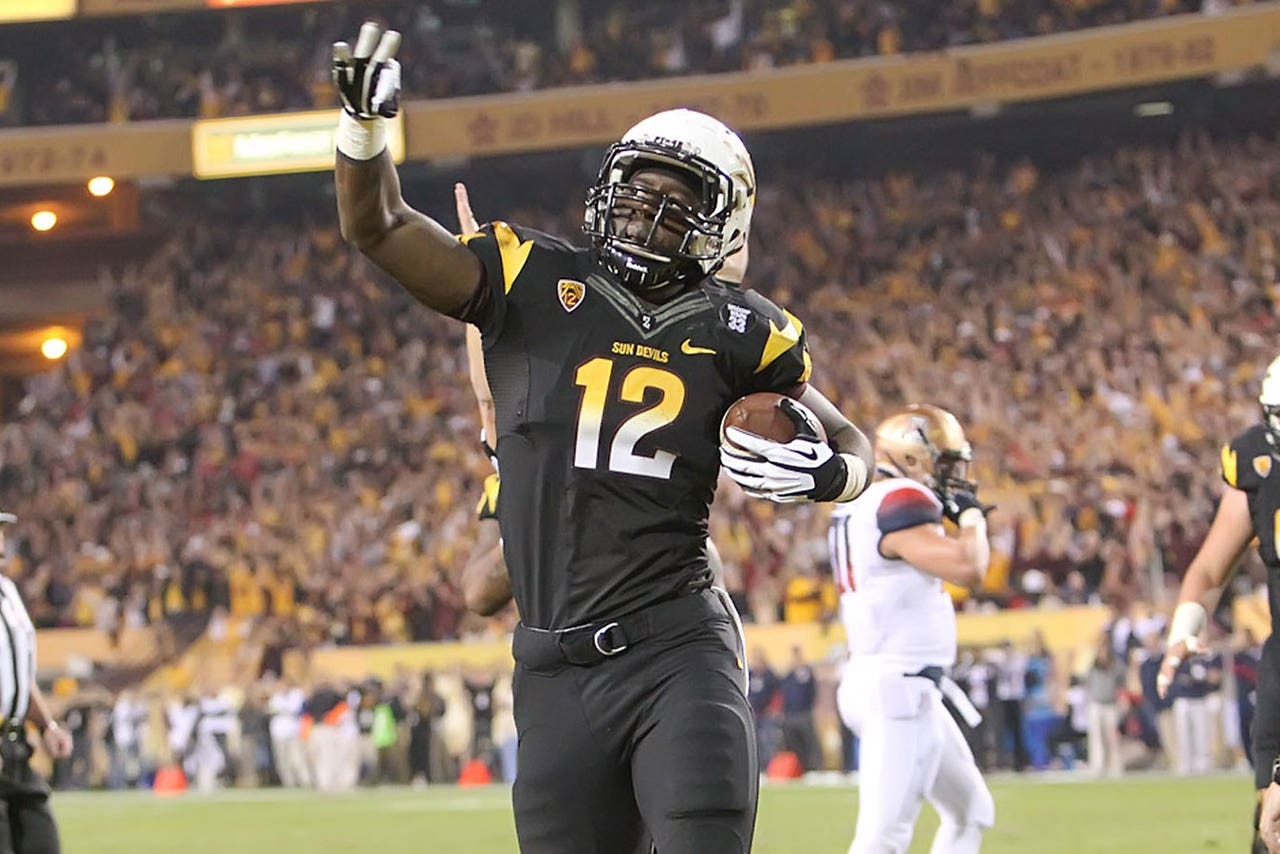 TEMPE, Ariz. -- De'Marieya Nelson's move to defense has been the talk of camp so far for Arizona State, and on Saturday coach Todd Graham said the move was unlike anything he's ever tried.
On Monday, though, Graham seemed to back off the move, suggesting Nelson may not play as much at the hybrid Devil-backer position as previously planned.
"Ideally, what we would like to have happen, we would like for him to rush the passer on third down," Graham said. "And then we would like for him to play offense as many snaps as he can."
Just last week, Graham said he could see Nelson as an "every down guy" on defense but said Nelson would continue to play some offense. Nelson began running with the first-team defense and for the past week worked in a white defensive practice jersey. On Monday, Nelson was back in maroon and worked with the tight ends group during the portion of practice open to the media.
"It hurts us a lot not having him on offense, so obviously he's got to be that 3-back on offense for us," Graham said. "He's the best one we have, but I think he can play third down for us.
"It's probably hurt him a little bit on offense because he's not been practicing as much there. Today he practiced a lot more offensively. We've just got to figure that out and make sure we don't hurt his level of play on either side doing that."
Nelson entered camp as the starter at tight end/H-back, replacing Chris Coyle. He was expected to be one of the offense's top weapons but quickly emerged as the leader at Devil-backer. ASU appears to have eased off the move for the sake of the offense, and Graham said Antonio Longino is improving at Devil-backer.
Things could still change again for Nelson with 17 days until ASU's season opener.
"What we don't want to do is kind of do half of one, half of the other and not get very good at either one," Graham said. "I'll evaluate that as we go."
Freshman wide receiver Tyler Whiley worked as a defensive back Monday for the third straight practice, and Graham said afterward he believes the move could stick.
"I think that's what he wants to play," Graham said. "As he learns what he's doing, I think he's got a chance to play there for us."
Whiley played both ways at Scottsdale Chaparral, and during his recruitment to ASU there was discussion of him playing situational defense, but Whiley was focused on offense. He started working at cornerback Friday and on Monday wore a white defensive practice jersey, lining up at second-team boundary cornerback.
"It's not really a move over," Whiley said. "I'm kind of doing both ways, trying to see where I'm at on defense because it's been a while since I played there. So we'll see which one I get better at, but right now I'm going to get reps on both sides."
Whiley says he doesn't have a preference and believes he could play both sides this season. That would require him to learn the defense in addition to his offensive duties as well as shaking any defensive rust. Right now, Whiley says he's in his offensive playbook about as much as he's in his defensive playbook.
"I just want to get on the field wherever I can," Whiley said.
Graham said he expects junior defensive tackle Jaxon Hood to rejoin the team as early as Monday night for the team's evening practice or Tuesday morning before the team departs for four days at Camp Tontozona.
Hood has missed the first week and a half of fall camp as he deals with what Graham termed "personal issues." Graham said Hood is in good standing and healthy.
While it remains to be seen what kind of shape Hood is in, his return is significant for ASU's young, inexperienced defense. With 17 career starts, Hood is ASU's most experienced defensive player by far.
Graham said last week Hood would be part of the equation on the interior defensive line once he returned. On Monday morning, redshirt junior Demetrius Cherry worked at nose tackle -- Hood's usual spot -- with senior Marcus Hardison at defensive end and freshman Tashon Smallwood at the other defensive tackle spot.
Junior running back D.J. Foster missed his fifth consecutive practice Monday due to an undisclosed injury. Unlike the past four, though, Foster was a partial participant Monday, wearing a green non-contact jersey.
Graham said Foster probably could have practiced Monday but that ASU will continue to be cautious. It sounds as if Foster won't see much contact until the start of the season.
ASU's running back depth is being tested with Foster out. Freshman Demario Richard has been limited by an undisclosed injury and freshman Kalen Ballage was absent Monday.
Graham said Ballage was getting an MRI after suffering some sort of back injury during Saturday's scrimmage, which was closed to the media.
-- Sophomore receiver Cameron Smith shed the green no-contact jersey Monday after being limited most of camp so far. Limited Monday were Foster, Richard, freshman tight end Brendan Landman, freshman offensive lineman Sam Jones and redshirt freshman safety Marcus Ball.
-- Redshirt sophomore Carlos Mendoza and freshman D.J. Calhoun continue to battle for the starting job at will linebacker, and on Monday they shared reps with the first team.
-- Graham said freshman Armand Perry continues to impress and has a chance to start at boundary cornerback. Also competing for the job are junior Solomon Means and junior college transfer Kweishi Brown.
-- ASU is set to reveal a new uniform next Monday. Players began posting on Twitter about a new uniform Sunday night after it was revealed to them. Details of the design are not clear yet. Last season, ASU debuted a new helmet design for its game against Notre Dame in Dallas.
Follow Tyler Lockman on Twitter
---