NAU basketball hopes to continue upward trajectory
October 27, 2015

When Jack Murphy took over as Northern Arizona's basketball coach three seasons ago, there was nowhere to go but up.
And so that's where Murphy and the Lumberjacks have gone. From 5-24 (and only three Division I victories) the year before he was hired to 11-21 to 15-17 to 23-15 last season, when the Lumberjacks not only returned to the postseason but advanced to the championship game of the CTI, winning four elimination games before falling on the road to Evansville in the title game.
The upward trajectory in wins from 5 to 11 to 15 to 23 (most in school history) might lead one to project upper 20s and beyond in Year 4, but even an upbeat guy like Murphy is careful to put the brakes on such speculation.
The Lumberjacks will be  breaking in eight scholarship freshmen this season, incorporating them with just four returnees who saw significant playing time -- starters Kris Yanku and Jordyn Martin and part-timers Aku Kaluna and Jaleni Neely.
"I don't know that I put those expectations on us, but the good part is that over the course of three years we have been on an upward swing," Murphy said. "If we can keep it above .500 -- in the 17 to 20 (win) range this year -- I think would be a good accomplishment and show that the program is on solid footing."
The Lumberjacks won 13 of 18 Big Sky games last season, tying for third place in the conference standings, and have qualified for the postseason tournament in all three seasons of Murphy's tenure. That, he said, has become a realistic expectation.
"I think we've put ourselves in that area, as a program looking to finish in the top five, top six in the Big Sky and playing our best basketball at the end of the year so that we can compete for that conference tournament championship and the ultimate goal of playing in the NCAA Tournament," he said.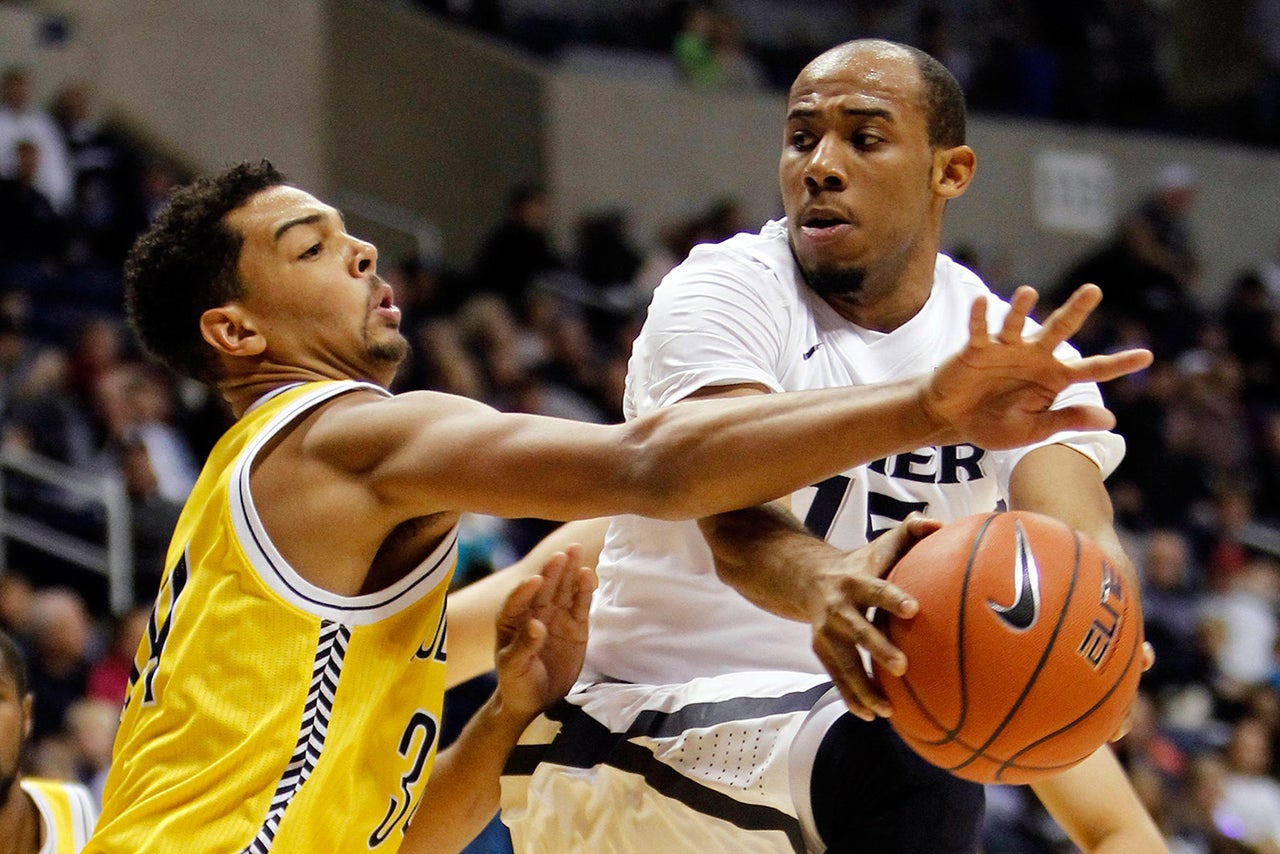 Senior Jordyn Martin was the Big Sky defensive player of the year last season.
Peaking toward the end of the season seems an even more worthy goal this season while incorporating so much youth and facing a schedule that opens with a brutal three-game road trip to Washington State, Boise State and Gonzaga. But Murphy says the adjustment period has been eased greatly by his four veterans.
"The good part is the returners that we do have, even though we don't have a lot of them, I look at them all as starters," Murphy said. "It's one of those things where you're able to integrate those eight freshmen along with the four returners and you have a great deal of experience helping out that youth.
"So we're not going to put the weight of the world on any of those freshmen's shoulders. Our hope is that by the time conference hits, we have two or three or four of them that are contributing at a high level."
Martin, a senior, averaged 7.7 points and 7.7 rebounds per game and is the reigning Big Sky defensive player of the year. Yanku, a junior, was a first-team all-Big Sky player last season while averaging 13.8 points and 5.1 assists. He also broke Damian Lillard's conference record and led the nation with 230 free throws made.
"He's great at attacking the paint," Murphy said. "He gets in deep and is able to get wherever he wants to go with the basketball. For some reason, teams can press up on him and he can go by them, so it's a great asset to have."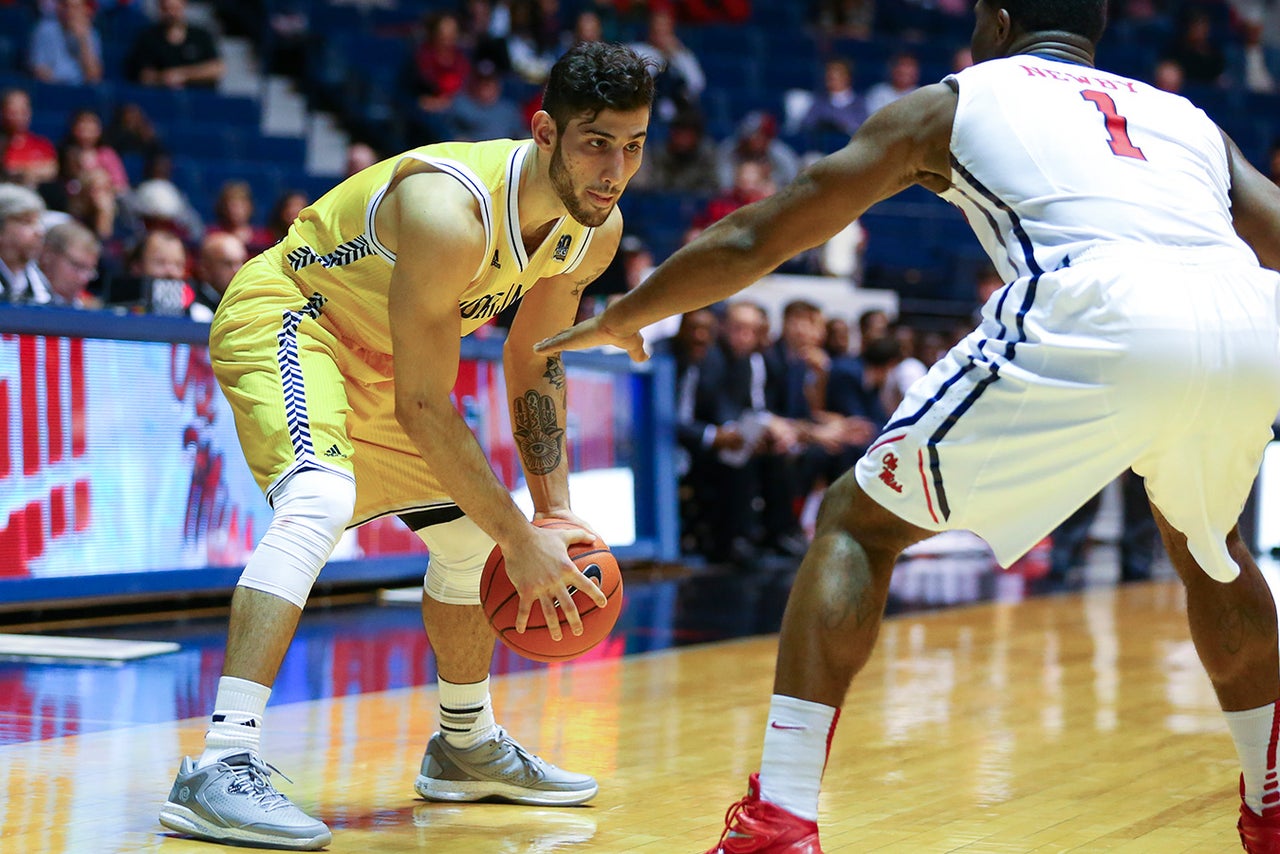 Guard Kris Yanku earned All-Big Sky conference honors as a sophomore while setting a conference record for most free throws made.
Among the freshmen, Murphy pointed to Michael Green, a 5-10 guard from Florida, Marcus DeBerry, a 6-5 wing from Tennessee, and Felix Rivera-Vega, a 6-6 forward from Florida, has having impressed him in early practices.
DeBerry and Rivera-Vega were both late additions to the recruiting class -- perhaps in part attributable to NAU's successful postseason run last spring.
"Recruiting we've been able to get into places that before we were losing out on kids," Murphy said. "I also think that there's an aspect in Flagstaff and in the state where you have more excitement for NAU basketball. You go around town and people are talking, 'coach, when's your next game?' The players get recognized. That wasn't happening in our first couple years up here.
"And even down here in the Valley, recruits and players are interested and they're reaching out to us, rather than us being the initial contactor. So I think it's great that not only people in Flagstaff but statewide were able to get a feel for Lumberjack basketball."
---
---