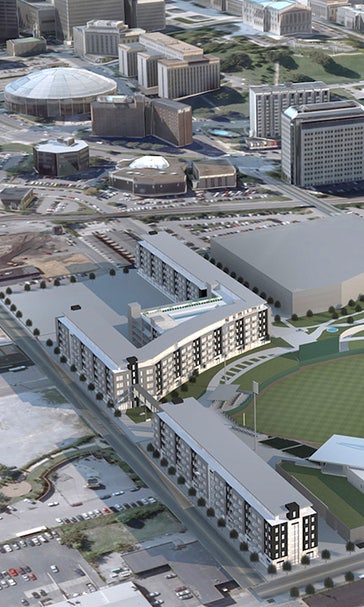 Nashville breaks ground on new baseball stadium
January 28, 2014

NASHVILLE, Tenn. -- On the site where organized baseball began playing in Nashville some 150 years ago, hundreds came Monday to hear the history and see the future of the sport in this once-forsaken location.
Braving a bone-numbing chill in the single digits, determined advocates and supporters alike watched the ceremonial groundbreaking for a long-anticipated stadium for the Nashville Sounds, the Triple-A affiliate of the Milwaukee Brewers. In doing so, they couldn't help but take a stroll down memory lane.
"This is where Jackie Robinson, Babe Ruth, Lou Gehrig and Joe DiMaggio all played when they came through Nashville decades ago," Nashville mayor Karl Dean said of the famed Sulphur Dell location north of downtown Nashville where minor league and Negro League baseball was played until the early 1960s.
A decade after previous Sounds ownership and a previous Nashville mayor struck a deal for a new stadium that never got off the ground, Dean and Sounds owner Frank Ward finally consummated a deal that was approved last month by Nashville's Metro Council.
"We have a solid base of baseball fans who agree with me that sitting back and listening to the crack of the bat is one of the best ways to spend a warm summer night," Dean said. "As a baseball fan, I wanted to see this project come to fruition since I took office about 6 1/2 years ago. But as mayor, I had an obligation to the city and our taxpayers to move forward with the new ballpark only when it made economic sense to do so."
Plans call for the $38 million facility, one that will initially seat 10,000 fans, to open in early April neat year -- just in time for the start of the 2015 season. Metro government issued $65 million in bonds to cover costs of land acquisition, construction and interest. The city's annual debt service of $4.3 million for 30 years will be covered by various revenue streams.
Sounds ownership has also announced plans for a $67 million residential and commercial development surrounding the stadium, while another developer has plans to build a $37 million residential complex.
"I would be less than honest if I ever thought I would be here giving this speech," Minor League Baseball President Pat O'Conner said prior to the groundbreaking. "We've had some issues. We've stubbed our toes a few times. We are very proud of what's taking place here in Nashville on a lot of fronts. Obviously, minor league baseball is important to this community, and this community is important to minor league baseball."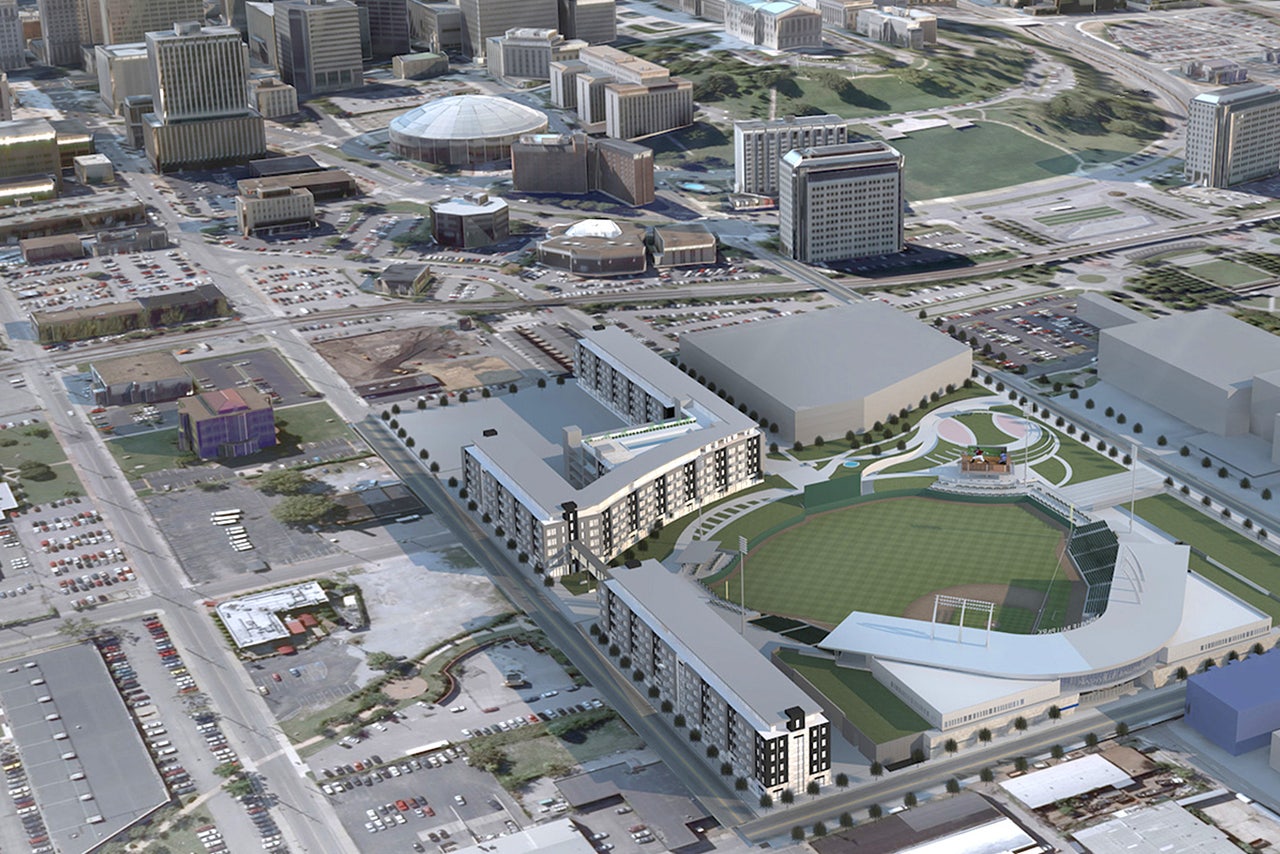 Artist's rendering of Nashville's new baseball stadium.
Minor league baseball returned to Nashville in 1978 when local businessman Larry Schmittou, the former general manager of the Texas Rangers, led an ownership group that struck a deal with the city for construction of Greer Stadium. The Sounds have played there ever since and will conclude the run at the venerable stadium this coming year. In the meantime, other surrounding cities like Memphis, Tenn., Louisville, Ky., and Chattanooga, Tenn., struck deals with minor league baseball franchises to build new downtown stadiums. But Nashville fell behind as Greer Stadium remained a popular site among local baseball fans, but had become outdated and continually in need of refurbishment.
"Thousands, absolutely thousands," Sounds vice president and general manager Brad Tammen said of how many times he's been asked the past five years about the prospects for building a new stadium. "People were eager and always asking, 'When are you going to get the new stadium?' It really was a daily occurrence. People would ask about it all the time everywhere I went, even at home with my family."
Through the past decade, the political landscape in Nashville had grown leery of another stadium project following the construction of stadiums in the late 1990s to house the NFL's Tennessee Titans and NHL's Nashville Predators. But the explosion of downtown Nashville in recent years, anchored by the new $650 million Music City Center convention complex, turned the tide.
"I always thought (Nashville) had a chance to be a Major League city," Brewers general manager Doug Melvin said, "but it always needed a new ballpark. My job is to develop talent for the Major League level. ...  It is going to help us recruit talent, too. There are a number of times we thought that we could recruit a little better talent, but the ballpark was a problem and issue at times."
Other possible locations for a new baseball stadium included the east bank of the Cumberland River opposite of downtown and the burgeoning "Gulch" area of midtown that already is seeing a commercial and residential boon. But north Nashville in general, and the once-vibrant Jefferson Street corridor in particular, had long been isolated by interstate construction decades ago.
"What solidified the decision for me was the economic benefit I knew this project would create for the north side of downtown," Dean said. "No other site presented an opportunity for economic development like this one. This is by far one of the largest capital projects in the history of Jefferson Street.
"And the economic returns from this project will benefit the community for decades to come."
Former Major League Baseball umpire Chuck Meriwether, who umpired in the big leagues for 20 years until his 2011 retirement, witnessed the return of minor league baseball to his native Nashville in 1978. While attending the groundbreaking, he felt the same way now about the new baseball stadium set to open next year.
"I've seen a lot of baseball on the big league level and the minor league level," said Meriwether, who umpired two World Series and two All-Star games and now works for Minor League Baseball as an instructor. "It's going to make a big difference for the city. It really pumps fans up. I remember like it was yesterday how it was in 1978 when the Sounds first played."
The return of professional baseball to Sulphur Dell some five decades after the previous stadium was demolished was the ace in the hole that made the project politically acceptable this time around.
"When we began looking at potential locations, only one stood out to me," Dean said. "Not only was this the most feasible option, but as a baseball fan who also loves history, I really felt that no site was more special than here at Sulphur Dell -- the historic home of baseball in Nashville."
---